No. 4 Pittsburgh (22-2) at No. 10 Villanova (19-5)
When and where: Saturday (ESPN/ESPN3, 9 p.m. ET), The Pavilion (Villanova, Pa.)
Pitt's key player: Brad Wanamaker. The senior guard is one of the most versatile playmakers in college basketball and leads the Panthers in assists and steals. He does not force shots, but Jamie Dixon can call his number when he needs a bucket and Wanamaker will deliver. Better off the dribble and better in the middle of the floor, Wanamaker is an outstanding college player and a winner.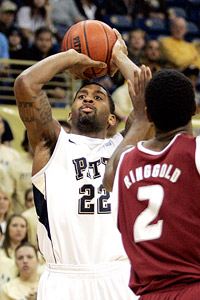 Justin K. Aller/Getty ImagesBrad Wanamaker's versatility is an integral part of Pitt's offense.
Villanova's key player: Corey Fisher. Dynamic with the ball, Fisher is a shot-maker and has the ability to attack the rim off the bounce, especially off on-ball screens, and get into your body and finish plays. He is averaging 16 points, 5.3 assists and 5.6 free throw attempts per game. Fisher was terrific against Rutgers for most of the game, scoring 23 points, dishing out 10 assists and amassing five steals. He can get his own and he is about as aggressive an attack guard as you will see in college basketball.
What to watch for Pitt: Pittsburgh is a great passing team. The Panthers run a lot of set plays and some continuity and do a really good job of moving the ball. This Pitt team is deep and shoots the ball well, but it is primarily because Pitt is such a good passing team.
What to watch for Villanova: The Wildcats use on-ball screens as well as any team in the nation. Whether in the middle of the floor or on the wing, Villanova puts you into help and attacks off the dribble as well as anyone, especially Fisher and Maalik Wayns. And Nova is doing a much better job of playing defense without fouling. Last season, the Cats gave up 27 free throw attempts per game. This season, they're giving up 19 free throws per game.
Key matchup: Mouphtaou Yarou vs. Gary McGhee. Pittsburgh is an outstanding offensive rebounding team and gets high percentage second-shot opportunities at a very high rate. McGhee has great hands, gets really good position and averages over three offensive rebounds per game in Big East play. Yarou has begun to blossom as an interior big and has become more aggressive and effective. Yarou is averaging nine points and seven rebounds, and leads the Wildcats in offensive boards. He needs to battle McGhee and neutralize him on the glass and force him to finish over his size.
X-factors: Maalik Wayns and Gilbert Brown. Wayns may be small, but he has a huge heart and is fearless. When he drives, he bounces off of people and still finishes over bigger defenders, gets fouled or both. Brown is an outstanding athlete that is second to Ashton Gibbs in scoring in Big East games and is among Pitt's leaders in 3-point field goals made, assists and free throw attempts.
Key stat: Rebounding. Pitt is the best rebounding team in the country and the Panthers need to take advantage of that strength. Villanova has size up front with Yarou, Antonio Pena, Isaiah Armwood, and Maurice Sutton and it needs to battle the physical and tough Panthers on the backboards.
Who wins: I will be at The Pavilion with "College GameDay" and calling this matchup, so I won't pick a winner here. But it should be a terrific game and atmosphere.
No. 1 Ohio State (24-0) at No. 14 Wisconsin (18-5)
When and where: Saturday (ESPN/ESPN3, 2 p.m. ET), Kohl Center (Madison, Wis.)
Wisconsin's key player: Jon Leuer. The skilled big man can play inside or out and has a terrific pull-up jumper and turnaround jumper in the post. Leuer is leading the Badgers in scoring and rebounding and is one of the most efficient big men in the country. He is averaging 19.4 points, 7.4 rebounds and just under two assists per game and has hit 46 3-point field goals to lead the team.
[+] Enlarge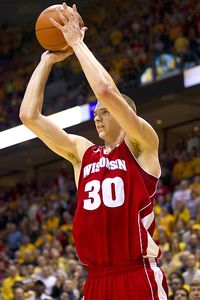 Jeff Hanisch/US PresswireJon Leuer will need to be at his best if Wisconsin hopes to hand Ohio State its first loss of the season.
Ohio State's key player: Jared Sullinger. The 6-foot-9 freshman is way beyond his years in his understanding of the game. He has great hands and feet and does a great job of establishing deep post position. He can use either hand around the goal, and can catch the ball off the block and still make a move. In Big Ten games, Sullinger is averaging 18.5 points, 10.4 rebounds and two assists per game. He is not a shot-blocker, but he is an outstanding offensive player that gets to the free throw line almost eight times per game. Sullinger cannot be guarded one-on-one and must be doubled.
What sets Wisconsin apart: Wisconsin does not turn the ball over (fewer than eight turnovers per game) and as a result, the Badgers maximize the amount of shots they get. Ball security is of paramount importance to Bo Ryan and his teams are fundamentally sound. The Badgers do not make great passes; they make nothing but good passes, which leads to great shots and great offense. If assists in basketball were counted like they are in hockey, Wisconsin would lead the nation because the Badgers make the pass that leads to the assist as well as any team in the nation.
What sets Ohio State apart: The Buckeyes are leading the nation in margin of victory (20 ppg), in large measure because they play good defense without fouling. Ohio State leads the nation in fewest fouls per game (14 fouls), which keeps opponents off of the free throw line -- the most efficient place to score on the floor. And the Bucks are hardly loose with the ball; they turn the ball over only 11 times per game and have a plus-5.7 turnover margin.
What to watch for Wisconsin: The Badgers run the "swing offense," which is predicated on getting both guards and forwards isolated one-on-one in the post. Point guard Jordan Taylor is excellent in the low post and will take his defender to the low block where he is not used to defending and score or get fouled. And the Wisconsin bigs can step away and hit perimeter jumpers, where most post defenders are uncomfortable.
What to watch for Ohio State: Ohio State can go big with Sullinger and Dallas Lauderdale, or go small with four perimeter players (Aaron Craft, David Lighty, Jon Diebler, and William Buford) around Sullinger inside. The teams that have had success against Sullinger have double-teamed him and forced others to make plays. Minnesota doubled him post to post from the high side. Michigan doubled him from the low side. Watch where the trap comes from and how the defense rotates. And watch how Sullinger handles it.
X factors: Jon Diebler and Keaton Nankivil. Diebler is the most prolific 3-point shooter in Ohio State history, and Nankivil is a very athletic big man that can step out and drill 3s. The hot hand can change the game.
Key matchup: Aaron Craft vs. Jordan Taylor. Craft is a terrific young player that has done a great job of stepping in and credibly running the team. Craft is a very good passer and playmaker, but an even better defender and competitor. He is averaging almost 9 points, 4.4 assists and 1.6 steals per game in Big Ten play. Taylor is one of the best point guards the Big Ten and the nation. He plays low and compact and when he penetrates into the lane, he keeps his feet on the floor until the defense commits and usually makes the right play.
Key stat: Free throws. Ohio State has made more free throws than many of its opponents have attempted in both Big Ten play and overall. To win in the Kohl Center, Ohio State has to dominate the free throw line. In Big Ten play, the Buckeyes shoot almost 22 free throws per game -- and their opponents only around 11.
Who wins: Wisconsin hardly ever loses in the Kohl Center, and Ohio State is coming in with an unbeaten record. Everything stacks up for an upset, except the Buckeye mindset. I like Wisconsin to hand Ohio State its first loss of the season. Barely.
A dozen more to track
Saturday
No. 13 Syracuse at No. 15 Louisville (ESPN, noon ET): Life in the Big East continues to be unforgiving. Syracuse loses at home to Georgetown and now has to go to Louisville, which just lost at Notre Dame. Both teams have seven Big East wins, but Syracuse is a game back in the loss column, putting even more pressure on the Orange to squeeze out a win at the Yum! Center.
No. 18 Kentucky at No. 24 Vanderbilt (1 p.m. ET): Kentucky has one road win in the SEC. If it wants to catch Florida it better get a second one in Nashville. Meanwhile, Vandy is looking for some sort of separation and has already lost one league game at home to Arkansas, of all teams. Kentucky and Vandy are tied with four losses in the league. Winner gets the edge for second-place, for a week at least.
Maryland at Boston College (ESPN3, 1 p.m. ET): The Terps want to be considered for a possible NCAA berth but haven't done anything yet to prove they belong. A win over BC to split the season series is a must. Meanwhile, the Eagles may have a decent profile but can't afford to be inconsistent. They need to go on a run after getting blown out by UNC, beating Virginia Tech and losing at Clemson.
No. 21 North Carolina at Clemson (ESPN3, 1 p.m. ET): The Tar Heels have found their mojo with Kendall Marshall playing the point in the absence of Larry Drew II. The Tar Heels own Clemson in Chapel Hill but that's not the case at Littlejohn Coliseum. Meanwhile, the Tigers, who trail UNC by two games, should be taken seriously as a contender for second place after beating Florida State and BC at home. If Clemson beats Carolina, the Tigers will move from pretender to contender for a top-two finish.
Old Dominion at VCU (ESPN2, 2 p.m. ET): George Mason has emerged as the hot team in the Colonial. Who is second best? At one point it looked like it was going to be Hofstra. ODU once had the title of favorite, but the Monarchs have come back to Earth a bit. Meanwhile, VCU is still tied atop the league standings with George Mason, despite losing to lower-level teams like Georgia State and Northeastern on the road. VCU has a crack at George Mason next week at home but will want to head into that showdown at least tied, meaning it must go for a sweep of ODU.
Baylor at No. 3 Texas (ESPN, 4 p.m. ET): Baylor is suddenly in third place by itself after stunning Texas A&M last week. But asking the Bears to knock off the hottest team in the country is asking too much. Baylor will cause some issues inside with Perry Jones, but the Bears don't have the depth to deal with Texas at this juncture. The Longhorns' defense has been too good.
Tennessee at No. 19 Florida (ESPN, 6 p.m. ET): Bruce Pearl is back but the Volunteers are still searching for answers. Tennessee looked out of sync in its loss at Kentucky; Florida is playing like the SEC East's best, which was the expectation for the Gators. Expect Billy Donovan's team to complete the rare season sweep of Tennessee and continue to roll to an SEC title.
Southern Miss at Memphis (ESPN2, 6 p.m. ET): Memphis shocked Southern Miss with a huge comeback win in Hattiesburg, Miss., earlier this season. The Tigers continue to be the cardiac kids of the C-USA with a late-possession win at UCF. Memphis and UTEP should end up being the two best teams in the league if the Tigers take care of Southern Miss.
No. 6 San Diego State at UNLV (8 p.m. ET): The second Mountain West showdown between the Aztecs and BYU is slated for Feb. 26. But the Aztecs can't afford to slip before that game if they want a piece of the Mountain West title. This is a dangerous stop. UNLV already got burned by BYU at home. Colorado State won in Vegas, too. If UNLV has visions of being an at-large team it shouldn't add a third MWC home loss.
New Mexico at Colorado State (9 p.m. ET): The Lobos and Rams are nestled in a tussle with UNLV for third in the MWC. If the Rams win this game they will have a two-game lead on the Lobos, and possibly two on UNLV if the Rebels lose to SDSU. Any way you slice it, this is a huge bubble game.
Sunday
St. John's at Cincinnati (ESPN3, noon ET): This game is probably more about the Bearcats. Cincinnati beat St. John's on the road earlier this season and is going for the sweep. Yancy Gates returned for UC's win at DePaul after serving a one-game suspension. Cincinnati needs to separate itself from the pack of middling Big East teams, and a sweep over St. John's would at least distinguish it from the Red Storm.
No. 12 Purdue at Illinois (1 p.m. ET): Illinois is a symbol of mediocrity this season. The Boilermakers are much more championship-driven. If Purdue can win this game, then it potentially stays in line with Wisconsin in the battle for second place in the Big Ten.
Viewer's Guide
All times ET

Saturday
Noon: Syracuse at Louisville (ESPN)
1 p.m.: North Carolina at Clemson (ESPN3)
1 p.m.: Maryland at BC (ACC Network)
1 p.m.: Kentucky at Vanderbilt (CBS)
1 p.m.: Temple at Dayton (ESPNU)
2 p.m.: Ohio State at Wisconsin (ESPN)
2 p.m.: Old Dominion at VCU (ESPN2)
4 p.m.: Baylor at Texas (ESPN)
6 p.m.: Tennessee at Florida (ESPN)
6 p.m.: Southern Miss at Memphis (ESPN2)
8 p.m.: San Diego St. at UNLV
9 p.m.: Pittsburgh at Villanova (ESPN)
9 p.m.: Kansas St. at Colorado (ESPNU)
10 p.m.: Wichita St. at Northern Iowa (ESPN2)
Sunday
1 p.m.: Purdue at Illinois (CBS)
1 p.m.: Marquette at Georgetown (ESPN)
2 p.m.: Xavier at Duquesne
7 p.m.: Providence at Connecticut (ESPN3)

ESPNU crew on UNC-Clemson
O'Neil on San Diego St.-UNLV
I can't wait to see …
Eamonn Brennan
How will North Carolina bounce back? The Tar Heels have undergone an offensive renaissance in recent weeks, the kind of improvement that was immediately visible in their brilliant first half at Cameron Indoor Stadium Wednesday night. UNC eventually lost that game -- thanks in large part to the talents of Nolan Smith and Seth Curry -- despite having a huge first-half advantage. That had to be a disappointing letdown. How will the young Tar Heels respond? They'll have to come back strong, because they face a classic trap game at Clemson on Saturday. The Tigers are a burgeoning bubble team in desperate need of quality wins, and they'll have the underrated fans at Littlejohn Coliseum hyped for a visit from hated Carolina. Even in the loss, the Heels were great at Duke. They might need to play just as well this weekend.
Pat Forde
Can Larry Eustachy complete the comeback? It's been a long, humbling climb out of a self-dug professional hole for Eustachy, who might have had the second-best team in the nation in 2000 at Iowa State but subsequently torched his career in Ames with alcohol-fueled behavior issues. Now he's got a chance to put Southern Miss (18-5, 7-3) in the Conference USA driver's seat. The Golden Eagles visit Memphis on Saturday in a rematch of a game the Tigers won on a 3-pointer with 1.2 seconds left last month, coming back from 18 points down. If Southern Miss wins this game, it would make its Wednesday showdown with UTEP a battle for first place in C-USA. Welcome back to relevance, Larry.
Andy Katz
I'll be glued to the Ohio State-Wisconsin game. The Badgers continue to be a surprise this season (yet I say that every season, though it shouldn't be the case under Bo Ryan). Ryan has put together a Hall of Fame résumé with his work at UW-Platteville and now in Madison and he gets more out of his talent on a yearly basis than most. His players and teams develop as the season progresses and are always a tough out at home. The Kohl Center will be absolutely rocking for this game with the top-ranked Buckeyes. Expect Jordan Taylor, Jon Leuer and Keaton Nankivil to play some of their best basketball of the season. It might not be enough to beat Jared Sullinger, Deshaun Thomas, David Lighty, Aaron Craft, Jon Diebler, William Buford and Dallas Lauderdale, but it should be a good watch regardless. The NCAA tournament is the most exciting event of the season, but the atmosphere usually pales in comparison to high-level, late-season conference games such as these.
Diamond Leung
I can't wait to see what Jimmer Fredette has in store for rival Utah when the Utes visit the Marriott Center on Saturday. The most recent time the two teams met, Fredette hit a near-halfcourt shot and scored 47 points on the road. In other words, he was unstoppable. Whether Utah can do anything to slow down Fredette should determine how much of a chance the Utes have of pulling the upset.
Joe Lunardi
I like late-season showdown games regardless of the conference. My favorites this weekend, with first place pretty much on the line in each, are: Southern Miss at Memphis (C-USA), Texas Southern at Jackson State (SWAC), Wright State at Valparaiso (Horizon), Northern Colorado at Montana (Big Sky) and the Sunday special, Xavier at Duquesne (A-10).
Dana O'Neil
I'm looking forward to "College GameDay" right here in my backyard. Before joining ESPN.com, I spent eight years covering Villanova and watched the Nova Municipality grow into the Nova Nation. The non-student fans at the Pavilion can still be a bit tepid, but I'm certain the atmosphere will be electric in the airplane hangar of a building Saturday night when Pitt comes to town. There will be plenty of Philly on the court, too -- Maalik Wayns for Villanova; Nasir Robinson and Brad Wanamaker for Pittsburgh. Even though Villanova's inexplicable loss to Rutgers has taken the luster off the game a little bit, it should still be a good one.
And by the way, if the crew is looking for a real cheesesteak spot, I've got it, and it's neither of the tourist stops in South Philly.
Mark Schlabach
Kentucky coach John Calipari had his players wearing boxing gloves and using a heavy bag last week to toughen them up. Calipari's work resulted in a 73-61 victory over Tennessee on Tuesday night. Now comes a tougher mental test for the Wildcats: winning at Vanderbilt's Memorial Gym on Saturday. UK had lost four games in a row at Vandy before John Wall saved them in a 58-56 victory in Nashville last season. Will these young Cats be tough enough to survive a potentially treacherous road trip?
Brennan on Purdue-Illinois
Player to watch
Jon Leuer, Wisconsin


All eyes -- including the prying eyes of the Ohio State defense -- will be on the Badgers senior Saturday when the Buckeyes come to town, so why not make him the player to watch? Leuer has been quietly terrific all season, hitting double figures in every game this season, averaging 19.4 ppg. The 6-10 forward even shoots 44 percent from 3.
The catch, of course, is that against the No. 1 and undefeated Buckeyes, Leuer will need to be more than terrific. He'll have to be sensational.
--
Dana O'Neil
Leung on WCC's 1 vs. 2 matchup