No. 5 North Carolina (6-1) at No. 1 Kentucky (7-0)
When and where: Saturday (CBS, noon ET), Rupp Arena (Lexington, Ky.)
Overview: Kentucky has the most talented team in the country, but it is a very young group. Despite having Terrence Jones, Darius Miller and Doron Lamb back, John Calipari has a lot of new pieces to blend together. North Carolina has a couple of new parts, but otherwise has its entire team back from the squad that lost to UK in last season's Elite Eight.
This game will not be about strategy, offensive sets or defensive schemes. This game will be about being strong with the ball, rebounding out of your area and getting to the ball first. It won't be smashmouth basketball, but it will require mental and physical toughness. North Carolina has not been the most intense and passionate team, but the Tar Heels do play hard. Against Kentucky in Rupp, UNC will have its survival instinct in full force, and the Heels will be prepared for a fight. The Wildcats will be riding high with emotion and need to manage that emotion in order to execute on both ends.
[+] Enlarge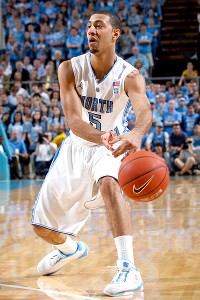 Peyton Williams/Getty ImagesAll eyes will be on Kendall Marshall's matchup with Kentucky freshman Marquis Teague.
Key matchup: Kendall Marshall vs. Marquis Teague
Marshall is the best passer in the country, passing ahead on the break better than most NBA point guards. Teague is explosive, fast and has the ability to score. Marshall is not the athlete or scorer that Teague is, and he does not apply great pressure on the ball. But Marshall simply knows how to play. If he can contain the ball and keep Teague in front of him, it will go a long way toward North Carolina winning in a tough environment.
Mirror images: John Henson vs. Anthony Davis
This matchup features 15 feet of wingspan, and both change the game and affect almost every shot within 10 feet. Henson does a great job of blocking and changing shots, and he will guard the ball on baseline out-of-bounds plays. Henson makes it difficult to get the ball inbounds, let alone inbounds to score quickly. He had 17 rebounds against Wisconsin and blocked and changed a lot of shots around the goal. Davis is more athletic, more skilled and a better shot-blocker, but Henson is more experienced. Watching these two go at it will be really fun.
Key stat: Rebounding
North Carolina has had some problems on the glass this season, and has given some second shots up to several opponents. The Heels can rebound, but have to be physical, strong and pursue the ball with everything they have. Kentucky has size and athleticism on the glass and can really go after offensive rebounds. Terrence Jones, Anthony Davis, Michael Kidd-Gilchrist and Kyle Wiltjer can all rebound, and Darius Miller can slice in from the wing to grab a few as well. The team that wins on the backboards will go a long way toward winning the game.
Strategic point: North Carolina has had a tough time guarding ball screens and containing the dribble. Expect Kentucky to run some pick-and-roll to try to beat the Tar Heels off the dribble and into help rotations. And, once into help rotations, the offensive glass is exposed. Carolina has to stay in front on drives and defend ball screens all game long.
What to watch for: How many 3-point field goals Kentucky makes
In North Carolina's last two losses (to UNLV, UK), the Rebels hit 13 3s and the Cats hit 12. To win, UNC has to keep Kentucky down to six or seven made 3s. Also, watch Harrison Barnes and how efficient he is when using one or no dribbles. Barnes had 20 points against Wisconsin on a bum ankle, and was outstanding in the second half.
Who wins: North Carolina will play well, whether P.J. Hairston and Barnes are 100 percent and playing or not. But Kentucky will be too tough to beat at home. I have UK winning 84-81.
No. 9 Florida (5-1) at No. 3 Syracuse (7-0)
When and where: Friday (ESPN/ESPN3, 7 p.m. ET), Carrier Dome (Syracuse, N.Y.)
Overview: Florida presents problems in the exact area where Syracuse can be exploited. In order to beat the famed Cuse matchup zone, you have to be able to hit perimeter shots. While you always need to penetrate the gaps of the zone and make plays in the middle of Jim Boeheim's defense, often it comes down to getting and hitting open shots. Syracuse does a great job of shading to shooters, and most teams have one or two shooters that the Orange have to have an awareness for and shade toward. Florida has four shooters and the Gators can spread the floor. It will be compelling to watch the length and athleticism of Syracuse against the outstanding guards and shooters of UF.
[+] Enlarge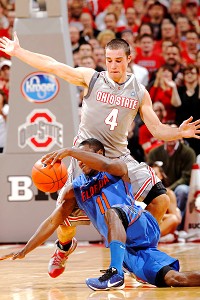 Joe Robbins/Getty ImagesWill Erving Walker and his UF backcourt mates have better luck at Syracuse than they did at OSU?
Key Gators players: For Florida, the quartet of Kenny Boynton, Erving Walker, Mike Rosario and Bradley Beal average over 10 3-point field goals per game. The Gators have made no less than 11 treys in any one game, and average 12 made 3s. Forty percent of Florida's points come from long range, and extending to those shooters will open up drives into the teeth of the Orange zone. Boynton, Beal, Walker and Rosario average over 60 points per game, and all are capable of big nights. Last season, Villanova beat Syracuse in the Carrier Dome with a barrage of 3s and free throws from penetration. Florida will look to accomplish the same thing.
Key Orange players: The Orange have one of the deepest teams in the country, with 10 players that average over 11 minutes per game. Kris Joseph, Dion Waiters and Brandon Triche are the best scorers for Boeheim, but James Southerland is perhaps the most efficient scorer. The 6-8 junior has played very well, and has a silky-smooth stroke from deep. Southerland has hit 11-of-21 3s going into this game, and has evolved into a reliable performer.
Key matchup: Florida frontcourt vs. Syracuse frontcourt
The Orange frontcourt is bigger and deeper and may be able to wear down UF's Patric Young and Will Yeguete. Both are capable and active players, but neither is skilled. Young and Yeguete have to stay out of foul trouble and play strong inside and on the glass.
Key stat: Turnovers
It is easy to come up with a strategy for attacking the Syracuse zone. The problem comes in executing it, because you cannot simulate the size and length of the Orange in that zone. Syracuse blocks close to 7 shots per game, but also forces close to 21 turnovers. SU boasts a plus-8.7 turnover margin, and Florida needs to take good care of the ball and made certain it gets a shot each time down the floor. The Gators offense has to help its defense, and UF cannot afford any turnovers that will allow Syracuse to get out in transition.
Strategic point: Florida loves to press, and it would seem to make sense for the Gators to press the Orange. I think Billy Donovan will press in spots, but to press Syracuse is to invite the Orange to play to their greatest strength, which is getting out in the open court and scoring in transition. I cannot see Florida pressing the Cuse for 40 minutes. Rather, some full-court pressure will be mixed in to change things up and deny Syracuse a steady diet of any one defense.
Note: Jay is doing color for this game on ESPN, so he will not be making a prediction.
A dozen more to track
Friday
No. 19 Vanderbilt at No. 6 Louisville (9 ET, ESPN): The Commodores should have beaten Xavier, but couldn't close it out in regulation. Now comes a road game against a top-10 team. A Vandy win, without Festus Ezeli, would do wonders for this team's confidence. But more importantly, how they finish the game will be a barometer going forward. Louisville needs to continue to win home games before it has to venture out on the road, where life will be more difficult for a team that lacks depth.
Saturday
Purdue at No. 11 Xavier (3 ET, ESPNU): Xavier had one of the more impressive road wins in taking down Vanderbilt on Monday. There's no doubt Tu Holloway and Mark Lyons form one of the best backcourts in the country. Purdue will try to make this game ugly, which X can play too. The Musketeers should win this game, but if the Boilers were to pull the upset, Matt Painter's crew will be taken much more seriously as a possible top-three Big Ten finisher.
Arkansas at No. 10 Connecticut (3:15 ET, ESPN): The Huskies were stunned by UCF in the Bahamas, but now have had a full practice week to get used to having Ryan Boatright as another scoring guard. There's also been time for Alex Oriakhi and Andre Drummond to continue to get used to working together in the middle. Arkansas is really hurting with the loss of Marshawn Powell, and while the Hogs would like to run, running with this Huskies' team would not be advisable.
[+] Enlarge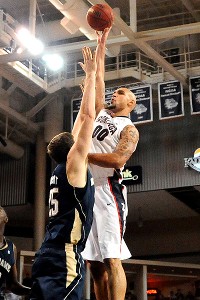 James Snook/US PresswireRobert Sacre and the Zags are unbeaten in the early going, but will get their biggest test to date on Saturday in Champaign.
No. 18 Gonzaga at Illinois (3:15 ET, ESPN2): The Zags were impressive in crushing Notre Dame at home Wednesday night, while the Illini survived their Big Ten/ACC Challenge game at Maryland. We all know Gonzaga never backs down in its nonconference schedule and this will be yet another stern road test. If Illinois can pull it off, we'll have to start taking them very seriously in what was supposed to be somewhat of a rebuilding year.
Texas at UCLA (4:30 ET): Texas struggled at the Legends Classic, which is not all that surprising given its youth and inexperience. UCLA has struggled because it is dysfunctional. If the Longhorns can win this game, it will go a long way toward building their confidence. Meanwhile, the Bruins just need something good to happen. Myck Kabongo should be the best guard on the floor, but the UCLA bigs should have a big advantage if they play up to their potential.
No. 16 Marquette at No. 7 Wisconsin (4:30 ET): Every year this is one of the best nonconference rivalries in the sport. The Badgers gave North Carolina fits for 30-plus minutes. Marquette is undefeated but hasn't been seriously tested yet, save a stunningly close game against Norfolk State. The Golden Eagles are a legit Big East contender. This game should come down to the final possessions.
Oregon vs. BYU in Salt Lake City (5 ET, ESPNU): We'll see how much the Ducks miss freshman Jabari Brown after his abrupt departure. Winning at Nebraska and beating UTEP is a decent first step as this team tries to regain its relevance in the Pac-12. BYU hasn't had a signature win yet in the nonconference. This would qualify and help the perception of the Cougars going forward into the WCC next month.
West Virginia at No. 24 Mississippi State (9 ET, ESPNU): Renardo Sidney and Arnett Moultrie are healthy again and that means the Mountaineers won't be able to hang with the Mississippi State frontcourt. This is the type of home game the Bulldogs should win since they are more talented. But we'll see.
Sunday
No. 20 UNLV at Wichita State (4 ET): Creighton is getting all the necessary buzz early in the season for the Valley. That's because the Bluejays keep winning. This is Wichita State's turn to make some noise and draw attention. Beat a ranked team at home and the Shockers will have their time.
No. 8 Baylor at Northwestern (4 ET): The Wildcats had to survive against Seton Hall. Then they went down and beat a bad Georgia Tech team. So now let's really see if the Wildcats are worthy of this annual NCAA tournament talk. No better opportunity than hosting a top-10 team in the nonconference.
NC State at Stanford (4 ET): The Cardinal were the surprise at the NIT Season Tip-Off in New York, walloping Oklahoma State and then taking Syracuse right down to the wire. NC State took a step back by not being able to protect its home court against Indiana, but the Wolfpack have played better than expected. This will be a fascinating test for both teams.
No. 23 Cal at San Diego State (5 ET): The Bears were the preseason pick to win the Pac-12, but pulled a no-show in the 39-point loss to Missouri in Kansas City. Cal had better show up at the Viejas Center and prove it belongs among the elite, let alone the Top 25. This is its chance to prove the preseason prognosticators weren't off-base. Because even after blowing a big lead against Creighton the other night, SDSU is still better than expected and tough at home.
Viewer's Guide
All times ET
Friday
7 p.m.: Florida at Syracuse (ESPN)
7 p.m.: Cincinnati at Georgia (ESPNU)
9 p.m.: Vanderbilt at Louisville (ESPN)
11 p.m.: Washington at Nevada (ESPNU)
Saturday
Noon: North Carolina at Kentucky (CBS)
Noon: Iowa State at Michigan (BTN)
2 p.m.: Valparaiso at Butler
3 p.m.: Purdue at Xavier (ESPNU)
3:15 p.m.: Arkansas at Connecticut (ESPN)
3:15 p.m.: Gonzaga at Illinois (ESPN2)
4:30 p.m.: Marquette at Wisconsin (BTN)
4:30 p.m.: Texas at UCLA (FSN)
5 p.m.: Oregon vs. BYU (ESPNU)
5:15 p.m.: Pittsburgh at Tennessee (ESPN)
9 p.m.: West Virginia at Mississippi St. (ESPNU)
10 p.m.: Missouri St. at New Mexico (The Mtn.)
Sunday
4 p.m.: UNLV at Wichita State
4 p.m.: Baylor at Northwestern (BTN)
4 p.m.: NC State at Stanford (FSN)
5 p.m.: Cal at San Diego State (The Mtn.)
5 p.m.: Kansas St. at Virginia Tech (ESPNU)
O'Neil on Vanderbilt-Louisville
Medcalf on Marquette-Wisconsin
I can't wait to see …
Miles Simon
Can Vanderbilt finally live up to the preseason hype? The Commodores have a chance to take a huge step in the right direction against a very tough and resilient Louisville team Friday. Vandy was in just about everyone's top 10 and now it has two home losses to Cleveland State and Xavier and is looking for an identity. The Dores have to be much tougher, especially on the boards, where they've been outrebounded 81-61 in two losses. Brad Tinsley and Jeffery Taylor must play at a higher level. Tinsley has had trouble at times getting the Commodores into their offense, and on the defensive end he struggles with more athletic point guards, which is what he is going to see going with Peyton Siva, who is super quick, athletic and excels at getting to the rim. Taylor must be more assertive and play smarter -- in two losses he has had as many rebounds as turnovers (nine). Vanderbilt has the chance to make a huge statement with a road win against a very tough Rick Pitino-coached Louisville team that is one of the best defensive squads in the nation, giving up only 49 points per game.
Eamonn Brennan
Obviously I'm as agog about Kentucky-North Carolina as anyone. Were it possible to time-travel forward approximately 24 hours, I would press that button before I could finish typing this sentence. But I wouldn't want to miss Sunday, where a somewhat under-the-radar game might prove to be the most fascinating of the weekend. I'm talking about Baylor at Northwestern and a battle of two teams and two styles that couldn't possibly be more divergent. Baylor is insanely athletic and naturally gifted, a team that plays above the rim as a first and second option. Northwestern is, well, not that. Not at all. The 6-0 Wildcats run Bill Carmody's Princeton style, and they rely on back-cuts and outside shooting to make up for any lack of athletic ability. Can Northwestern play a tight, mistake-free game? Or will Baylor have too much? Quirkiness versus domination; precision versus freestyle skill. It should make for an enthralling matchup.
Joe Lunardi
I want to see how Wisconsin responds from its loss at North Carolina. I still think the Badgers are a legitimate Final Four dark horse, but they were out of balance in Chapel Hill this week and need to reaffirm their more effective style at the Kohl Center against a dangerous Marquette team. The Golden Eagles are another potential NCAA dark horse, and this underrated in-state rivalry will go a long way toward determining the seeding and eventual destination for each.
Jason King
I'm looking forward to seeing how Kentucky standout Anthony Davis fares against North Carolina's John Henson and Tyler Zeller. Davis, a freshman, is projected as the No. 1 pick in this summer's NBA draft. But he's yet to face a post player with the length, athleticism and shot-blocking ability that Henson and Zeller possess. Some people have even compared Davis to Henson (a potential lottery pick) because both are 6-foot-10 shot-blockers with freakishly long arms and uncanny athleticism. It'll be fun to see how well Davis performs against an elite opponent. My guess is that he'll do just fine.
Myron Medcalf
I can't wait to see how the good the Big Ten really is. The Big Ten/ACC Challenge was a huge statement for the league. But this weekend, we might find out how much depth the Big Ten truly possesses. Conferences are defined by depth. That's why Purdue-Xavier, Marquette-Wisconsin, Gonzaga-Illinois and Iowa State-Michigan -- all Saturday matchups -- are so important for the league's status. And on Sunday, Nebraska goes to nationally ranked Creighton. The Challenge was meaningful. But this weekend, the league can take another step toward proving that it's the best.
Doug Gottlieb
Last season, Baylor struggled mightily against zone defenses. Good zones, bad zones, it didn't really matter for the Bears until about February, when they became decent against them. Sunday, Baylor takes on Northwestern, which will likely have to zone to have success. Also, I am intrigued in seeing how John Shurna plays against the length of Baylor. With the No. 2 spot in the Big Ten seemingly wide open, the Wildcats need this win to put themselves into consideration.
Dana O'Neil
Like the rest of the world, I'll be interested in watching that little tussle between Kentucky and North Carolina on Saturday afternoon, but there are plenty of games around "The Game" -- quite literally. On Friday night, to the west of Lexington, Louisville and Vanderbilt tip off. A Saturday drive north finds Xavier and Purdue doing battle in mid-afternoon, and a quick ride to the south features Tennessee and Pittsburgh in the dinner hour. None packs the all-star punch that the Wildcats-Tar Heels game does, but each offers its own special intrigue.
John Gasaway
While everyone's focused on North Carolina and Kentucky this weekend … I will be too. But I also can't wait to see Marquette at Wisconsin. These two teams have combined to play 13 games and the only loss either one has suffered came when the Badgers fell at North Carolina. Buzz Williams and Bo Ryan are two of the brightest coaches in Division I. And with talent like Darius Johnson-Odom, Jae Crowder (Marquette) and Jordan Taylor (Wisconsin), there'll be no shortage of offense in the Kohl Center. This one's for all the marbles among Green Bay Packers fans and I can't wait.
Andy Katz
I can't wait to see Sunday's slate of games. UNLV has proved it has staying power with a road win over UC Santa Barbara. If the Runnin' Rebels win at Wichita State, then this team should jump even higher in the Top 25. Northwestern needs to be taken seriously if it knocks off Baylor at home. This is a big-time test for the Wildcats. For Baylor, it's a first trip outside of Waco and an important barometer now that Perry Jones III is eligible. San Diego State, which couldn't hold off Creighton this week, hosts Cal. The Aztecs' schedule continues to be one of the toughest in the country.
Brennan on Gonzaga-Illinois
Player to watch
Robbie Hummel, Purdue


Plenty of people wondered just how good the twice-cursed senior would be this season. Plenty of people hoped Hummel, a universally liked and respected player, would be very good. So far he has been. Hummel is leading the Boilermakers in scoring, averaging a career-best 19 points per game, helping Purdue to a strong 7-1 start. On Saturday, Hummel and the Boilers will have their toughest test of the early season when they face No. 11 Xavier in Cincinnati.
-- Dana O'Neil