No. 4 Duke (27-3) at No. 13 North Carolina (23-6)
When and where: Saturday (CBS, 8 p.m. ET), Dean E. Smith Center (Chapel Hill, N.C.)
Overview: This is what this rivalry is supposed to be about. There is a championship on the line and the winner will wear the ACC crown. Both teams have steadily improved over the course of the season, with North Carolina maturing into a national contender and Duke overcoming the loss of Kyrie Irving to solidify itself as a candidate for a No. 1 seed in the NCAA tournament. This has the chance to be the most compelling game of the season.
[+] Enlarge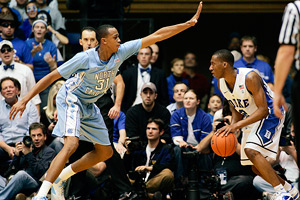 Andrew Synowiez/US PresswireJohn Henson's length brings an added dimension to North Carolina's defense.
Duke's best player: Nolan Smith has been spectacular and there is not a better or more complete college guard in the nation. Smith plays at both ends and is the team's best overall defender. He has a chance to lead the ACC in both scoring and assists and has brought it at the highest level every single game. Smith is outstanding off the dribble and plays with really good pace and control. He is terrific off of ball screens and really prefers his right. That does not mean that he cannot be effective going left, but he is better going right. North Carolina has to make him go left and drive into UNC's size around the rim.
North Carolina's best player: Freshman Harrison Barnes has become what everyone expected him to be: a go-to scorer and the Heels' best player. While still improving his efficiency from behind the arc, Barnes has become assertive and confident and he is carrying himself as an elite performer. After scoring 15 points against Florida State, Barnes stepped forward and confidently took the game-deciding shot against Florida State in Jimmy Chitwood fashion. Over his past six games, Barnes is averaging 17 points per game. He will probably be guarded by Kyle Singler, who has proven to be one of the nation's top individual defenders. In the first meeting, Singler was able to hound Barnes into a 3-for-8 shooting performance and just nine points. But the freshman has improved since then. This matchup could very well determine the game.
Duke's best defender: Kyle Singler is known for his offensive abilities, but he ranks among the best and most versatile defenders that Mike Krzyzewski has had at Duke. Singler can cover a smaller guard and bother him with his length or he can take a bigger guy and bother him with his quickness. Beyond his physical abilities, Singler is simply a relentless fighter as a defender and he is willing to give up his offense to devote himself to defense. Barnes will be Singler's first assignment, but Singler will also have to score. Remember, Barnes and his teammates did a pretty darn good job on Singler in their last meeting, holding him to 3-for-17 shooting from the floor and 10 points.
[+] Enlarge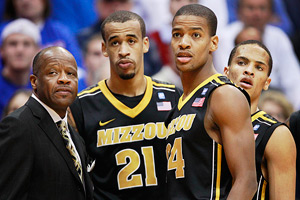 AP Photo/Orlin WagnerMike Anderson and Missouri had a game to forget last time they faced Kansas but the Tigers are much more formidable at home.
North Carolina's best defender: John Henson is not only Carolina's best defender, he is among the best defenders in the country. He is unique in his defensive abilities and ranks among the best shot-blockers in school history. Leading the ACC in blocked shots, Henson changes the game, along with a lot of opponents' shots. He's incredibly long-armed with excellent timing and there seems to be no interior shot that he cannot bother. Henson protects the rim from 12 feet and in and makes it really difficult for opponents to run out-of-bounds plays under the basket. Heck, just getting the ball inbounded is a chore with Henson on the ball. On the glass, he is a presence, having grabbed 15 or more rebounds four times this season while making double-figure rebound games the norm. He's also improved as an offensive threat.
Duke's X-factor: Seth Curry had a magnificent game in Cameron (22 points) and Duke would not have won without his stellar play. However, Mason Plumlee is Duke's X-factor in this game. North Carolina has a very powerful inside game, especially on the defensive end. Plumlee needs to be effective on the glass, run the floor, finish plays and be a factor offensively. He's been much more assertive in the low post and has been calling for the ball. Duke needs him to be at his best against Carolina's excellent front line.
North Carolina's X-factor: Tyler Zeller is one of the most skilled big men in the country. He runs from rim to rim and gets excellent post position. He can score over either shoulder and scored 24 points and grabbed 13 rebounds against Duke in the first meeting.
Duke's indispensible player: Smith is both Duke's best player and its most indispensible. He has got to have a player of the year caliber performance for Duke, as the Blue Devils rely upon him for scoring, defense and providing the confidence to win. Without Smith playing well, Duke is not nearly as formidable on the road.
North Carolina's indispensible player: Kendall Marshall has meant everything to this team. With the rookie lefty at the helm, Carolina has become a better running team, scoring team and has better taken advantage of its weapons -- Barnes, for one, has blossomed with Marshall at the point. Marshall sees the floor as well as any point guard in the nation, of any age. In ACC play, he is averaging 6.5 assists per game, which leads the league. UNC is 11-1 in games he's started, with the only loss coming at Duke.
Key stat: Rebounding and transition points. With both teams going after each other with both barrels, you cannot expect this to be a pretty game. The team that is able to control the glass will have an advantage. North Carolina has to get out in transition and run. Carolina is the better rebounding team, but Duke did an excellent job of making the Tar Heels play against its half-court defense in the second half of the first game. If Carolina can get out and run, the Heels will win. It not, Duke can get a difficult road win.
Who wins: Duke has more experience winning with Singler and Smith, but at the Dean Dome I favor North Carolina slightly. I think the Tar Heels will sneak out a win at home in what should be a great college basketball environment. They say "throw out the records when these two teams play," but you cannot do that. Both teams have the records of an ACC champion and only the other stands in the way of owning that trophy. That is as it should be in this one.
More games to track this weekend
Saturday
No. 2 Kansas at No. 24 Missouri (CBS, noon ET): Kansas looked like it had no shot to win the Big 12 just a few weeks ago after losing at Kansas State. But Texas has fallen fast and the Jayhawks have risen back up to where they are once again the favorite. Missouri, meanwhile, needs this win to gain some momentum going into the Big 12 tournament and for NCAA seeding purposes.
[+] Enlarge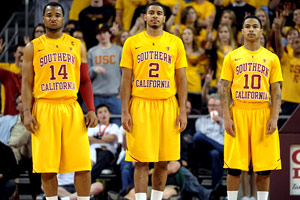 Kirby Lee/US PresswireWith a strong finish, USC could sneak its way onto the NCAA tournament bubble.
No. 11 Louisville at West Virginia (ESPN, noon ET): West Virginia can end the regular season with a three-game winning streak and move into a more advantageous position in the Big East tournament with a win over the Cardinals. Wednesday night's win over Connecticut has given the Mountaineers solid momentum, but no one can count out this Louisville team, which continues to overachieve.
Virginia Tech at Clemson (ESPN2, noon ET): The Hokies followed their win over Duke with a no-show against Boston College. Clemson was spirited and competitive, but not victorious against Duke. This is a classic bubble game and the winner stands to benefit greatly. The loser better get busy in the ACC tournament.
Georgia at Alabama (ESPN3, 1:30 ET): Alabama can still claim a share of the SEC title with a win over Georgia (and a Florida loss at Vanderbilt). But that doesn't guarantee anything with the NCAA tournament selection committee. Georgia finally put a team away that it was supposed to in LSU. Let's see if the Bulldogs can win a quality road game.
Michigan State at Michigan (CBS, 2 ET): The Spartans have the profile to still get a bid. Michigan needs something to stand out and a sweep of Michigan State would certainly help. The Wolverines would likely still need to do more work in the Big Ten tournament, but beating MSU twice would do wonders for the overall psyche of the program.
UCLA at Washington State (5:30 ET):Arizona will likely beat Oregon at home, so the Bruins probably won't be able to gain a share of the Pac-10 title. But after Thursday's loss in Seattle, gaining back some momentum heading into the postseason certainly wouldn't hurt. As for Washington State, the suspension of Klay Thompson after a marijuana charge is a killer. This is a game the Cougars must win to have any at-large hopes and losing their unquestioned star is a big blow.
No. 14 Florida at No. 20 Vanderbilt (ESPN, 6 ET): Vandy needs to end on a high note after failing to win at Kentucky when it had the chance. The Gators, who have a chance to clinch an outright SEC title, have been the most consistent team in a conference that lacks overall consistency. Both of these teams have the makeup to go on a deep run in the NCAA tournament.
Princeton at Harvard (ESPN3, 7 ET): Harvard blew its chance for this game to be for the Ivy League title outright by losing at Yale. But there is still deep meaning, because if Harvard wins its last two, including against the league-leading Tigers on Saturday, then Princeton's Tuesday game at Penn will decide whether a one-game playoff is needed to decide the league's automatic berth. Bottom line: The Crimson needs this win if they want to have any shot at their first tourney berth since 1946.
No. 8 Texas at Baylor (ESPN, 9 ET): Baylor had two must-get games this week but already lost the first one at Oklahoma State. With College GameDay in town, now the Bears have to beat Texas at home or they may have to get to the Big 12 tournament title game to be considered. Texas, a bubble kingmaker of late, needs to play well after failing to keep Kansas State at bay in the final few possessions.
USC at Washington (10:30 ET): Despite a loss Thursday in Pullman, USC might have a better NCAA tournament profile than Washington -- the Trojans have stronger nonconference wins (vs. Texas, at Tennessee) -- but Washington is ahead in the Pac-10 standings. If the Trojans can win in Seattle, the selection committee might have to take note.
Sunday
No. 23 Kentucky at Tennessee (CBS, noon ET): The SEC took a break from ending its regular season with Kentucky-Florida. The Wildcats need to show they can play well away from Rupp Arena. Tennessee has to prove it can put together a quality game before the postseason. It's hard to have much faith in the Vols at this juncture.
Missouri Valley final (CBS, 2 ET): The favorites -- Missouri State and Wichita State -- have a tough road to get to the final. If it ends up being the Bears and Shockers, it should shape up as yet another quality affair between these two teams. The winner has a real shot to advance to the second round of the NCAAs, as has been the norm with this conference it seems.
No. 10 Wisconsin at No. 1 Ohio State (CBS, 4 ET): The Buckeyes might be the No. 1 team in the country, but they don't have their own conference championship clinched outright just yet. Assuming a Purdue win at Iowa on Saturday, the Bucks will need to exact revenge on a Badgers team that handed them their first loss of the season if they want to avoid a share title with the Boilermakers. Wisconsin, which was led by Jordan Taylor's 39 points at Indiana on Thursday, would love nothing more than to once again spoil the fun for OSU.
ESPNU experts: Saturday preview
Viewer's Guide
All times ET

Saturday
Noon: Louisville at West Virginia (ESPN)
Noon: Virginia Tech at Clemson (ESPN2)
Noon: Kansas at Missouri (CBS)
1:30 p.m.: Georgia at Alabama (ESPN3)
2 p.m.: Notre Dame at Connecticut (ESPN)
2 p.m.: Michigan St. at Michigan (CBS)
2 p.m.: Georgetown at Cincinnati (ESPN3)
4 p.m.: Villanova at Pittsburgh (CBS)
4 p.m.: Big South final (ESPN2)
5:30 p.m.: UCLA at Washington St. (FSN)
6 p.m.: Florida at Vanderbilt (ESPN)
6 p.m.: Atlantic Sun final (ESPN2)
7 p.m.: Princeton at Harvard (ESPN3)
8 p.m.: Duke at North Carolina (CBS)
8 p.m.: Ohio Valley final (ESPN2)
9 p.m.: Texas at Baylor (ESPN)
9 p.m.: Nebraska at Colorado
Sunday
12 p.m.: Kentucky at Tennessee (CBS)
2 p.m.: Missouri Valley final (CBS)
4 p.m.: Wisconsin at Ohio State (CBS)

O'Neil on Kansas-Missouri
I can't wait to see …
Eamonn Brennan
For most of the season, when asked to file on a game, player or theme I couldn't wait to see, I tried to use this space to unearth underappreciated contests. Every weekend there are the clear attention-grabbing games, but I found pleasure in trying to find those that might not have obvious meaning to the casual viewer but which contained their own respective reasons for intrigue. But on the last weekend of the regular season, I'm breaking with habit and treating myself to the most obvious preview pick of all time: I can't wait to see Duke-North Carolina. Not only is it Duke-North Carolina and, you know, all that Duke-North Carolina entails. It's also a one-game battle for the ACC regular-season crown. This exact scenario has happened only five times in the history of this rivalry. What's more, you'd probably favor Duke in Cameron Indoor Stadium, but the Blue Devils are vulnerable on the road, and this UNC team has rounded into form -- with Kendall Marshall running the show and Harrison Barnes coolly knocking down game-winning 3-pointers -- just in time for this game to line up like a potential classic. No matter the outcome, this game should be thoroughly awesome, and I don't mind being obvious about that.
Pat Forde
As a devoted follower of small-conference tournaments, I can't wait to see the first bids to the Big Dance get handed out. By the end of the day Saturday, we'll know 1/17th of the NCAA tournament field, as champions are crowned in the Atlantic Sun, Big South and Ohio Valley conferences. (The Ivy League may crown either Harvard or Princeton its champion Saturday, though it may take until next week for the tiebreaking scenarios to play out.) There is less attention and hype surrounding these games than when the big boys play, but often more passion and excitement. Just making the field is the One Shining Moment for most of these teams, and they're doing it in one-bid leagues -- in other words, the conference tournaments really are do or die. There's no at-large safety net waiting to catch the fallen. Win and you're in, and ready for the experience of a lifetime.
Andy Katz
Let's head out West. BYU faces a must-win game against Wyoming at home. It's important for the Cougars to play well and prove they can perform at a high level without Brandon Davies inside. San Diego State has a game against Colorado State at home that has major implications for both teams. SDSU can still earn the top seed in the MWC tourney if BYU were to fall again. CSU could help its at-large chances with an upset. Meanwhile, Arizona could clinch the Pac-10 title by knocking off Oregon. UCLA has a tough game against Washington State, although one considerably less tough now that Wazzu star Klay Thompson has been suspended for the game. And Washington can silence its critics by completing a sweep of the Los Angeles schools with a win over USC. That would lock up an NCAA bid for the Huskies, if one hasn't been already.
Dana O'Neil
Conference games with significant meaning. I'm talking Virginia Tech at Clemson, Michigan State at Michigan, Princeton at Harvard. In each one there is much at stake for at least one team -- namely an NCAA tournament breath of hope. The Hokies were briefly in the bubble driver's seat after beating Duke but lost at least some of their edge when they followed the upset with a home loss to Boston College. Clemson, meantime, played Duke tough on Wednesday night but couldn't score the upset and has a similar numbers to Virginia Tech but lacks a significant win. Meantime in Michigan, the Wolverines need to beat the Spartans to get to .500 in their league, a critical number for NCAA worthiness, while roller-coastering Michigan State is probably in but can't much afford a slip-up here. And finally in the Ancient Eight, Harvard clings to a last breath to get its first automatic NCAA bid.
Diamond Leung
I can't wait to see Kentucky play at Tennessee to close out conference play in the SEC. A young Wildcats team failed to win a single road game in February, so this will be a good test to see if a talented, freshman-laden squad can finally pull out a victory. For Tennessee, a win against a ranked UK team would almost certainly be enough to wrap up an at-large bid in the NCAA tournament. It's been a wild ride for Bruce Pearl this season, and going into the conference tournament winning three of four and taking down two ranked teams would be good momentum for the Volunteers.
Brennan on bubble battles
Player to watch
Corey Fisher, Villanova

The Wildcats' psyche is hanging by a spider web-thin thread, dented and severely damaged by yet another late-season skid. Villanova has lost eight of its past 13, each subsequent loss more dreadful than the next. The latest: a freight train runover by Notre Dame, in which the Irish sunk 20 3-pointers. Villanova needs a win not to jockey for position in the Big East tournament or help its seeding in the NCAA tournament, but to remind the players that they can win. If it's going to happen at league-leading Pittsburgh on Saturday, Fisher absolutely has to be on. The guard has been all over the map this season, a one-man personification of his team's struggles. Villanova absolutely needs him to score, to shoot efficiently and perhaps more than anything, be a leader. This team has all sorts of individual talent, but no one looking out for the collective good. Fisher has to be that person. Time is running out for him and the Wildcats to figure that out, but there is still time.
-- Dana O'Neil