No. 2 Ohio State (8-0) at No. 13 Kansas (6-2)
When and where: Saturday (ESPN/ESPN3, 3:15 p.m. ET), Allen Fieldhouse (Lawrence, Kan.)
Ohio State overview: The Buckeyes arguably have three of the best players at their positions in the Big Ten, and each one is in the discussion for the best at their positions in the nation. Jared Sullinger is the best low post big man in the country, William Buford is among the best scoring guards in the nation, and Aaron Craft is one of the best point guards, and the best defensive guard in the country.
[+] Enlarge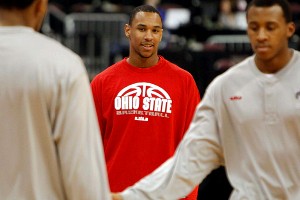 AP Photo/Terry GilliamIf he plays, Jared Sullinger will be more than a handful for Kansas to deal with in the paint.
Ohio State does a great job of keeping the floor spread, with four around one, and playing through Sullinger in the post. Opponents can choose to double Sullinger, but that will leave open shooters spaced on the perimeter, and Sullinger can find them for open shots or to attack a close-out.
On the defensive end, you tend to think that OSU is vulnerable because Sullinger does not appear to be a great defender and sometimes doesn't guard. Yet Ohio State has the second-rated defense in college basketball, primarily because the Buckeyes stay in front of you, force a challenged jumper and limit you to one shot. Ohio State forces turnovers, in large part because of the pressure on the ball from Craft, and does not cough up the ball itself.
Kansas overview: The Jayhawks are a work in progress and will be among the best teams in the Big 12. However, this is not a deep KU team, and not anywhere near as powerful as Bill Self's seven straight Big 12 title teams.
Kansas does not have outstanding perimeter shooting, but the Jayhawks get good shots due to their ability to run Self's playbook effectively. Kansas does not force a lot of turnovers and does not guard the lines as well as it should. By "guard the lines" I mean covering shooters out to the 3-point line and playing good defense without fouling and keeping opposing teams off the free throw line.
Ohio State go-to guy: Sullinger
He is so wide-bodied and has such good feet that you cannot get around him. And when Thad Matta goes inside to Sullinger, the sophomore is quick and decisive enough to make a play to the rim and score, get fouled or both. Sullinger is a skilled and well-rounded player with a wide body and knows exactly how to use it. He is ridiculously efficient and productive.
Kansas go-to guy: Thomas Robinson
T-Rob is an athletic and energetic physical specimen who is really productive because of his motor. He keeps coming at you and is an excellent finisher in transition, off screen-and-roll action and on the glass. While Robinson can hit to 3-point range and knock in shots a step or two off the lane, that is not where he can dominate. For T-Rob to be his most effective, he needs to catch the ball deep in the post, deep enough where he doesn't have to make a post move. And by the way, he is one of the best defensive rebounders in the country.
Ohio State indispensible player: Buford
Buford is one of the most underrated stars in the country. He is a very good mid-range player and loves to go to his right. Buford is aggressive and really hungry to score. Without him, Ohio State is much easier to defend. With him, Ohio State has a weapon as potent as Sullinger.
Kansas indispensible player: Tyshawn Taylor.
No other player on the Kansas roster can replace the handling, passing, scoring and defensive presence that Taylor provides. Sure, he makes occasional mistakes (everybody likes to point to the 11 turnovers against Duke). But what would things be like without him? Take away Taylor, and KU would struggle to score.
Ohio State X factor: Deshaun Thomas
A wild card who can get you 25 or produce far less, Thomas allows Ohio State to spread the floor and helps keep people off Sullinger. He is an athletic lefty that has crazy range, can pick and pop and get to the offensive backboards.
Kansas X factor: Jeff Withey
The 7-footer has become more of a presence around the goal and has been doing a good job of rebounding and blocking and changing shots. The key for Withey is playing strong without picking up fouls. That takes maturity and smarts.
Key stat: Free throws
Will Kansas be able to guard Sullinger in the post and recover and close out to perimeter shooters without fouling and putting Ohio State on the free throw line? The Buckeyes do not foul much, and KU has had some issues putting opposing teams on the line.
Key X & O to watch: How Kansas decides to play Sullinger in the post. Do the Jayhawks double him? Will they double him on the catch or the dribble? From where are they bringing the double? Is it a post to post double, or does Self bring a guard to rake down?
Note: Jay is doing color for this game on ESPN, so he will not be making a prediction.
No. 1 Kentucky (8-0) at Indiana (8-0)
When and where: Saturday (ESPN/ESPN3, 5:15 p.m. ET), Assembly Hall (Bloomington, Ind.)
Kentucky overview: Kentucky is the most talented and gifted team in the country. The Wildcats are not super deep with NBA players but have plenty of guys who can play. Terrence Jones, Anthony Davis, Michael Kidd-Gilchrist and Marquis Teague will all play at the next level sooner rather than later, and I would not be surprised to see Doron Lamb and Kyle Wiltjer join them in the NBA. Kentucky may be very young in spots but the Cats defend, play hard and are not afraid.
The Wildcats generate offense from their defense, and they excel at getting into the lane off the dribble. We spend a lot of time talking about Kentucky's scoring ability and talent level, but what makes John Calipari's teams win is, and always has been, defense. The Cats pressure the ball, bring the heat 94 feet at times and look not just to position themselves properly, but also to heat up the ball. To win, Kentucky will have to turn Indiana over and also force quick, contested shots.
[+] Enlarge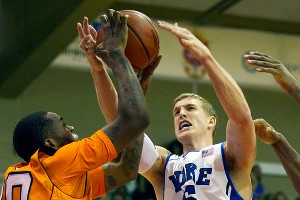 AP Photo/Eugene TannerMason Plumlee and the Blue Devils need to control the boards against Washington on Saturday.
Indiana overview: The Hoosiers are a much better team this season due to talent and collective will. Tom Crean has done a remarkable job of bringing Indiana back to competitive status, and with Cody Zeller, Crean has a player he can run the offense through. The Hoosiers work hard for good shots and run good sets. The key will be handling pressure. Kentucky will try to take Indiana out of its sets, disrupt its pick and rolls and ball reversals, and force the Hoosiers further out on the floor. Expect Zeller to get trapped in the post, and expect Jordan Hulls and Verdell Jones to get pressed. The Hoosiers have to be strong with the ball from tap to buzzer in order to win.
Kentucky go-to guy: Jones
The lefty forward can shoot the ball from deep and also has the ability to put the ball down and attack the rim. He is explosive and strong, and Indiana will have a hard time matching up with Jones.
Indiana go-to guy: Hulls
The small point guard is not IU's best player, but when the Hoosiers need an important basket, Hulls can hit it. The question is, can he get open to hit them? He has made 15 3s, which represents almost half of his field goals, and has a 2-to-1 assists-to-turnover ratio. Hulls needs some space to find an open shot, so the key will be how many open looks Crean can manufacture for him. To win, Hulls has to hit some shots.
Kentucky indispensible player: Lamb
The sophomore can really score, and he does so very efficiently. He is not a volume shooter but is able to do more with less. Lamb has an outstanding middle game, and when he has time to shoot he makes almost everything. Lamb is also a solid defender when he competes.
Indiana indispensible player: Zeller
Zeller is Indiana's best player, a very skilled and strong interior presence. Crean can run the offense through his big freshman, and Zeller leads the Hoosiers in scoring, rebounding, offensive rebounding and field goal percentage.
Kentucky X factor:Kidd-Gilchrist
The freshman is an aggressive force on both ends of the floor and plays with great passion. Kidd-Gilchrist can drive the ball, get into the lane and get to the free throw line. He also uses his energy and high motor to get steals on the other end. He can turn it over and commit fouls, but he can also be the most effective player on the floor. Kidd-Gilchrist is a winner and plays his best in big games. This is a big game.
Indiana X factor: Christian Watford
Indiana has some good players. Whether it is Zeller, Victor Oladipo or Will Sheehey, Crean has more options this season of guys that can make plays. Watford was expected to be a leading scorer and rebounder this season, and he has the ability to be just that. Thus far, he is averaging over 10 points and five rebounds per game.
Key stat: Indiana turnovers
The Hoosiers work to get good shots and when they do, they are one of the most efficient offensive teams in the country. Against UK's pressure, it will be difficult for Indiana to run offense the way it wants. It is vital for IU to handle and pass the ball without coughing it up. The Hoosiers' offense has to help the defense. Turnovers mean easy shots and opportunistic 3s for Kentucky. It is not just a question of how many turnovers, but what kind. Live ball turnovers will become easy baskets for the Wildcats.
Who wins: While I believe Indiana will play its best game of the young season, Kentucky is more talented and powerful. The Cats will pull out a win on the road.
A dozen more to track
Friday
Richmond at VCU (8 ET, ESPN2): The Spiders are advancing their rebuilding project with a solid start to the season. Now comes an improving VCU team that pushed Alabama in Tuscaloosa. This is the third straight game away from home for the Spiders. If they can win it, it'll push them closer to being a top-four A-10 team.
Saturday
Washington vs. Duke (noon ET): Duke righted itself by blasting Colorado State at home, while Washington nearly clipped Marquette in Madison Square Garden. The Huskies have spent the week in New York. MSG is a second home for the Blue Devils. This will be come down to whether UW can push Duke as much as possible on the break and if Duke can dominate the backboards. If the latter occurs, the Huskies will be in trouble.
Creighton at Saint Joseph's (noon ET): The Hawks' long journey of gaining back respectability continued with a solid win over BU after beating Drexel and taking out Tulsa and Georgia Tech. But now Creighton comes calling. The Bluejays have shown no fear, regardless of venue. The Jays' comeback win at San Diego State was a signature victory. This could be a signature win for Saint Joe's or yet another victory for Creighton away from Omaha.
Cincinnati at Xavier (12:30 ET, ESPN2): Cincinnati seems to have found itself after the embarrassing home loss to Presbyterian and then a tough overtime defeat to Marshall. But Xavier is up next. The Musketeers are one of the best teams in the country. No debating that. X came back to beat Vandy on the road and Purdue at home. This again should be a wild affair and as intense an atmosphere as you'll see in the nonconference.
UNLV at Wisconsin (2 ET): The Badgers have lost their two most significant games since rolling BYU. Losing at North Carolina was expected, but Wisconsin was humbled by losing to instate rival Marquette. UNLV was on a roll before it was clipped at Wichita State. UNLV shouldn't be expected to win this game, but if the Rebels do, then this team should shoot back into the top 20.
Pittsburgh vs. Oklahoma State (2:30 ET, ESPN): This is the undercard at Madison Square Garden, being played after Duke-Washington. Oklahoma State is still trying to figure out its identity. Pitt seems to have figured out how it needs to play after the home loss to Long Beach State. OSU will want to run, while Pitt will want to play a bit more ugly. Ugly should prevail in this one.
Michigan vs. Oakland (4 ET): The Grizzlies took down Tennessee in the post-Keith Benson era, but Michigan has only had a couple of hiccups, both totally acceptable against Duke in Maui and at Virginia. The Wolverines are more experienced, talented and simply better than Oakland. A loss in Auburn Hills would come as a surprise.
Villanova at Temple (5 ET, ESPN2): The Big 5 series continues with its consistently most productive teams. Nova has found it hard to be consistent offensively this season. Temple has had injuries yet again and can't seem to find its stride. The winner of this game should get a significant boost going forward into its respective conference.
Long Beach State at North Carolina (7 ET, ESPN3): The 49ers pushed Kansas to the final few possessions, but they haven't been able to finish games during this brutal slate. The 49ers have the athletes to run with the Tar Heels, but Carolina simply would have to be off for LBSU to steal a win in Chapel Hill. But UNC should be focused for a win against a likely NCAA team.
Michigan State at Gonzaga (9 ET, ESPN2): The Spartans had the two toughest games to start the season (North Carolina, Duke), but since then have won seven in a row. Now comes a tough trip to Spokane with the Zags coming off a loss at Illinois. MSU is getting quality guard play of late from Keith Appling and Travis Trice. Gonzaga still has to play Arizona and go to Xavier, so picking up a win over Michigan State is critical.
Sunday
Iona at Marshall (2:30 ET): This is a game between two teams outside the power six that have the potential to be NCAA teams and first-round upset picks. Iona had a quality win at Denver this week, its seventh straight victory and third consecutive away from home. Marshall is coming off a close loss at Syracuse and won at Cincinnati earlier. The Herd is strong at guard, but can they handle assists machine Scott Machado?
Murray State at Memphis (6 ET): Could there be an upset here? The Racers have been rolling, undefeated and champs of the Great Alaska Shootout. Memphis picked up a key road win at Miami, a victory that showed maturity for this young team. Now the Tigers have to respect an opponent that can beat them in their own arena. This will be a barometer to show how much the Tigers have grown in the first month of the season.
Viewer's Guide
All times ET
Friday
8 p.m.: Richmond at VCU (ESPN2)
Saturday
Noon: Washington vs. Duke (CBS)
Noon: Creighton at Saint Joseph's
12:30 p.m.: Cincinnati at Xavier (ESPN2)
2 p.m.: UNLV at Wisconsin (BTN)
2 p.m.: Milwaukee at Northern Iowa (ESPN3)
2:30 p.m.: Oklahoma State vs. Pitt (ESPN2)
3 p.m.: Arkansas at Oklahoma (ESPN3)
3:15 p.m.: Ohio State at Kansas (ESPN)
4 p.m.: Michigan vs. Oakland
5 p.m.: Villanova at Temple (ESPN2)
5:15 p.m.: Kentucky at Indiana (ESPN)
7 p.m.: Long Beach State at UNC (ESPN3)
7 p.m.: Miami at West Virginia (ESPN2)
8 p.m.: Wake Forest at Seton Hall (ESPN3)
9 p.m.: Michigan State at Gonzaga (ESPN2)
Sunday
2:30 p.m.: Iona at Marshall
6 p.m.: Murray State at Memphis (CSS)
King on Ohio State-Kansas
I can't wait to see …
Miles Simon
A must see for this weekend is the Long Beach State 49ers' road show. Coach Dan Monson and his team annually play one of the toughest schedules and this season they won at Pitt and played tough games at San Diego State, Louisville and Kansas. Now they play UNC, and if last season's game is any indication it's going to be a lot of fun. Both teams return just about everyone who played in last season's 96-91 Tar Heels win. The 49ers like to run and aren't afraid of anyone. They are led by Casper Ware, one of the best point guards in the nation, and power forward T.J. Robinson. UNC had trouble with a similar-type team in UNLV (quick, athletic, undersized, tough). Long Beach State will be a dangerous tourney team if it can win the Big West tourney this season.
Eamonn Brennan
Can Washington redeem itself in the Garden? The Huskies had a fantastic opportunity to introduce themselves to the college hoops public this week, and in many ways they took it, pushing a very good Marquette team to the final possession at the Jimmy Classic in Madison Square Garden on Tuesday. But Lorenzo Romar's team still came away with a loss. On Saturday, Washington gets a chance to make good in the Garden with a matchup against Duke. It seems the Huskies -- with athletic and talented players like Tony Wroten, Terrence Ross and Abdul Gaddy, as well as a bruising frontcourt featuring Aziz N'Diaye -- have the talent to keep up with some of the nation's top teams. But are they ready mentally? Can they sustain a focused effort for 40 minutes? Or do they still need time to develop? We'll get another revealing look Saturday afternoon.
Joe Lunardi
I can't wait to see the annual Crosstown Shootout between Cincinnati and Xavier. These schools genuinely loathe each other and that intensity almost always spills over onto the court. There is also more than a little history of the unranked team making its season with a big-time upset (Lenny Brown, anyone?). Xavier is 7-4 in the series since that remarkable December 1999 upset, but the Bearcats have actually outscored the Musketeers in those 11 meetings. So, buckle up and expect the unexpected!
Jason King
We may not see a better individual matchup all season than the one between Thomas Robinson and Jared Sullinger in Saturday's Ohio State-Kansas game. A month into the season, the forwards have emerged as arguably the top two candidates for national player of the year. Sullinger -- a first-team All-American last season -- won't face a more physical, versatile player all season than Robinson, who has developed a nice outside shot to complement his prowess in the paint. Robinson, meanwhile, will have to stay out of foul trouble if the Jayhawks have any hopes of upsetting the second-ranked Buckeyes.
Myron Medcalf
I can't wait to see if No. 15 Alabama plays like a desperate team Sunday against Detroit, a talented Horizon League team that just knocked off St. John's. The Crimson Tide struggled early last season and now are dealing with a two-game losing skid. Three in a row will conjure memories of 2010's struggles and could drag a promising team down weeks before the start of SEC competition.
Dana O'Neil
Kentucky at Indiana. Along with another edition of a terrific rivalry, this will be a terrific test for both teams -- the first real road test in a hostile environment for a young Wildcats team. How the Cats handle the nastiness, especially point guard Marquis Teague coming home to Indiana, will be telling. On the other side, this is a huge litmus test for the Hoosiers. There's no question IU is better, much better, this season but Indiana doesn't live in the world of moral victories and baby steps. It was once and longs to again be a national program. This game will determine just where the Hoosiers rank on that national scale.
John Gasaway
MSU-Gonzaga. The Spartans opened their season with losses to North Carolina (on an aircraft carrier) and Duke (in Madison Square Garden), and promptly dropped off everyone's radar. But since that time Tom Izzo's team has gone 7-0, a run that included a convincing 16-point win over Florida State in East Lansing. I think unranked Michigan State is being overlooked. If I'm right, this is the time to prove it, against a Bulldogs team led by veterans Robert Sacre and Elias Harris. Watch to see if the Spartans can keep Mark Few's team off the free throw line. If they can, I like the visitors' chances in this one.
Diamond Leung
I can't wait to see Indiana try to knock off Kentucky. The Hoosiers haven't had much go right for them over the past few years, but now they enter this game undefeated and have a chance to take down the No. 1 team at home. The atmosphere at Assembly Hall should be tremendous, and Tom Crean has a chance to show off a rebuilding program. If the Hoosiers can pull the upset, what a sight it would be. If Kentucky wins in convincing fashion in its first true road game, it's another great sign for the Wildcats.
Brennan on Kentucky-Indiana
O'Neil on Washington-Duke
Player to watch
Casper Ware, Long Beach State


The 49ers might be the most feared 4-4 team in the country. Dan Monson's team won at Pittsburgh, which is about as easy as winning on a carnival wheel, and gave Kansas a good scare -- not to mention Bill Self a good rant. Now Long Beach State heads to North Carolina, a team that has to be a little shaken after losing to UNLV and Kentucky in the span of one week. If the 49ers are going to pull off a huge upset, Ware will have to be on his A game. The senior guard is averaging 17 points and four assists and has both the playmaking and shot-making ability to play with the Heels.
-- Dana O'Neil
Medcalf on Michigan State-Gonzaga
Vitale previews UK-IU and OSU-KU