No. 7 Baylor (8-0) at BYU (8-2)
When and where: Saturday (BYUtv, 2 p.m. ET), Marriott Center (Provo, Utah)
Outlook
: Baylor has one of the most talented, lengthy and athletic frontcourts in the country. It plays a very active and intimidating zone defense and can switch defenses to give you different looks. Baylor can extend the defense, lift the wings and match up all over the court.
The best wins the Bears have had are against San Diego State and Northwestern. Against the Wildcats, Baylor's zone allowed the Bears to avoid dealing with Bill Carmody's Princeton offense and held Northwestern to 4-of-26 shooting from 3-point range.
[+] Enlarge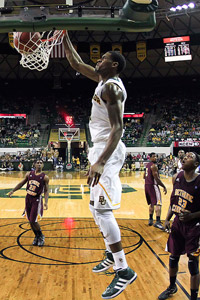 AP Photo/Tony GutierrezBaylor's Perry Jones III is unmatched in talent, leading the Bears in scoring.
Baylor's length and athleticism makes it difficult for opponents to get shots inside the arc, and the Bears lead the nation in 2-point field goal percentage defense (33.3 percent). While Baylor relies upon the play of Perry Jones III, Quincy Miller, Quincy Acy, Cory Jefferson and Anthony Jones, the play of Baylor's guards is the real key to success. Last season, Baylor turned the ball over like crazy, and ranked in the bottom 10 percent in the country in ball security. Of course, that was not all the fault of the guards, as the big guys pitched the ball away just as often. Baylor is still ranked in the bottom third of Division I, but has improved in taking care of the ball.
This game provides a real test for the Bears because it is against a good team used to winning, and because it is away from home. Last season, BU was 2-10 away from Waco. But it is a hot team right now. Over its past three games, Baylor is shooting 56 percent from the floor.
BYU may have lost Jimmer Fredette and Jackson Emery, but the Cougars still have talent and ability, and still compete. Instead of relying upon Fredette on the offensive end while hiding him on defense, BYU is better defensively but not quite as explosive on the offensive end. The team is led by 6-foot-8 senior Noah Hartsock, who averages 17 points, 7 rebounds and 2.6 blocks while shooting 56 percent from the field. Hartsock can step out to 3-point range and hits his free throws at a high rate. BYU can shoot the ball, hitting just a shade under 40 percent from 3-point range as a team, with more than eight 3s per game.
Baylor's best player: Jones III. Jones is the complete package and has an enormous amount of talent. Miller is more aggressive than Jones was as a freshman, and Acy is the best offensive rebounder and strongest finisher, but no other player has the natural ability of Jones III. As he continues to mature as a player, he has the chance to be special.
BYU's best player: Hartsock. The senior is a complete player and is tough. He is a better athlete than he gets credit for, and has good skills and is a good passer. Hartsock is good enough to operate in the gaps of the zone or step to the arc and knock down an open 3. He has been more active as a scorer, and is shooting more free throws this season -- in turn doubling his scoring average from last season. Hartsock has to have a really good game for BYU to win in the Marriott Center.
Baylor's X factor: Pierre Jackson. The diminutive guard is averaging 14 points and 4 assists on 71 percent shooting over his past five games. He is athletic, quick and explosive coming off the bench. In addition to Jackson, Brady Heslip has hit 20 3s, with all but two of his field goals coming from behind the arc.
BYU's X factor: Brandon Davies. The 6-9 junior can give you 25 points in a game, or he can give you only two or three points. Davies is coming off of a three-game stretch in which he scored a total of 20 points, including a 3-point, 9-rebound effort against Utah. Over the past three games, Davies is shooting 8-of-25 from the floor.
Key stat: Turnovers and 3-point shooting. BYU is good defensively, and can cause some problems for Baylor. If Baylor can limit the amount of miscues and live ball turnovers, BYU will have to play more possessions against BU's half-court defense, where the Bears are most proficient. To win, BYU needs to hit some perimeter shots, and Hartsock, Charles Abouo and Brock Zylstra are key guys for Baylor to be aware of. Stephen Rogers, who has hit 15 3s on the season, is doubtful for the game.
What to watch for: Watch how Baylor matches up in its zone defense. The Bears have man-to-man principles in their zone, but also stay home and make it difficult for opponents to get open shots inside the arc, especially near the rim. Like Syracuse and Louisville, Baylor is difficult to score on, not because they play zone, but because they play an active, long and athletic zone.
Who wins: Brigham Young is really tough at the Marriott Center, and even though Baylor is more talented, the maturity and strength of BYU at home should carry the Cougars to a close win.
No. 22 Texas A&M (8-1) vs. No. 13 Florida (7-2)
When and where: Saturday (FSN, 2:30 p.m. ET), BankAtlantic Center (Sunrise, Fla.)
Outlook
: Florida has outstanding guards, can spread the floor and can knock down perimeter shots from multiple positions. The Gators are very good using ball screens, therefore ball screen coverage, rotations and communication are at a premium when defending Florida. Against UF, you have to guard the 3-point line. Forty percent of the Gators' offense comes from 3-point field goals, and that opens up the floor for drives and post touches. And because of its 3-point proficiency, Florida leads the nation in offensive efficiency.
[+] Enlarge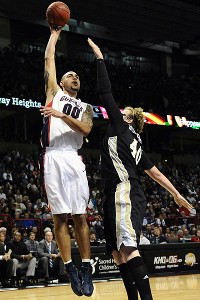 James Snook/US PresswireGonzaga big man Robert Sacre could do some damage in the paint versus Arizona.
Inside, Billy Donovan has a big, strong presence in Patric Young, who is very productive when he keeps things simple and posts deep enough that he doesn't need to use post moves (a lesson for most big men). Florida is a pressing team, and any time you are pressed, you are presented with opportunities for advantage situations. Curiously for such a potent shooting team, Florida is not a good free throw shooting team.
Texas A&M does not play at the same tempo as Florida, and is among the more methodical teams in the country. The Aggies do not really score. Only four times in nine have the Aggies posted more than 60 points in a game. In contrast, Florida has been held under 74 points just once, when held to 68 by Syracuse.
While UF scores from deep, Texas A&M is always trying to get closer. The Aggies score more than half of their points in the paint. But as offensively challenged as they may seem, I believe the Ags are much better than their offensive numbers suggest, and will be much better offensively as we get into January and February.
Offense aside, A&M relies upon defense, and it is a bend but don't break philosophy. The Aggies do not force turnovers and they do not gamble for steals. They play good, solid position defense and they help and rotate very well. Texas A&M is in the top five in the country in field goal percentage defense, scoring defense and 3-point defense, and is among the top 10 rebounding teams in the nation. The Ags limit opponents to one challenged shot, and they get out and contest 3-point shots. They guard the line, they protect the rim and they make you take tough shots in between and are loathe to give you a second chance when you miss. Then, after working hard to score, you have to defend on the other end for 30 seconds.
This game is not about scoring for Texas A&M. It is about defense. The Aggies' defense will keep them in the game against most every opponent. The question is whether the Aggies can score. The Aggies' top player, Khris Middleton, missed seven games with a knee injury that required surgery, which is a big reason the Aggies' offense has been so anemic. With Middleton back, Texas A&M has a potent weapon.
Texas A&M's best player: Middleton. He is a smooth perimeter shooter who put up 24 points in his return last Saturday against Louisiana-Monroe. Middleton is averaging only 19 minutes per game, yet is averaging 15 points per game. At 6-7 and reed thin, Middleton can see over and shoot over the Florida guards, with the exception of Bradley Beal. I would expect that Beal would spend time guarding Middleton. He is the key performer for Texas A&M, and you cannot allow him to get going early.
Florida's best player: Kenny Boynton. I believe that Beal is the Gators' best overall player with his all-around game, but Boynton is the best player with his experience and ability to put up numbers in almost any game. Boynton is unafraid to take big shots, and he is an aggressive and hungry scorer. Boynton is averaging 18.7 points per game on 50 percent shooting from the floor, and he has nearly made more 3-point shots by himself (32) this season than Texas A&M has made combined (36).
Texas A&M's X factor: Elston Turner. The Aggies do not shoot the ball well from the perimeter. Overall, Texas A&M is shooting 29 percent from the 3-point line, and makes only four 3-point shots per game, which is just more than a third of the offense Florida generates from behind the line. Turner is the main 3-point threat, and he should get some open looks if Texas A&M handles pressure without turning it over.
Florida's X factor: Young. Young is a tremendously strong interior player who looks like he was chiseled out of stone. He has done a great job finishing plays this season, and is averaging 12 points and 8 rebounds, while shooting 59 percent from the field. Young does not hit his free throws, but usually outworks his opponent. The question is whether he can operate in a crowd, because the Aggies will make him score over them, and will be physical.
Key stat: Rebounding and turnovers. Texas A&M owns a rebound margin of plus-10 and really limits second shots. Florida tries to speed up the tempo, but it is much easier to slow a game down than to speed up a good team. Texas A&M will get a slower tempo than Florida wants, but will still have to handle pressure and protect the ball. If Texas A&M coughs the ball up, Florida will most certainly win. Texas A&M has to win the turnover and rebounding battle.
What to watch for: Watch how Texas A&M guards Florida's pick-and-roll situations. Do the Aggies hedge hard and recover? Do they stretch it out? Do they force Florida to use the screen or do they down it or ice it on the wing? What adjustments do the Aggies make?
Who wins: Florida can score, and Texas A&M struggles to score. Even though the Aggies are an outstanding defensive team, I favor the team that can put the ball in the bucket with greater ease. Even though A&M will "ugly it up" (which can be quite beautiful when you win), I think Florida will win this one.
A dozen more to track
Friday
UC Santa Barbara at Washington (10 ET): The Huskies seemed to have shed their early-season lull that sent them to a disappointing blowout loss to a quality squad in Saint Louis. Sure, the Huskies lost both games in New York to Marquette and Duke. But they finished strong. Harnessing that kind of kick at the end shouldn't be an issue at home. Orlando Johnson, though, will be tough to tame in Seattle.
Saturday
Mississippi State at Detroit (ESPN3, Noon ET): The Titans simply can't find a good rhythm this season to warrant being given a realistic chance to be a real contender in the Horizon League. The season started without Eli Holman and now Nick Minnerath is out for the season with a knee injury. There is only so much Ray McCallum Jr. can do. He'll have his hands full with Dee Bost. And Holman has to deal with Arnett Moultrie and Renardo Sidney. This is a good test for the Bulldogs because they should win this game.
Temple at Texas (ESPN2, 2:30 ET): The Longhorns have been quietly cruising after a disappointing 0-2 finish in the Legends Classic in New Jersey last month. Texas came back and beat UCLA. Temple has had its own issues finding a consistent gear this season. Expect the Owls to frustrate the Longhorns at times but Texas to prove it's an upper-tier Big 12 team yet again.
Memphis at Louisville (CBS, 4 ET): The Cardinals continue to have big games at the KFC Yum! Center. The schedule was masterfully done by Rick Pitino, who had no idea that this team would be injury riddled yet again. But the Cards are survivors and this should be yet another challenge -- but winning result -- at home. Memphis is still finding itself as a team with inexperienced talent. The Tigers got clipped by more mature Murray State. Memphis will likely have to earn its NCAA bid by winning C-USA.
Arizona vs. Gonzaga (CBS, 4 ET): The Gonzaga offense has had issues with defenses that alternate man and zone, and its guards can make shots but not enough on a consistent basis. Bulldogs big man Robert Sacre has his moments, but the Zags must get back to being the aggressor from the opening tip to the closing horn. Arizona had its best game of the season in dispatching a disappointing Clemson team. If we are to believe in Gonzaga again then the Zags must beat Arizona in Seattle.
UNLV vs. Illinois (5 ET): The Runnin' Rebels have had a brutal slate of games since beating North Carolina. This schedule is almost akin to what Long Beach State is going through. The Rebels followed up the Carolina win with the victory at UC Santa Barbara but got blitzed at Wichita State and lost at Wisconsin. Illinois survived St. Bonaventure and remains undefeated. How the Rebels handle Meyers Leonard's soft hook inside and ability to face up could be the difference in this game at the United Center in Chicago.
Indiana State at Vanderbilt (ESPN3, 5:30 ET): The Commodores have gone off the radar a bit as they try to get back to playing consistent basketball. Indiana State is a scrappy crew that should have been in the Old Spice Classic championship game but gave it away in the final few possessions. This will be a tremendous test for the Sycamores, but once again a game that Vandy should win without much fanfare.
Syracuse at NC State (ESPN2, 6:30 ET): NC State has both promise and players who are similar to those at Syracuse. This squad has length, the ability to slash to the basket and decent perimeter shooters. But can the Wolfpack actually take down an elite team in the No. 1 Orange? NC State failed to rise up to knock down surging Indiana. This is Syracuse's first true road game of the season. It's hard to say if they'll be affected by the RBC crowd because it's an unknown as to whether or not the fans will be in upset-numbers to affect the outcome.
Kansas State vs. Alabama (ESPNU, 10 ET): Kansas State got clipped in Wichita by West Virginia in double overtime. Since knocking off Purdue in Puerto Rico, Alabama hasn't had as good a performance. This should be an intriguing barometer game in Kansas City for both teams. The Wildcats don't have the productive size inside like the Tide, but they'll be the de facto home team and do tend to rally with fan support. If the Tide were to win this game, it would change the perception of Alabama a tad. A K-State win and the Wildcats should be taken even more seriously in the Big 12.
New Mexico vs. Oklahoma State (ESPN2, 10:30 ET): The Lobos got off to a slow start and whiffed on an opportunity to meet Saint Louis in the 76 Classic in Anaheim. They'll get their shot, though, when Rick Majerus' crew comes to the Pit on New Year's Eve. Meanwhile, the Cowboys continue to challenge themselves but aren't developed enough as a unit nor productive enough to avoid scoring droughts to produce quality wins. The winner of this game in Oklahoma City may finally have some momentum going into the final nonconference games.
Sunday
Oral Roberts at Xavier (1 ET): Oral Roberts might have had a chance if this game were in Tulsa. But it's at the Cintas Center, where the crowd will rally around the suspension-depleted Musketeers. Cincinnati showed Wednesday that it can win with a limited roster. Expect the same out of the Musketeers, who will play this game sans Tu Holloway, Mark Lyons, Dezmine Wells and walk-on Landen Amos.
Virginia at Oregon (5:30 ET): This may be the most intriguing game of the weekend outside of Baylor-BYU. The Cavaliers picked up a quality home win over Michigan, but they need something to shout about outside of Charlottesville. Oregon has rebounded nicely since Jabari Brown quit and Devoe Joseph became eligible. These are two programs that could still make a play for a top-three finish in their respective conferences.
Viewer's Guide
All times ET
Friday
10 p.m.: UC Santa Barbara at Washington (FSN)
Saturday
Noon: Ohio State at South Carolina (ESPN)
Noon: Mississippi State at Detroit (ESPN3)
2 p.m.: Baylor at BYU (BYUtv)
2:30 p.m.: Temple at Texas (ESPN2)
2:30 p.m.: Texas A&M vs. Florida (FSN)
4 p.m.: Memphis at Louisville (CBS)
4 p.m.: Arizona vs. Gonzaga (CBS)
4:30 p.m.: Notre Dame vs. Indiana (ESPN2)
5 p.m.: UNLV vs. Illinois (BTN)
5:30 p.m.: Indiana State at Vanderbilt (CSS)
6:30 p.m.: Syracuse at NC State (ESPN2)
10 p.m.: Kansas State vs. Alabama (ESPNU)
10:30 p.m.: New Mexico vs. Okla. St. (ESPN2)
Sunday
1 p.m.: Oral Roberts at Xavier (FS Ohio)
5:30 p.m.: Virginia at Oregon (FSN)
Medcalf on Texas A&M-Florida
I can't wait to see …
Andy Katz
The post-Jimmer Fredette era hasn't been rocky at all. BYU has won the games it was supposed to and been knocked back only twice, at Utah State to open and to Wisconsin in suburban Chicago. Beating Baylor at the Marriott Center should provide the necessary momentum for the Cougars to legitimately challenge Gonzaga and Saint Mary's in their first season in the West Coast Conference. But to do that they'll have to keep the Baylor big men off the backboard and if you saw any of the highlights from Wednesday night then you know just how difficult that will be for any team this season. The Bears are about as acrobatic in their ability to flush the basketball as any squad.
Jason King
I'm anxious to see how Texas A&M looks against Florida. The Aggies are 8-1 but lost against the only formidable opponent (Mississippi State) on their schedule thus far. Star forward Khris Middleton missed seven games with a knee injury but scored 24 points in his return Saturday, so the Aggies will be at full strength against Florida. We'll know a lot more about Texas A&M after this weekend.
Myron Medcalf
How Syracuse responds with the No. 1 target on its back and a brewing off-court controversy that seems to grow by the day. Previous poll kings North Carolina and Kentucky lost their crowns in matchups away from home that most figured they'd win with limited efforts. Plus, this could be Mark Gottfried's "trust my vision" moment, a la Tom Crean's signature win over the Wildcats last weekend.
Dana O'Neil
A renewal of one of the best old-school conference rivalries when Louisville hosts Memphis on Saturday. Once a heated battle, this one has gone on hiatus for six years, which is six years too many. Along with the rivalry restored, this is a critical game for Memphis. The Tigers aren't reeling but they're close, in disarray with a 5-3 record and not a single decent win to show for the nonconference slate.
Joe Lunardi
How will Syracuse, the nation's latest No. 1, fare in its first true road game of the season? The Orange visit a good-enough-to-scare-you NC State team that will be looking for a signature win under new coach Mark Gottfried. The Wolfpack are most likely NIT-bound, but it only takes 40 special minutes to change the character of an entire season. On the other side, it will have been exactly 1,092 days since Jim Boeheim last faced a nonconference opponent on its home floor. Seriously.
Miles Simon
I can't wait to see the Arizona and Gonzaga matchup. There have been some classic games in the past and this one shouldn't disappoint. The matchup of freshman point guards should be very intriguing. Arizona freshman Josiah Turner came in highly touted but has struggled to adjust to the college game, whereas Kevin Pangos of Gonzaga went to work right away hitting nine 3s and scoring 33 points in his second game versus Washington State. Arizona is not big on the inside and that could be a problem as Gonzaga senior center Robert Sacre is a force who has improved his numbers each season. Arizona is the deeper team as Sean Miller will play 10 guys regularly, try to play uptempo and use that depth to wear the Zags down.
Eamonn Brennan
The rebirth of the Memphis-Louisville rivalry. The last time these two longtime rivals played was in the C-USA conference tournament title game in 2005, when Memphis' Darius Washington missed two of his three last-second free throws and the Tigers missed a chance at the NCAA tournament (and a chance to knock off the top-10 Cardinals). Thanks to realignment and the vagaries of scheduling, the Tigers haven't had a chance to get that one back in the six years since. But Saturday, Memphis travels to the KFC Yum! Center in Louisville, where it will attempt to knock off another Rick Pitino-led top-10 Cardinals team. Can this young and struggling Memphis squad, fresh off a home loss to Murray State, give its fans some long-awaited closure?
John Gasaway
I can't wait to see Texas A&M play Florida at BankAtlantic Center in Sunrise, Fla., on Saturday. For one thing it's the only game all weekend between two ranked teams. But I also think this game can tell us a lot about both the Aggies and the Gators. Billy Kennedy's team has welcomed Khris Middleton back to action and is now at full strength. Meanwhile Patric Young is rounding into form for Billy Donovan, having scored 37 points on 17-of-22 shooting over the past two games. The Gators have an outstanding offense (as always), and A&M's FG defense this year has been even better than Kentucky's. Enjoy the collision.
Diamond Leung
I'm most interested in seeing Arizona and Gonzaga square off in Seattle. It's a battle between defending conference champions and West Coast powers, and there's plenty of intrigue because both of these teams are still looking to find themselves. The Wildcats remain a young team that continues to improve while the Zags are looking to rebound after losing in their past two games against Big Ten opponents.
O'Neil on Memphis-Louisville
Player to watch
C.J. Leslie, NC State


In his first season, Mark Gottfried already has things pointed in the right direction for the Wolfpack. Good recruits are coming and this team is a respectable 6-3. If the Wolfpack really are looking to serve notice, this Saturday offers a great chance when top-ranked Syracuse comes to town. To beat the Orange, a team that has been rock solid defensively all year, NC State is going to need everything out of Leslie. He's been reliable all season save for the previous game, when foul trouble limited his minutes against North Carolina Central. Leslie, who's averaging 12 points and 6 boards, call ill afford that against Syracuse.
-- Dana O'Neil
Brennan on Crossroads Classic