No. 4 Louisville (12-1) at No. 3 Kentucky (12-1)
When and where: Saturday (CBS, 12 p.m. ET), Rupp Arena (Lexington, Ky.)
Overview
: Kentucky is the most talented team in the country and has a nice mix of super-talented freshmen and experienced players. This could very well be the season John Calipari gets his first national title. The Cats have speed and length and are rated as the fourth-most efficient offensive and defensive team in the country. UK sets the tone on the defensive end, where the Wildcats are holding opponents to just 35 percent from the floor, best in the country. The long-armed and athletic Cats also lead the nation in blocked shots, swatting away around 10 shots per game.
[+] Enlarge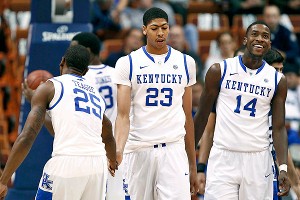 Mark L. Baer/US PresswireKentucky's group of freshmen will get a taste of one of the best rivalries in college sports.
On the offensive end, Kentucky is shooting 49 percent from the field as a team and has multiple weapons on the perimeter and in the post, and has six players averaging double figures. Doron Lamb is the best shooter and scorer, freshman big man Anthony Davis is the best shot-blocker and future pro prospect but freshman Michael Kidd-Gilchrist is the best player. He has a motor that you just don't see very often, and he knows only one speed, which is "all out." Kentucky is dangerous in transition and on the backboards, and to beat the Wildcats, teams must limit them in full-court situations and force the Cats to play a 5-on-5 half-court game. Louisville is just as good as UK on the defensive end but plays a bit differently. The Cardinals will pressure for 94 feet but can really take opponents out of their game with their half-court matchup zone defense. Louisville gives the look of a 2-3 zone, often with a tandem out front, but it will often switch to a man-to-man on a post feed. UL's defense can be frustrating to play against, and it requires a combination of patience and aggressiveness. One of the best ways to beat the zone is to get the ball to the middle and attack it on the baseline by keeping a man behind the zone. Kentucky will have playmakers who can operate in both spots, but they have to make good, quick decisions.
Players to watch
: Michael Kidd-Gilchrist/Terrence Jones (UK) and Kyle Kuric/Russ Smith (UL)
No player in this game plays any harder than Kidd-Glichrist. He competes on every play and Calipari never has to coach his effort. MKG is averaging over 13 points and seven rebounds and has shot the most free throws on the team. Jones has struggled, first with his performance at Indiana that created questions and then with a hand injury that had him sitting out. He needs to play well for his confidence, but Kentucky needs him to play well also. Smith is a dynamic guard who has been on a roll of late, and he is not afraid to assert himself. He is sixth on the Louisville team in minutes played, but he is second in scoring and shot attempts. Over the last seven games, Smith has averaged over 16 points per game and stands second in the Big East in steals. Kuric is the team's top scorer and an excellent guard rebounder. His toughness will be essential if Louisville is to pull off a win in Lexington.
X factors
: Anthony Davis and Giorgi Dieng
Davis is the most talented player on the floor in almost every game he plays. The long, athletic and versatile forward is averaging 11.6 points, 10.2 rebounds and 4.5 blocked shots and is shooting 63 percent from the floor. Davis does not need to have a play run for him and doesn't need the ball to play. He is a low-maintenance star who needs only to be more assertive to be one of the five best players in the country. Dieng has improved greatly from last season and had five straight double-doubles prior to the Cards' loss to Georgetown. Over the last six games, Dieng has averaged 13 points and 12 rebounds, including six offensive rebounds per game.
Key stat
: Rebounding
Both teams hold opponents to low percentages from the floor, which will result in a lot of rebounding opportunities. The team that controls the glass will be in a better position to control the game, getting extra possessions and higher percentage shots while denying the opponent the same.
What to watch for
: Kentucky has to pressure everything that Louisville does. The Cardinals want to play fast, and the Cats can handle that if they're smart about it, but UK has to really heat up the ball and disrupt Louisville's timing. The Cards are very good cutters and get really good movement without the ball. If Kentucky pressures the ball, the Cats can cause the Ville a ton of problems. Louisville can make shots but is not a great shooting team. If the Cards settle for challenged shots, it will be advantage Kentucky. Louisville must work for open shots and pass up the challenged ones to win at Rupp.
Who wins
: The Wildcats are at home and can score much easier than Louisville. I see Lamb having a big game, but the most important factor will be Marquis Teague (recruited heavily by Louisville) making good decisions against the UL pressure and its changing defensive looks. The Cats will take this one.
No. 2 Ohio State (13-1) at No. 15 Indiana (12-1)
When and where: Saturday (ESPN, 6 p.m. ET), Assembly Hall (Bloomington, Ind.)
Overview
: Ohio State is one of the four best teams in the country, and Indiana is way ahead of schedule in Tom Crean's monumental rebuilding task. I believe Thad Matta has the three best players in the Big Ten at their respective positions. Jared Sullinger, when healthy, is the best post player in the country. William Buford averages 21 points per game against ranked teams and is one of the most underrated players in the country. And Aaron Craft is a machine at the point. There is not a better on-ball defender in the country.
[+] Enlarge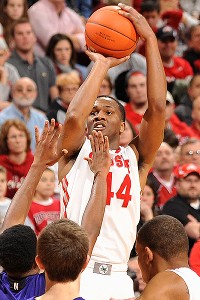 Jamie Sabau/Getty ImagesWilliam Buford is coming off a 28-point game in the Big Ten opener against Northwestern.
With Sullinger back and healthy, it is really difficult to speed up the Buckeyes and change their pace of play. Ohio State spreads the floor around Sullinger and forces its opponent to make a decision on doubling him. I have marveled at OSU's defense, primarily at the impact of Craft. The Buckeyes are rated the second-most efficient defensive team in the country, and they do not allow second shots. Against Ohio State, teams get one challenged shot and that is it. Indiana is having a terrific season, largely because of the tremendous job that Crean has done over the past few years. IU runs good offense and is one of the most efficient offensive teams in the country. Crean makes good use of the 3-point line, and the Hoosiers have shot the ball well from deep. But the games will get more physical in the Big Ten, and offense will be tougher to run. Indiana has to be tougher as well. The Hoosiers have to run through their cuts and establish and hold position and finish plays through contact. Cody Zeller is the team's best player but is coming off of a 4-point, 3-rebound, 4-foul performance against Michigan State. As talented as he is, he is still a freshman who was on the road in a tough environment. Expect Zeller to play well against Ohio State.
OSU go-to guy
: Jared Sullinger
Tremendous feet and hands, and you cannot move him off of his spot. Sullinger is strong and skilled and he uses his body better than any post player in the country. He is not just a big body. He is a basketball player who just happens to have a big body. There is a difference.
IU go-to guy
: Cody Zeller
Zeller is a skilled and strong post player who is a focal point of the Indiana offense. He is averaging over 14 points and seven rebounds per game while shooting 65 percent from the floor. He is also a good offensive rebounder and will be going against the nation's stingiest team in allowing second shots. OSU X factor: DeShaun Thomas
The lefty can get you 25 points in any given game, and he is a natural scorer. He was very good against Kansas in the first half before he ran out of gas a bit and was spectacular against South Carolina. You have to guard him off pick-and-pop situations, and you have to keep him off the glass. Thomas is averaging 17 points per game against ranked teams this season.
IU X factor
: Christian Watford
He was my X factor in Indiana's game against Kentucky, but the shot he hit to win it was a springboard to much greater confidence. Since then, Watford has averaged 16 points per game and has made 13-of-21 from 3-point range.
Key Stat
: Free throws and turnovers
Indiana and Ohio State shoot a lot of free throws relative to their opponents, with OSU making more than its opponents attempt (IU has made the exact number its opponents have attempted). The Hoosiers shot only nine free throws at Michigan State on Wednesday, and the Bucks play good defense without fouling. Indiana has to put itself in a position to get fouled and to finish plays. Ohio State does not turn the ball over much, and the Buckeyes are among the nation's leaders in forcing turnovers.
Who wins
: Indiana could not have had a tougher draw out of the gate in the Big Ten with a road game at Michigan State and a home game against Ohio State. I favor the Buckeyes in this one, but only by a bucket. This should be a great game in a tremendous atmosphere.
A dozen more to track
Friday
Missouri at Old Dominion (7 p.m. ET, ESPNU)
: The Tigers are one of the hottest teams in the country, while the Monarchs haven't played up to their potential in large part because the roster hasn't been intact. Mizzou runs. ODU does not. Old Dominion wants to make this game ugly and try to win it inside. That's ODU's only chance of upsetting Missouri.
West Virginia at Seton Hall (9 p.m. ET, ESPN2)
: Kevin Jones is finally playing like a go-to player for West Virginia, which has improved immensely since the beginning of the season. Seton Hall was just blown out at Syracuse, but this Pirates team with Herb Pope is more than capable of being a tough out at home and causing fits for possible NCAA teams like WVU.
Saturday
St. John's at Connecticut (12 p.m. ET, ESPN3)
: The Red Storm picked up a convincing win over Providence to open the Big East season, but the recovering Steve Lavin still isn't coaching in games. The Huskies won't have Jim Calhoun, either, as he serves the second game of his three-game NCAA suspension. But it shouldn't matter. The Huskies are simply too talented and at home. This shouldn't be close.
Illinois at Purdue (4 p.m. ET, ESPN2)
: Meyers Leonard is developing into quite an offensive talent. He has nice variety of moves. The Illini don't do anything easy, but neither does Purdue. They had to gut out wins over Minnesota and at Iowa in their respective league openers. I fully expect this one to be a last-possession game.
St. Joseph's at Harvard (4 p.m. ET)
: This is the Crimson's last tough nonconference test before the Ivy grind begins. St. Joe's is more than capable of pulling off an upset. The Hawks will try to push the tempo in this game, but can they score well enough against a stingy D? A Harvard win will cement its spot in the top 25 for the time being.
UCLA at California (4 p.m. ET)
: If we are to take Cal seriously in the race for the Pac-12 title, the Bears must sweep the homestand against the L.A. schools. They started with Thursday's win against USC. The Bruins dropped a heartbreaker at Stanford in the opener and really need a win at Haas to get this season back on track. They have improved, but the bottom line is still 7-6.
Creighton at Wichita State (6 p.m. ET, ESPNU)
: Creighton was stunned at home by a solid Missouri State team. Now the Bluejays have to find a way to win at Koch Arena or face 0-2. Yikes. That's only the toughest place to play in the Missouri Valley (ask UNLV). But beat the Shockers and you put a rival and fellow MVC contender in a bit of a hole. The Valley race will be one of the best in the country this season and games like this are the reason why.
[+] Enlarge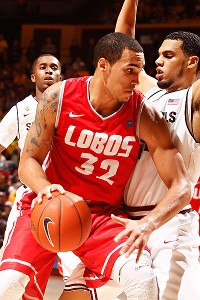 AP Photo/Rick ScuteriDrew Gordon has averaged a double-double (12.5 ppg, 11.2 rpg) for New Mexico this season.
Saint Louis at New Mexico (6 p.m. ET)
: These two didn't end up meeting at the 76 Classic. Instead, the Lobos get Rick Majerus back in one of his favorite road stops while he was a head coach at Utah. This is a win-win for SLU as long as it's not blown out. Few teams win at the Pit, which means a Billikens victory would resonate nationally and a competitive loss would be fine. A UNM win should also signal that the Lobos are ready for the challenge of a Mountain West title race with UNLV and SDSU.
Gonzaga at Xavier (8 p.m. ET, ESPN2)
: This was my upset pick of the week. The Musketeers will have the best player on the floor in Tu Holloway. But Gonzaga has better mojo right now. The Robert Sacre-Kenny Frease matchup should be gritty. The key will be how well Dez Wells gets back into the lineup after his four-game suspension. Can he guard Elias Harris? Will Kevin Pangos be able to get off his shots going against Holloway and Mark Lyons? This is a huge game for X. For Gonzaga, a win will mean the Zags are a serious threat to do more than just win the WCC.
Oregon at Washington (10 p.m. ET, ESPN2)
: The Ducks are playing better with the more experienced Devoe Joseph instead of Jabari Brown. But can the Ducks actually win a key road game in the Pac-12? The home loss to South Dakota State was a huge red flag for the Huskies, but they did cruise past Oregon State in their league opener. The talent of Tony Wroten Jr. and Terrence Ross should be enough to carry this team in a weak Pac-12, but it's hard to get behind UW right now since this team can't stay consistent.
Sunday
Minnesota at Michigan (4 p.m. ET)
: The Wolverines have been one of the steadiest Big Ten teams this season but don't have that stand-up-and-shout win yet. Getting off to a solid start in conference play will do wonders for this team, especially with a road game at Indiana pending. The Gophers have been a surprise and nearly won at Illinois before losing in double overtime. Minnesota was the more poised team for most of the game until the second OT.
Cincinnati at Pittsburgh (7 p.m. ET, ESPN3)
: The Bearcats will play one more game without suspended players Yancy Gates, Cheikh Mbodj and Octavius Ellis. But Sean Kilpatrick has been a stud in their absence and UC is 5-0 since the brawl. Pitt has been abysmal of late, losing to Wagner at home and to a struggling Notre Dame in South Bend. Losing another home game would be another major hit for a team that has a long way to go to get back to its usual spot in the NCAA tournament.
Viewer's Guide
All times ET
Friday
7 p.m.: Missouri at Old Dominion (ESPNU)
9 p.m.: West Virginia at Seton Hall (ESPN2)
Saturday
Noon: Louisville at Kentucky (CBS)
Noon: St. John's at UConn (ESPN3)
2 p.m.: Providence at Georgetown (ESPN2)
4 p.m.: Illinois at Purdue (ESPN2)
4 p.m.: St. Joseph's at Harvard
4 p.m.: UCLA at California (FSN)
6 p.m.: Ohio State at Indiana (ESPN2)
6 p.m.: Creighton at Wichita St. (ESPNU)
6 p.m.: Saint Louis at New Mexico (The Mtn.)
8 p.m.: Gonzaga at Xavier (ESPN2)
10 p.m.: Oregon at Washington (ESPN2)
Sunday
1 p.m.: Villanova at Marquette (ESPNU)
4 p.m.: Minnesota at Michigan (BTN)
5 p.m.: Syracuse at DePaul (ESPN3)
5 p.m.: Penn at Duke (ESPNU)
7 p.m.: Cincinnati at Pittsburgh (ESPN3)
O'Neil on Louisville-Kentucky
I can't wait to see …
Eamonn Brennan
The atmosphere in Rupp Arena when the hated Cardinals come to Lexington. Maybe that's obvious, but I haven't been to Rupp in years, and I've never been in the building for one of the most heated and most vitriolic rivalries in all of college hoops. I'll be there Saturday, and I can't wait. Of course, there's an actual game to discuss here, too, and it will be fascinating to see how Louisville handles what is unquestionably its toughest test of the season. UK has a major edge in talent, but the Cards do have their share of experience, particularly at the point guard spot. If UL's Peyton Siva can win his matchup with inconsistent UK point guard Marquis Teague, the Cardinals might just pull this off.
John Gasaway
I can't wait to see Saint Louis at New Mexico on Saturday. These are two teams that don't get nearly enough attention going head to head in Albuquerque. You may know that the Billikens have one of the best defenses in the country, but Kwamain Mitchell and Brian Conklin are giving Rick Majerus something he didn't have last season: offense. Still, Mitchell and Conklin will have to be on top of their games to beat the Lobos, winners of nine straight. You've probably never heard of Tony Snell, but if the 6-foot-7 sophomore keeps draining shots from both sides of the arc for Steve Alford, you will and very soon. The Pit will be ready for Rick Majerus and SLU.
Jason King
I can't wait to see how Xavier fares against Gonzaga. The Musketeers lost three straight games in the aftermath of their brawl with Cincinnati, but obviously they didn't have their full arsenal of players. They will against Gonzaga, so it will be interesting to see if Xavier can become the top-10-caliber team it was before the fight. The Kentucky-Louisville game will receive most of the attention Saturday, but Xavier and Gonzaga are two of the top teams in the country from non-BCS leagues, so this one could be equally -- if not more -- entertaining.
Joe Lunardi
How does this season's Harvard team rate with the all-time great Ivy League teams? Bill Bradley's incredible Princeton squads and the Jim McMillian era at Columbia were before my time, but I did see Penn go 26-0 in 1971, reach the Final Four in 1979 and win 48 straight Ivy contests in the early 1990s. And then there was Princeton's outrageously good 1998 team (27-2, No. 5 NCAA seed) and Cornell's Sweet 16 edition a couple of years ago. The current Crimson (11-1) have some work to do to reach that level but play their last marquee nonleague game Saturday in Boston against emerging Saint Joseph's (10-3) and will likely be favored in every game after that.
Myron Medcalf
Can't wait to see if Creighton can avoid 0-2 in the MVC with its tough matchup at Wichita State. The Bluejays have already suffered a road loss to St. Joe's and dropped their league opener with Missouri State. Now they're facing a balanced Wichita State team that beat UNLV by 19 points earlier this season. Does Doug McDermott have a consistent Robin in tight games? Didn't look like it against the Bears. Will one emerge for Creighton?
Dana O'Neil
My sofa. Saturday is a couch potato's dream, and I intend to make like a very good spud and settle in for the pre-2012 smorgasbord. The plan is simple: Start with the friendly little battle between Louisville and Kentucky at noon; mix in a little Big East action at 2 p.m. with Providence and Georgetown; then cut to the Big Ten for what could be an intriguing matchup between Purdue and Illinois at 4; then on to some channel surfing between Indiana and Ohio State and Creighton at Wichita State, both tipping off at 6; and finally the nightcap at 8 between Xavier and Gonzaga. If it all goes according to plan, the games should end in plenty of time to grab some noisemakers and ring in the new year.
Miles Simon
A game to watch this weekend will be UCLA at Cal. These are the teams that were predicted to finish first and second in the Pac-12, but both have issues. The Bruins should have a big advantage on the inside with Joshua Smith and the Wear twins. The Bears are depleted up front with starting center Richard Solomon uncertain for this matchup. A key matchup in the game will be at point guard with Zeke Jones (UCLA) and Justin Cobbs (Cal).
Medcalf on Ohio State-Indiana
King on Creighton-Wichita State
Player to watch
Michael Kidd-Gilchrist, Kentucky


In Kentucky, the fireworks come 12 hours early when the Wildcats host Louisville in a rivalry game that has become the fiercest and most ferocious in college basketball. There will be plenty of people worth watching in this one, but a good place to focus will be on Kidd-Gilchrist. In a quieter, more unassuming way than some of his fellow freshmen, MKG has been flat-out great. He's averaging 13.5 points and 6.8 rebounds and, more impressive, is as heady and forceful a player as there is in the game. A matchup problem for plenty of teams, he could be a nightmare for Louisville. The Cards may be forced to ask Kyle Kuric to guard Kidd-Gilchrist, and while Kuric is more athletic than people think, he's still giving up three inches and nearly 40 pounds to his UK counterpart.
-- Dana O'Neil
Brennan on Gonzaga-Xavier