No. 5 Missouri (17-1) at No. 3 Baylor (17-1)
When and where: Saturday (ESPN, 2 p.m. ET), Ferrell Center (Waco, Texas)
Missouri: The Tigers might have the quickest lineup in college basketball. Frank Haith's guards have been very efficient and have made much better decisions on offense and defense this season. Missouri can still fall into some "chuck and duck" habits, which worked well under Mike Anderson but do not fit with the style favored by Haith.
[+] Enlarge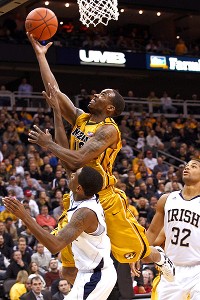 Jeff Moffett/Icon SMIMarcus Denmon is averaging 17.8 points and 5.5 rebounds per game for Missouri.
The Tigers run a set-play, quick-hitting offense that features four guards around undersized big man Ricardo Ratliffe. Point guard Phil Pressey is almost impossible to stay in front of, and he is an elite passer who willingly gives up the ball. Pressey has a near 3-to-1 assists-to-turnover ratio and leads the team in steals with 37. The wings are among the best in the nation, with All-America candidate Marcus Denmon and the ridiculously efficient Kim English. English's transformation has been remarkable. Last season, his confidence was waning. This season, he seemingly cannot miss. His decisions have improved, and he is hitting more than 50 percent of his 3-point shots. Ratliffe is benefiting from single coverage in the post and the drop-offs from his teammates and is shooting better than 77 percent from the field. The season record is 74 percent, by Oregon State's Steve Johnson back when Ralph Miller was the Beavers' coach.
Baylor: The Bears are big, long, athletic and deep along the front line, and they have one of the most talented frontcourts in the country. Perry Jones III, Quincy Acy, Quincy Miller, Anthony Jones and Cory Jefferson provide the bodies and length to overwhelm a smaller team on the glass and the defensive end.
Before the season, I was one who questioned the Baylor guards and whether the Bears would be able to improve ball security. Last season, Baylor turned the ball over at a very high rate. Turnovers are still an issue, but this team is much better with the ball. Guards Brady Heslip, A.J. Walton and Pierre Jackson are far better than I anticipated, and Jackson is a game-changing talent. He has the ability to guard the ball, see the floor with terrific vision and play with a fearlessness that allows his teammates to do their jobs without worrying about his.
Key players: Denmon and Jackson. Denmon scratches in just about every category for the Tigers and is an attack guard. He excels in transition, and Baylor can afford to put Walton, Jackson or a defender with more size on him. Denmon is a very good defender but might have some issues matching up with bigger Baylor players. Jackson is incredibly strong and athletic, and has the ability to guard Pressey and Denmon. If he can stay out of foul difficulty, Jackson has the ability to change the game with his pressure and steals. On the offensive end, Jackson is a potent scorer, but he is also a fabulous passer. He will get a lob dunk from deep for a teammate; you can bank on it. However, he also has 64 turnovers to go with his 98 assists.
Key shooters: Heslip and English. Heslip transferred from Boston College and has a really quick release. He has hit 51 3s, by far the most on the Baylor roster, and is shooting 47 percent from 3. English is shooting better than 50 percent from deep, and his stroke is pure. He has hit 45 3s in only 88 attempts.
Key bigs: Ratliffe and Perry Jones. Ratliffe plays off his guards very well but must avoid fouls to be able to stay in the game. Without Ratliffe, Missouri can get overwhelmed on the glass. Jones is a special talent. He needs to be assertive and dominate his matchup. No player on the Missouri roster can guard him.
Key stats: Turnovers and rebounding. Baylor should own the backboards but also has to get to long rebounds, which will be an issue in this game. Baylor turned the ball over against the pressure of Kansas and needs to take care of the ball against the pressure brought by Missouri. Pressey's initial ball pressure will be key.
Who wins: Baylor is coming off a loss and playing at home. How the Bears guard the 3-point line will go a long way in determining this one. Expect Baylor to play some man-to-man in addition to some zone. If the Bears take good shots and limit Missouri in transition, I like the Bears to win. Baylor 74-70.
More Games To Track
Saturday
Alabama at No. 2 Kentucky (noon ET): The Tide couldn't have picked a worse time to head to Rupp Arena. Alabama looked awful in the home loss to Vanderbilt. The Tide didn't rebound well and couldn't defend the 3-point shot. That could lead to misery at Kentucky if Alabama doesn't shore up its usual solid defense.
Xavier at Dayton (ESPN2, 1 p.m. ET): This is one of the most underrated in-conference rivalries. The Flyers are tied with the Musketeers atop the A-10 with one loss each. Dayton has proved it can hang with anyone in the league, even in a first-year rebuilding situation under Archie Miller. A Dayton win would do wonders for a possible title.
[+] Enlarge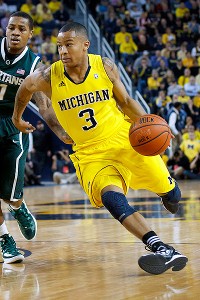 Rick Osentoski/US PresswireTrey Burke and Michigan will face a tough road test at Arkansas.
No. 19 Michigan at Arkansas (2 p.m. ET)
: This was my upset pick of the week, even before Michigan beat Michigan State.
Trey Burke
and
Tim Hardaway Jr.
certainly can run with the Hogs. But winning at Bud Walton Arena is now a tough chore for any team. Mike Anderson should have the place rocking.
Cincinnati at West Virginia (ESPNU, 3 p.m. ET): UC coach Mick Cronin said the worst thing in coaching is having to play a Bob Huggins-coached team after a loss. He was praying for a win by West Virginia over Marshall. The Mountaineers delivered. The Bearcats are in the middle of a brutal four-game trek but are off to a great start with a win at Connecticut. The Bearcats will have to defend Kevin Jones exceptionally well, and that means Yancy Gates has to work the weakside boards. The Bearcats host Syracuse on Monday. Regardless of what happens here, it shouldn't affect the Bearcats' chances of upsetting SU.
Florida State at No. 4 Duke (ESPN, 4 p.m. ET): Florida State coach Leonard Hamilton said he would know the team's ceiling a bit better after this week when the Seminoles played Maryland and went to Duke. Well, Florida State beat Maryland and now heads to Duke with exceptional confidence. But this is Cameron, after all. If the Seminoles can push Duke, then they can claim they're here to stay for the rest of the ACC race.
No. 6 Ohio State at Nebraska (8 p.m. ET): Can the Huskers knock off Ohio State as well as Indiana? Probably not. This isn't the same team. But Ohio State might get an ugly game out of the trip to Lincoln. Nebraska earned plenty of respect in the Big Ten by nearly taking out Wisconsin and then getting Indiana at home.
For the rest of Andy Katz's games to watch this weekend, click here.
Andy Katz's weekend preview
Viewer's Guide
All times ET

Saturday
Noon: Alabama at Kentucky (CBS)
1 p.m.: Xavier at Dayton (ESPN2)
2 p.m.: Missouri at Baylor (ESPN)
2 p.m.: Michigan at Arkansas (CBS)
3 p.m.: Cincinnati at West Virginia (ESPNU)
4 p.m.: Florida State at Duke (ESPN)
4 p.m.: UConn at Tennessee (CBS)
4 p.m.: Kansas at Texas (CBS)
4 p.m.: UCLA at Oregon (FSN)
6 p.m.: Syracuse at Notre Dame (ESPN)
7 p.m.: Mississippi State at Vanderbilt (ESPN2)
10 p.m.: New Mexico at UNLV (CBS Sports Net) Sunday
2 p.m.: Wisconsin at Illinois (BTN)
I can't wait to see …
Eamonn Brennan
Whether FSU can bring its demolition style to Duke. Florida State stomped North Carolina in Tallahassee last Saturday, as we all know. But we don't know how much of that performance Florida State can recreate, given its inconsistent season to date. We also don't know whether Florida State can bring that kind of lights-out shooting and defensive toughness on the road. If it does, it'll have a chance at Cameron Indoor Stadium this week; Duke's strength is not its, well, strength. The Blue Devils are much better when they can space the floor, locate open shooters and dissect opposing defenses. That will be difficult to do against FSU's hard-nosed, high-pressure, half-court defense. The interior strength of Bernard James will be a major test for Mason and Miles Plumlee. Chances are, we won't see the same Seminoles we saw last Saturday. But that doesn't mean Leonard Hamilton's team can't win this game.
John Gasaway
I can't wait to see Kent Bazemore and Old Dominion visit Bradford Burgess and Virginia Commonwealth on Saturday. These rivals are located just 90 miles apart, and this game will have major implications on the CAA regular-season race. VCU needed overtime to put away William & Mary on Thursday night. Now 5-2 in the conference, the Rams know they'll have to play much better than they did in their last game if they want to turn away ODU. The Monarchs are tied for first with George Mason atop the CAA at 6-1, and Blaine Taylor's team is again getting the job done with its signature mix of tough defense and amazing work on the offensive glass. This one's for all the marbles in the Norfolk-Richmond I-64 corridor.
Jason King
I'll be interested to see how Cincinnati fares at West Virginia. The notion that the Bearcats could be the Big East's second-best team seemed far-fetched entering the season, and I figured they'd fall into a rut in the aftermath of their Dec. 10 brawl with Xavier. Instead, Mick Cronin's squad has improved dramatically since that time. Cincinnati is 10-1 since the fight and is second in the Big East with a 5-1 record. Anyone who wasn't sold on the Bearcats had to have changed their minds following Thursday's 70-67 victory at Connecticut. Winning at West Virginia will be just as difficult -- but certainly not impossible for a team that's on a major roll.
Myron Medcalf
Whether Xavier's turnaround continues. So many people have focused on Vanderbilt, Cincy and other squads that have dug themselves out of midseason holes that Xavier's recent push has been overlooked. Chris Mack's squad has won four in a row, but three of those games were played at home. The Musketeers play at Dayton on Saturday. The Flyers are serious contenders in the A-10, evidenced by their wins over Saint Louis and Temple (road). The fight that marred the Crosstown Rivalry interrupted Xavier's season. But the Musketeers have launched a legit comeback. This is a big opportunity for Xavier to continue its path back to national prominence.
Dana O'Neil
Someone has to be second in the SEC, and running with that theory, I can't wait to see Vanderbilt and Mississippi State. The Commodores have been all but written off after their early-season slide, but quietly, Kevin Stallings' group has won seven in a row. The Bulldogs, meanwhile, looked like they'd solve the mystery that is the enigma that is the riddle that is Mississippi State. And then the Bulldogs lost to Mississippi, looking like the Mississippi State of old in the process. Florida could still be the second-best conference team, but either of these teams has the talent to unseat the Gators. The question is, can they find the consistency to do it?
Miles Simon
I can't wait to see the matchup of point guards in the Missouri-Baylor game. The Tigers' Flip Pressey and the Bears' Pierre Jackson really are the key cogs for their teams. Jackson had a tough time at Allen Fieldhouse last week, where Tyshawn Taylor dominated that matchup. Jackson has been great throughout the season, though, with a game-tying 3 versus West Virginia to go to OT and a game-winning layup versus Mississippi State, and over his last four games he's averaging 14.5 points and nine assists. Pressey, on the other hand, doesn't score very much but is excellent at creating pace and tempo for Mizzou. Pressey does a great job of getting Kim English, Marcus Denmon and Ricardo Ratliffe the ball on time and on target, and he doesn't turn the ball over much -- only 10 turnovers in 162 minutes of league play.
Player to watch
Perry Jones III, Baylor

Jones is always worth watching. A terrific athlete who instantaneously made the Bears go from good to great when he decided to return to school, he hasn't disappointed this season. He's averaging 14.2 points and 7.5 boards per game for Baylor.
But in the premier matchup of the weekend, Jones will be especially key. He will have a serious size advantage against Missouri's Kim English, and just how well Jones can exploit that will go a long way to saying how well Baylor will do against the Tigers.
-- Dana O'Neil