At The Watercooler: Weekend Preview
By Eamonn Brennan & Myron Medcalf
ESPN.com
Editor's note: Myron Medcalf and Eamonn Brennan met Thursday to look ahead to the weekend's college basketball action including Wichita State-Creighton, San Diego State-UNLV, Baylor-Missouri and Michigan State-Ohio State.
Myron: Well, Eamonn. Here we are again for another Watercooler chat. We've already established the rule. Don't ever underestimate a weekend slate in college basketball. With all of the intriguing matchups this weekend, I'm having a hard time controlling my internal hype meter. I think this is going to be another great one.
Eamonn: My internal hype meter may forever be askew, given what I witnessed in Chapel Hill on Wednesday night. I'm still reeling. It may be too much to ask for anything close this weekend -- but like you said, never sleep on this game of ours. The sky is always the limit.
Which game are we looking forward to most?
[+] Enlarge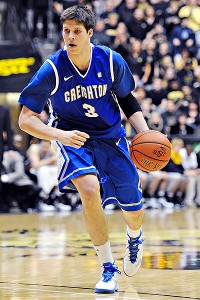 Peter G. Aiken/US PresswireDoug McDermott needs to put Creighton on his back down the stretch.
MM: So many to choose from, but I like Wichita State at Creighton because I feel like the Bluejays are playing for so much. Somehow, they have lost two in a row. Doug McDermott's national player of the year stock has taken a major hit. And the schools are big rivals in the MVC. So I just think McDermott is going to pull a Jimmer. He has to. Three in a row would change everything. Should be a great game. What game is the most intriguing to you?
And if we see a Duke-UNC-like finish this weekend, I think my head will explode the way yours nearly did Wednesday.
EB: Correction: There was no "nearly" about it. I was picking up pieces of my skull off the Dean Dome floor at 3 a.m. Wednesday night. [North Carolina blogger] Robbi [Pickeral] was there. She saw.
MM: I believe that. Surprised you're functioning properly right now.
EB: It's the upset of the week.
There are many to choose from, but if I had to pick, San Diego State-UNLV is right there. The Aztecs nipped the Rebels in Viejas Arena in the first installment. Mountain West title chase implications abound. Can Steve Fisher's unlikely team pull off its most unlikely feat of the year?
I'm also looking dead on at Baylor-Mizzou. We talked about it on my drive to Charlotte from Chapel Hill on Thursday -- the Bears got punked by Kansas this weekend. Frankly, they were punked by Mizzou in Waco in the last meeting. To me, this is Baylor's last chance to show us something. What are you? A glorified AAU team, as our colleague Doug Gottlieb hilariously tweeted Wednesday? Or a legitimate Final Four contender proportionate to your talent? Put up-or-shut up time for Scott Drew's team.
MM: Well, with SDSU-UNLV, let's just hope it's as good as the first game. Wow. Best pre-UNC-Duke game of the year, IMO. The Mountain West is a tough league. It's going to be hard for Steve Fisher's squad to get the W on the road against a UNLV team that might have three conference losses after Saturday's game. That's why the Runnin' Rebels, coming off a road loss at Wyoming, will come out strong. They're desperate. But I just hope it's another great game.
Now … on Baylor. I'm with you. Put up or shut up. Nothing wrong with taking a loss at Mizzou. But the Bears can't get punked again. At some point, you have to throw a punch at the bully who's stealing your lunch money every day. Baylor has been picked on in big games. We're one month from Selection Sunday, and we're still questioning this team. Baylor has to make a statement and actually put up a fight for 40 minutes.
That said, they're not the only squad that has to answer some questions about its recent performances. Who's under the most pressure this weekend? A Syracuse team that wasn't very physical against Georgetown? Murray State? UNC? Florida? Some other team that I haven't mentioned because sleep deprivation has placed certain limits on my ability to think?
EB: Dude, I'm right there with you.
I'd say there's a fair amount of pressure on Murray State. One loss is whatever. But the Racers have flirted with losses fairly regularly this season. What if they come out flat again this weekend and drop another one? Does Murray State wake up and say, oh, shoot, we're still a mid-major, and we can't lose again? Does the pressure suddenly mount? Gauging the Racers' response to Thursday night's home loss to Tennessee State is going to be fascinating.
Austin Peay is bad, so the Racers will probably be fine. But they were feisty at home last time.
To read the rest of the Watercooler, click here.
No. 12 Michigan State At No. 3 Ohio State
When and where: Saturday (ESPN, 6 p.m. ET), Value City Arena (Columbus, Ohio)
Michigan State breakdown: The Spartans have played their best basketball since early losses against North Carolina and Duke dropped them off the radar screen for a while.
Like always, Tom Izzo and his team went to work, and improved through tough practices and intense competition. This is not Izzo's best team, but it is a group he relishes going to battle with, and one that he really likes.
Beginning with this game against the Buckeyes, Michigan State begins a brutal seven-game stretch in which the Spartans play six teams ranked in the KenPom.com Top 50, four of which are games against the top 10.
Michigan State, as always, is an outstanding rebounding team that can get second shots and limit your second chances. The Spartans boast a +10.8 rebound margin and grab more than 40 percent of their misses.
Defensively, the Spartans bend but don't break, and have done a really nice job all season of making it tough to get open, unchallenged shots. The Spartans are leading the Big Ten in field goal percentage defense in conference games at .386, which is just ahead of Ohio State.
This is the best help and gap-protection defense that Michigan State has played in a few seasons, and it shows in every defensive metric. On the offensive end, Michigan State is solid, but not spectacular. It is a good shooting team, hitting 48 percent of its shots from the floor in conference and more than 38 percent of its 3-point shots.
Ohio State breakdown: The Buckeyes have the best low-post scoring big man in the country in Jared Sullinger, one of the top scoring wings in William Buford and the best on-ball defender in Aaron Craft.
Ohio State also has a lefty third scorer in Deshaun Thomas, who has put up 30 points against South Carolina. Ohio State's numbers are surprisingly similar to Michigan State's numbers.
The Buckeyes lead the Big Ten in field goal percentage at 49 percent (with Michigan State second). Early in the season, Ohio State dropped a few games, in large measure because Jared Sullinger was out with an injury for a time.
The key improvement in Ohio State has been on the defensive end. Thad Matta has spent more time on team defense this season than at any time in his career at Ohio State.
The Buckeyes are rated as the No. 1 overall defense by KenPom.com, and Ohio State is able to force turnovers at a high rate, while limiting fouls and keeping the opponent off of the free throw line.
To read more of Jay Bilas' breakdown of Michigan State-Ohio State, click here.
Viewer's guide
All times ET

Friday
7 p.m.: Iona at Loyola (ESPNU)
7 p.m.: Harvard at Penn Saturday
Noon: Louisville at West Virginia (ESPN)
1 p.m.: Connecticut at Syracuse (CBS)
1 p.m.: Virginia at North Carolina (ESPN3)
1 p.m.: Miami at Florida State (ESPN3)
1:30 p.m.: Baylor at Missouri (ESPN3)
2 p.m.: Kansas State at Texas (ESPN)
2 p.m.: VCU at Old Dominion (Comcast)
3 p.m.: Cincinnati at Marquette (ESPNU)
3:30 p.m.: Wyoming at New Mexico (The Mtn.)
4 p.m.: San Diego St. at UNLV (NBC Sports Net.)
4 p.m.: Maryland at Duke (ESPN)
5 p.m.: Wichita State at Creighton (ESPN2)
6 p.m.: Michigan State at Ohio State (ESPN)
9 p.m.: Kentucky at Vanderbilt (ESPN)
9 p.m.: Xavier at Temple (ESPN2) Sunday
1 p.m.: Illinois at Michigan (CBS)

More games to track
In addition to the Michigan State-Ohio State showdown, Andy Katz offers up 12 more games to keep an eye on this weekend, including UConn-Syracuse and Baylor-Missouri. Story »
I can't wait to see …
John Gasaway
I can't wait to see Michigan State visit Ohio State on Saturday. These aren't just the two best teams in the Big Ten, they're also two of the best teams in the country. The Spartans are outstanding on the boards at both ends of the floor, as usual, but this season they're taking better care of the ball and hitting their (rare) 3-pointers. Draymond Green and company will face a tough task in Columbus, though, because the Buckeyes may have the best defense in the country. Between Aaron Craft's on-ball guarding and Jared Sullinger's dominance of the defensive glass, OSU has put the lid on opposing offenses all season. First place in the nation's top conference will be on the line in this one.
Jason King
I'll be interested to see how North Carolina bounces back from Wednesday's heart-wrenching loss to Duke. Any defeat is painful, but losing at home on a last-second shot against your rival is the kind of thing that can stick with a team for a while. In some cases it can alter an entire season. The Tar Heels are hosting a salty Virginia team Saturday that touts one of the ACC's top players, forward Mike Scott. The Cavaliers are definitely good enough to upset North Carolina if Roy Williams' squad isn't at the top of its game.
Dana O'Neil
I've never been to the Missouri campus, so I'm looking forward to checking out Columbia and seeing the Tigers in person against Baylor. The only time I saw Mizzou live this season was in Joplin, during a benefit game for tornado victims. I was impressed by the Tigers, but I'd be lying if I said I saw this coming. I'm not sure Mizzou fans can match the fever pitch they produced for Kansas, but Baylor-- despite its egg against Kansas -- is still a top-10 team, so I'm hoping for a great environment.
Miles Simon
Can't wait to watch San Diego State at UNLV this weekend. The Aztecs have a great chance to control their own destiny for the MWC title. They beat the Rebs on a last-second basket by Jamaal Franklin in the first game and they won at The Pit already. For UNLV, it will need a more balanced effort than in the first game, when Anthony Marshall was the only guy to really show up. I expect Mike Moser to play a big role in this one, as he's a double-double machine with 13 on the season. Steve Fisher deserves some national coach of the year votes and Dave Rice has the fans in Vegas loving the Rebs and they play an exciting uptempo style of play. This should be another fun one.
Player to watch
Zack Rosen, Pennsylvania

The Quakers host Ivy League leader Harvard on Friday night. With one loss, Penn remains very much alive in the Ivy race but needs to upset the Crimson. And to do that, they'll need all of Rosen. The senior has been outstanding in 2011-12, failing to reach double figures just twice all season. Rosen, who averages 18.3 points and 6.0 assists per game, is indispensable for the Quakers, evidenced by the yeoman's 38 minutes per game he averages.
-- Dana O'Neil