At the Watercooler: Weekend preview
By Eamonn Brennan & Myron Medcalf
ESPN.com
Editor's note: Myron Medcalf and Eamonn Brennan met at the watercooler to discuss what they're looking forward to this weekend in college basketball.
Eamonn Brennan: Greetings, Mr. Medcalf. Happy New Year. I presume you've recovered enough from the festivities to discuss college basketball, yes? Because all I did was have a schmancy dinner with friends, and by Tuesday night I still wasn't moving all that well. I think this means I'm getting old.
Myron Medcalf: If that NYE celebration means you're getting old, then I'm ancient. I was asleep on my couch before midnight with two little girls who were supposed to wake me up once the ball dropped. Last time I count on them. But I enjoyed getting the rest, something we'll all need if this week is any indication of what's ahead for conference play. Before we get to the weekend, how about the week?
Minnesota over Michigan State? Wow. Marquette-Connecticut with a crazy finish that sent the game into overtime and an officiating crew that started the extra period with the teams going in the wrong direction -- and then cost the Huskies a bucket because of the error. Illinois loses to Purdue in Chapter 1 of "The Big Ten Gauntlet," and Gonzaga continues its mission to win the Big 12 title without actually competing in the Big 12 by beating Oklahoma State on the road. It's not even Saturday yet. What game on this weekend's slate is the most appealing matchup in your eyes?
[+] Enlarge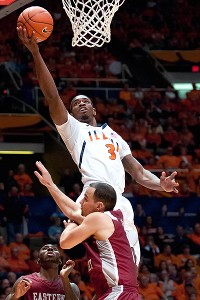 Bradley Leeb/US PresswireBrandon Paul and Illinois look to get back on track against OSU.
Eamonn: Before Wednesday night, I think the most obviously eye-catching game (if because of the casual draw to rankings alone) was Ohio State at Illinois. After Illinois' loss at Purdue, it's not looking quite like the matchup of Big Ten titans it could have been. And I don't say that because one Big Ten road loss invalidates what the Illini have done this season. That's not the case. It's the way Illinois lost -- going 10-of-26 from 3 and 11-of-33 inside the arc, and scoring just 0.97 points per trip, while getting significantly outrebounded by a team whose best big men are all still works in progress. We've long since established the truth about these Illini: For as good as their start was (and as good a story as it was to see), it's hard to trust their ability to knock down shots. Beyond that, they don't do a whole lot well.
But that doesn't mean I'm looking forward to the OSU-Illinois game any less. In fact, it should be fascinating. Will Illinois be one of those teams that just gets hot at different times and ends up with the how-did-you-lose-to-Purdue-and-beat-Ohio State record to prove it?
Myron: That's what is so fascinating about Ohio State-Illinois. I'm not saying that two losses will disqualify the Illini or any team from the Big Ten title hunt. But with so many tests ahead and everyone else, two immediate losses could. So now Illinois is already in a "We-might-have-to-win-this-if-we're-still serious-about-the-Big-Ten-title" game. I love the fact that we have stakes this early in the Big Ten, America's best league. I can't wait to see if Illinois meets the challenge.
That could be the theme for the entire weekend. A bunch of squads have crucial opportunities to make statements about their relevance within their respective leagues. I'm looking at you, Marquette. The Golden Eagles just won an overtime thriller over Connecticut. Georgetown comes to town Saturday. Marquette has a great opportunity to get a big win early in Big East play. And Georgetown, game by game, has figured out its true ceiling. If the Hoyas can score, consistently, watch out.
Georgetown is a very good defensive team with a lot of offensive potential. So I'm definitely looking forward to that game because Marquette (44th in adjusted offensive efficiency, 91st in adjusted defensive efficiency per Pomeroy) and Georgetown are in that assembly of Big East schools -- everyone not named Louisville, Cincy and Syracuse, in my opinion -- that we're still assessing. As you can see, I really love this matchup.
Eamonn: You do love that matchup, eh? You also better be careful, so casually putting "America's best league" after the Big Ten like that. Jim Delany is likely to trademark that and leave you out in the cold. (I heard that's what happened with "Legends and Leaders," but the original inventor was so embarrassed he just let the Big Ten take it. I'm kidding, but it feels plausible.)
I hate to say this, but I really don't think Illinois is serious about the Big Ten title hunt. Not in this league, not with so many contenders standing in its way. The Illini just aren't there. And, you know, that's OK! They were supposed to be bad this season, and they aren't, and I think after the last few years Illini fans are just happy to be happy.
I covered Friday's Memphis-Tennessee matchup in the video above, and that's kind of an interesting game for a couple of reasons: It might be the last time these two teams play for a while and Memphis really needs this game. The rest of Conference USA is somehow looking even worse than anyone expected to start the season (I blame Marshall), and the Tigers won't have another chance to get even a decent win outside their own conference. They might not need it; maybe they'll easily cruise to the C-USA tournament title. But that's a huge risk, and one Memphis could face if it doesn't take care of business the rest of the way. The Tigers have had their nonconference chances, and they haven't come through.
Myron: True. Illini fans will certainly accept this. Much better than what they were forced to accept last season.
As for the other matchup you mentioned, I hate that this could be the end for Tennessee-Memphis. I get the philosophy. Pastner doesn't want to give his in-state rival any recruiting advantage. But you know how you eliminate that advantage? By beating your in-state rival. What happened to that mentality? "We're better than those guys across town/the state/the border and we'll prove it so the recruits can see for themselves." Like you said, it's important for both teams. Memphis needs any potential quality win it can get. And the Vols, well, they have something to prove too. Mainly that their offense is capable of breaking 50 consistently.
[+] Enlarge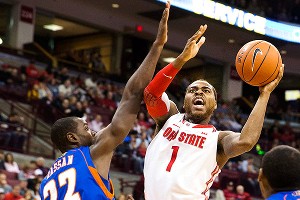 Greg Bartram/USA TODAY SportsOhio State junior DeShaun Thomas leads the Big Ten in scoring at 19.9 ppg.
You know who else has an important matchup? Creighton. The Bluejays had a tough encounter with Illinois State on Wednesday but emerged with a 79-72 win. On Saturday, Creighton takes on a hot Indiana State team that beat Miami on Christmas Day. I know a lot of leagues will send more teams to the NCAA tourney, but I like the way that the MVC race is stacking up. I think Creighton will be challenged after it looked like an overwhelming favorite in the preseason.
Eamonn: Myron, fortunately -- well, unfortunately for him, but fortunately for us, I guess -- Pastner got totally and utterly left hanging out to dry by his athletic director Thursday evening. So it's looking like Memphis-Tennessee will remain! Yay! Poor Josh. That's harsh, Tom Bowen. Can the dude live? I agree about the mentality -- just man up and play Tennessee, it's not like it's hurt Pastner with Memphis recruits -- but you can't help but feel bad when a guy just gets publicly steamrolled like that. Yikes.
I can't go all the way with you on Indiana State-Creighton. Maybe in Terre Haute, but not in Omaha. I will make the ever-so-bold prediction that my proud fellow Iowans Doug McDermott and Grant Gibbs will roll. You heard it here first!
Honestly, I think the best game of the weekend is Oklahoma State-Kansas State. Our ESPN Insider/chat friend John Gasaway had a nice analysis the other day about how OSU's crest has been perfectly timed, because the rest of the Big 12 is either ugly or unproven. For example: Would you be surprised if Texas won at Baylor on Saturday? I honestly wouldn't be. And other than Baylor and Kansas State, who in the Big 12 is even a plausible competitor with Kansas this season?
That's why Oklahoma State's first true conference road game -- in the Octagon of Doom, no less -- should be not only entertaining but enlightening. I just wonder if K-State fans will bring old Frank Martin big head signs out of storage. I mean ... it couldn't hurt.
No. 8 Ohio State (11-2) at No. 11 Illinois (13-2)
When and where: Saturday, 2:15 p.m. ET on Big Ten Network
Game overview: Ohio State comes into this key road game having lost only at Duke and at home against Kansas. The Buckeyes have been tested and are a quality team whose offensive and defensive efficiency is each rated among the top dozen in the country. Ohio State minimizes turnovers, averaging only 10 per game, and does a good job of limiting opponents to one challenged shot. Defensively, this team has excellent perimeter defenders from both an individual and team standpoint.
Aaron Craft is the reigning Big Ten Defensive Player of the Year and keys the defense with great ball pressure. But Shannon Scott also has been among the best defenders in the country so far. Scott leads Ohio State with 29 steals, while Craft has 22. Lenzelle Smith Jr. and Sam Thompson are also excellent defenders who are athletic and physical. The Buckeyes can match up with any backcourt in the country, get down in a stance and guard them. Simply put, Ohio State is the best defensive team in the Big Ten, especially when guarding inside the 3-point line.
Illinois, on the flip side, has outstanding guards who can really score and make great use of the 3-point line. The Illini have five guys who have hit 15 or more 3s, including three players who have hit 24 or more. Brandon Paul, D.J. Richardson and Tracy Abrams are difficult to contain and can all get their own. Illinois is a good passing team that really moves the ball and makes great use of the dribble. But this is primarily a jump-shooting team that does not get the ball into the post and does not get to the free throw line. Illinois wins from deep and in transition. Illinois has had trouble cleaning up its defensive glass. The Illini's first-shot defense is very good, but they allow too many second shots. Ohio State has, at times, been a good offensive rebounding team.
Player Illinois must stop: The Buckeyes have several players who can score, and Illinois has to be conscious of Lenzelle Smith out of the corner and take away angles in the post. But to beat Ohio State, you have to limit Deshaun Thomas. The 6-foot-7 lefty is a natural scorer who Ohio State will screen into the post and use in pick-and-pop situations, and he has a quick release on his shot. Thomas leads Ohio State in scoring and rebounding, averaging 20 points and seven rebounds, while shooting 47 percent from the field, 40 percent from deep and 80 percent from the line. To limit Thomas, you must force him to be a 2-point shooter and make him work hard as a defender by involving him in ball screens and going at him; also, you must not foul him. He will get his shots, but if he has to take mostly 2s and is not fouled, he has to work harder to produce big numbers.
Player Ohio State must stop: Illinois has multiple threats on the perimeter, but Brandon Paul is the biggest gun. Paul is averaging 18 points but has the ability to go off for 35, as he did at Gonzaga. Last season against Ohio State, he put up 43. Paul is good in transition, is strong with the ball, and has knocked down 39 3-point field goals in 15 games. He leads Illinois in scoring, rebounding, assists, 3s made and free throws made, and he is second in steals. Illinois can beat you with Richardson and Abrams, but it can't beat you without production from Paul.
Editor's Note: To read more of Jay Bilas' breakdown of Ohio State-Illinois and to see his prediction, click here.
Viewer's Guide
All times ET

Friday
8 p.m.: Memphis at Tennessee (ESPN2)

Saturday
11 a.m.: Pittsburgh at Rutgers (ESPN2)
12 p.m.: Wake Forest at Duke (ESPNU)
12 p.m.: Purdue at Michigan State (BTN)
12 p.m.: Virginia Tech at Maryland (ESPN3)
1:30 p.m.: Oklahoma St. at Kansas St. (ESPN3)
2 p.m.: Georgetown at Marquette (ESPN3)
2 p.m.: Texas at Baylor (ESPNU)
2:15 p.m.: Ohio State at Illinois (BTN)
2:30 p.m.: Miami at Georgia Tech (ESPN3)
3 p.m.: Stanford at UCLA (PACN)
3 p.m.: Indiana State at Creighton (ESPN3)
4 p.m.: NC State at Boston College (ESPN2)
4 p.m.: Bucknell at Missouri (ESPN3)
5 p.m.: Lehigh at VCU (NBCS)
8 p.m.: Gonzaga at Santa Clara (ROOT)
9:30 p.m.: Washington at Wash. State (ESPNU)
Sunday
Noon: Syracuse at South Florida (ESPN3)
Noon: Iowa at Michigan (BTN)
4:30 p.m.: Temple at Kansas (CBS)
8 p.m.: North Carolina at Virginia (ESPNU)
8 p.m.: Colorado at Arizona State (PACN)
10 p.m.: Oregon at Oregon State (FSN)
I Can't Wait To See …

Eamonn Brennan
I'm looking to see if Iowa can power through the most challenging stage of its season, which began earlier this week and won't relent until Jan. 22. The Hawkeyes gave Indiana a legitimate run in their home opener, but they couldn't come away with a win. On Sunday, they travel to Michigan. That's followed by a home date with Michigan State, a trip to Northwestern, a home game against Wisconsin, and a trip to Ohio State, all before the end of January.
Fran McCaffery's team entered this brutal Big Ten slate playing some pretty solid ball and proved it will be a tough out for anyone on its own court (especially considering Iowa's best scorer, Roy Devyn Marble, won't go 1-for-14 all that often). But can the Hawkeyes overcome this stretch? Can they hold serve at home or even steal a win on the road? The answers to those questions could very well be the difference between an NCAA tournament berth and another NIT trip in March. Iowa's bubble watch begins now.

Andy Katz
Bucknell at Missouri on Saturday: I have a sneaky suspicion that this game ends up being closer than projected. Bucknell has a potential All-American in senior forward Mike Muscala, who is averaging 19 points and 10 rebounds. Muscala could be a handful for Laurence Bowers in the post. The Bison won the Patriot League last season but lost to Lehigh in the tournament.
Bucknell is still the pick to win the conference again this season, even though Lehigh gets the buzz due to C.J. McCollum and the win last March over Duke. But this will be a good barometer to see if Muscala should be taken seriously as a top-25 player and Bucknell as a potential upset team in March.

Jason King
I can't wait to see how Pittsburgh bounces back from its Big East-opening loss to Cincinnati, a setback that turned some heads because it came at the Peterson Events Center. The Panthers play at Rutgers on Saturday. The Scarlet Knights lost by 25 points at Syracuse on Wednesday, but the hype and emotion surrounding that game and Jim Boeheim's 903rd career victory put Mike Rice's squad at a major disadvantage.
I don't think Rutgers (9-3) is all that bad. It defeated Pitt by 23 points last season. If the Panthers aren't careful, it could happen again. An 0-2 start in conference play would be a serious blow to a Pittsburgh squad that thought it had a legitimate chance to win the Big East title.

Myron Medcalf
I can't wait to see how Oklahoma State responds to its loss against Gonzaga when it plays Kansas State on Saturday. The young Cowboys can quickly redeem themselves if they manage to get a win over the Wildcats in Manhattan. It's not an easy task. The streaking Wildcats have won four straight, a run that features a win over Florida. But if Oklahoma State is serious about making noise in the Big 12, it will have to prove itself in hostile arenas during league play. That challenge begins Saturday for Marcus Smart & Co.
Dana O'Neil
I can't wait to see if the SEC can actually emerge from a weekend without a paper bag over its collective head. Now that football season is almost over, SEC fans will be turning their attention to hoops. They may want to avert their eyes for the long term, but this weekend there is hope! (Exclamation point required.)
With the exception of Missouri, which might have its hands full with Bucknell, and Tennessee taking on a legit opponent in Memphis, the rest of the SEC teams that are in action should -- we stress should -- win: Mississippi against Fordham (4-10), Florida against Yale (4-10), LSU against Bethune Cookman (5-9), South Carolina against South Carolina State (4-9), Arkansas against Delaware State (5-8), Alabama against Oakland (6-9) and Georgia against George Washington (6-6). It's now or perhaps never for the SEC.

Robbi Pickeral
Can North Carolina carry the momentum it built from its recent win over UNLV into ACC play? The Tar Heels looked tenacious and together during their first win over a ranked team this season, but Virginia will test that on Sunday with a methodical pace and a defense that is allowing opponents only 50.7 points per game. The Cavs could also get a boost if guard Jontel Evans -- who has missed the last four games and nine overall because of a foot injury -- is able to return. UNC is 1-2 in true road games this season.
Conference power rankings
Each week, ESPN.com writers rank the teams in the following conferences:

Nos. 1 and 2 have been pretty easy in these power rankings the past few weeks, but what about 3, 4, 5, 6 ...? Glad ACC play opens this weekend to (maybe?) make things a little bit easier to sort out. Here are this week's ratings, based on myriad factors, including how teams have performed lately and the foes they've faced. Robbi Pickeral
Another week of Atlantic-10 power rankings, another week spent reading through the kind words of my adoring readers. Let's do this, guys! Eamonn Brennan

As conference play begins this week, it has become pretty obvious that Kansas is best team in the Big 12. Again. But who comes next? Baylor, Oklahoma State, Kansas State and Iowa State all have solid squads with somewhat similar resumes. Ranking those four schools -- and the rest of the league -- isn't easy, but here's how I see things as we near the season's midway point. Jason King

Conference play always serves as the great revealer, separating the real teams from the pretenders and outing soft nonconference seasons for the record-padding fluff that they are. We've already seen a little separation in just the first week of the Big East. This week there could be even more. Both Syracuse and Cincinnati dropped from the ranks of the unbeatens, but neither is going to be punished too heavily here because both lost to good teams and are clearly, along with Louisville, the cream of this conference's crop as league play opens. Dana O'Neil

Come on feel the Big Ten Power Rankings. Girls, rock your Big Ten Power Rankings. We get ranked, ranked, ranked & ranked, ranked, ranked. Happy Friday Big Ten Conference Power Rankings to ya.
Eamonn Brennan
The results this week haven't changed my mind: The Mountain West is one of the deepest leagues in the country. Andy Katz

The assumption for most of the past two months was that Arizona would win the Pac-12 title with ease. The Wildcats looked extremely strong -- and the rest of the league didn't. But as conference play opens this week, the thinking has changed. Arizona barely escaped Colorado in Tucson on Thursday evening while UCLA followed up its victory over then-No. 7 Missouri by thumping Cal. Maybe, just maybe, this will be an interesting race after all. Jason King

Here we go again. My latest attempt to rank the incomparable enigma known as the Southeastern Conference. Deep breaths. We'll get through this. I hope.
Myron Medcalf