At the Watercooler: Weekend preview
By Eamonn Brennan & Myron Medcalf
ESPN.com
Editor's note: Myron Medcalf and Eamonn Brennan met at the watercooler to discuss what they're looking forward to this weekend in college basketball.
Myron Medcalf: What's up, Eamonn? Another week, another WaterCooler. So many big-time matchups this weekend. But first, I think we should address the past week. If Wednesday was a precursor to the magic we'll see this weekend, then we are in for madness. "The Ben McLemore Show" included a game-tying 3-pointer with one second remaining in regulation during the Jayhawks' overtime win against Iowa State at Allen Fieldhouse. Jamaal Franklin thought he was at Rucker Park, so he threw a ball off the backboard, while standing at the 3-point line, in the MIDDLE of a real game … leading candidate for "Most Ridiculous Dunk of 2012-13." And those weren't the only highlights. Man, it really made me even more excited for this weekend's slate. So many good games. Any matchup stand out?
[+] Enlarge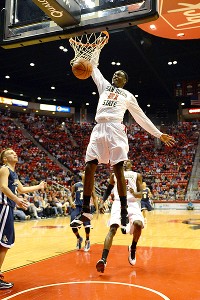 Jake Roth/USA TODAY SportsJamaal Franklin has received plenty of attention for a dunk that made this shot look routine.
Eamonn Brennan: Myron, I have to say -- I still haven't recovered from Jamaal Franklin's dunk. I think it changed my life.
I'm not sure this weekend can possibly stack up. In the matter of about four hours on one Wednesday night, we had #MaalSoHard, Ben McLemore with the singular performance of the season so far, Cleanthony Early with 39 points for Wichita State, a dominant performance by Minnesota on the road, a Boise State buzzer-beater at Wyoming, and New Mexico's uber-tight win over UNLV at the Pit. Plus, a handful of elite teams (Louisville, Michigan, Syracuse) got real tests through the second half in conference play. If we get even 50 percent on Saturday of what we got mid-week, it'll be one of the best days of the season.
We don't really "root" for anyone, obviously, but I have to say I was glad to see Minnesota get something like a statement win at Illinois. Why? Because (a) I do think Minnesota is that good, and it's nice to see a team not fall back to the middle of the pack on the road in Big Ten play, and (b) it sets up a really great game in Bloomington on Saturday. The Hoosiers are almost impossible to beat at home, and they're defending and rebounding so well right now that I'm close to removing that "almost" tag entirely. But Tubby Smith's is exactly the kind of team designed to give them fits. Big guards, athletic wings, physically imposing interior strength (led by Trevor Mbakwe), all of whom grab offensive boards at the highest collective rate in the country. Throw in Indiana's crowd, and what it's like to watch the Hoosiers fly up and down the court in Assembly Hall, and yeah: I cannot wait to cover this game.
Myron: Eamonn, you know I covered the Gophers for the first four years of the Tubby Smith era. And I'm completely shocked by this team. This is Tubby's best Gophers team and I'll tell you why. He finally has athleticism and skill in the backcourt, which he has lacked in past years. Andre Hollins, Joe Coleman and Austin Hollins comprise a really potent trio for Smith. And with their length inside, this could be Indiana's worst matchup. But you're right. The Gophers are going into the fire. Hoosiers' faithful will show up and show up big. A few years ago, I covered a game at Assembly Hall during an ice storm. Indiana fans showed up ON TIME. So there's that. But how will the Gophers handle that environment and an IU team that's played great D in recent weeks and loves to get up and down the floor and launch the 3-ball? Man, what a matchup.
A lot of intriguing questions throughout the weekend slate, too. I'm pumped for Duke at NC State. But Ryan Kelly's foot injury and subsequent absence will certainly be a factor in that matchup. According to ESPN Stats & Info, Kelly has the highest plus-minus (plus-190) in the ACC. I know Duke is loaded. But how will Kelly's injury affect this game?
Eamonn: His injury is a big deal for a couple of reasons. The obvious one is his offense. At 6-foot-11, Kelly is shooting 52.1 percent from beyond the arc this season. He is great on the high post, or all the way out beyond the arc, and that works perfectly with POY candidate Mason Plumlee, who thrives with space on the low block. With Kelly, Seth Curry, Quinn Cook and Rasheed Sulaimon on the perimeter, the defense can't really rotate away to double or shade to Plumlee without worrying about giving up three instead of two. With him gone, that threat is minimized -- Amile Jefferson and Josh Hairston can't do that for you.
That all said, provided the road environment doesn't play tricks, Duke's offense should be fine tomorrow. NC State has yet to prove it can guard anybody, actually. But the second reason Kelly's absence hurts is his defense: He has become a solid defender, and I think his absence makes it much more difficult for Duke to match up with some of the tweener guys NC State throws at you on the offensive end -- namely C.J. Leslie and T.J. Warren -- where the Wolfpack are every bit as efficient as the Blue Devils. But really, with or without Kelly, the game ought to come down to NC State's defense.
Before we get to some of the marquee stuff on Sunday, I'll give my three favorite "other" games of the weekend. Ready? Missouri at Ole Miss. Colorado State at San Diego State. Saint Louis at Temple. And that's just on Saturday.
Myron: Well, let's just get into it, then. I love those matchups. In order … Saint Louis at Temple. The A-10 is a beautiful mess right now. The Billikens have been one of the hottest teams in America. Kwamain Mitchell's return has helped. But Temple is tough, too. The Owls proved as much when they nearly upset Kansas in Allen Fieldhouse last weekend. The A-10 has to sort itself out, and this is a game that will assist in that process. .… Colorado State at San Diego State. … As I wrote the name "San Diego State," I had a flashback to The Dunk by The Artist Known as Jamaal Franklin. Made me lose focus for a second. … OK, I'm back. Clearly, SDSU is a talented team and one of the country's best defensive units (25th in defensive efficiency ratings). Colorado State, however, could make this one interesting. The Rams are third in offensive rebounding rate and their 10.9 turnovers per game lead the Mountain West. Minnesota transfer Colton Iverson is a load inside. The Rams will have to capitalize on each possession to get the W, but I really like the matchup.
And last, but not least, Ole Miss has a huge opportunity Saturday. And it's not just because Laurence Bowers will miss the game due to a knee injury. I'd like this game even with Missouri at 100 percent. The truth is that Andy Kennedy's program is solid on both sides of the ball and the Rebels play really fast (11th in adjusted tempo). But their nonconference SOS was so weak that there weren't many barometers until they smashed Tennessee on the road Wednesday night. Missouri has looked rather ordinary in stretches this season, especially outside of Columbia. I like Ole Miss' chances of the upset in that one. But, there is the Phil Pressey Factor.
Eamonn: And Ole Miss has Marshall Henderson, who has already shot 150 (!) 3s this season. That game is going to go fast.
[+] Enlarge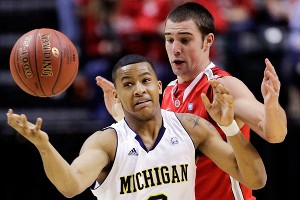 AP Photo/Michael ConroyTrey Burke vs. Aaron Craft is a key feature of what should be an entertaining Michigan-Ohio State matchup.
I've been saying it all week, but I would argue the best game of the weekend comes Sunday, when Michigan goes to Ohio State. First of all, there's the rivalry. It's kind of funny -- I've always thought (or maybe assumed) that both schools don't really care about the rivalry when it doesn't involve football. But now that both Michigan and Ohio State are perennial Big Ten contenders, I don't see how the atmosphere won't be totally intense. (Plus, Big Ten football? Ew.)
But anyway, even if these two programs had never heard of each other, this would still be yet another beautiful and brutal Big Ten matchup. After averaging 1.39 points per trip in its first two games (ruthless blowouts of Northwestern and Iowa), the Wolverines slowed down a bit against Nebraska Wednesday -- they managed just 25 points in the first half. I wouldn't bet on UM staying that cold Saturday; they looked a bit lethargic against the Cornhuskers.
In any case, I know we're going to get a good matchup when Michigan has the ball. Aaron Craft vs. Trey Burke? Yes, please. But I'm wondering whether Ohio State has enough offense, or a reliable second option other than Deshaun Thomas, to put some points on the board against a quality team.
Myron: Man, get your popcorn ready for that one. … This is a great matchup and it's an even better matchup given the rivalry. I really feel like Michigan is just waiting for a challenge. And their lethargic starts speak to that. After facing NC State in late November, the Wolverines have a faced a lackluster slate. But Sunday's game at OSU commences a stretch that includes road games there, Minnesota and Illinois in the next two weeks. I think they'll step up because they'll have to. But we're going to learn a lot more about Michigan in the coming days. … As for Ohio State, we know that Deshaun Thomas needs help. A lot of it. The Big Ten is so deep that even Ohio State could, in the words of Mike Tyson, "fade into Bolivian." Craft on Burke is must-see TV. But I'm really looking at the other Buckeyes. LaQuinton Ross, Sam Thompson. OSU needs guys to come up with buckets off the bench if it's going to compete for the Big Ten title.
I think we've covered all of the meaningful weekend matchups. But I'd like to wrap this up so I can watch Jamaal Franklin's off-the-backboard-mind-blowing dunk for the 148th time today. That OK?
Eamonn: Way ahead of you.
No. 8 Minnesota (15-1) at No. 5 Indiana (14-1)
When and where: Saturday, noon ET on Big Ten Network
Game overview: Minnesota is coming off of a win at Illinois in which the Gophers shot 9 of 15 from 3-point range, scored in transition and took the ball inside against the Illini. Tubby Smith has a good defensive team that plays primarily halfcourt man-to-man (although Minnesota does press, mostly after free throws). They pressure the ball, contest passes on the perimeter and close out well to shooters while still taking away drives.
[+] Enlarge
Brace Hemmelgarn/USA TODAY SportsLife in the paint is not easy with Trevor Mbakwe and Rodney Williams around.
This team loves to get out on the break, but does not force a lot of turnovers or rely upon steals and loves to get the ball inside via post passes and drives. The Gophers have shot the ball well, but the primary deep threats are Andre Hollins and Austin Hollins, the only two players on the roster who have hit more than 10 3s on the season. But what Minnesota may do best is hit the offensive glass and get second shots. Trevor Mbakwe and the super athletic Rodney Williams are averaging three offensive rebounds per game. Williams has been playing the power forward slot and has been having his best season. Minnesota leads the nation in offensive rebound percentage at 48.5 percent. The Gophers are deep, play hard together, are finally healthy and at full strength, and expect to win.
The Hoosiers are an outstanding offensive team and an underappreciated defensive unit. Indiana gets up and down the floor better than Minnesota, especially Cody Zeller, who runs the floor better than any college big man. The Hoosiers are balanced, with five guys who average between 11 and 16.5 points per game, and shoot over 51 percent from the floor as a team. IU does a great job using ball screens and finding opportunities to cut to the basket or the 3-point line. It all starts with Zeller, whose running game drags the defense toward the baseline and provides opportunities for others. Victor Oladipo and Will Sheehey provide versatility and toughness, and freshman point guard Yogi Ferrell has improved game by game. Indiana has several players who can hit a 3, but two that you must find in transition and cannot leave, Jordan Hulls and Christian Watford.
Indiana's best player: Cody Zeller. The third of the Zeller brothers is the most efficient big man in the country, and is the Hoosiers' best scorer, defensive rebounder, offensive rebounder and most efficient player. Zeller averages 16 points and eight rebounds on 62 percent shooting, and takes just over eight shots per game. He does not turn the ball over and gets to the free throw line. While he could clearly be a better defensive rebounder, more assertive and look to take over on the offensive end, this team does not win without Zeller. Since his arrival in Bloomington, the Hoosiers are 41-10.
Minnesota's best player: Andre Hollins. He is a scoring point guard who has only been playing the position for a few years. Hollins was a scoring guard in high school, playing in the same backcourt with Memphis guard Joe Jackson. He is Minnesota's primary handler and top assist man, but he is also an attacking guard who loves to get by defenders to explode into a shot or get to the rim. Hollins has shot more free throws than any Gopher but Mbakwe, and is a streaky 3-point shooter who has hit 29 3-point shots on the season. He is also a terrific defender who is very good pressuring the ball.
Editor's Note: To read more of Jay Bilas' breakdown of Minnesota-Indiana and to see his prediction, click here.