St. John's, E'Twaun Moore highlight past week
Editor's note: This edition is for games played from Monday, Dec. 27, through Sunday, Jan. 2.
Team of the week: St. John's
Last week: Won at West Virginia, 81-71; won at Providence, 67-65.
In the offseason, the Red Storm were projected by Louisville coach Rick Pitino to win the Big East. That's unlikely to occur. But after a particularly memorable week, guess who is atop the standings with Cincinnati and Syracuse? St. John's. And which one of those three teams opened with two road games? St. John's. The Red Storm won at struggling West Virginia and then went to Providence and held back a furious late rally by the Friars for the 2-0 start. Leading scorer Dwight Hardy scored 41 points and made all 14 free throws in the two wins, and Justin Brownlee had another solid week. The Johnnies are suddenly not as offensively challenged as they were a year ago, and they don't get tight late in the game, either. They should be more mature since they are one of the most experienced teams in the league. Former coach Norm Roberts was building toward this season, and new head coach Steve Lavin has added a calming effect to this crew and is leading them toward a potential NCAA bid. His staff, of Mike Dunlap and the legendary Gene Keady, is molding this group into a winning team. The Red Storm had one bad week, blowing huge second-half leads against St. Bonaventure and Fordham a month ago. But they haven't lost since, setting themselves up for a two-week stretch beginning Monday that includes legitimately big games at Madison Square Garden against Georgetown, Syracuse and Notre Dame.
-- Andy Katz
More teams that impressed us
Washington: The Huskies were the projected Pac-10 champions but could have easily left Los Angeles 0-2. Instead, Washington rallied and won in overtime at USC and then put away UCLA to complete just the third-ever L.A. sweep in school history. Meanwhile, rival Washington State -- thought by some to be a legit challenger to U-Dub -- was swept on the same trip.
[+] Enlarge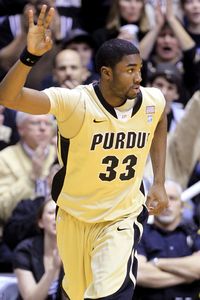 AP Photo/Michael ConroyE'Twaun Moore was deadly from 3 in a win over Northwestern.
Purdue: The Boilermakers had an impressive start to the Big Ten with a blowout win at Michigan and a nice home effort versus Northwestern. The 2-0 start keeps Purdue right on track to compete for the Big Ten title.
Michigan State: The Spartans won a game they were supposed to win by beating No. 13 Minnesota at home to jump-start the Big Ten season. Had they lost that one, the questions surely would have been swirling about the mental toughness of this team.
Dayton: After posting a win over a solid George Mason team, the Flyers beat New Mexico in double overtime to go to 12-3. Dayton struggled earlier in the season, getting embarrassed by Cincinnati, falling to East Tennessee State and eeking out wins over Savannah State and Central Connecticut State. Now UD enters the down Atlantic 10 as one of the real contenders for the title.
Syracuse: The Orange had one of their most impressive wins to date with a 12-point victory over Notre Dame at the Carrier Dome. That came on the heels of a gritty home win over Providence to start Big East play 2-0. Now the fun begins. Syracuse goes on the road for three of its next four games, including one against Big East co-favorite Pitt.
Missouri State: In a classic in Cedar Falls, the Bears ended Northern Iowa's 21-game home winning streak when Kyle Weems nailed a buzzer-beating 3-pointer. MSU followed that up by running past Illinois State at home to start the conference 2-0. The Bears, one of the expected challengers to Wichita State in the Valley, will be tested again Tuesday at Creighton, another MVC contender.
Illinois: The Illini, projected to be a Big Ten title contender, had to start off the conference with a 2-0 record, especially after that mystifying loss to UIC. Illinois had to beat Iowa in Iowa City and then take care of Wisconsin at home Sunday. And that's exactly what it did. If Illinois is going to challenge for the Big Ten title, it must win the games it's supposed to win on the schedule and then steal a few from the other contenders.
-- Andy Katz
There were a number of strong performances during the week, but it was hard to find a more consistent performer in meaningful games than Moore. On the road in the Big Ten opener, the senior guard had 21 points, 9 rebounds, 4 assists and 2 steals in a runaway win at Michigan. And then, with Northwestern desperately trying to make a Big Ten-opening statement, Moore answered the Wildcats at every turn. Moore hit five 3s in the first half and finished with 31 points (seven 3s), 7 rebounds, 3 assists and 2 steals. Teammate JaJuan Johnson has had his share of the spotlight lately -- now it's Moore's turn. Clearly if the Boilermakers are going to challenge for the Big Ten title without Robbie Hummel, it's going to be up to Johnson and Moore. And neither all-Big Ten senior performer has disappointed thus far.
-- Andy Katz
More performances that wowed us
Larry Anderson, Long Beach State: After missing six games because of a hand injury, the all-conference guard came off the bench in his first game back and made 9 of 10 shots, contributing 25 points and eight rebounds in the 49ers' surprisingly easy 71-55 win at Big West favorite UCSB.
Mickey McConnell, Saint Mary's: The senior guard tallied 28 points and 13 assists as the Gaels rolled on with a 94-72 dissection of Mississippi State in Las Vegas.
[+] Enlarge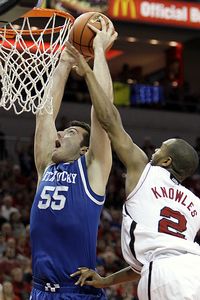 AP Photo/Ed ReinkeJosh Harrellson had the game of his life on Friday, contributing 23 points and 14 boards.
Josh Harrellson, Kentucky: Here's all you need to know about Harrellson's career performance in a win at Louisville. All of last season, he contributed a total of 28 points and 27 rebounds. In the win over the Cardinals, the breakout senior contributed 23 points (10-12 FG) and 14 rebounds. Wow.
Kendall Timmons, Tulane: How does a 6-5 swingman grab 19 rebounds? We're not entirely certain, but Timmons did just that in a 93-77 win over Lamar. Oh, and did we mention he threw in 33 points just for fun?
Tai Wesley, Utah State: Hawaii has played above expectations this season, but the Warriors were no match for Wesley. The senior totaled 27 points (8-12 FG, 11-11 FT) and 13 rebounds (8 offensive) in a 74-66 victory.
Wesley Witherspoon, Memphis: In a rare instance of the Tigers blowing out an inferior opponent, Spoon's up-and-down season took an upward turn with 28 points and 14 rebounds against Lipscomb.
Vlad Moldoveanu, American: The Eagles had an impressive week, winning by double-digits on the road at Delaware (beat ODU) and at home against Fordham (beat St. John's). In the latter game, the 6-9 senior from Romania contributed 32 points and seven boards.
Andrew Goudelock, Charleston: The diminutive guard struggled later in the week against Morehead State, but he lit up the Vols in Knoxville on New Year's Eve, connecting on 6 of 7 from deep, dishing out six assists and scoring 31 points in a 91-78 win.
Demonte Harper, Morehead State: If Guodelock is going to be on the list, Harper has to be, too. He helped shut down the explosive scorer (7 points, 3-11 FG) and then added 28 points, 10 rebounds and 4 steals of his own in Morehead's 20-point pasting of Charleston.
Trey Finn, Arkansas State: How unlikely was Finn's 30-point performance (7-9 3-pt FG) in a win over Western Kentucky? He came in averaging less than 8 points per game and hadn't scored more than 13 in any game this season. Just for good measure, he added 10 rebounds and four steals.
Jae Crowder, Marquette: During New Year's Day brunch in Milwaukee, the highly touted junior college transfer had his breakthrough game on national TV, hitting 12 of 14 shots and totaling 29 points, 8 rebounds, 5 assists and 4 steals in a crucial 79-74 victory over West Virginia.
Robert Sacre, Gonzaga: The 7-foot center sent off 2010 in style for Gonzaga with 16 points, 15 boards and 4 assists in his team's 21-point win over Oklahoma State on New Year's Eve.
Norris Cole, Cleveland State: The Vikings are quietly 15-1, and Cole is a big reason why. He rolled lucky sixes in a 83-59 beatdown of UIC, notching 6 rebounds, 6 assists and 6 steals against the Flames (and 21 points, too).
Brad Tinsley, Vanderbilt: So much for point guard being Vandy's weak link. Tinsley has really come on lately for the undermanned Commodores. In a one-point win over Marquette, he had 15 points and eight assists and hit a key bucket down the stretch. In a larger-than-expected 80-52 blowout of Davidson, he scored 14 and actually contributed 10 rebounds. Most importantly, Tinsley turned it over just once in each game.
-- Brett Edgerton
More scores that caught our eyes
• Pittsburgh 78, Connecticut 63: Entering the game, the Huskies were fourth in the polls and the Panthers were sixth. Here's guessing that's the final time this season Pitt will be ranked behind UConn.
• Penn State 69, Indiana 60: How's that rebuilding effort going in Bloomington? Let's be honest here, if the Hoosiers can't win a home game like this, how many games can they expect to win in the loaded Big Ten?
• Marist 66, Pennsylvania 57: Before this victory against what was supposed to be an Ivy League sleeper, the Red Foxes were 0-10 in nonconference play (but 2-0 in the MAAC).
• Auburn 88, Georgia Southern 84 (OT): Why include a game between two horrible teams, played in front of dozens of fans? Well, when a team rallies from 29 down in the second half to force overtime -- as the Eagles did before finally faltering -- it gets a mention.
[+] Enlarge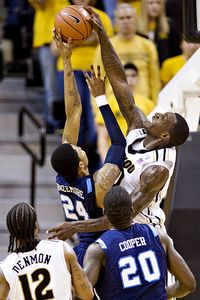 AP Photo/L.G. PattersonODU was denied at nearly every turn by a stifling Missouri defense.
• Missouri 81, Old Dominion 58: It wasn't the result that surprised us. It was the final margin. Marcus Denmon was lights-out once again in a wildly impressive victory by the Tigers, who finished off their first undefeated December since 1991.
• Saint Mary's 94, Mississippi State 72: Here's a new rule: Let's start talking more about Saint Mary's, who is actually accomplishing something, and less about Mississippi State, who isn't.
• Iowa State 60, Virginia 47: OK, so UVA didn't have Mike Scott. But this was the Cyclones' first game outside the state of Iowa, and they easily passed the test, led by Jamie Vanderbeken's career-high 24 points. Don't look now, but The Mayor's team is two wins against Northern Illinois and Nebraska away from hosting Kansas with a 14-2 record.
• Florida 71, Xavier 67: The Gators not only ended the nation's second-longest home win streak at 30, but also showed some moxie when faced with a furious Xavier rally and a raucous Cintas Center crowd. It was a refreshing thing to see for an often-flaky Florida team.
• Hampton 77, Colorado State 76: The Rams had won six straight and created some real buzz with a tourney title in Cancun, Mexico. So much for that. Kwame Morgan's 3-pointer with 0.8 seconds to go lifted Hampton, which to its credit has put together a nice season and looks to be the new favorite in the MEAC.
• Arizona State 60, Oregon 55: It's unfortunate Mac Court had to go out a loser. The new Matthew Knight Center is a masterpiece by all accounts, but there was always something entirely charming about ol' Mac, the quirky, ancient arena that has hosted the Ducks since 1927, making it the second-oldest on-campus facility in the country. College basketball needs places like that. We'll miss it.
• Oregon State 76, Arizona 75: In the meantime, how does one explain the erratic behavior of Oregon's rival to the north? As has been the case for the entire Craig Robinson era, the Beavers were positively horrendous during the nonconference season, which included losses to Seattle, Texas Southern, Utah Valley, Montana and GW. So naturally, OSU opened Pac-10 play with a sweep of the Arizona schools. Huh?
-- Brett Edgerton
The week in quotes
• "What I said to him after the game was he's taught me a great lesson. What we coaches like to do is just work with the good guys. The guys that struggle sometimes, we just push them aside. What he has shown me is every kid deserves everything we have to help them get better." -- Kentucky coach John Calipari after forward Josh Harrellson's 23-point, 14-rebound effort against Louisville.
• "God, I'd kiss you right now. I swear to God. I would come over there, and I'd kiss you if we got 23, 24 wins. Are you kidding me? I'd be so happy." -- UCLA coach Ben Howland to Los Angeles Daily News writer Jon Gold.
• "I was just trying to get [associate head coach] Tony Jones some reps." -- Tennessee coach Bruce Pearl after getting ejected in the second half of a loss to Charleston the week before he begins serving an eight-game SEC suspension.
• "I kind of feel like Michael Vick in some ways. I feel like I've got something to prove again. I feel like people doubt what I've done and feel like that I shouldn't be in a place that I've been in. I feel like now is a reason for me to show them I worked hard for everything that's come my way and everything that this team has gotten." -- Kansas State guard Jacob Pullen to reporters after serving a three-game NCAA suspension for accepting impermissible benefits from a local department store.
• "I feel like the reason you come to Duke is to play for one of the greatest coaches of all time, set records and add onto the Duke legacy." -- Duke guard Nolan Smith to Duke Blue Planet after coach Mike Krzyzewski passed Dean Smith for second on the Division I wins list with 880.
Observations from the week that was
Andy Katz

• Kentucky with Enes Kanter would be scary good. The odds are against him winning a reverse ruling to be eligible, but think of the possibilities. What Kentucky has found early in the season is a hard-working, senior big man coming into his own in Harrellson. The Wildcats have plenty of scorers now with Brandon Knight at the point, Terrence Jones and Doron Lamb on the wings and DeAndre Liggins and Darius Miller slashing to the hoop. But Harrellson is providing the necessary put-back man the Wildcats covet, scoring 23 points and grabbing 14 boards in UK's whipping of Louisville. He can be a source of production inside and appears to have earned the trust of Calipari (finally).
[+] Enlarge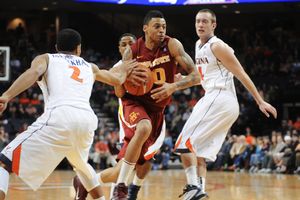 AP Photo/The Daily Progress, Sabrina SchaefferDiante Garrett and Iowa State are quietly off to a 12-2 start in the Fred Hoiberg era.
• Three schools that continue to exceed expectations are Boston College, Iowa State and Saint Mary's. The Eagles lost early in the week at Rhode Island, but then wacked South Carolina on Saturday in a game that was never close. The Gamecocks have completely fallen apart while BC has showed resiliency in splitting a two-game road trip. The 11-3 Eagles are getting balanced play out of their core six and have put themselves in position to earn a bid through the ACC under first-year coach Steve Donahue, who has a strong handle on this veteran team. First-year coach Fred Hoiberg has Iowa State at 12-2 after a road win at Virginia. The Cyclones haven't played a tough schedule and did lose two of their tougher games at Northern Iowa and at home to Cal. But they appear to be a tougher out than projected, and if Hilton Coliseum can rock this is no longer an easy win for upper-tier teams. Saint Mary's lost Omar Samhan off the Sweet 16 team, but Mickey McConnell returned and so did most of the shooters, giving SMC a team that can shoot itself into any game. Well, the Gaels are going to challenge Gonzaga again (with Portland being a pest, as well). Saint Mary's rocked Mississippi State in Las Vegas and enters the WCC at 12-2, with another quality nonconference game coming at Vanderbilt on Jan. 22.
For more of Katz's observations, see the complete post in the Nation blog.
Eamonn Brennan

• The sky is not falling at Illinois and Michigan State. Illinois fans were worried about the Illini. Michigan State fans were worried about the Spartans. But both teams felt the comforts of homecooking this week, and each proved there's plenty of time to rebound from its respective nonconference disappointments. Illinois got a nice win over a tough Wisconsin team Sunday, which is no easy feat and one last year's Illini team couldn't accomplish when it desperately needed a resume-building win last February. Meanwhile, Michigan State's win over 13th-ranked Minnesota on Friday came with at least one very encouraging sign baked in: Tom Izzo's team only turned the ball over eight times, a far cry from its usual offensive-imploding turnover tendencies. The Spartans struggled against the best teams on their schedule in November and December, but this convincing home win provided some notion that Michigan State will make its customary improvements as league play rolls along. Sorry, Chicken Little. Check back with us in a month.
• Tennessee continues to baffle. Remember when Tennessee was arguably the most impressive team in the country? How quickly things change. Not that long ago, amidst the swirling uncertainty of Pearl's ongoing NCAA troubles, the Volunteers beat Villanova in Madison Square Garden and easily handled No. 3 Pitt in Pittsburgh. Those were simpler times. Since then, Tennessee has lost to Oakland, Charlotte, USC and Charleston. Three of those losses, including Friday's 91-78 drubbing to the Cougars, came in Knoxville, where the Vols have looked defensively soft and offensively stagnant. It's a staggering turn of events, given where Pearl's team was a month ago. And with Pearl set to miss UT's first eight SEC games, thanks to a suspension by commissioner Mike Slive, things don't look likely to improve anytime soon. From world-beater to bubble team in less than a month: These are your 2010-11 Tennessee Volunteers.
For more of Brennan's observations, see the complete post in the Nation blog.
Viewer's Guide
All times ET
Monday
7 p.m.: Georgetown at St. John's (ESPN2)
7:30 p.m.: Michigan State at Northwestern (BTN)
9 p.m.: Rhode Island at Florida (ESPNU)
Tuesday
7 p.m.: Connecticut at Notre Dame (ESPN3)
7 p.m.: Pittsburgh at Providence (ESPN3)
8 p.m.: Missouri St. at Creighton (FS-MW)
9 p.m.: Arkansas at Texas (ESPNU)
Wednesday
7 p.m.: UAB at Duke (ESPN2)
7 p.m.: Marshall at UCF (CSS)
8:30 p.m.: Michigan at Wisconsin (BTN)
9 p.m.: Memphis at Tennessee (ESPN2)
10 p.m.: BYU at UNLV (CBS-CS)
Thursday
7 p.m.: Xavier at Cincinnati (ESPN2)
9 p.m.: Northwestern at Illinois (ESPN2)
9 p.m.: Saint Mary's at LMU (ESPNU)
Friday
7 p.m.: Cleveland St. at Butler (ESPNU)
Saturday
1 p.m.: Kansas St. at Oklahoma St. (ESPN2)
2 p.m.: Marquette at Pittsburgh (ESPN3)
3 p.m.: Florida St. at Virginia Tech (ESPN2)
3:30 p.m.: Connecticut at Texas (ESPN)
4 p.m.: Kentucky at Georgia (ESPN3)
8 p.m.: St. John's at Notre Dame (ESPNU)
Sunday
Noon: Cincinnati at Villanova (ESPN3)
2 p.m.: Minnesota at Ohio St. (BTN)
4:30 p.m.: Kansas at Michigan (CBS)
8 p.m.: Maryland at Duke (FSN)
8:30 p.m.: Missouri St. at Wichita St. (ESPNU)
10:30 p.m.: UCLA at USC (FSN)
O'Neil: Three questions
• Who has next in the Mountain West? I've though all along the MWC could be one of the more intriguing conferences to watch this season and so far, so true. San Diego State, BYU, UNLV and New Mexico have been good in the nonconference part of the season (the Aztecs have been better than good, actually), but now is when the real fun begins. BYU meets UNLV on Wednesday night in what will undoubtedly be a frenzied atmosphere at the Thomas & Mack. It will be a feature presentation in just the first week of Mountain West action. Both teams will challenge the unbeaten Aztecs for conference supremacy -- the winner gets the early leg up.
• Is Washington officially on track? The Huskies took themselves a bit off the radar by losing a couple of games in Hawaii and losing a slugfest at Texas A&M, but U-Dub is quietly righting the ship. Washington has won seven of its last eight, including a sweep through Los Angeles last weekend to regain its expected spot atop the Pac-10 standings. This week won't offer up any whistle-blowing wins -- the Huskies play Oregon and Oregon State -- but as league play gets going, Washington may start to earn some of its early-season cred back.
• Can anyone other than Kemba Walker score for UConn? Walker has been incredible all season, leading the nation in scoring and leading the Huskies to an unexpected red-hot start. But if UConn is going to survive the week -- at Notre Dame and at Texas -- let alone the Big East, Walker is going to need some help. He has scored 320 of the Huskies' 940 points this season, a staggering third of his team's points. Alex Oriakhi can and has come to his teammates' aid, but when he struggled against Pittsburgh, Walker couldn't beat the Panthers alone. The Huskies need more reliable scorers and need them this week if they don't want that hot start to fizzle into a cold finish.
-- Dana O'Neil
O'Neil on UConn's crucial week
Places to be this week
Monday
New York (Georgetown at St. John's)
Georgetown's tough schedule continues. After playing one the most difficult and road-oriented schedules of any power-six conference team in November and December, the Hoyas opened their Big East slate with more road challenges. The first came at Notre Dame last week, where Georgetown's unusual struggles from beyond the arc led to a double-digit loss. Meanwhile, St. John's is coming off a surprising road win at West Virginia and the Red Storm will be trying to keep that momentum going in the Garden.
Tuesday
South Bend, Ind. (UConn at Notre Dame)
The process of sorting out the Big East hierarchy will take another step toward clarity when Connecticut travels to the Joyce Center. The Irish have looked alternately impressive -- see last week's win over Georgetown, for one -- and less-than-elite thus far this season, while Connecticut was exposed at Pitt and in an ugly overtime win over South Florida last week. This writer has a sneaking suspicion the Huskies are probably a bit overrated, and they'll need someone to help Walker on offense if they plan on maintaining their much-lauded early-season profile with a win over the Irish.
Wednesday
Knoxville, Tenn. (Memphis at Tennessee)
Maybe it's something in the Tennessee water. Both of the state's marquee teams -- no offense to the underrated Vanderbilt Commodores, of course -- have lived through more than their share of chaos this season. Memphis coach Josh Pastner parted ways with top recruit Jelan Kendrick, saw forward Angel Garcia leave the team to pursue a professional career in Spain, lost forward Wesley Witherspoon to a minor injury and has seen his young team stumble out around with quality and not-so-quality opponents. Tennessee began its season in impressive fashion by beating Villanova in New York and Pittsburgh in Pittsburgh but has since lost four games -- to Oakland, Charlotte, USC and Charleston. It is preparing to lose coach Bruce Pearl to an eight-game suspension in SEC play. But hey, someone has to win, right?
Las Vegas (BYU at UNLV)
If you're not paying attention to the Mountain West yet, I'm not sure you've been paying attention to college basketball, period. The MWC boasts three top-25 teams and a fourth, New Mexico, that could challenge any of those three for the conference title and an NCAA tournament bid now that talented UCLA transfer Drew Gordon is eligible to suit up. Anytime any of those four teams meet, it's a marquee game with major implications attached. Don't miss any of them, especially this one.
Thursday
Cincinnati (Xavier at Cincinnati)
One of the more underrated provincial rivalries in college basketball has a bit of under-the-radar intrigue attached this season. Xavier has struggled out of the gate and looks nothing like a Sweet 16 team, which would make this the first year in the past four that the Musketeers aren't playing on the second weekend of the NCAA tournament. In the meantime, Mick Cronin's Bearcats have raced out to an impressive but misleading undefeated record. Cincinnati hasn't played a prospective NCAA tournament team in any of its 14 wins, and the only time the Bearcats have left the state of Ohio was to play a neutral-site game versus a dreadful Oklahoma team in Oklahoma City. Xavier isn't exactly Syracuse, but we'll get a decent look at whether Cincy is a Big East pretender when the Musketeers and Bearcats square off Thursday.
Friday
Indianapolis (Cleveland St. at Butler)
Butler has rebounded from its ugly first month, when the returning national runners-up were blown out at Louisville (a loss that looks much worse after the Cardinals' home losses to Drexel and Kentucky) and stunned by Evansville at Hinkle Fieldhouse. Cleveland State, meanwhile, already has 15 wins and has presented itself as the rare legitimate contender to unseat Butler in the Horizon League. The time to do so is now, Vikings.
Saturday
Stillwater, Okla. (K-State at Oklahoma St.)
The Wildcats have plenty of things to figure out. For one, they have to get star guard Jacob Pullen -- who is returning from an NCAA-mandated three-game suspension he received, thanks to his ill-advised decision to accept free clothes from a department store employee -- back on track. They also have to find a way to score and rebound on the interior without Curtis Kelly, who is still serving a six-game suspension for the same reason as his teammate. They have to find some leadership, someone to challenge the locker room and help a clearly frustrated Frank Martin put this team in position to win. All of those things have to come sooner rather than later, or K-State will lose games on the road against solid Big 12 opponents more often than not.
Austin, Texas (UConn at Texas)
The challenge for Texas is not to establish itself as a Big 12 contender. With wins over Illinois and Michigan State (the latter of which came in East Lansing, Mich.), the Longhorns have already done that much. The key for this Texas team will be to perform this well over an entire season, to avoid letdowns like that bad loss at USC and to keep from coming apart at the seams in the same manner as last season. We'll see whether the Longhorns can do as much when Walker and company -- who have another chance to prove they're not an overrated one-man show -- come to town Saturday.
Athens, Ga. (Kentucky at Georgia)
Who are the
Georgia Bulldogs
? We still don't know. UGA's only losses came in overtime to Notre Dame and in a close game against Temple, but the Bulldogs haven't won a game against a top opponent or even a prospective NCAA tournament team yet this season. They'll have that opportunity when Kentucky, which has established itself as the SEC favorite to this point, brings its young talent to Stegeman Coliseum.
Sunday
Columbus, Ohio (Minnesota at Ohio St.)
Minnesota can't catch a scheduling break. The Golden Gophers get a brief respite on Tuesday with a home game versus Indiana, but after that they're right back on the road with this game at Ohio State. Minny has already played and lost at Wisconsin and Michigan State, and after the Ohio State game it'll play Purdue. That's a brutal way to begin conference play. Minnesota could theoretically start the Big Ten season with a 1-4 record. Stealing a win in Columbus would be huge, but more important is that the Gophers don't let frustration derail them before they have a chance to play the less-impressive portions of their conference schedule.
Wichita, Kan. (Missouri St. at Wichita St.) Missouri State has lived up to expectations thus far. Pegged to challenge Wichita State, Northern Iowa and Creighton for top billing in the Missouri Valley Conference, the Bears have already toppled defending conference champ UNI on the road on a buzzer-beater. The next step toward national relevance and a distinction as new MVC favorites is a daunting matchup at Wichita State in front of an ESPNU audience and a revved-up crowd at Koch Arena.
-- Eamonn Brennan
Upset pick of the week
Georgia over Kentucky, Saturday: OK, Bulldogs, here is your chance to step up and say you belong in the discussion for an NCAA tournament berth and an SEC East title. Kentucky is playing well right now. Georgia and Kentucky enter the week with identical 11-2 records, but those records come with different perceptions. The Bulldogs have squeaked by a number of weaker teams, including Mercer and Eastern Kentucky recently. Meanwhile, the Wildcats are getting solid play from a variety of sources, including Josh Harrellson. They routed Louisville on the road and are looking like a serious March threat. But SEC preseason player of the year Trey Thompkins is healthy and Travis Leslie is scoring at a more consistent clip for UGA, which must win a game like this to live up to its preseason-sleeper hype. Let's see if these guys are up for the challenge. I say they are.
-- Andy Katz
Brennan on Connecticut-Texas
Unbeaten roll call
Looking to remain unbeaten (seven left): Cincinnati, Duke, Kansas, Ohio State, San Diego State, Syracuse and UCF.