Team of the Week: Gonzaga
A week ago, Michigan State's
Draymond Green
was our national player of the week for his 34 points in a win over Gonzaga in Spokane. The loss was the Zags' second in a row, after losing badly to another Big Ten team (Illinois).
[+] Enlarge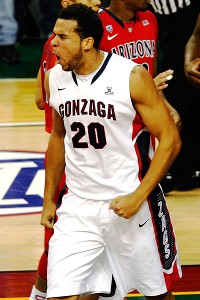 AP Photo/Kevin P. CaseyGonzaga rode Elias Harris' 25 points to victory over Arizona.
So Gonzaga was in desperate search of its first quality win of the season and the Battle in Seattle against Arizona -- despite the Wildcats' ups and downs -- would qualify. Gonzaga
had
to beat someone of note to regain confidence. No problem there. The Zags jumped out to a 14-0 lead on shell-shocked Zona and won 71-60 as
Elias Harris
had his first breakout game of the season against top competition with 25 points (11-15 FG) and 8 boards. Guards
Kevin Pangos
and
Gary Bell
struggled with their shot and the team was 3-of-20 from beyond the arc. That put even more of a premium on Harris to produce -- and he did, in what could be a season-changing win for Mark Few's team. And let's not forget that Gonzaga started the week with a victory over a good Oral Roberts team, one that absolutely destroyed No. 9 Xavier in its following game. The Zags host Butler on Tuesday and will eventually battle with BYU and Saint Mary's for the WCC title. And that's why having a week like this was critical in getting Gonzaga back on track.
-- Andy Katz
Editor's note: This edition is only for games played from Monday, Dec. 12, to Sunday, Dec. 18.
Ten more teams that impressed us
Baylor: The Bears aren't exactly known as road warriors and nonconference opponents were 2-48 at BYU's Marriott Center over the past seven seasons. Didn't matter. After dispatching of Bethune-Cookman earlier in the week, Baylor went into Provo and pulled out an 86-83 victory that sure seems to indicate this team can be taken seriously as a national contender.
Cincinnati
: The Bearcats played two games without three of their four suspended players and looked as good as they have all season. The UC offense was dominant and disposed of two overmatched teams in Wright State and Radford.
Sean Kilpatrick
looked like an all-Big East guard. If Cincinnati can play with that sort of focus and determination throughout the Big East schedule, its troubled season will change dramatically.
Florida
: The Gators jumped out to an 18-2 lead on No. 22 Texas A&M and never looked back. The perimeter of
Erving Walker
,
Bradley Beal
and
Kenny Boynton
played as well as they have as a unit this season. This Florida team has only two blemishes: at Ohio State and at Syracuse. Not bad.
Indiana State
: The Sycamores went into Vanderbilt and were the better team for all 40 minutes. ISU, which should have closed out Minnesota in the Old Spice Classic semifinals, is a legit contender in the Missouri Valley Conference. This road win, even against an erratic Commodores team, is a strong indicator that the Sycamores can return to the NCAA tournament for a second straight year.
[+] Enlarge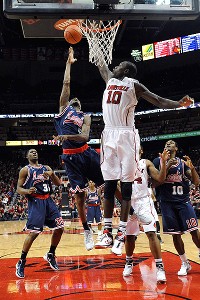 Jamie Rhodes/US PresswireGorgui Dieng was big on both sides of the floor as UL improved to 10-0 with a win over Memphis.
Kansas State
: The Wildcats rebounded from a disappointing double-overtime loss to West Virginia in Wichita the previous week with a dominating win over Alabama in Kansas City. K-State coach Frank Martin is relishing this under-the-radar role this season. He clearly has a hard-working crew that will be a tough out through the Big 12 schedule.
Louisville
: The Cardinals are so entertaining to watch whenever they play at the KFC Yum! Center. The electricity just bounces off the television. Louisville runs the break as well as any team in the country this season and is making the right plays at the right times in close games. Holding on late to beat old rival Memphis was yet another example.
Oral Roberts
: What a week on the road for the Eagles, who began with a stunning, three-quarter-court buzzer-beater to win at Arkansas-Little Rock, went all the way out west and lost to Gonzaga by just six and then traveled to Cincinnati and took advantage of a depleted Xavier team on Sunday. The Eagles handed the ninth-ranked Musketeers their most lopsided home loss (64-42) in a dozen years.
St. Joseph's
: The Hawks won't die. No, St. Joe's just keeps rolling along after crushing Big 5 rival Villanova on Saturday, dunking on what seemed like every other possession at a revved-up Hagan Arena. History aside, the raucous, overflow crowd for this one certainly seemed to justify Phil Martelli's decision to move this game from the Palestra.
Syracuse
: The Orange took their No. 1 ranking and embraced it on the court, allowing NC State a few moments of success before squashing the Wolfpack with relative ease. Syracuse had various players taking turns in a lead role and the Orange offense clearly is clicking at a March-like rate. Syracuse will take the No. 1 ranking into 2012.
UNLV
: The Runnin' Rebels took out UTEP at home and then knocked Illinois from the ranks of the unbeaten with a wire-to-wire 16-point win at the United Center in Chicago.
Mike Moser
had the look of an MWC player of the year yet again.
Shoutout-worthy
: Butler, Iona, MTSU, Mississippi St., New Mexico, Southern Miss, Virginia
-- Andy Katz
In a game that No. 7 Baylor really needed to prove its worth -- a game taking place in a house of horrors for opponents -- Jones scored the final basket for the Bears in their 86-83 victory at BYU. Jones' offensive rebound and tip-in forced the Cougars to go for a 3-pointer by Brandon Davies in the final possession, a shot that was blocked by Baylor guard Pierre Jackson.
Jones had just come back into the game after knocking knees with Davies on the court, sending the All-American candidate to the floor, writhing in pain. Ultimately it was determined that Jones could return, although he said he was in pain. The 6-foot-11 forward was determined to get back on the court and help his team win a crucial road game. The effort of that selfless act finished up an impressive 33-minute performance in which Jones made 11 of 16 shots (including a pair of 3-pointers) to finish with a career-high 28 points, 8 rebounds, 4 assists and 3 steals, with just one turnover. Jones proved that when a big game is on the line, and his team needs him to be a leader, he'll be ready to play. He played with pain, made the key bucket and Baylor remains undefeated because of his overall efforts.
-- Andy Katz
More performances that wowed us
Keith Clanton, UCF: Scored 23 points, made all three 3-points attempts, grabbed 16 rebounds and collected 4 blocks in a 61-53 win over Old Dominion.
Drew Gordon, New Mexico
: Struggled with his shot, but brought down 20 rebounds in the Lobos' important 10-point win against Oklahoma State in Oklahoma City.
[+] Enlarge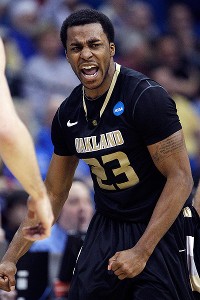 AP Photo/Charlie RiedelOakland's Reggie Hamilton not only scored 41 points, but also hit the game winner at Valpo.
Reggie Hamilton, Oakland
: Hit the buzzer-beating 3 as the Golden Grizzlies rallied from 17 down in the second half to win at Valparaiso. It was one of his five treys during a 41-point, 4-steal day for the senior point guard.
Scott Machado, Iona
: Speaking of point guards, they don't come much better than Machado, who piled up 27 points, 21 assists and 10 boards in two quality road wins at Richmond and Vermont.
Mike Moore, Hofstra
: The Pride are trying to stay afloat without the departed Charles Jenkins and Moore is leading the way, scoring 32 points and connecting on 7 of 11 3s in a blowout of Binghamton.
Kyle O'Quinn, Norfolk State
: This team continues to surprise and O'Quinn is a big reason. The senior center totaled 22 points, 14 rebounds, 6 blocks and 4 assists in a nice win over defending NEC champ Long Island.
Steven Pledger, Oklahoma
: The 8-1 Sooners continue to surprise, as well. In a comeback win over Houston, Pledger made 10 of 13 shots and finished with 31 points and 10 boards. He was 4-of-5 from 3 and 7-of-7 from the FT line.
Herb Pope, Seton Hall
: The Pirates had to fight off Mercer in overtime on Sunday and did so behind 24 points and 17 rebounds from Pope, who has double-doubles in eight of his 10 games. In the only two exceptions, he put up lines of 32-9 and 25-6 in limited action. Remarkable.
Stallon Saldivar, Northern Arizona
: The Lumberjacks prolonged Arizona State's misery when Saldivar buried a 3 with less than a second to go to give NAU a 69-68 win. He made 6-of-8 from deep and compiled 24 points and 9 assists.
Mike Scott, Virginia
: Behind Scott's 17 points and 13 rebounds, the Cavaliers exploded in the second half and improved to 9-1 with a win at Oregon on Sunday. That elusive third spot in the ACC behind UNC and Duke? Has to belong to the Scott-led Cavs at this point.
Russ Smith, Louisville
: Smith made enough shots and free throws to total 24 points, but the real difference-maker was his 7 steals in a win over Memphis. Also worth noting: the 14 points, 14 rebounds and 6 blocks from teammate
Gorgui Dieng
.
Deshaun Thomas, Ohio State
:
Jared Sullinger
wasn't around for most of the game, so when the Buckeyes were in a surprisingly tight spot at South Carolina, Thomas came through with a career-high 30 points. Combined with the rout of USC Upstate, the soph shot a silly 23-of-29 for the week.
Neil Watson, Southern Miss
: The Golden Eagles actually got Ole Miss to come to Hattiesburg and didn't waste the opportunity, beating the Rebels behind 18 points and 11 assists from Watson.
Nate Wolters, South Dakota State
: Wolters has long been a favorite of college basketball wonks, but a performance like the one he pulled during a stunningly easy 92-73 win at Washington on Sunday -- 34 points, 7 assists, 5 rebounds -- will garner him some much-deserved national love.
Tyler Zeller, North Carolina
: Unlike Wolters, Zeller is a known quantity. That doesn't make his 31-point (11-15 FG), 10-rebound performance against Appalachian State any less special.
-- Brett Edgerton
They Said It (Or Tweeted It)
"To tell you the truth, I knew it was going in. The look in his eyes, when you know he's going to hit a shot, he had that look. I started running back the other way. I didn't go for the rebound because I knew it was going in. Him down the stretch, he's big time."
-- Wisconsin's Ryan Evans after teammate Jordan Taylor hit a late 3 in Wisconsin's 60-54 win at Milwaukee.
"Just a freak accident. Great win for us tho. Our first road win. #FYI I will be fine ppl.... Back at it tomorrow"
-- @Jared_Sully0 (Ohio State's Jared Sullinger) after he left Saturday's win over South Carolina with a foot injury.
"I thought the first half was the best we've played all year. We shared it. We passed it. We moved it. We had inside-outside action."
-- Florida's Billy Donovan on his team taking a 35-14 halftime lead in an 84-64 win over Texas A&M.
"The more people I hear from that say they have never seen a atmosphere like the one in AH this past Saturday makes me believe that"
-- @TomCrean (Indiana head coach) Wednesday, four days after the Hoosiers upset No. 1 Kentucky on a last-second 3.
"It's not rocket science to look in there as much as possible and scout the best you can."
-- Indiana State coach Greg Lansing on limiting Vanderbilt's John Jenkins to a season-low 11 points.
@TerrenceJones1 Don't obsess over it, don't give it too much energy, just be yourself & trust the process. I stand with you. You'll be fine!
@TerrenceJones1 I've had that experience on set before, when I couldn't find what I needed for a scene, even though I know my gift. It's OK!
@terrancejones1 You're a special player at a school that has had heaps of gifted players, & you're an All-American. We've all had bad days
-- @ashley judd tweets to Kentucky star Terrence Jones after he struggled in UK's loss at IU.
-- Myron Medcalf
Observations from the week that was
Jason King

1. Baylor has to toughen up down low. The Bears pulled off one of their best wins in years by defeating BYU 86-83 in Provo on Saturday. The victory came before a raucous crowd of 22,700 and featured a handful of clutch plays by Baylor down the stretch, including a tip-in by Perry Jones in the final minute and a block by Pierre Jackson on BYU's potential game-tying 3 at the buzzer. Still, Baylor lost the rebounding battle 41-26, including a 16-5 differential on the offensive glass. And get this stat: BYU grabbed the first 14 rebounds of the game. That's a disturbing stat considering Baylor's frontcourt boasts as much size, length and depth as any unit in the country. And it's not as if the Cougars are known for their size and strength down low. If Baylor's forwards don't develop a mean streak and play with more ferocity, the Bears will have no chance of winning the Big 12.
[+] Enlarge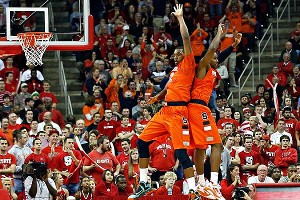 AP Photo/Gerry BroomeSome questioned its ranking, but Syracuse was challenged and emphatically answered in Raleigh.
2. Syracuse is for real.
Most folks probably realized that already. But any skeptics of the No. 1-ranked Orange probably don't have many doubts about their potential after Saturday's 88-72 spanking of NC State. The victory came against a solid, well-coached Wolfpack squad that was backed by 19,400 rowdy fans at the RBC Center. Dion Waiters scored 22 points off the bench and Kris Joseph added 21 for Syracuse, which was playing outside of its home state for the first time this season.
3. Todd Mayo is a stud.
O.J. Mayo's younger brother signed with Marquette last spring and arrived on campus with little fanfare. Ten games into his freshman season, Mayo appears to be the steal of the 2011 recruiting class. The guard scored 22 points in Saturday's win over Northern Colorado, when he replaced Darius Johnson-Odom in the starting lineup. Johnson-Odom was serving a one-game suspension for a violation of team rules. For the season, Mayo is averaging 11 points in just 19.8 minutes per game.
For more of King's observations, click here.
Andy Katz
1. Butler's comeback over Purdue at the Crossroads Classic on Saturday was a reminder of just how special the Bulldogs have been over the past three years. Of course the talent isn't the same with this group and there are no for-sure NBA players on the roster these days. But this team has terrific desire and absolutely no quit. Butler has a long road ahead to be an NCAA team again. The Horizon League is very competitively balanced and you certainly can't consider the Bulldogs the favorites in a group that includes Cleveland State, Milwaukee and Detroit (with Eli Holman back). But Butler isn't going away. That much is for sure.
2. One player defecting in the first semester is unique, but now two elite freshmen have departed. Jabari Brown bolted on Oregon after two games and now Khem Birch is gone from Pittsburgh after 10. The Ducks had a player in reserve to replace Brown in Minnesota transfer Devoe Joseph. But Pitt doesn't have someone to fill in for Birch immediately. The team's depth takes a hit here, but it will be hard to project just how much until Big East play begins.
3. No other team in the country may have been hit harder by an ineligible player than Arizona State. Not having Jahii Carson has rocked the Sun Devils. Herb Sendek was expecting to build his team around an impact newcomer who could dominate the ball and create offense. Instead, ASU has slumped considerably and the low point came Saturday when Northern Arizona beat the Devils on a Stallon Saldivar 3-pointer with less than a second remaining. That gave NAU interim coach Dave Brown a win after head coach Mike Adras resigned earlier in the week.
For more of Katz's observations, click here.
What's On Tap
All times ET

Monday
8 p.m.: Wyoming at Denver (FSN)
9 p.m.: Davidson at Kansas (ESPNU)
9 p.m.: Marquette at LSU (ESPN3)
Tuesday
7 p.m.: Bucknell at Syracuse (ESPNU)
8 p.m.: Ohio at Northern Iowa
9 p.m.: Butler at Gonzaga (ESPN2)
9 p.m.: Charleston at Louisville (ESPNU)
Wednesday
7 p.m.: Texas at North Carolina (ESPN2)
7 p.m.: Seton Hall at Dayton
9 p.m.: Oklahoma St. vs. Alabama (ESPN2)
Thursday
7 p.m.: Memphis at Georgetown (ESPN2)
7 p.m.: Florida St. at Florida (ESPNU)
7 p.m.: Tulane at Syracuse (SNY)
7 p.m.: Milwaukee at Marquette (ESPN3)
7 p.m.: Fairfield at Connecticut (ESPN3)
8 p.m.: Northwestern at Creighton (ESPN3)
9 p.m.: Illinois vs. Missouri (ESPN2)
9 p.m.: Butler at Stanford (FSN)
10:30 p.m.: Baylor vs. Saint Mary's (ESPN3)
Friday
5 p.m.: California at UNLV (CBS-CS)
8 p.m.: Wagner at Pittsburgh (ESPNU)
9 p.m.: Baylor vs. West Virginia (ESPN)
Sunday
9:30 p.m.: Diamond Head Classic final (ESPN)

King on Las Vegas Classic
O'Neil on Illinois-Missouri
O'Neil: Three questions
•What's the status of Jared Sullinger?
That's really the million-dollar question right now. The good news: X-rays on his injured foot revealed no fracture and Sullinger merely has a bone bruise. The bad news: the ailments for the Buckeyes big man are piling up. First back spasms, now a bone bruise and the tricky part is both are injuries that can linger. Ohio State can and did win without Sullinger on Saturday -- Deshaun Thomas' career day couldn't have come at a better time. But that was against South Carolina. This isn't a road the Bucks want to travel for the long haul. Thad Matta has two games scheduled before an eight-day holiday break -- against Lamar and Miami (Ohio) -- and I wouldn't be surprised if the coach used the schedule to his advantage. There's no need to play Sullinger in those two games. Let him take the layoff and aim toward either the Nov. 28 Big Ten game against Northwestern or the New Year's Eve showdown at Indiana. OSU needs Sullinger more in March than December.
• Which two top-10 teams aren't getting enough love?
The forgotten middle children these days are Baylor and Louisville. The Bears haven't played a murderers' row but they've won the games they are supposed to win and on Saturday beat BYU at the Marriott Center, as tough a place to play as you're going to find. Baylor is ridiculously athletic -- point guard
Pierre Jackson
blocked a shot by the 6-9 Brandon Davies that might have sent the game to overtime -- and
Perry Jones III
is easily among the top 10 talents in the game. As for Louisville, all anyone wants to talk about is what the Cardinals are not -- not good enough to earn their ranking, not talented enough. How about what they are? Undefeated despite a rash of injuries, off to their best start in 15 years and rock-solid defensively. In a rivalry renewal game on Saturday, Louisville defeated Memphis 95-87 to run its record to 10-0. The road gets tougher before the New Year kicks in -- a home game against Georgetown on Dec. 28 and then there's the matter of a small intrastate tussle against Kentucky on New Year's Eve -- but for now the Cards, like the Bears, deserve some love. •
On the flip side, which two teams have been disappointing?
There's a long list of teams to slot in here -- pick a Pac-12 team, any Pac-12 team (except Stanford) -- but we turn to the state of Tennessee for the honors, where Memphis and Vanderbilt have to be early front-runners. The Tigers dropped to 5-4 with their loss to Louisville on Saturday, and while Memphis showed gumption in rallying, the cold, hard truth is this team is stuffed with talent and simply not playing like it. The Tigers are disjointed and unfocused, playing well in spurts and awful in others. Josh Pastner has some work to do to get the Tigers back into the national mix. Vanderbilt, meantime, was an early sleeper pick for the Final Four. The only caveat: Could the Commodores avoid their typical March slide? Turns out Vandy is getting its slide in early. The Dores lost on Saturday to Indiana State to fall to a pedestrian 6-4. The Sycamores and Cleveland State are by no means bad teams, but are they the teams that supposed Final Four contenders should be losing to at home?
-- Dana O'Neil
Medcalf on California-UNLV
Places to be this week
Tuesday
Cedar Falls, Iowa (Ohio at Northern Iowa)
: Don't look now, but Ohio is 9-1 with wins over Marshall and Oakland and a down-to-the-wire loss at Louisville. UNI is likewise 9-1 and seemingly on the path to an at-large NCAA tournament bid. This is your official sneaky-good mid-major matchup of the week.
Spokane, Wash. (Butler at Gonzaga)
: Butler is riding high after an unlikely last-second comeback win over Purdue, but the Bulldogs don't have much time to celebrate. Brad Stevens' team has a rough two-game road trip ahead, which begins with this game at Gonzaga and ends with Thursday's visit to Stanford. Ouch.
Wednesday
Dayton, Ohio (Seton Hall at Dayton)
: Seton Hall forward
Herb Pope
has finally made good on the immense potential he flashed as a prodigal prep talent, having easily the best season of his career to date. Pope will have to keep it up against Dayton, an up-and-down squad that has beaten Minnesota and Alabama, but lost to Miami (Ohio) and Buffalo.
Chapel Hill, N.C. (Texas at North Carolina)
: In another year, this game would be the toast of the week. But the 2011-12 Longhorns are hardly a vintage Rick Barnes squad, and their offensive attack -- which relies almost exclusively on shooting guard
J'Covan Brown
-- could struggle against the Tar Heels' array of lanky defenders.
Thursday
Washington, D.C. (Memphis at Georgetown)
: Rematch! These two programs faced off once already this season, and the result was a thriller, a 91-88 Hoyas overtime win in the Maui Invitational. Josh Pastner's team looked solid despite suffering a loss at Louisville on Saturday. But are the Tigers ready to stanch Georgetown's pinpoint Princeton offense? And in D.C., no less?
Gainesville, Fla. (Florida State at Florida)
: Once upon a time, this blood feud of an in-state rivalry would be restricted to the football field. But with Billy Donovan's Gators again among the country's best 15 teams, and Leonard Hamilton cranking out top defenses on a yearly basis, the rivalry has moved to the hardwood, where the strength-on-strength matchups should be fascinating.
St. Louis (Illinois vs. Missouri)
: Illinois began its season in promising fashion, but came back down to Earth in a 64-48 loss to UNLV in Chicago this weekend. Missouri, meanwhile, boasts one of the nation's best and most versatile offensive attacks, with a group of quick, efficient perimeter scorers (
Marcus Denmon
,
Kim English
,
Phil Pressey
,
Matt Pressey
,
Michael Dixon
) wreaking havoc on opposing defenses.
Honolulu (Diamond Head Classic)
: This tournament got even more intriguing Saturday. That's when Kansas State dominated Alabama and solidified its status as a contender in this holiday tournament, a status enhanced by the personnel losses to prohibitive favorite Xavier after its brawl with rival Cincinnati. XU -- which played horribly with its undermanned group in a loss to Oral Roberts on Sunday -- will get guard
Tu Holloway
back for its first-round game versus Long Beach State, but it will dearly miss
Mark Lyons
against an LBSU team that already upset Pitt and has played nearly every high-major opponent it has taken on (including SDSU, Louisville, Kansas and UNC) very tough. Should be interesting.
Las Vegas (Las Vegas Classic)
: The Vegas Classic doesn't exactly jump off the page, but it could provide a few interesting games Thursday and Friday. Baylor, fresh off an impressive last-second win in BYU's raucous Marriott Center, gets a chance for two more quality wins in the form of matchups with West Virginia and Saint Mary's. Neither team will roll over for the talented Bears and neither can afford to waste opportunities to put wins like this on its eventual at-large profile. The "other" Bears, Missouri State, are also in this intriguing group.
Friday
Las Vegas (Cal at UNLV)
: Let's stay in Sin City as a battle for the best in the West takes place at the Thomas & Mack Center, where California will attempt to notch what would be a very impressive road win against a UNLV team that already has beaten North Carolina and held previously undefeated Illinois to 48 points on Saturday. Cancel your hot date, tell your friends you're tired, make up a lame excuse, do what you need to do. This one is worth staying in for.
-- Eamonn Brennan
Upset pick of the week
Memphis over Georgetown, Thursday: If I told you at the beginning of the season that Memphis beating Georgetown was an upset, you would have laughed. The Tigers were a preseason top-10 team, while the Hoyas were unranked and way off the radar. But Memphis has struggled finishing games and Georgetown has looked like a Big East contender, had a significant road win at Alabama and already knocked off Memphis in Maui on Nov. 23. But Memphis showed flashes of what it could be offensively in the close loss to Louisville on Saturday. The combination of Will Barton and Joe Jackson will continue to be tough to defend. Georgetown has plenty of options now with Jason Clark, Hollis Thompson, Henry Sims and Markel Starks. And this team actually may be more balanced than last season, just without the star qualities. But I'm going with a hunch here that Memphis can right itself on the road in D.C. and avenge its earlier loss to the Hoyas.
-- Andy Katz
Brennan on Diamond Head Classic