Team of the Week: Notre Dame
Mike Brey is putting together the best coaching job of his career, and that's saying quite a lot for a guy who's won three Big East Coach of the Year awards in the past five years.
[+] Enlarge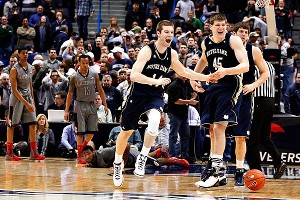 David Butler II/US PresswireNotre Dame players celebrate their win over UConn on Sunday.
Is No. 4 on the way? The Irish were gutted by graduation losses, a surprising early defection to the NBA and then a season-ending injury to their best player,
Tim Abromaitis
. There were some humbling defeats early in the season to Missouri, Georgia and Gonzaga. But the season changed Jan. 7 at Louisville. Notre Dame stunned the Big East with a double-overtime win over the then-No. 10 Cardinals. That was followed up by an 11-point win over South Florida. The Irish fell back to the pack with consecutive losses to UConn and Rutgers, but they had five days to prepare for top-ranked Syracuse and Notre Dame shocked the Fab Melo-less Orange with a nine-point win. And then came this past week. Notre Dame swept a road swing through Seton Hall and Connecticut by clamping down on defense. Neither the Pirates nor the Huskies scored 50 points as the Irish beat the Pirates 55-42 (the Hall's lowest point total since 2005) and the Huskies 50-48. Notre Dame wasn't tearing it up offensively either, but controlling tempo and the clock worked. Nine games into the Big East season, the Irish are tied for third with Georgetown and surprising South Florida. The 6-3 record can turn quickly with a game against Marquette and a pair of matchups with West Virginia to come. But the schedule is certainly laid out for Notre Dame to make a run at an NCAA bid. If that happens, you can book Brey for Big East coach of the year honors.
-- Andy Katz
Editor's note: This edition is only for games played from Monday, Jan. 23, to Sunday, Jan. 29.
More teams that impressed us
Florida: The Gators have suddenly won five straight games after losing at Tennessee to open the SEC. The latest pair of wins came at Ole Miss in a comeback victory and at home, where they handled Mississippi State by 12. The Gators are getting the balance necessary to compete for the SEC title.
Iowa State:
The Cyclones lost to Texas earlier in the week and that disqualifies them for team of the week. But ISU deserves plenty of praise for the upset of No. 5 Kansas. The win puts Iowa State in position to get an at-large berth if it can take care of business going forward.
[+] Enlarge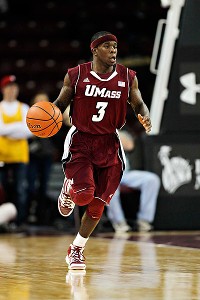 Greg M. Cooper/US PresswireChaz Williams has helped UMass tie for first place in the Atlantic 10 conference.
Marquette: The Golden Eagles have leaned heavily on Darius Johnson-Odom and Jae Crowder. And it's working since the loss of Chris Otule up front. Marquette is alone in second place in the Big East after sweeping South Florida and winning at Villanova.
Massachusetts:
Derek Kellogg survived a difficult stretch at his alma mater and has come through to the top of the standings. The Minutemen, behind Hofstra transfer
Chaz Williams
, beat Saint Louis and won at Richmond this past week. UMass is in a three-way tie for first in the A-10 with La Salle and St. Bonaventure.
Nevada:
The Wolf Pack swept a road swing to New Mexico State and Louisiana Tech for a 7-0 mark atop the WAC. Nevada, winner of 14 straight, could end up making a case for an at-large berth with a gaudy record.
Saint Mary's:
The Gaels are the class of the WCC after easily sweeping LMU and BYU on a road trip. SMC still has to go to Gonzaga but that may be the only game standing in the way of an undefeated conference season. Is this finally the year the Zags' reign comes to an end?
Southern Miss:
The Golden Eagles are in step with Memphis for the C-USA title and set for a showdown with the Tigers in Hattiesburg on Wednesday. USM got through a road swing at East Carolina and Central Florida to move to 6-1 in the league, 19-3 overall -- easily the best season ever under Larry Eustachy.
UNLV:
The Runnin' Rebels had to go to overtime at Boise State and Air Force. But they won both and that's all that matters in a race for the MWC title. UNLV drew even with San Diego State, which lost at Colorado State.
VCU:
Guess who is making a move for the CAA title? The Rams are tied for second with Drexel and Old Dominion at 9-2, a game behind George Mason, after sweeping a road trip at Towson and Georgia State.
Wisconsin:
The Badgers ended last week with a win at Illinois and had one game this past week -- a home win over Indiana. The defense has been stellar yet again and the Badgers are finding enough scoring to get by. The result has been a five-game win streak to get UW back in a strong position in the Big Ten at 6-3.
Shoutout-worthy:
Colorado State, Green Bay, Memphis, Ohio State, Oklahoma State, Oregon State, Pittsburgh, St. Francis (NY), Syracuse, Vanderbilt, Washington
-- Andy Katz
[+] Enlarge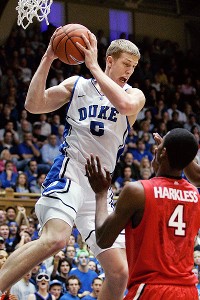 Mark Dolejs/US PresswireDuke is at its best when Mason Plumlee is a force in the paint.
The Blue Devils had to get back to basics after losing to Florida State at the buzzer. They had to make use of a strength inside, the length and size of Mason Plumlee. This looked like it was going to be a huge advantage in the preseason and it finally materialized this past week. Plumlee was a dominant presence in the win at Maryland with 23 points and 12 rebounds. He also had four assists and was an efficient 9-of-13 from the field. And then when St. John's made runs against the Blue Devils in the second half, Plumlee was a steadying force. He finished with a solid 15 points and 17 rebounds against the Red Storm. If Plumlee plays to his potential down the stretch of the ACC, then Duke has a legitimate chance to compete with North Carolina and Florida State for the title and a high seed. But he can't disappear like he did in the previous two games, scoring six points against FSU and just eight against Wake Forest. Duke may go as far as Plumlee can take the Blue Devils the rest of the season. More performances like last week will certainly help.
-- Andy Katz
More performances that wowed us
Travis Bader, Oakland: 37 pts (10-14 3-pt FG) in win over South Dakota State
George Beamon, Manhattan: 33 pts, 8 rebs in win at Canisius
Jackie Carmichael, Illinois State: 45 pts (16-27 FG), 27 rebs in wins over Missouri St., SIU
Ramon Galloway, La Salle: 28 pts (11-12 FG, 6-7 3-pt FG), 6 rebs in win over GW
Draymond Green, Michigan State: 22 pts (9-11 FG), 14 rebs, 6 asts in win over Minnesota
Shane Gibson, Sacred Heart: 41 pts (6-13 3-pt FG) in loss to Mount St. Mary's
Moe Harkless, St. John's: 53 pts (24-41 FG), 26 rebs against WVU (win) and Duke (loss)
John Jenkins, Vanderbilt: 26 pts (10-18 FG) in win over MTSU
Terrence Jones, Kentucky: 27 pts (10-16 FG), 9 rebs in win at LSU
Perry Jones III, Baylor: 43 pts (16-27 FG), 26 rebs in wins over Oklahoma, Texas
Doug McDermott, Creighton: 54 pts (20-28 FG), 15 rebs in wins over Drake, Bradley
Tony Mitchell, North Texas: 21 pts (8-11 FG), 15 rebs, 6 blks in win over Arkansas State
Mike Moser, UNLV: 45 pts, 33 rebs in wins at Boise State, Air Force
Arnett Moultrie, Mississippi State: 28 pts, 12 rebs in win over LSU
Le'Bryan Nash, Oklahoma State: 27 pts (12-18 FG), 4 asts in win over Missouri
Ryan Pearson, George Mason: 29 pts (11-18 FG), 15 rebs in win over JMU
Mason Plumlee, Duke: 38 pts (14-21 FG), 29 rebs in wins over Maryland, St. John's
Tray Woodall, Pittsburgh: 19 asts in wins over Providence, Georgetown
Tyler Zeller, North Carolina: 21 pts (8-11 FG), 17 rebs in win over NC State

-- Brett Edgerton
King's observations from the week that was
1. Connecticut is college basketball's most disappointing team -- at least so far. I'm basing that statement on expectations. The Huskies entered the season ranked No. 4 in both polls and seemed like a legitimate threat to win a second straight NCAA title. Sure, Kemba Walker was gone. But All-American candidate Jeremy Lamb returned along with the rest of last year's team. And the Huskies added one of the nation's top recruiting classes led by future lottery pick Andre Drummond. In terms of pure talent, only North Carolina, Kentucky and maybe Baylor looked as good as, or better than, Connecticut. It hasn't mattered. Sunday's loss to Notre Dame -- at home, no less -- marked the Huskies' fifth loss in seven games. Each of those defeats came against unranked teams, including perennial Big East bottom-feeders Rutgers and Seton Hall.
2. Perry Jones III is peeved.The Baylor forward apparently took issue with criticisms about him playing "soft" in recent losses to Kansas and Missouri. Jones was as aggressive and physical as he's been all season in this past week's victories over Oklahoma and Texas. He averaged 21.5 points and 13 rebounds in the two wins and made 16 of his 27 field goal attempts. Baylor will have a chance to win its first conference title since 1945 if Jones maintains that type of assertiveness. 3. Long Beach State may end up being one of the best "low" seeds in NCAA tournament history. Think about it. How mad would you be if you were the coach of a No. 3- or No. 4-seeded team and had to play Long Beach State -- likely a No. 13 or No. 14 seed -- in the opening round. It's obvious the 49ers are one of the top 35 or 40 teams in the country. They beat Pittsburgh on the road and lost away games to Kansas, North Carolina and San Diego State by single digits. Saturday's victory over Cal State Fullerton upped Long Beach State's record to 16-6 overall and 9-0 in the Big West Conference. 4. No team is as snakebitten as USC. Before the season ever began, the Trojans lost their leader, Jio Fontan, to a torn ACL. Now forward Dewayne Dedmon is done because of a torn MCL. Dedmon had already been playing with a broken hand and a stress fracture in his foot. That's not all. The Trojans lost leading rebounder Aaron Fuller to a season-ending shoulder injury two weeks ago. Mix in the fact USC lost three of its top players from last year's NCAA tournament team -- Nikola Vucevic to the NBA draft and Donte Smith and Alex Stepheson to graduation -- and it's amazing that the Trojans have been able to win a single game. 5. Marquette could win the Big East. Don't get me wrong. I'm not predicting it will happen. But Buzz Williams' squad has been the league's steadiest team behind Syracuse. The Golden Eagles are 7-2 in conference games; the Orange are 9-1. Marquette, though, appears to have an easier schedule down the stretch. Just two of its final nine games are against ranked opponents (Connecticut and Georgetown), while Syracuse still has to play Connecticut and Louisville two times each along with Georgetown. Again, I'm still predicting Syracuse to win the Big East championship, but Marquette is good enough to make it an interesting race. --Jason King
They said it (or tweeted it)
""My bad #CyclONENation...I let us down, but believe me I want to make them as bad as you guys want me to...#gettingtowork"
-- Tweet by Iowa State's Royce White (@Highway_30) after he was 1-for-7 from the charity stripe in his team's 62-55 loss at Texas on Tuesday.
"OMG. The biggest wi of my career. Fells sooo good. in ALL black."
-- Tweet by Washington's Tony Wroten (@TWroten14) after he scored 17 points in the Huskies' 69-67 victory at Arizona on Saturday night.
"I'm not saying we're on the road to New Orleans. But as long as you keep fighting. ... They literally come out and play hard -- every day in practice, in every game. You can't give up on kids. These kids are resilient."
-- Towson athletic director Mike Waddell to Sporting News after Towson snapped its Division I-record 41-game losing streak with a victory over UNC-Wilmington on Saturday.
"Do I think it was? No. I know it was. I saw the replay. It's hard. You've got 30 seconds and you're trying to get them refocused and they're all thinking about other things."
-- Bob Huggins on Saturday after West Virginia missed a chance to tie in the closing seconds on a missed goaltending call in a 63-61 loss at Syracuse.
"A lot of them just wanted to know what it was like for the students to run on the floor. My answer's a lot different for them. I'm 5-9. They can see, they can breathe when it happens."
-- Keiton Page on what he told his teammates about court-storming prior to Oklahoma State's 79-72 home win over Missouri on Wednesday.
-- Myron Medcalf
Upset pick of the week: UConn over Georgetown
The Huskies have lost three straight games. Georgetown is at home and the Hoyas are ranked higher. So that might be enough for those skeptics to be convinced this would be deemed an upset if the Huskies won in D.C. Connecticut will have a few days of getting its rotation down and dealing with some intense Jim Calhoun practices. The Huskies are a perplexing bunch but it's hard to see them continuing a free fall. The Hoyas are coming off a 12-point loss at Pitt, so these two teams both have hit a bit of a skid. I'll go with the road team here to snap out of the funk first.
-- Andy Katz
What's On Tap
All times ET

Monday
7 p.m.: Pitt at West Virginia (ESPN)
9 p.m.: Missouri at Texas (ESPN) Tuesday
7 p.m.: Michigan State at Illinois (ESPN)
7 p.m.: Tennessee at Kentucky (ESPNU)
9 p.m.: Kansas State at Iowa State (ESPN3)
9 p.m.: Vanderbilt at Arkansas (ESPN) Wednesday
6:30 p.m.: Indiana at Michigan (BTN)
7 p.m.: Connecticut at Georgetown (ESPN2)
8:15 p.m.: Memphis at Southern Miss (CBSSN)
9 p.m.: Baylor at Texas A&M (ESPN2)
9 p.m.: Oklahoma at Kansas (ESPNU)
9 p.m.: Illinois State at Creighton (ESPN3)
10:30 p.m.: Colorado State at UNLV (The Mtn.) Thursday
8 p.m.: Oral Roberts at South Dakota State
9 p.m.: UCLA at Washington (ESPN)
11 p.m.: Gonzaga at BYU (ESPN2) Saturday
Noon: Syracuse at St. John's (ESPN)
1 p.m.: Marquette at Notre Dame (CBS)
1 p.m.: Vanderbilt at Florida (CBS)
1 p.m.: Virginia at Florida State (ESPN3)
1 p.m.: Xavier at Memphis (FSN)
2 p.m.: Ohio State at Wisconsin (ESPN)
4 p.m.: North Carolina at Maryland (ESPN)
4 p.m.: Middle Tennessee at Denver (ESPN2)
4 p.m.: UNLV at Wyoming (The Mtn.)
5 p.m.: Old Dominion at George Mason (ESPNU)
7 p.m.: Indiana at Purdue (BTN)
9 p.m.: Kansas at Missouri (ESPN) Sunday
1 p.m.: Michigan at Michigan State (CBS)

Places to be this week
Tuesday
Ames, Iowa (Kansas State at Iowa State):
Saturday was a big deal for Iowa State. The question now is, where do the Cyclones go from here? In upsetting Kansas, Fred Hoiberg's program got the biggest win in its rather dubious recent history. If the season ended today, Iowa State would be dancing. But the season doesn't end today, or this week, and Iowa State has another huge opportunity to get a quality win when Frank Martin's Wildcats -- who took a tough loss to Oklahoma on Saturday -- come to Hilton Coliseum.
Wednesday
Ann Arbor, Mich. (Indiana at Michigan)
: Indiana has lost four out of its past five, including this past week's hard-fought trip to Wisconsin. That's hardly a crime; it's tough to win on the road in conference play, after all. But after such a promising start, the Hoosiers will be eager to avoid a significant slide, or at least the appearance of one. With another tough road game on the schedule this week -- Michigan is playing well and defending its home court in expected style -- that could be a tall task.
Washington, D.C. (Connecticut at Georgetown):
Now that a messy NCAA investigation into alleged impermissible benefits has reached some conclusion (pending legal threats notwithstanding) UConn freshman
Ryan Boatright
is back in action this week. That's good news for the Huskies, who desperately need Boatright's energy, not to mention another capable body in the backcourt. But Boatright's return isn't an immediate cure to what ails this talented but thus far disappointing team. Georgetown will be eager to bounce back at home after Saturday's ugly loss at Pittsburgh.
Hattiesburg, Miss. (Memphis at Southern Miss):
Remember when Memphis could sleepwalk its way through C-USA play? Those days are long gone. The Tigers are 6-1 in league so far, but so is Southern Miss, whose only league loss -- a 60-58 nail-biter -- came Jan. 11 at Memphis. The Golden Eagles lack the high-end talent of Josh Pastner's squad, but with five scorers averaging double figures to date, they're as balanced as any team in the country.
Thursday
Seattle (UCLA at Washington):
Thanks to Saturday's big win at Arizona, Washington earned sole possession of first place in the weird, wild Pac-12. The Huskies have always looked like the most talented team in the conference -- often by a significant margin -- but they've also been one of the more disjointed, frustrating teams in the country. Are they finally putting it together? If they handle business against the Bruins and move to 8-2 in league play, it would be hard to argue otherwise.
Saturday
South Bend, Ind. (Marquette at Notre Dame):
For the first month or so of the season, Mike Brey's Notre Dame team appeared to be in a classic rebuilding year. A few weeks later, Notre Dame is sitting at 6-3 in the Big East, with recent wins over Syracuse and Connecticut, the latter of which came in Hartford on Sunday. In other words, this game may have seemed relatively easy for Marquette -- at least as far as road trips are concerned -- at one point in the season. This is not that point.
Gainesville, Fla. (Vanderbilt at Florida):
The Commodores have put their early-season Ezeli-less struggles in the rearview mirror. We probably should have seen that coming. What we couldn't have anticipated was that Vandy would suddenly step its defense up in the SEC to the point that it is allowing the second-fewest points per possession in league play thus far. Will that defense hold up at Florida? Even if it doesn't, this matchup -- two guard-oriented teams with one true force in the post (Ezeli and
Patric Young
, respectively) -- should be a lot of fun to watch.
Madison, Wis. (Ohio State at Wisconsin):
Historically, few Big Ten teams escape from Madison with a win. Kohl Center dominance hasn't been quite the sure thing for the Badgers in 2012, but that doesn't make Ohio State's task all that much easier Saturday. The good news? The Buckeyes possess the best perimeter defender in the country in guard
Aaron Craft
. Wisconsin guard
Jordan Taylor
almost never commits turnovers, but if there's anyone who can force him into big mistakes, it's Craft.
Columbia, Mo. (Kansas at Missouri):
Big, big game. You know the drill: Missouri's four-out-one-in offense (featuring the efficiency freak that is forward
Ricardo Ratliffe
) will try to slice and dice its way through Kansas' staunch defense (featuring center
Jeff Withey
and All-American candidate
Thomas Robinson
, who is just a freak in general). There are Big 12 title implications on the line, but that's the least of it: When Missouri leaves the Big 12 for the SEC next year, the century-old Border War may fall by the wayside. Best to enjoy it while we can, I suppose.
Sunday
East Lansing, Mich. (Michigan at Michigan St.):
Speaking of rivalries, the Spartans will be eager to host Michigan on their own turf this week, given the way the last meeting between these two teams -- a heated, exciting finish to a narrow Michigan win -- ended. In the meantime, the Spartans are playing some of the best basketball in the country on both sides of the floor; if any team can upend Ohio State's constant status as the Big Ten title favorite, it is the versatile, cohesive batch led by forward
Draymond Green
.
-- Eamonn Brennan
Medcalf on Ohio State-Wisconsin
O'Neil on UConn-Georgetown
O'Neil: Three questions
• Are officials overworked?
In the wake of the controversial no-call at the end of the Syracuse-West Virginia game, that question is sure to be asked. Head official Karl Hess worked 21 games in the month of January, prompting the argument that neither he nor his staff was sharp enough to see the goaltending on Baye Keita. I, for one, don't buy it. Surgeons perform more than one surgery in a day, a rather slightly more critical profession and one requiring even more attention to detail. They are in the O.R. more than once a week. A game generally lasts about two hours -- that's 120 minutes of serious concentration, hardly a tax upon the brain. Yes, officials travel in between but I spent a few days two years ago with Tim Higgins, traveling from Newark, N.J., to State College, Pa., to Syracuse. There's plenty of down time -- maybe even too much. Barring travel woes, most officials arrive the night before a game and then spend the better part of the day in a hotel room, waiting for tip. Prior to the Cuse game, Hess, according to Statsheet.com, worked the NC State-North Carolina game on Thursday. That's a day and a half before the Orange and Mountaineers played, plenty of time to hop a flight from Raleigh to Syracuse, eat, sleep and refocus. So why the mistakes? Simple: Officials are human. They make mistakes. They miss things. Understandably that answer won't be terribly palatable in Morgantown today, where fans have a legit gripe, but it is the truth.
• Is Kentucky good or the beneficiary of a soft SEC schedule?
Yes. To both. Anyone who tries to discredit the Wildcats' 21-1 record by arguing UK hasn't exactly played a murderers' row is glossing over a few things -- namely
Michael Kidd-Gilchrist
,
Anthony Davis
,
Terrence Jones
,
Marquis Teague
,
Doron Lamb
and
Darius Miller
. Kentucky is talented and very good, a team that already is playing with the sort of rhythm it took last year's Final Four squad another month to develop. But there's also no denying that the SEC isn't giving us a lot to really go on here. Of the Wildcats' first seven opponents, only one -- Arkansas -- has a winning league record. Three are at or below .500 overall and only one (Alabama) has a top 50 RPI. Four (Georgia, Auburn, Tennessee and South Carolina) are below 100. The road will get tougher for the Wildcats this month, with Florida, Mississippi State and Vanderbilt awaiting. For now it's safe to say Kentucky is good. We're just not quite sure how good. •
Is Gonzaga's reign atop the West Coast Conference over?
It certainly appears that way right now. Saint Mary's dominant win at BYU (not exactly an easy place to play) ought to open whatever eyes remained closed to the Gaels. Saint Mary's, winner of 11 in a row, is balanced with
Rob Jones
and
Matthew Dellavedova
sharing the scoring; fun to watch -- the Gaels average 76.7 points -- and tough. How tough? Head coach Randy Bennett coached on Saturday despite leaving a Los Angeles operating room at 2 a.m. after a gruesome injury to his thumb. He coached the game in a cast. Most important, the Gaels already claimed the first game against the Zags. The rematch looms on Feb. 9.
-- Dana O'Neil