The most important question goes unanswered
By Robbi Pickeral
ESPN.com
Quick: Raise your hand if you know or care -- or think you'll know or care five months from now -- which teams won the ACC/Big Ten and Big East/SEC challenges last week.
Anyone?
Higher in the back, please?
Tick … tick ….
OK. Me, neither.*
As intriguing as are many of the individual matchups in these let's-whet-our-appetites-and-wish-it-was-March-already events, that's just what they are: early-season litmus tests to, in many cases, give us an idea of whether those early-season pollsters projected correctly, which blue bloods still have some work to do and which not-quite-Cinderellas could surprise us in the end.
One thing about this year's challenges, though: They actually created some challenging questions for this still-early season.
The biggest one of all:
Who's No. 1?
This one's frustrating, because in retrospect, it seems so easy: Just match them up in the challenge!
Instead, after No. 2 Duke rallied from a 10-point deficit against No. 4 Ohio State to win 73-68 and No. 1 Indiana blew out No. 14 North Carolina 83-59, we're left to debate the merits of What a Team has Accomplished versus What You're Pretty Sure a Team can Accomplish.
There's no doubt Duke has the better résumé. The Blue Devils have faced the most difficult early-season schedule in the country and didn't just survive, but thrived. Not only did they beat three top-5 foes in then-No. 3 Kentucky, then-No. 2 Louisville and the Buckeyes, they went ahead and threw in wins against VCU and Minnesota into the mix, as well.
[+] Enlarge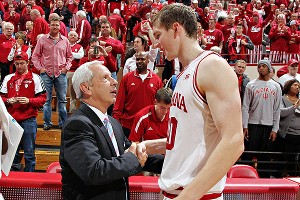 Brian Spurlock/US PresswireRoy Williams and North Carolina had no answer for Cody Zeller and Indiana as the Hoosiers steamrolled the Tar Heels 83-59 on Tuesday.
On paper, it doesn't look like Duke should be that much better than that head-scratching team that didn't consistently defend, didn't seem to mesh, and didn't make it past their first game in last season's NCAA tournament.
But losing guard Austin Rivers to the first round of the NBA draft opened the door for freshman Rasheed Sulaimon to star early, for senior forward Mason Plumlee to become the go-to-guy on offense, and for Quinn Cook to emerge as a bona fide threat at point guard. The defense has improved, and so has team chemistry.
Meanwhile, Indiana, ranked No. 1 since the preseason poll, is pretty much what we expected it to be: fast, deep, balanced, talented and much stingier on defense. The Hoosiers displayed their offensive omnipotence by running all over (and past) the Tar Heels earlier this week, seven days after surviving Georgetown in an overtime win in Brooklyn during their closest game yet.
Cody Zeller, Jordan Hulls, Victor Oladipo, Will Sheehey and Christian Watford are all averaging double figures -- and are capable of leading the way in any given game.
Heck, even in a matchup in which national player of the year favorite Zeller scored six points, Indiana still beat Georgia by 13 points.
The only thing neither team has faced is a true road test. Duke's win against Kentucky came in Atlanta, and the Blue Devils topped VCU, Minnesota and Louisville in the Bahamas and OSU at home. Indiana has ventured outside of Bloomington only for two games, in the Legends Classic in Brooklyn.
Pit the Blue Devils against and Hoosiers right now, and the Hoosiers might win. Or the Blue Devils might win. It might go to overtime or it might go to double digits. That's the frustrating part. The challenging part, if you will.
And the debate might just continue until March.
A few more challenging questions from the week that was:
Which established players have made the biggest gains from last season?
We knew the likes of Zeller, Ohio State's Deshaun Thomas, Creighton's Doug McDermott and Michigan's Trey Burke were going to be stars; they were, after all, AP preseason All-Americans. But there have been a passel of other notables who obviously put some noteworthy work in during the offseason. They include:
[+] Enlarge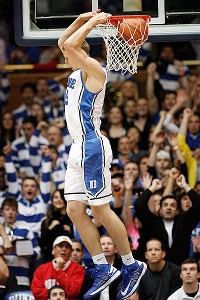 Mark Dolejs/US PresswireMason Plumlee's improved production is a major reason Duke has moved up to No. 2 in the polls.
• Plumlee, Duke: Not all that long ago, the forward couldn't be left on the floor when the game was on the line because of his horrific free throw shooting. But he's making 76.1 percent of his foul shots this season, up from 52.8 percent last season. His scoring (11.1 ppg to 19.6 ppg) and shooting (57.2 percent to 65.4 percent) have also improved, and his play during big games has pushed him into the early NPOY conversation.
• Brandon Paul, Illinois: A streaky shooter last season, the senior guard has added consistency to his scoring, shooting 48 percent overall and 41.5 percent from 3-point land -- both career bests. He's recorded double figures in each of his team's eight games, and is a huge reason why Illinois is undefeated.
• Otto Porter, Georgetown: The 6-foot-8 sophomore is averaging only two more minutes per game than last season -- but he is also averaging almost two more points (11.6) and one more block (1.8), has doubled his assists per game (3.2) and has already made 6 of 9 3-pointers after shooting 22.6 percent from beyond the arc last season.
• Erick Green, Virginia Tech: After averaging 15.6 points in 2011-12, the senior guard is among the nation's scoring leaders at 24.9 ppg and led the Hokies with 28 points in Saturday's 81-71 win over No. 15 Oklahoma State. He's a big reason Virginia Tech -- picked to finish 10th in the 12-team ACC by the conference media -- is 7-0 and averaging 86.1 points per game under first-year coach James Johnson.
• Allen Crabbe, Cal: The junior has been huge for 6-0 California, particularly on the offensive end. He's averaging 22 points and shooting 52.3 percent overall and almost 44 percent from 3-point range. This from a player who entered the season never wanting to say, "I need to be more aggressive" again.
Will we see the likes of UK, NC State and UNC in the top 10 again?
Um. Ergh. Argh.
Before you repeat the "Overrated!" chant too many times, remember that Kentucky (which started the season at No. 3 but lost to Duke and Notre Dame), NC State (began at No. 6 but was defeated by Oklahoma State and Michigan) and UNC (which moved up as high as No. 9 in Week 3 but trailed by 20-plus points in losses to Butler and Indiana) all have the potential to be really good. But the key word here always has been "potential."
The Wildcats won the NCAA title last season with a freshman-laden team. But this is a new freshman-laden team, one that's still trying to find its defensive footing and focus. And it hasn't helped that it has had to flip-flop at point guard due to transfer Ryan Harrow's illness, then absence because of family issues.
The Wolfpack made believers out of a bunch of people with a run to the Sweet 16 last season. But even with the return of star forward C.J. Leslie and the addition of a heralded freshman class, perhaps it was too much to expect that they'd immediately pick up right where they left off. Expectations are something to get used to.
As for the Tar Heels, the expectations may have been too high, too early, for a team starting a freshman at point guard, and whose most experienced post player started only three games last season. Head coach Roy Williams has been concerned about his team's toughness, and its slate only gets tougher come January.
As we learned from the challenges, growing up -- and moving back up the polls -- will be a challenge for all three. But it will be interesting to see where they stand come March.
* For the record, the ACC and Big Ten tied 6-6, while the Big East beat out the SEC 9-3.
Baylor wants to prove it's here to stay
LEXINGTON, Ky. -- Lost amid the caterwauling and worry over the fact that Kentucky has now lost two games in a row is this little nugget: In beating the Wildcats 64-55, Baylor won a nonconference road game against a Top 25 opponent for the first time in the program's history.
And won it, by the way, in one of the most notoriously difficult places to win a game: Rupp Arena.
That no one really paid the victory any mind isn't a surprise to Baylor. After two Elite Eight runs in the past three years, the Bears still feel like outliers on the national college basketball picture.
"Oh yeah, people don't give us the respect we deserve," senior guard Pierre Jackson said. "We still have to prove people wrong."
A year ago, Baylor waltzed into the preseason armed with a loaded roster and a heap of expectations, and though the Bears made it back to the Elite Eight, they never looked quite as good during the games as they did in the layup lines.
This season, head coach Scott Drew has another pretty roster -- including 7-foot-1 freshman Isaiah Austin -- but an equally shaky start. Before their win over Kentucky, the Bears lost to College of Charleston.
It is that inconsistency that gives the doubters credence to go all-in on Baylor, a niggling sense that their margin for error is minuscule. And no doubt, that was the case against UK. Kentucky shot 29 percent for the game and 18 percent from the arc, pulled down 21 offensive rebounds but only scored eight second-chance points, and yet was in the game until the bitter end.
Why? Because Baylor coughed up 19 turnovers and got smoked on the boards 48-37.
So this was not exactly a thing of beauty. But what Baylor has, at least right now, is a healthier balance of freshmen and veterans. Drew's roster includes five rookies, but he also has a been-there-done-that veteran backcourt in the form of Jackson, A.J. Walton and Brady Heslip. They simply don't get rattled, and when the game needed to be won, they won it.
"They've been through big games, they've been through 30-win seasons, they've been through [being] a game away from a Final Four," Drew said. "They're used to playing in front of big crowds, big stages and again make big plays."
A year ago, Kentucky ended Baylor's season in the Elite Eight, eliminating the Bears with relative ease, 82-70. Players from that team -- Quincy Acy among them -- reached out to guys on this season's squad and asked them to exact a little bit of revenge.
Never mind that this Wildcats team is entirely different from the one that beat Baylor -- the Bears wanted to take back the victory.
They did, but that only wins the battle, not the war. Baylor is a team that, on personnel alone, should factor into the Big 12 race. Whether this game is a one-hit wonder or the start of something with more staying power will determine that.
"We wanted to come out strong and show people that our two losses at the beginning of the season don't mean anything," Austin said. "We're still a powerhouse program."