Early conference pulse from around the nation
Kansas erased a double-digit hole on the road to remain the best of the Big 12. Florida asserted itself with a 31-point win over Missouri and now looks like the team to beat in the SEC.
Oregon snapped UCLA's 10-game winning streak and appears to be a bona fide contender in the Pac-12. North Carolina pushed itself back to .500 in the ever-shuffling ACC standings. The Big Ten is loaded with contenders. And for the second straight weekend, another No. 1 team went down -- this time, Louisville in the Big East.
It's still early -- very early -- in league play, but after a frenetic Saturday filled with blowouts and rallies, our writers break down who stands where in various conferences.
ACC
CHAPEL HILL, N.C. -- Maryland, with its deep bench, the addition of transfer Dez Wells and a 13-game winning streak to end the nonconference season, wasn't expected to have three losses this early in conference play. Then again, who would have projected that once-ranked North Carolina would be 2-2?
[+] Enlarge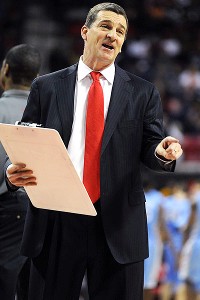 Mark Goldman/Icon SMIMark Turgeon's Terps have been inconsistent so far in the ACC.
If you're looking for clarity in the ACC race, you didn't find much Saturday. But here are a few things (we think) we know (for now):
While the Terps (2-3) are capable of toppling a league favorite (as they did earlier this week against No. 14 NC State), they can still fall flat (and by double digits) to a still-learning Tar Heels squad that played great for one half, mediocre for another. Virginia Tech's Erick Green, who had another 20-plus-point outing during his team's victory over Wake Forest, is a heckuva scorer. And if you were at all tempted to write off Virginia when it followed a win against UNC with inexplicable losses to Wake Forest and Clemson, don't; the defensive-minded Cavs held Florida State to 36 points in a 20-point win.
The league's top three teams didn't play Saturday, but if you are looking for a maybe/possibly telling game this week, tune in Wednesday when third-ranked Duke travels to Miami. The Hurricanes are 4-0 in ACC play despite being without big man Reggie Johnson.
Are they for real?
-- Robbi Pickeral
SEC
GAINESVILLE, Fla. -- The showdown of the top two teams in the Southeastern Conference turned out to be a dud, and now it's clear that 10th-ranked Florida is the class of the 14-team league.
The Gators (14-2, 4-0 SEC) routed 17th-ranked Missouri 83-52 the same way they have won nearly all their games this season: by using a smothering defense. UF hasn't allowed a conference opponent to score more than 52 points or shoot better than 38.9 percent from the field. The Gators have held eight opponents to fewer than 50 points and 12 to fewer than 60.
Florida's next three games are against Georgia, Mississippi State and South Carolina, who were a combined 24-23 heading into this weekend, and then a Feb. 2 showdown against Ole Miss (15-2, 4-0) awaits. The Gators and Rebels are tied for the best record in the league and are the only teams unbeaten in SEC play.
Clearly it's a down year in the SEC when Kentucky isn't ranked and has already lost twice at Rupp Arena, including a 12-point setback against Texas A&M in a game in which Aggies guard Elston Turner scored 40 points.
Texas A&M and Ole Miss have been perhaps the league's biggest surprises. Those two teams, Missouri and Florida are the upper echelon of the conference. Florida sits on top -- and not because this is a weak season for the league.
UF entered the weekend ranked third nationally in scoring defense (51.7 PPG), second nationally in scoring margin (21.5) and sixth nationally in field goal defense (36.3 percent). The Gators have done that against a schedule that ranks in the top 10 nationally and included nonconference games against Marquette, Kansas State, Wisconsin and Arizona.
-- Michael DiRocco
Big 12
AUSTIN, Texas -- Once again, the Big 12 looks like Kansas' to lose. But in the past two games, the Jayhawks have been suspect on offense. After shooting 38 percent against Baylor in a win earlier this week, KU had to shoot 50 percent in the second half against Texas to overcome a 28 percent shooting first half and 11-point deficit.
[+] Enlarge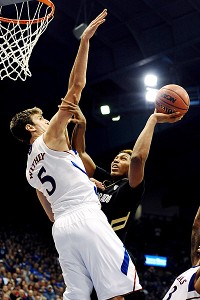 John Rieger/USA TODAY SportsWant to win the Big 12? You must get by Jeff Withey and Kansas.
"We are in a little funk," said center Jeff Withey. "We need to get in the gym and shoot more I guess. We can get out of it. It is nothing too serious, because we are still winning. We have a good defense, thankfully."
The defense will be put to the test in what should be the top game of the week for the Big 12, as No. 4 Kansas heads to No. 16 Kansas State on Tuesday.
The other team to watch is Iowa State. The Cyclones are a desperation shot from being undefeated in conference play. Melvin Ejim posted his 12th double-double in their win over TCU on Saturday. Seven of those double-doubles have come in the past eight games. After a game at rebuilding Texas Tech, ISU returns home, where it will play KSU on Jan. 26. The Cyclones have won 17 straight at home.
At the bottom of the conference, Texas and TCU are still looking for their first wins. Texas, which is off to its worst start in conference play in Rick Barnes' 15 years, has lost three of its four conference games in overtime or, as was the case against KU, in the final minutes.
The Horned Frogs and first-year coach Trent Johnson have averaged just 50 points per game in the Big 12. Their best shot at a win may come in two weeks at Texas.
-- Carter Strickland
Big East
LOUISVILLE, Ky. -- The final season of the "true" Big East that we've all come to love is shaping up to be rather anticlimactic -- at least when it comes to the quest for the league crown. The race, it appears, will be a two-team affair between Louisville and Syracuse, as there seems to be a considerable drop-off between those two schools and the rest of the conference. Syracuse seized the upper hand by upsetting No. 1 Louisville 70-68 at the KFC Yum! Center on Saturday, but the teams will meet again March 2 at the Carrier Dome, so this thing is far from over.
No. 25 Marquette is off to a solid start in league play with a 4-1 record, but it's hard to see Buzz Williams' squad winning the trophy. As tough as they are and as hard as they play, the Golden Eagles are limited offensively and lack star power. Two of Marquette's victories came in overtime and another was by one point. Eventually a few of those close scores will go the other way, which is what happened on Saturday in an overtime loss at Cincinnati.
The win was huge for the Bearcats, but Cincinnati has already dropped two home games and isn't dependable. No. 20 Notre Dame turned some heads early in the season by defeating Kentucky, but that hardly seems like a big deal these days. Recent losses to St. John's and Connecticut, and a narrow win over Rutgers, have squelched some of the enthusiasm in South Bend. Georgetown appears out of the mix now that second-leading scorer and rebounder Greg Whittington is academically ineligible.
That leaves Louisville and Syracuse as the clear-cut favorites. The suspension of James Southerland (13.6 points, 5.2 rebounds) is a dagger for Syracuse, but players such as Jerami Grant are filling in nicely. Louisville boasts a Wooden Award candidate in Russ Smith, a Cousy Award finalist in Peyton Siva and one of the country's top interior defenders in Gorgui Dieng. Louisville's depth and experience provide an edge in close games, and having one of college basketball's best coaches on the sideline certainly doesn't hurt, either. Even though it lost Saturday, I'm still predicting Louisville will win the Big East title.
-- Jason King
Pac-12
LOS ANGELES -- Oregon's 76-67 victory over UCLA at Pauley Pavilion on Saturday clearly established the Ducks (16-2, 5-0) as the team to beat in the conference.
[+] Enlarge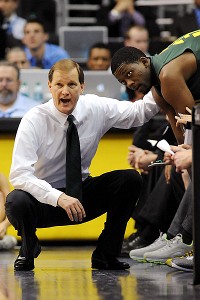 Jayne Kamin-Oncea/US PresswireDana Altman has turned Oregon into a legit Pac-12 title contender.
Oregon now holds victories over Arizona and UCLA, the two preseason favorites for the league title, and also won at UNLV earlier this season for a nice out-of-conference victory.
Saturday's win was no fluke. This came against a hot UCLA team that had won its previous 10 games, including a victory over Missouri. Oregon has size with 6-foot-11 center Tony Woods and 6-7 rebounding machine Arsalan Kazemi and plenty of speed and athleticism in guards Dominic Artis and Damyean Dotson. The Ducks also have balance with five players averaging double figures in scoring.
"They're a really good team," UCLA forward Travis Wear said after the loss. "They've got all the pieces of a championship-level team. I'd say everyone is probably chasing them right now."
Everyone is. UCLA (15-3, 5-1) could have been that team but has flaws that became exposed Saturday -- namely in rebounding. Arizona (16-1, 4-1) is also in the mix, but Oregon already has a victory in the only head-to-head matchup between the teams this season.
Washington (12-6, 4-1) is the X factor. The Huskies won their first four conference games -- including their first three on the road -- before losing to Utah on Saturday, and they've yet to play one of the league's upper-echelon teams. We'll quickly find out whether they are a contender as they play Oregon, Arizona, Arizona State (14-4, 3-2) and UCLA in consecutive games from Jan. 26 through Feb. 7.
-- Peter Yoon
Big Ten
On a day when Syracuse's win at Louisville and Butler's Hinkle miracle dominated the college hoops consciousness, the country's best conference had plenty of its own drama. This was especially true of the day's marquee matchup, Ohio State at Michigan State, where the Buckeyes accomplished a few things.
For one, their leading scorer, Deshaun Thomas, put up 28 points while no other Buckeye scored more than six. For another, guard Shannon Scott hoisted one of the most baffling final-possession jumpers in the recorded history of the game. As such, Michigan State held on for a two-point win at home, a huge victory for a team that is just now beginning to reduce its turnovers -- the final piece in the winning puzzle.
Iowa had an emotional day of its own: It honored the 20th anniversary of the death of former player (and victim of a tragic car accident) Chris Street, a player near and dear to every Iowa fan's heart. Even better, the Hawkeyes got a four-point win over Wisconsin, the same team that toppled IU in Bloomington on Wednesday.
That had to be the win of the week, but Michigan's win at Minnesota on Thursday can't be far off. The Wolverines, who wield the nation's most efficient offense, moved to 5-1 in league play.
-- Eamonn Brennan
Missouri Valley
[+] Enlarge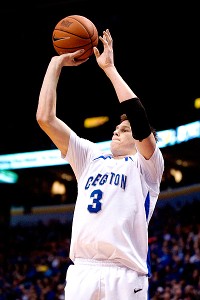 Jeff Curry/US PRESSWIREDoug McDermott and Creighton aren't going to simply roll to a MVC title.
A thumb injury sidelined Wichita State's Carl Hall for seven games. He made a cautious return (two points, 10 rebounds), however, in a win over Illinois State on Wednesday. But he was not as reserved in Saturday's 67-64 home win over No. 12 Creighton. He recorded 17 points and 13 rebounds, and he was the heart of a Shockers program that certainly wasn't flawless in victory (27-for-71 from the field, 4-for-23 beyond the arc, 9-for-19 on free throws).
Clutch free throws put the Shockers ahead by three points in the last 15 seconds of the game. Ethan Wragge missed a pair of 3s down the stretch. But why didn't Doug McDermott (25 points, 4-for-5 from 3-point line) take those shots?
That was the Missouri Valley's best game. But it wasn't the best finish of the day. That honor goes to Missouri State-Bradley. The Bears were down by 15 points at halftime but closed the gap in the second half. Anthony Downing scored on a layup with 4.3 seconds to go and tied the game at 66. And then ... magic. Bradley's Walt Lemon Jr. raced up the floor and launched a 3-pointer that kissed the glass. Ballgame, 69-66. Great ending.
Manny Arop helped Indiana State maintain a place in the MVC title conversation by scoring 19 points in the Sycamores' 72-62 win over Evansville. Indiana State outscored the Aces 46-30 in the second half.
I think the Missouri Valley Conference will come down to a battle between Creighton and Wichita State. The Shockers are the favorites after Saturday's win, but Creighton is still the most versatile and stacked squad in the league. With Doug McDermott in charge, the Bluejays are right there with Wichita State on top of the MVC. Perhaps a team such as Indiana State will sneak into the mix, but the MVC appears to be a two-team race right now.
-- Myron Medcalf
Team of the week: Syracuse

The Orange stunned No. 1 Louisville 70-68 on Saturday afternoon at the KFC Yum! Center, establishing their position in the race for the Big East crown.
Syracuse's Michael Carter-Williams scored the team's final 11 points. The Cardinals appeared to be headed toward favored status in the Big East when they went on an 8-0 run to take a 48-40 lead early in the second half. But Syracuse refused to wilt and has shown remarkable resiliency this week as James Southerland deals with an academic eligibility issue.
The Orange have seen a number of players increase their output, but none more consistently than MCW and Brandon Triche, who didn't miss a shot in the first half. This was the only game of the week for Syracuse, and the Orange made the most of it.
Syracuse now has the edge over Louisville to win the Big East. There are still potential hiccups on the schedule, such as games at Marquette and Georgetown and a rematch with Louisville at home. But it's hard to dismiss Syracuse's chances for a regular-season Big East title or a Final Four run.
Five others worthy of mention

Oregon: The Ducks swept the L.A. road swing by surviving a late push by USC and then handing UCLA its first loss in Pac-12 play. So the Ducks are now alone in first place and the only remaining undefeated team in Pac-12 play. Oregon is also done playing Arizona (a win at home) and UCLA (a win on the road). Advantage: Ducks.

Florida: The Gators were as dominant as any team in any league on Saturday. Florida eviscerated Missouri. OK, so who had the Feb. 2 game against Ole Miss as the big SEC showdown? Right now, those are the two best teams in the SEC.

Butler: The Bulldogs had quite a week without Rotnei Clarke playing. Butler beat down Richmond in an A-10 game in the middle of the week and then beat Gonzaga in arguably the most thrilling finish this season. Butler doesn't have the NBA talent it had in 2009-10 or 2010-11, but it may have as much magic.

North Carolina: The Tar Heels have won two in a row on consecutive Saturdays. Last week, their win over Florida State finally gave the Tar Heels reason to believe, and then a 10-point win over Maryland on Saturday might have given them real hope that they can turn the season around.

Colorado State: Don't look now, but the Rams have the appearance of a team that will be in the thick of the race for the Mountain West Conference title. CSU lost in overtime at San Diego State to start the season, but this past week it beat Air Force by 39 points (Air Force then beat Boise State on Saturday) and then held off UNLV to win by five at home on Saturday. A showdown at New Mexico awaits on Wednesday.
-- Andy Katz
Editor's note: This edition is for games played from Sunday, Jan. 13, to Saturday, Jan. 19.
Three observations

1. Despite its loss to Syracuse on Saturday, I'll still take Louisville's A-game over that of any other team in America. When the Cardinals are at their best -- and they weren't against the Orange -- I think they're college basketball's top team. Defense and coaching are the obvious strengths of this squad, but not enough people are talking about the Cardinals' size, experience and depth.
Nine players are averaging double-digit minutes, and it's not as though Rick Pitino is bringing a bunch of scrubs off the bench. Most coaches would drool at the mere thought of having players such as Kevin Ware, Montrezl Harrell, Stephan Van Treese and Luke Hancock as reserves. Five of Louisville's top nine players are juniors and seniors.

2. Some of the best coaches in America are in non-power conferences. I don't think people realize how impressive it was for Brad Stevens' Butler squad to beat Gonzaga on Saturday without the services of leading scorer Rotnei Clarke. This is a darn good Gonzaga team -- maybe the best ever under Mark Few, who ranks right up there with Stevens when it comes to top coaches from non-big six leagues.
Look at what Shaka Smart and Gregg Marshall are doing at VCU and Wichita State, respectively. And how about Greg McDermott at Creighton and Larry Eustachy at Colorado State? I'll put those guys up against anyone in the country. Their schools are lucky to have them.

3. It was a good run for Texas, but let's admit it: The Longhorns' streak of 14 straight NCAA tournament appearances will end in 2013. Rick Barnes' squad is 8-9 overall and 0-4 conference play. Even if UT finished .500 in the Big 12, its record would be only 17-14 entering the conference tournament. That's not going to cut it. The absence of Myck Kabongo has certainly hurt, but even with him, I'm not sure Texas would've been an NCAA tournament-caliber team. He's a solid player who everyone assumes has improved after a somewhat disappointing freshman season, but no one knows for sure.
For the first time in forever, the Longhorns have a bunch of decent players but no truly great ones. Landing a highly touted player such as Julius Randle would be a huge boost for Barnes, who may fall out of favor with fans and supporters if things don't change in a hurry.
-- Jason King
Three things I learned

1. Florida deserves your respect. It's hardly a perfect team, but thus far this season, no team has been as consistently efficient at both scoring the ball and stopping opponents from doing the same as UF. On Saturday, Missouri felt the full force of the Gators' abilities, and an 83-52 wire-to-wire blowout was the end result. Missouri didn't have its best player, Laurence Bowers, available, and it's never easy to play your best in Gainesville. But even so, the Gators were dominant on Saturday. It was, for lack of a better cliché, a statement game.

2. Oregon is the Pac-12's best threat to knock off Arizona. The Wildcats moved forward with a solid road win at Arizona State, and they're still the odds-on favorite to win the league. But Oregon has emerged as the clear No. 2. The Ducks' win at UCLA on Saturday was built on -- what else? -- defense, as they held a scorching-hot Bruins offense to just 0.93 points per possession. Arsalan Kazemi is a huge force on defense, and Damyean Dotson and Dominic Artis have been freshman revelations.

3. Deshaun Thomas has to get some help. OK, so we knew this already; it is not exactly news to say that Thomas needs help from his fellow Buckeyes on the offensive end. But never has it been more obvious than Saturday. Thomas played all 40 minutes at Michigan State, scoring 28 points (10-of-20 from the field) and grabbing seven rebounds. And his team lost 59-56, because no other Buckeye scored -- get this -- more than six points. Six! We've said a lot this season that Thomas needs a reliable second option on the offensive end, but it was painfully and almost humorously apparent Saturday.
-- Eamonn Brennan
This week's starting five
Brandon Triche (Syracuse): The 6-4 senior scored 23 points (5-for-7 from beyond the arc) in No. 6 Syracuse's 70-68 road win over No. 1 Louisville on Saturday. He was a catalyst for the Orange in a critical Big East matchup. He also recorded six rebounds and two assists.
Sean Kilpatrick (Cincinnati): The junior guard scored the Bearcats' winning layup in their 71-69 overtime win against Marquette on Saturday. Kilpatrick finished with 36 points and helped Cincy get a conference victory without standout Cashmere Wright, who missed the game due to a knee injury. He scored 18 points in Tuesday's 75-70 win over DePaul.
Roosevelt Jones (Butler): He's a hero. Jones stole a late inbounds pass, raced to the basket and beat the buzzer to give Butler the 64-63 victory at Hinkle Fieldhouse. He finished with 20 points in the game that stole the show this weekend. He also recorded 10 points and 12 rebounds in a 62-47 victory over Richmond on Wednesday.
Carl Hall (Wichita State): The forward returned last week after missing seven games with a thumb injury. He was cautious in his first game back (two points, 0-for-2 from the field, 10 rebounds), a 74-62 win over Illinois State on Wednesday. He was a star, however, during the Shockers' 67-64 victory over No. 12 Creighton, finishing with 17 points and 13 rebounds.
Reggie Bullock (North Carolina): He finished with a career-high 24 points (4-for-7 from the 3-point line, 21 points in the first half) in Saturday's 62-52 win over Maryland. He was also 6-for-7 from the charity stripe and snatched five rebounds.
The Bench
Erik Murphy (Florida): The No. 10 Gators had a multitude of contributors in their 83-52 win over No. 17 Missouri on Saturday. Murphy was one of them. The forward finished with 15 points, five rebounds, two blocks and two steals. On Thursday, he had 16 points and seven rebounds in a 68-47 road win over Texas A&M.
Mark Lyons (Arizona): He had 24 points and three steals in a 71-54 win at Arizona State on Saturday.
Deshaun Thomas (Ohio State): The Buckeye recorded 28 points and seven rebounds in a 59-56 loss at Michigan State on Saturday. He scored 20 points in last Sunday's 56-53 win over Michigan.
Preston Blackman (Savannah State): He posted 41 points in a 78-70 double-overtime win over Morgan State on Monday and 14 points in a 57-55 win over Florida A&M on Saturday.
Mike Muscala (Bucknell): He had 27 points, 15 rebounds and two blocks in a 66-51 win over Lafayette on Saturday and 25 points, 10 rebounds, seven blocks and two steals in a 73-59 win at Colgate on Wednesday.
-- Myron Medcalf