The ACC finally has a race worth watching
RALEIGH, N.C. -- Time was tight. Roads were still melting. But just after 5 p.m. ET Saturday, on Interstate 40 near Exit 285 between Durham and Raleigh, one task seemed more necessary than usual: scanning the XM stations, searching for the Boston College-Virginia and Wake Forest-Georgia Tech scores.
After watching Duke throttle Maryland, and en route to an NC State-North Carolina showdown, there was already plenty of notable hoops action to absorb. And during most ACC seasons of late, those "other games" probably would have been an afterthought, what with Duke and/or UNC mostly dominating the top of the standings for the past decade and a half.
[+] Enlarge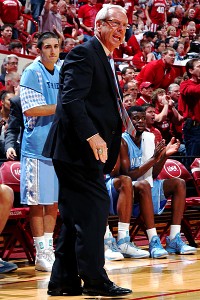 Brian Spurlock/US PresswireRoy Williams is used to being near the top of the ACC, but this year is different.
But something feels different so far this season.
Upperclassman-heavy Miami -- still considered more of a "football" or "baseball" school -- is the only undefeated team in ACC play, at 5-0. Four teams, including top-ranked Duke and No. 18 NC State, already have two league losses. UNC has three.
Four upsets -- Miami and NC State over Duke, Maryland and Wake Forest over NC State -- have led to court-rushing celebrations. And it's only late January.
Even Georgia Tech and Boston College (both 1-5) had given conference foes fits.
Call it parity, call it mediocrity -- realistically, it's some combination of the two -- but there's finally a reason to pay early attention to what's going on throughout the ACC and to teams that don't play their home games near Tobacco Road.
"If you take somebody lightly in this league right now, you're going to lose,'' UNC coach Roy Williams said before his team blew out Maryland and Georgia Tech last week, only to be dominated by the Wolfpack. "I don't care who you are or who you're playing."
Williams said he thinks there's more balance in the league, from top to bottom, than any other time in his 10 seasons as the Tar Heels' coach.
A few of the wild swings:
• Virginia opened its ACC season by beating UNC, only to lose on the road versus Wake Forest and Clemson, only to then come home and win three straight by double figures. The Cavs are currently tied for third place in the league.
• Wake followed a two-point upset of 18th-ranked NC State with a 20-point loss at Georgia Tech (which had been the final winless team in the league, until Saturday). Predicted to finish near the bottom of the league, the Deacons are tied for fifth place, with four losses.
• Duke beat three top-five teams during a three-week stretch in nonconference play, only to go 2-2 in its past four games without starting forward Ryan Kelly. The Devils, like NC State, are trailing the No. 25 Hurricanes by two defeats.
There are multiple reasons for the trickle down of balance: New coaches (nine in the league since 2009-10) have finally had a chance to cultivate their teams and game plans, adding some new traction. Meanwhile, early (and earlier) entry into the NBA has left other squads, such as UNC, scrambling to fill holes they weren't expecting.
The traditional top teams -- especially now that Duke is rejiggering without Kelly -- aren't as good, and only three squads are ranked.
Meanwhile, Nos. 10, 11 and 12 in the ACC standings aren't quite as bad.
"The parity in the league -- it's early in the conference season, guys are still feeling guys out," Virginia Tech first-year coach James Johnson said earlier this week. "I think it's young. You put a lot of young players out there on the floor, the inconsistency with certain guys, you can see that."
Plus, the league is in the first year of a new 18-game schedule, meaning more contests and more opportunities for upsets -- and, the coaches hope, growth.
"I think North Carolina's pretty good," Maryland coach Mark Turgeon said last week. "They weren't that good earlier in the year, but they were [against the Terps last weekend]. Florida State's pretty darn good. They struggled early, they're athletic, gave us some problems. I think Virginia can potentially be better than they were last year.
"You can go through all the teams, see a lot more consistency. Wake Forest, Georgia Tech, we know are better. I do think it's a much deeper and better league than it was last year."
With the potential to be very different a month from now.
It will be curious to see, over the next few weeks, when separation in the standings starts to occur. Is Duke finally starting to mesh again, sans Kelly? Will clutch shooter Michael Snaer put Florida State on his back once again? Can Maryland and Virginia, who have the potential to be NCAA tournament teams, make a push? Which way will UNC go after losing to rival NC State for the first time since 2007?
From top to bottom, it's finally worth tuning in.
[+] Enlarge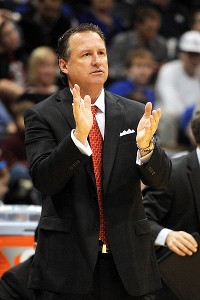 Bob Donnan/US PresswireMark Gottfried's Wolfpack have a chance to shift the league's balance of power.
Five things I learned about the ACC on Saturday:
1. NC State has oodles of potential. Three guys recorded a double-double and two others scored in double figures to break the Pack's 13-game losing streak to rival UNC. If they can stretch Saturday's first 20 minutes of defense over entire games, as well -- wow.
2. Duke is still vulnerable. It was great to watch freshmen Rasheed Sulaimon (25 points) and Amile Jefferson (11 points, nine rebounds) stand out during a bounce-back win after Wednesday's debacle in Miami, but the team is still adapting while Kelly's right foot heals.
3. Virginia is a really, really good defensive team. So, duh, we already knew this. But considering only one ACC foe has scored more than 60 points (and one, FSU, managed only 36), it bears repeating.
4. UNC is confusing. What is this team good at, consistently? (Besides being inconsistent?)
5. Wake Forest is still Wake Forest. Following a two-point upset of the Wolfpack with a 20-point meltdown at Georgia Tech? Road games are always tough in this league, but that's not the way to bolster Jeff Bzdelik's job security.
Three things I still want to know about the ACC:
1. How long can the Hurricanes stay undefeated in the conference? They've got a home game against FSU today and road games at Virginia Tech and NC State this week. Predictions, anyone?
2. When does Erick Green get 40 this season? The Virginia Tech guard, who leads the nation in scoring, scored 35 in a loss to Virginia earlier this week, and it doesn't appear he'll be slowing down anytime soon. His season low is 12.
3. How many ACC teams ultimately make the NCAA tournament? ESPN's Joe Lunardi has fluctuated between four and five thus far in his Bracketology, including Duke, NC State, Miami, UNC and Maryland. But Virginia and FSU could still be factors.
Observations from Saturday's games
By Eamonn Brennan
ESPN.com

1. Kentucky does not look like a tournament team. Unless the tournament in question is the NIT.
I know, I know: A win is a win, and Kentucky held on for a 75-70 home victory over LSU on Saturday. And I know: There's still some time left for this young Kentucky team to figure it all out. But it's clear, at least right now, that the Wildcats have some pretty significant flaws, flaws that could put their already tenuous tournament position in even greater jeopardy the rest of the way.
Chief among them? Defense. The Wildcats had allowed .97 points per possession in SEC play prior to Saturday, seventh-best in a league that most certainly does not house seven good teams. (Maybe three.) It ranked last in the league in forced-turnover rate, and it had allowed SEC opponents to grab 32.1 percent of available offensive rebounds, 10th-best in the conference. These same flaws were apparent Saturday, too. Kentucky scored efficiently throughout the game; it shot 52 percent from the field and a tidy 61 percent from inside the arc (it shot 11 3-pointers and made just two). And still the Wildcats allowed the Tigers -- a 10-7 team with a 1-5 SEC record and the 209th-ranked offense in the country, per KenPom.com -- to put up 70 points at Rupp Arena, to push for a game-tying play until the final possession, to make Ashley Judd a nervous wreck on live television.
Kentucky began the week with a No. 10 seed in Joe Lunardi's latest bracket, and that sounds about right, but that was before Tuesday's loss at Alabama. If I had to bet on UK making it to the tournament or not this season, I'd take the former option. But if it can't get at least some separation from the worst teams in its own down league at home, John Calipari's team will find itself at serious risk of missing the tournament just 11 months after winning it all. Heck, that risk is already here.

2. Minnesota's losses are starting to pile up. Lose at Indiana? No big deal -- you're supposed to lose at Indiana. Lose at home to Michigan? Not preferable, but hey, Michigan's really good. Lose a low-scoring game at Wisconsin? Welcome to the last decade of Big Ten play, right?
Taken separately, none of those three losses -- the latest of which came today, 45-44 in Madison -- is cause for overwhelming concern. But taken alongside Minnesota's 55-48 loss at Northwestern on Wednesday, it's no wonder why Gophers fans are starting to freak out. Saturday's result makes for four consecutive losses in Big Ten play.
That would be bad enough, but the methods by which these losses have come have been a product of both bad defense (Indiana and Michigan scored a combined 1.24 points per possession) and bad offense (the Gophers were held to just .84 points per trip against Northwestern and Wisconsin) -- a veritable sampler pack of ways to lose Big Ten games.
Even worse? Forward Trevor Mbakwe reinjured his wrist on the final play Saturday, which forced forward Rodney Williams to take the game-deciding free throws, the last of which he clanged. If that injury causes Mbakwe to miss games, the Gophers, who rely so much on offensive rebounds, could lose their best rebounder and interior scorer. You never want to encourage panic in January, not for a team this good anyway. But if Minnesota fans start freaking out ... well, you can understand where they're coming from, at least.

3. Duke had a "program win" over Maryland. That's what guard Quinn Cook called Duke's 84-64 win over the Terps on Saturday afternoon, and whether you're willing to go that far or not, the fact of the matter is that Duke rebounded from its unsightly 90-63 thrashing at Miami -- during which the Hurricanes slapped the floor defensively, openly (and comedically) taunting Duke in the second half of a blowout -- with gusto.
The freshmen led the way, particularly shooting guard Rasheed Sulaimon and Amile Jefferson, and that is excellent news for a team that needs other contributors to step up as Ryan Kelly recovers from the foot injury that has kept him out of Duke's lineup for much of January. More than anything, though, Saturday's bounce-back victory showed that the Blue Devils' horrific Wednesday night wasn't necessarily the sign of a larger decline. If anything, it was a sign of just how good Miami really is.

4. Iowa State got a huge win over Kansas State. Late January is not too early for a fan base to be concerned with its bubble team's prospective position, and right now it seems like it's the only thing many basketball fans in Iowa -- both fans of Iowa and Iowa State -- can talk about. The Cyclones will have other opportunities to get big résumé wins in Big 12 play, but they took advantage of a major one when they toppled No. 11-ranked Kansas State 73-67.
Led by Will Clyburn's 24 points and 10 boards, the Cyclones shot 64 percent in the second half, hoisting up 47 points on a good K-State defense. In Bubble Land, these are the kind of games -- against good but beatable teams at home -- you have to take advantage of. For Iowa State, which suffered a horrible loss at Texas Tech on Wednesday night, it was just what the doctor ordered.

5. It's time to pay attention to Arizona State. This is not the first time we've said as much about Jahii Carson and the Sun Devils* this season, but it is the first time Herb Sendek's team has backed it up with a quality win.
Just last week, as Arizona State prepared to play rival Arizona in its own building, we all perked up, forced to pay attention to a team with a 14-3 record -- coming off a three-point loss at Oregon -- hosting its hated in-state rival at home. Naturally, Arizona proceeded to stomp Carson & Co., and it was just as easy to discard Arizona State once more. After all, who had the Sun Devils actually beaten? Arkansas? Colorado at home? Meh. Meh.
Not anymore. Arizona State's 78-60 win over UCLA on Saturday eliminates wipes away that dismissive disclaimer. It's a good win in its own right, but it's made doubly impressive by the fact that UCLA is coming off its own uber-impressive victory Thursday night at Arizona. Maybe the Bruins were tired. They certainly looked it.
But it would be folly to take any credit away from ASU, which was led by a 40-minute performance from Carson (who has more 20-point games than any other ASU freshman in school history, save James Harden and Ike Diogu), a 22-point, 15-rebound performance (on 10-of-12 shooting, no less) from center Jordan Bachynski and a defensive performance that held hot-shooting UCLA to just 25-of-72 from the field (and just 5-of-24 from 3).
The win moves Arizona State to 16-4 and 5-2 in the Pac-12, a stunning turnaround from the depths the program sank into in 2011-12. Sendek has turned things around quickly, and it would be a mistake to dismiss Carson and friends anymore.
*Come to think of it, that would make a pretty good name for a band.
To read Eamonn's full post, click here.