Will Kentucky and UNC dance in March?
North Carolina coach Roy Williams says he doesn't start thinking about the NCAA tournament mix until after the regular season.
Kentucky coach John Calipari, too, prefers to focus on the here and now.
It's another thing the veterans have in common this season (whether or not they really are paying attention), as their blue-blooded teams find themselves inexplicably sliding all over the postseason bubble.
[+] Enlarge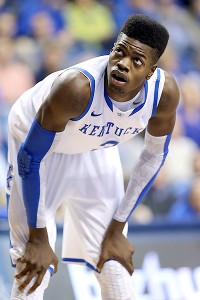 Andy Lyons/Getty ImagesKentucky is loaded with young talents like Nerlens Noel, but with that comes growing pains.
According to ESPN Stats & Information, you'd have to go back to 1974 to find the last NCAA tournament that didn't feature either Kentucky or UNC. Yet despite their recent victories -- each team has won five of their past six -- the programs find themselves in precarious positions: No. 10 seeds in Joe Lunardi's Bracketology, prior to their overtime victories on Saturday.
The reasons? Youth. Inconsistency. Defense.
UK (15-6, 6-2 SEC), the defending national champion, lost six players to the NBA draft after beating Kansas last April. Since then, Kentucky brought in ESPN.com's second-ranked recruiting class, began the season ranked No. 3 in The Associated Press poll -- and then slid all the way out of the ratings after falling to Duke early, then losing consecutive games to Notre Dame and Baylor in late November/early December.
UNC (15-6, 5-3 ACC), which arguably might have made it to the Final Four and perhaps played UK in the championship game last season if point guard Kendall Marshall had not fractured his wrist, lost four-fifths of its starting lineup to the draft's first round. With an eighth-ranked recruiting class and the return of would-have-been lottery pick James Michael McAdoo, it started the season at No. 11, rose to as high as ninth, and then fell out of the Top 25 mix before Christmas after an 18-point walloping at Texas.
Many other teams (and fan bases) might have expected rebuilding seasons, giving their programs a one-year pass.
But not the Wildcats, who after all won last year's title with a rookie-laden team; why couldn't they do it again?
And not the Tar Heels, who showed after winning the 2005 title that they were still capable of returning to the NCAA tournament despite losing six of their top seven scorers. Why couldn't they do it again?
"I think it is just the reality of it; the expectations are never going to be realistic," Williams said last week. "But sometimes, like last year, we were picked first, and what did I tell you? It didn't bother me, because I knew that was pretty close. This year, we were picked 11th, and I'm thinking, 'Wow, that's not the guys that I see.' But we've got a chance -- sort of like that [movie] 'Dumb and Dumber.' We've got a chance.
"I think it is part of the reality of it, that people aren't going to be realistic, which is OK. I'd much rather have unrealistic expectations than no interest."
Oh, there is interest for both teams.
Amid it all, the biggest frustration for Calipari: This year's team has been slower to buy into roles. The 2011-12 squad was special not just because of its uber-talent, but because that talent bought into the idea of "team" rather than personal accolades.
Anthony Davis and Michael Kidd-Gilchrist, for example, who went on to become the top two picks in the NBA draft, took the fourth- and fifth-most shots on the roster. And it helped that UK boasted a couple of more experienced anchors in sophomore starters Doron Lamb and Terrence Jones.
But UK, at least early on, has been missing that lightning-in-a-bottle mix. Instead of pressing the pedal in blowout after blowout, the Wildcats have experienced letdown after letdown.
There was that first game against Texas A&M on Jan. 12, when the Aggies reeled off a 16-1 run with less than six minutes left to beat UK 83-71, marking Calipari's second loss ever at Rupp as UK's head coach. There was the matchup three days later with Tennessee, which Kentucky eventually won by double figures but frustrated Calipari because his team allowed the Volunteers to shoot their way back into it in the second half.
Then, after a maybe-they're-finally-getting-it-together win at Auburn, there was the letdown at Alabama, when the Tide opened the second half with a game-turning 11-1 run and held the Wildcats to 22 second-half points.
That's why, after Kentucky's could-be-groundbreaking win at Old Miss on Tuesday night, Calipari -- whose team needed overtime to win at Texas A&M in a Saturday rematch -- was still tempering expectations and preaching the need for improvement.
"It's good," he said after the victory over the Rebels. "But look, our thing is way out in front of us still. We came from Auburn and did what we did. And then what did we do the next game? … Two guys didn't show up for the game [at Alabama]; they might as [well] not have gotten on the bus. So we have a long ways to go."
The same thing could be said in Chapel Hill, where the Tar Heels are still trying to fit together pieces that seem to come from a few different puzzles.
[+] Enlarge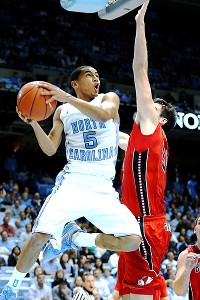 Andy Mead/YCJ/Icon SMIMarcus Paige was handed the keys to UNC's offense the moment he stepped on campus.
Marcus Paige, a freshman starting at point guard who scored a career-high 19 points during Saturday's overtime win over Virginia Tech, has shown both promise and regression and really could have used a year behind Marshall.
None of the Tar Heels' young centers have stepped forward to help take the pressure off sophomore McAdoo, and that hurts an offense that runs best when going through the post.
Points have sometimes been at a premium. Defense has been sporadic for too many spurts.
And there's a lack of cohesion and toughness that especially showed itself in losses to Butler (against whom UNC trailed by as many as 29 points), at Indiana (a 32-point deficit), at Texas (19), and most recently at rival NC State (28). Williams insists his team can still be "pretty good," but it's also pretty clear that his patience is wearing thin.
Instead of more "learning experiences," he said recently, he's ready for his squad to start playing to its potential.
"I get tired of that," he said. "The game's basketball, they have a damn scoreboard, that's what you've got to learn by.
"Early in the season, I can understand that; early in the season, you learn. But we've played 19 or 20 games, and I'm tired of learning. I want some results."
In 2010, Williams' Tar Heels became only the fourth defending NCAA champion to miss the tournament since the field expanded in 1985 (joining Florida in 2008; Kansas in 1989 because the Jayhawks were ineligible; and Louisville in 1986). That season -- in which the Tar Heels had to settle for the postseason NIT title game -- was the most frustrating of his career, Williams has often said.
Can this season's versions of the Tar Heels and Wildcats avoid similar fates? There is time.
UNC still has two games against No. 5 Duke, as well as rematches with ranked Miami and NC State; those could be RPI boosters if they can muster some upset cohesion while avoiding letdowns against the likes of Virginia (whom the Tar Heels have already lost to once), Maryland and Florida State. McAdoo has been more aggressive lately, and junior Reggie Bullock can score in bunches, but it's a tough schedule.
Kentucky, meanwhile, still faces No. 4 Florida twice and 17th-ranked Missouri once, but also must shackle any more letdowns against the rest of its league. Rookie forward Nerlens Noel is coming on strong, following a career-high 12-block performance against Ole Miss with a career-high 19 points at A&M, but his teammates must also continue buying into their roles, and each other.
"Now if there is a change," Calipari said in mid-January, "my vision is there's no one late in this season that's going to want to play this team. If we get it right."
If not -- and whether Calipari and Williams are paying attention right now -- the NCAA bubble could grow a whole lot more slippery. And a whole lot more blueblooded than March has seen in decades.
Observations from Saturday's games
By Eamonn Brennan
ESPN.com
Indiana and Michigan just played the best game of the year.
No, it didn't end with a buzzer-beater finish. But that was the only thing it lacked. In every other possible way, this game was big-time college hoops at its finest, two top-five teams with a handful of pros between them duking it out in front of a completely insane crowd, countering excellent defense with even better offense, fighting for every possession, dunking the ball in high-style frequently, with not only an eventual Big Ten title but crucial NCAA tournament positioning on the line.
It was, to sum it as succinctly as possible, awesome. It was college basketball at its best.
[+] Enlarge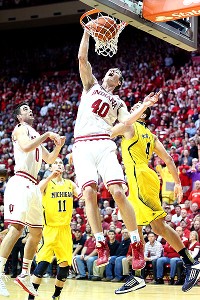 Andy Lyons/Getty ImagesCody Zeller was a big part of the season's best game (so far).
The Hoosiers won, as they have so often since their resurrection last season under coach Tom Crean, with superbly efficient offense. IU finished with 81 points on 50 shots; it shot 52 percent from the field, 38.9 percent from 3 and -- perhaps most impressively -- 22 of 25 from the free throw line.
Those free throws were especially handy as IU closed out the game late, because Michigan never went away. Indiana started out as hot as possible in the first half, but Trey Burke kept the Wolverines in the game, and his 25-foot-plus first-half buzzer-beating 3 closed what had been a 15-point lead to just 36-32 at the half.
The Wolverines got more balanced scoring from Tim Hardaway Jr. and Nik Stauskas in the second half, and they hung tough throughout, but the relentless onslaught of the Hoosiers -- particularly Victor Oladipo and Cody Zeller (who finished with 19 points and nine rebounds on 8-for-10 from the field), who crashed the glass for a seemingly endless barrage of tip dunks and putbacks -- paired with the reliable free throw shooting to hold on to the lead and the 81-73 victory down the stretch.
The loss may be considered something of a blown opportunity for Michigan -- Hardaway and Stauskas shot the ball poorly, and for everything good Burke did, he still finished nine of 24 and four of 12 from 3. Michigan entered Saturday with the most efficient offense in the country, but at Assembly Hall it took 70 shots to score 73 points, including an uncharacteristic seven of 23 from long range. The Wolverines also committed an unusual number of fouls, which allowed all those IU free throws.
Michigan averages just 11 fouls per game, and its opponents typically shoot the lowest ratio of free throws to field goals in the country (20.1 percent). The Hoosiers' mark was more than 45 percent Saturday night, and it is hard to beat IU when it goes to the line that often.
Despite all that, and despite the Hoosiers' impressive interior work, UM was still very much in the game down the stretch. If you're John Beilein, you don't go away from that rowdy Assembly Hall environment feeling bad about your team's effort, or even its performance. You make a few more shots -- including open looks throughout the first half -- and you might just walk away with a win.
Whatever the result ended up being, this was an incredible game.
It was one great play after another. It was a freaky crowd jacked on adrenaline and who knows what else. It was Oladipo flying down the lane; it was Zeller crashing the glass. It was Burke finding answers where none seemed to exist; it was Michigan scrapping for every bucket in the second half. The Wolverines tied it at 40 at the 17:32 mark in the second half. At that point, anything could have happened. All I knew was that it was going to be great.
It didn't disappoint. Not one bit.
You want to know the best part? These two teams run it back in Ann Arbor on March 10 -- in the final Big Ten game of the season. The only downside is that March 10 isn't tomorrow.
To read Eamonn's full post, click here.
Team of the week: Indiana

The Hoosiers had one of their best regular-season weeks under Tom Crean. Indiana absolutely crushed Purdue in West Lafayette earlier in the week, which could have been an easy trap game, but the outcome was never in question. Against Michigan, Indiana held the lead for almost the entire game and had answers for every Wolverines run. The Hoosiers have responded to all challenges so far this season, save their home loss to Wisconsin. Indiana held the edge on the boards against Michigan, got to the line 18 more times and won despite committing eight more turnovers than the Wolverines. The balanced scoring with five players in double figures speaks volumes to how well this team can click. Indiana still has to play at Michigan, but the Hoosiers clearly have proved they have the personnel, the will and the look of a possible champion.
Five others worthy of mention

Florida: The Gators are dominating the SEC in much of the same manner Kentucky did a year ago. Florida dispatched South Carolina and then handily dispatched Ole Miss at home. The Gators are playing as well if not better than any team in the country.

Air Force: The Falcons are on a roll after beating San Diego State. They've won five games in a row and are a real threat to finish in the top three in the MWC. Air Force is now looking like a postseason team.

Miami: The Hurricanes continue to have a sensational run in the ACC. Miami came back and won at Virginia Tech and then beat NC State on a tip-in from Reggie Johnson. The Canes have shown more toughness and fortitude than any other ACC team. This is a team prepared to make a deep run.

Saint Louis: The Billikens had an impressive week with a strong showing in a win over Butler at home and a victory over Dayton. SLU was a second-place pick in the preseason in the Atlantic 10 and would have been No. 1 had news not been released of Rick Majerus' illness at the time. So it's no surprise SLU is now in the race for the title.
Cal: The Bears were left for dead in the Pac-12, but a sweep of the Oregon schools this weekend should at least signal that they have a pulse for the stretch run of the season. Even if Cal can't manufacture March Madness dreams of its own, it can at least be a pest the rest of the season and spoil it for other teams.
-- Andy Katz
Editor's note: This edition is for games played from Sunday, Jan. 27, to Saturday, Feb. 2.
Three observations

1. I've covered Bill Self since he arrived in Lawrence in 2003, and I can't remember a time when he was as harsh on his team after a loss as he was following Saturday's home setback against Oklahoma State. Self was particularly critical of point guard Elijah Johnson. "It's sad," Self said. "We were definitely a better team with him over there sitting down next to us and putting someone else in the game. ... Our ballhandling and guard play has been terrible all year." Johnson had eight points, six assists and four turnovers and passed up a wide-open 3-pointer that would've tied the game in the waning seconds.

2. Dominic Artis has been one of Oregon's top players all season, but I didn't think that losing him to a foot injury would cause the Ducks to drop back-to-back games -- especially not to middle-of-the-pack Pac-12 teams Stanford and Cal. But that's exactly what happened over the weekend, and now the conference race is wide open again. Oregon entered the weekend undefeated in league play and had a perfect setup because it had already defeated UCLA and Arizona and doesn't have to play either team again.

3. I thought Kentucky would look a lot better than it did in Saturday's overtime victory at Texas A&M. Yes, I realize the Aggies defeated the Wildcats in Lexington last month. But Texas A&M has struggled ever since, and UK appeared to be on the upswing following Tuesday's double-digit win over Ole Miss in Oxford. John Calipari's squad apparently did nothing to capitalize on that momentum. Kentucky may have won the game, but apparently this team hasn't turned the corner like I sensed it had.
-- Jason King
Three things I learned

1. Indiana is still getting better. Every now and then, particularly during IU's neutral-court overtime loss to Butler and its home loss to Wisconsin, concerns about Indiana have run rampant: The defense still isn't there, the Hoosiers' backcourt is too small, Cody Zeller isn't assertive, Christian Watford disappears. And at various times, these things have been true. But because the Hoosiers were ranked No. 1 to start the season, it's been easy to overlook something that is essentially true of every college basketball team in the one-and-done era: There is always room for improvement.
Indiana is still doing that: Zeller is still figuring out the best way to impose his will on a game without detracting from his talented teammates. Watford is learning how to bring consistent effort within similar schematic confines. IU's bench (especially Will Sheehey, Remy Abell and recently returned reserve Derek Elston) are still adding different contributions. Freshman Jeremy Hollowell is settling into a role. And freshman point guard Yogi Ferrell is still slowly but surely emerging into something of a star -- a player who can impact the game with passing, shooting, defense and savvy game management. Michigan will look back on Saturday night's loss feeling it could have done more, and it will be right. But the Hoosiers showed a lot more Saturday night than they have for most of the season, and the prospects remain glittering.
2. The Mountain West is kind of insane. Boise State beats UNLV. Air Force beats San Diego State … to move to 5-2 in the league. Not only is Boise still in position to eventually clinch an at-large NCAA tournament bid -- who thought we'd be saying that before the season started? -- but various league favorites such as New Mexico, Colorado State, UNLV and San Diego State are all on essentially equal footing with plenty of league games left to play. This thing is wide open, and for all the defense these teams offer, these games are very entertaining. With the possible exception of the Big Ten, I'm not sure there's another league you'd rather watch on a nightly basis than this one.

3. Miami is the real deal. If you didn't realize this was the case already -- which, no offense, would be questionable judgment on your part -- then Saturday's win at NC State ought to be enough to convince you once and for all. The Hurricanes' dominant win over Duke wasn't a fluke, even if the final margin was wider than anyone could have expected. Jim Larranaga has three big, effective frontcourt players (Reggie Johnson, Kenny Kadji and Julian Gamble), and the backcourt of Shane Larkin and Durand Scott is as solid as they come. The Hurricanes are playing top-five efficiency defense this season; they're big, strong, athletic, very difficult to beat and quite arguably the ACC favorite the rest of the way.
-- Eamonn Brennan
This week's starting five
The Starters
Marcus Smart (Oklahoma State): The freshman was the man at the Phog. He finished with 25 points, nine rebounds, three assists and five steals (five turnovers, too) in the Pokes' 85-80 victory over No. 2 Kansas on Saturday. The victory snapped the Jayhawks' 33-game home winning streak. He had 21 points, seven assists, six rebounds and four steals in Wednesday's 78-76 victory at Iowa State.
R.J. Hunter (Georgia State): Smart wasn't the only freshman who excelled this weekend. He scored 38 points in Saturday's 83-63 win over Old Dominion. He was 10-for-15 from the 3-point line and added five rebounds, two blocks and two steals, too. On Wednesday, he scored 27 points in a 78-73 win over Northeastern.
Maurice Kemp (East Carolina): The senior finished with 33 points, nine rebounds, six steals, two assists and a block in Saturday's 79-63 win at Rice. He was 10-for-15 from the field and 13-for-16 from the free throw line. He's the first player with those numbers (double-digit field goals, double-digit free throws, nine rebounds and six steals) in more than 14 years, according to ESPN Stats & Info. He scored 13 points in a 75-68 loss to Memphis on Wednesday.
Jack Cooley (Notre Dame): The 6-foot-9 senior scored 26 points, snatched 16 rebounds and blocked three shots in Saturday's 79-71 overtime win versus DePaul. He had 17 points and 16 rebounds in Wednesday's 65-60 victory against Villanova. Cooley has four double-doubles in his past five games.
Cody Zeller (Indiana): The sophomore was a star for the No. 3 Hoosiers in their 81-73 win over No. 1 Michigan on Saturday. He had 19 points, 10 rebounds and two blocks in the game. His dunks were ferocious in a matchup that lived up to the hype. Zeller also had 17 points in a 97-60 win at Purdue on Wednesday.
The Bench
Tray Woodall (Pitt): He had 13 points, five rebounds, four assists and three steals in a 65-55 win over No. 6 Syracuse on Saturday and 14 points in a 64-61 loss at No. 12 Louisville on Monday.
Isaiah Canaan (Murray State): He posted 19 points, eight rebounds, three assists, three steals and a block in a 75-68 overtime win against Austin Peay on Saturday.
Keion Bell (Missouri): Bell had 24 points, five rebounds, two assists, three steals and a block in a 91-77 win against Auburn on Saturday.
Seth Curry (Duke): He scored 21 points with three assists and two steals in a 79-60 win at Florida State on Saturday and had 21 points and two assists in a 75-70 victory at Wake Forest on Wednesday.
James Michael McAdoo (North Carolina): He registered 22 points, 10 rebounds and two steals in a 72-60 overtime victory against Virginia Tech on Saturday and 17 points, 10 rebounds, three assists and a steal in UNC's 82-70 win at Boston College on Tuesday.
-- Myron Medcalf