Two weeks left and counting the questions
We've seen buzzer-beaters and bounce-backs, quick wins and endless overtimes, stars emerge and old favorites stand out.
Oh, and there's that revolving door at No. 1.
One thing (we think) we know about this college basketball season thus far: It's been a weird combination of frenetic, fascinating, frustrating and fun.
One question going forward: With only two weeks left in the regular season, what fantastic thing is going to happen next? And after that?
Here's a quick conference reset, as teams make their final push toward the postseason:
ACC
One thing (we think) we know: Miami has been a heckuva story.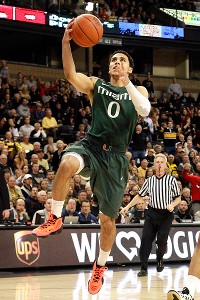 Jeremy Brevard/USA TODAY SportsDespite Saturday's loss to Wake Forest, Shane Larkin and Miami lead the ACC.
OK, it would've been a better tale for UM fans had the second-ranked Canes not gotten stomped at Wake Forest on Saturday and stayed undefeated in league play. But they still boast experience (what other teams have so many juniors and senior these days?), a savvy coach in Jim Larranaga and a fun-to-watch point guard in Shane Larkin. Oh, and they still have a rematch next weekend at Duke, the team the Canes beat by 27 points last month. Currently, Miami has a 2.5-game cushion in the conference standings.
One question: Who is the ACC Player of the Year?
The preseason pick by the coaches and media was NC State's C.J. Leslie, but he had as many turnovers as points (six) at UNC on Saturday and has two teammates (Lorenzo Brown and Richard Howell) who have legitimate cases for first-team All-ACC votes, as well. There's Larkin, the guy who makes the squad at the top of the standings go. There's Duke's Mason Plumlee, one of the top big men in America. And don't forget about Virginia Tech guard Erick Green; he stars on the last-place team in the league but is the highest scorer in the nation. This will be an interesting vote.
BIG TEN
One thing (we think) we know: If your remote was stuck on one conference this season, it should have been -- and still should be -- this one.
It seems somewhat unfair to the standings that Indiana and Michigan State and Michigan and Wisconsin and Ohio State and Illinois and Minnesota have all had to constantly beat up on each other. But aren't we lucky they did? The top-ranked Hoosiers' down-to-the-wire win over the No. 4 Spartans was just the latest example of eye-widening plays in a game worth of an immediate replay. And it's not over yet.
One question: Can Indiana win it all?
The Hoosiers have depth, balance, leadership and an improved defense. And who else has two legitimate National Player of the Year candidates in their starting five? Cody Zeller and Victor Oladipo make for a potent outside-inside punch -- and as mentioned above, they've been battle tested. Right now, they hold a one-game lead in the conference standings and a No. 1 seed in Joe Lunardi's Bracketology.
BIG 12
One thing (we think) we know: Kansas, yet again, looks like the best of the bunch.
After nearly falling out of the league title picture (insert gasp here) earlier this month with three straight losses -- versus Oklahoma State, at TCU and at Oklahoma -- the ninth-ranked Jayhawks are tied for first place again in the conference after winning four straight games (including outlasting the Cowboys in double-overtime). The toughest matchup left en route to their ninth straight Big 12 title: at Iowa State on Monday night.
One question: Can Kansas State make the Jayhawks share the league crown?
Why, yes. By winning out, the Wildcats could claim a share of the conference title since winning the old Big Eight crown in 1977 (they're currently tied with the Jayhawks, who swept the series this season). K-State's last four games are against Texas Tech, at Baylor, versus TCU and at No. 14 Oklahoma State (which is now a full game behind first place). The Wildcats' best finish in the Big 12, thus far, was a tie for second in 2010.
SEC
One thing (we think) we know: Florida and Missouri are in.
The NCAA tournament, that is. The fifth-ranked Gators, despite their recent loss to the Tigers, moved back up to a No. 1 seed in Lunardi's Bracketology on Saturday night, and Missouri was projected a No. 8 seed as of Friday.
Of course, Mizzou's seeding was before it lost in overtime to Kentucky on Saturday, so stay tuned.
One question: Who (if anyone) else will join them in the field of 68?
Lunardi had Ole Miss as a No. 12 seed prior to Saturday's blowout win against Auburn; and UK moved back into the "Last Four In" category after Saturday's victory. But the Rebels still have lost five of eight, and Kentucky has lost star forward Nerlens Noel to injury, so those bubbles still look awfully slippery. Tennessee has now won five straight, while it took LSU three overtimes to halt Alabama's four-game win streak.
All this to say: Wouldn't it be interesting if someone besides Florida won the league tournament and automatic bid? In this crazy league, that would be fitting this season.
PAC-12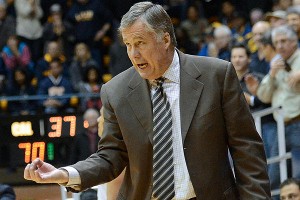 Bob Stanton/USA TODAY SportsMike Montgomery's Cal team is on a roll.
What (we think) we know: Cal is hot.
The Golden Bears have won seven of their past eight games, including one against then-No. 7 Arizona and two over ranked Oregon, and have played their way into the NCAA tournament conversation. Perhaps we shouldn't have expected anything else from an entertaining conference in which three-fourths of the teams can beat each other on any given day. No wonder it still has a half-dozen teams (including the Bears) still in contention for the regular-season league title.
One question: Can Oregon hold on?
The Ducks dropped three of four when they first lost guard Dominic Artis to a foot injury but have improved since, winning four of five to sit atop the league standings. Plenty of teams are within striking distance, but No. 23 Oregon has the most favorable schedule of the bunch, with Oregon State at home and road games at Colorado and Utah left.
MWC
One thing (we think) we know: No. 16 New Mexico has this league wrapped up.
Kendall Williams scored 46 points on Saturday to make sure of it, hitting an MWC record 10 3-pointers to beat No. 21 Colorado State and giving his squad a commanding two-game league lead.
One question: What is up with UNLV?
Well, after going through a weird stretch in early February in which they lost three of four games -- and to teams in the lower part of the league standings, to boot -- it looks like the Rebels may be running back on track, winning three straight (including a close one over Colorado State). With Anthony Bennett, Anthony Marshall, Mike Moser and Khem Birch, UNLV has the horsepower to make things interesting in March. But it first must close out strong against three teams it should beat to complete the regular season.
BIG EAST
One thing (we think) we know: It's a shame that Saturday marked perhaps the final Syracuse-Georgetown showdown at the Carrier Dome.
With the Orange leaving this summer for the ACC, the Hoyas won another gripping installment of two of the Big East's founding members, 57-46. This time around, the Hoyas' Otto Porter (33 points) starred while fans and reporters waxed nostalgic. The teams have one more regular-season rematch at Georgetown, and Cuse coach Jim Boeheim said he hoped it's not the end, leaving the door cracked for future nonconference matchups. It's hard to believe, though, that it would ever be quite the same.
One question: Should John Thompson III be getting some National Coach of the Year buzz?
If the Hoyas, currently atop the Big East, win it, then yes. Georgetown has won 10 in a row (three against Top 25 teams), and Thompson has done a noteworthy job of rebuilding after losing his top three scorers from last season, and then adjusting after losing second leading scorer and leading rebounder Greg Whittington in December.
ATLANTIC 10
One thing (we think) we know: Butler might be the best clutch shooting team in the country.
The Bulldogs are 3-1 on last-second shots this season, with wins against Marquette, Indiana and Gonzaga and a loss at La Salle. All three winners came from different players, which could make things interesting (and be a down-to-the-wire advantage) if games get tight come March.
One question: Who are the Saint Louis Billikens?
Thus far, they're a team that has won nine in a row and is perched atop the A-10 standings after recent back-to-back wins over No. 15 Butler and No. 24 VCU. Saint Louis has four victories against Top 25 teams this season, is led by junior forward Dwayne Evans and senior guard Cody Ellis, was a No. 9 in Lunardi's projections as of Friday, and could be one of those teams you find advancing in your bracket a few weeks from now.
Observations from Saturday's games
• Every time I post something on Twitter about how impressed I am with the Memphis Tigers, the responses are always the same. They play in a weak league. Who have they beaten? Just wait until the NCAA tournament. Something tells me the folks saying these things haven't watched Memphis play in recent weeks.
Saturday's 89-73 victory over Southern Miss marked the 18th straight win for Josh Pastner's squad. That's impressive no matter what league you're in. Yes, I realize Conference USA doesn't offer up the best competition, but Southern Miss -- an NCAA tournament team a year ago -- is still darn good. So is Central Florida, which features one of the better forwards in the country in Keith Clanton.
Neither of those teams has come close to beating Memphis, which is 24-3 overall and 13-0 in league play. Talent has never been an issue for the Tigers, but lately, they've also looked extremely well-coached. Great ball movement, good shot selection, selfless play, tons of energy. Tell me, what's not to like? I'm not ready to peg Memphis as a Final Four team, but I'll be disappointed if it doesn't make it to the Sweet 16. -- Jason King
• Kentucky stepped up in the most important game of its season. Prior to Saturday's Missouri-Kentucky matchup, the SEC had already completed multiple exciting games earlier in the day. LSU beat Alabama in triple overtime. Georgia defeated South Carolina in overtime. And Tennessee outplayed Texas A&M in quadruple overtime. But Kentucky and Missouri delivered in the conference's most significant matchup. After losing Nerlens Noel to a season-ending knee injury, the Wildcats lost to Tennessee by 30 points. Season over, right?
I mean, that team competed like a team that just wanted the season to end. Kentucky didn't do anything that a squad should do when it's trying to convince the selection committee that it's worthy of an NCAA tournament bid. I had no faith in this group. The Wildcats, however, silenced some of their critics with their overtime win against Missouri at Rupp Arena on Saturday. The 90-83 victory might help UK get into the field of 68 -- and the Cats might have changed the trajectory of their entire season with the gutsy win.
Julius Mays led the Wildcats (four reached double figures) with 24 points. By the end of the game, he could barely walk. Kentucky had earned that exhaustion. Missouri, meanwhile, earned criticism. More criticism. Once again, the Tigers collapsed on the road. They were up by 13 points in the first half, and then they unraveled. They always do outside Columbia, it seems. Phil Pressey's costly turnover with 48 seconds remaining in overtime summed up Mizzou's entire season: talent marred by mistakes and chemistry issues. In the end, a Tigers team comprised of veterans lost to a group of raw youngsters which graduated from high school a year ago. Give Kentucky credit. Doubt the Tigers. -- Myron Medcalf
• Stick a fork in Baylor. The Bears are done. Scott Drew's squad was embarrassed in a 90-76 loss at Oklahoma on Saturday. Or, heck, maybe they didn't feel embarrassed at all. For the past few weeks, the Bears -- who trailed 47-21 at halftime Saturday -- have hardly seemed like they care. Baylor has now lost six of its past eight games. Drew's team is 7-7 in league play but only 1-7 against teams in the top five of the Big 12 standings.
The Bears aren't going to make the NCAA tournament, which is inexcusable for a squad that features the Big 12 Preseason Player of the Year in Pierre Jackson -- who leads the conference in scoring and assists -- along with future lottery pick Isaiah Austin and one of the nation's premier 3-point shooters in Brady Heslip.
Sure, the Bears lost three players from last year's Elite Eight squad to the NBA draft. But there are still enough pieces on this roster to have significant success during a somewhat down year for the Big 12. -- Jason King
• Health will be Florida's top concern in March. The Gators proved that they're still a high-powered team when they bullied Arkansas 71-54 on Saturday. Florida's loss to Missouri -- and an earlier loss at Arkansas -- sparked questions about Billy Donovan's program, but the Gators have been one of the nation's most dominant teams all season. And their successes outweigh their stumbles.
In March, they're not going to run into many teams that can handle their backcourt and Patric Young (14 points, 7 rebounds and a block on Saturday).
What about their health? Michael Frazier II suffered a concussion in the victory over the Razorbacks. Erik Murphy tweaked an ankle this week. Will Yeguete is out with a knee injury. Donovan's program hasn't been 100 percent in a long time.
That's a concern now and as March Madness approaches. A healthy Gators team can contend with any program in the country. There will be less certainty, however, if Florida enters the NCAA tournament at anything less than 100 percent. -- Myron Medcalf
To read more Saturday observations from Jason King and Myron Medcalf, click here.