Five Biggest Offseason Questions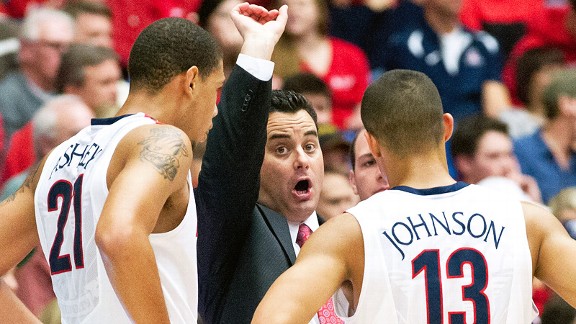 Casey Sapio/USA TODAY SportsAs always, expectations are high in Tucson, with another stellar recruiting class joining the Wildcats.
1. How will Arizona manage expectations? The Wildcats reached the Sweet 16 a year ago and were within a whisker of knocking off Ohio State while there. Now, Arizona is expected to take the next step. The Cats are the overwhelming favorite to win the Pac-12 and compete for the Final Four. They lost Solomon Hill but have a yet another stellar recruiting class coming to Tucson, led by Aaron Gordon and Rondae Hollis-Jefferson. This edition of the Wildcats doesn't have the longtime veteran player, but the overall talent is as deep as it has been in years. Coach Sean Miller has had the Wildcats back in the national conversation since he arrived and their talents will be on full display early during the NIT Season Tip-Off, where a likely matchup against Duke is on tap at Madison Square Garden.
2. How will new UCLA coach Steve Alford mesh with the returning players? Alford doesn't have any time to go through a rebuilding situation. There is no honeymoon. UCLA is expected to win -- now. The veteran players like Travis and David Wear will need to be an extension of Alford. The Bruins will lean heavily on Jordan Adams, Kyle Anderson and Norman Powell and they can't afford to have too many hiccups. Alford has a decision to make at the point. Does he play son Bryce, Anderson or freshman Zach LaVine? Whoever he chooses will have to go through some sort of adjustment period at the position.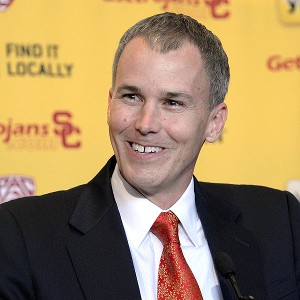 Kirby Lee/USA TODAY SportsAfter carrying "Dunk City" Florida Gulf Coast to the Sweet 16, Andy Enfield brings his brand to USC.
3. What are the chances Andy Enfield can institute his style of play at USC with the current personnel? The Trojans are a work in progress with a team that is easily a bottom-third squad based on the talent returning. Enfield had quite a run with Florida Gulf Coast, as Dunk City was one of the biggest topics of the NCAA tournament in March. Enfield gave Gulf Coast the freedom to run and dunk and have a great time because they didn't abuse the privilege. Enfield may not have the players to play this style early on in LA, but he needs to make the Trojans a good watch. The previous staff was criticized for being offensively challenged. USC needs to get people to the Galen Center and Enfield was brought in to ensure there was entertainment.
4. How badly does Oregon need Joseph Young eligible? The Ducks are hopeful Young gets eligible soon. The Houston transfer was a big-time scorer last season (18.0 PPG) and Oregon needs another player who can keep the offense flowing. The Ducks are going through an interior transition and they don't know who they can rely on to score in the post. If UO gets Young eligible for this season, then suddenly it takes pressure off Mike Moser and others up front and the expectation level in Eugene will increase.
5. How long will the suspensions last for Oregon State's Eric Moreland and Devon Collier? Neither is expected to be suspended for the season, but there is no word as to how many games, if any, the OSU forwards would have to sit. The Beavers' chances to survive in the Pac-12 hinges on the availability of these two players -- the team's leading returning scorer (Collier) and rebounder (Moreland). The return of Angus Brandt from an ACL injury will give the Beavers their best inside scorer and Olaf Schaftenaar can be another stretch forward scorer. Daniel Gomis has a chance to pick up significant slack if Moreland and Collier aren't around, but the Beavers would have little depth if they don't return.
Best-Case/Worst-Case Scenarios
Arizona
Best case: For all its strengths last season, Arizona too often drifted aimlessly through long stretches, which is bound to happen when you combine a bunch of young, raw big men who need distribution to get their points and a point guard (Mark Lyons) who was always primarily interested in getting his shots. Now-eligible Duquesne transfer T.J. McConnell is an actual point guard -- a pass-first player who shot 43.2 percent from 3 in his last season at Duquesne -- and while he may not be more talented than Lyons in a vacuum, he is perfectly suited to what the Wildcats need. Throw in another monster recruiting class (including proto-Blake Griffin stud Aaron Gordon) alongside Nick Johnson and the remainders from last year's class, and you've got the most slept-on early national title contender in the country. The sky is the limit.
Worst case: Let's be straight up about it: In the early speculative 2013-14 national title conversation, the Wildcats have been drastically overlooked. Maybe that's just because people are so agog at Kentucky's young talent or Louisville's back-to-back aspirations, but it's not totally unfair. Sean Miller must balance a ton of pieces this season, many of them new. Worst case for this team would be another good but not great (e.g. top 15-ish) season. It is far too talented for just that.
Arizona State
Best case: The Sun Devils appear very much back on the rise thanks in large part to the play of now-sophomore Jahii Carson, who lived up to billing and then some as Herb Sendek's lighting-quick do-everything point guard. If Carson becomes a bit more efficient with all his possessions (28.7 percent usage in 2012-13) and the Sun Devils add some versatility to their combo of Jordan Bachynski's shot-blocking and Jonathan Gilling's stretch shooting (Penn State transfer Jermaine Marshall and his 15.4 PPG should help in that regard), a tournament bid should be the baseline expectation.
Worst case: Folks in Tempe are stoked at the chance to once again be relevant, especially considering the depths they hit just a couple of seasons back. Which is why if ASU doesn't get better -- merely finishes in the middle of the Pac-12 table and only barely claws to a tournament bid, or worse -- the disappointment will be outsized, and rightfully so.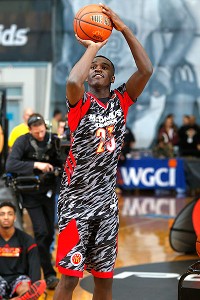 Courtesy of McDonald'sPac-12 defenders will have trouble keeping Jabari Bird from scoring.
California
Best case: Had Allen Crabbe returned for his senior season, Cal might have been the most frequent answer to the looming "Who stops Arizona?" question. But even with Crabbe in the NBA, the Bears return much of last year's lineup and will insert No. 2-ranked incoming shooting guard Jabari Bird, who looks capable of getting Crabbe-level buckets right away. Mike Montgomery's team has been steady and solid for years, which is a luxury many programs pine for. But something much more could be in the offing here.
Worst case: If Bird isn't ready to get those buckets right away, we're probably looking at a slightly lessened version of last season's 21-12 group. That's OK; that's still a postseason team. But it won't be very exciting.
Colorado
Best case: With each year, it's getting harder and harder to remember when Colorado being bad at basketball was a given. That's a testament to the job Tad Boyle has done since replacing Jeff Bzdelik, and it will be the case again in 2013-14. NBA scout favorite Spencer Dinwiddie and backcourt mate Askia Booker are good enough to lead the Buffaloes deep into the NCAA tournament.
Worst case: Andre Roberson never quite reached his massive potential, particularly on the offensive end, before leaving for the NBA this summer. The good news is 6-foot-10 sophomore forward Josh Scott looks capable of working the glass in a similar fashion; the bad news is Scott still has a ways to go before he can be considered the interior threat Dinwiddie and Booker need to take this team to another level.
Oregon
Best case: Dana Altman did one of the best coaching jobs in the country last season, taking Rice transfer Arsalan Kazemi and a crop of (mostly) unheralded young players and turning them into a top-10 efficiency defense, one good enough to push eventual national champion Louisville in the Sweet 16. The addition of UNLV transfer Mike Moser, freshman Jordan Bell and a pack of junior college transfers alongside a group of promising young remainders (Damyean Dotson, Dominic Artis, eta al) -- plus Altman's coaching -- is the reason to be bullish here.
Worst case: Good coaching or no, fact is Kazemi (the reactor core of Oregon's defensive excellence) and three other key seniors (E.J. Singler, Carlos Emory, Tony Woods) are gone. This signals the second phase of Altman's rebuild -- developing his own crop of program stalwarts to push to the next level, essentially -- but it might also mean a step or two back in the interim.
Oregon State
Best case: No question, this is a pivotal season for coach Craig Robinson. Robinson has been great at times and questionable at others, but this is simultaneously his most talented and experienced team, and even if its best-case scenario is an NCAA tournament bid, that would be a nice (if slow-moving) sign of forward progress.
Worst case: Just last week, Robinson indefinitely suspended forwards Eric Moreland and Devon Collier, though it's tough to know what that means, because both players were allowed to keep working out with the team and attending classes, and in July there's not much else you can suspend players from. In general, though, the suspensions speak to a problem that has seemed to plague Oregon State for years. Call it chemistry or "buy-in" or whatever else, but there has been no shortage of second-guessing, and if it keeps up this program is probably doomed to another forgettable year.
Stanford
Best case: Robinson isn't the only coach facing high stakes in the Pac-12 this season. Stanford's Johnny Dawkins is right there with him, desperately needing his first NCAA tournament bid to keep an increasingly impatient Cardinal fan base at bay. The good news is pretty much everyone is back from a team that was better than its 19-15 record last season, and if guard Chasson Randle turns in an elevated performance at the point, Stanford could make the tournament worries look silly.
Worst case: Another 19-15 year, or thereabouts. Every year, there are teams that we expect to get better because of veterans, but sometimes teams top out before we realize it. If there's little collective growth here, Dawkins might have bigger problems on his hands.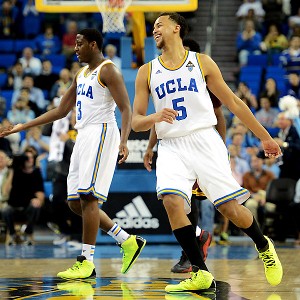 Jayne Kamin-Oncea/USA TODAY SportsSophomores Jordan Adams (left) and Kyle Anderson will lead UCLA's transition to the Steve Alford era.
UCLA
Best case: The hiring of Steve Alford was botched in pretty much every way, from the underprepared coach's first press conference to the insane buyout to the silly reaction from AD Dan Guerrerro in the wake of run-of-the-mill media criticism. Whether Alford is a long-term solution in Westwood is up for debate, but for now, he can thank Ben Howland for leaving Kyle Anderson, Jordan Adams, Tony Parker and a handful of other talented players good enough to be a top-25 team and a Pac-12 contender -- and get UCLA fans off Alford's back.
Worst case: Say what you will about the hire (or about Alford himself), but the man can coach, and it's hard to imagine him not getting at least a tournament appearance out of a group of sophomores this good. If the Bruins whiff on that modest front, it'll be a disaster.
USC
Best case: The Trojans are basically starting from scratch under former Dunk City mastermind Andy Enfield, and any best-case scenario -- at least before UNLV transfer guard Katin Reinhardt is ready to contribute next season -- requires only that USC occasionally be entertaining enough to build some buzz. Everything else is a bonus.
Worst case: That USC is not only not good, but the grinding, bricking, eyeball-gouge-inducing brand of not-good they were for the last few years under Kevin "I Guess People Were Going To Stop Hiring Me Eventually" O'Neill.
Utah
Best case: Larry Krystkowiak took over at Utah with almost nothing in the cupboard. In 2011-12 his best player, Josh Watkins, led the nation in usage rate (38.9 percent) and was sixth in shot percentage (36.8) and Krystkowiak kicked him off the team anyway. The process of building from those ashes is ongoing, and right now the best hope is that the Utes builds on the overall improvement they saw last year, when they jumped from No. 303 in Pomeroy's adjusted efficiency rankings to No. 110.
Worst case: Backsliding into the putrid 2011-12 morass seems unlikely; things are definitely moving forward. But that would be the worst-case scenario for the Utes. No one is expecting a tournament bid, but it's not a great time for regression either.
Washington
Best case: Lorenzo Romar's program has been perhaps the Pac-12's most consistent in the past decade, which is why last season's 18-16 record felt like such a drastic departure. Romar lost some pieces from that team, but the addition of No. 4-ranked point guard Nigel Williams-Goss is huge -- if he can bring the reliable ballhandling and playmaking he wowed scouts with as a prep star, he could make C.J. Wilcox's life much easier, and get the Huskies back in the tournament mix right away.
Worst case: Sometimes losing three seniors from a medicore team can amount to addition by subtraction, and there may some of that at work here (cough, Abdul Gaddy, cough). But this is nonetheless going to be the Wilcox and Goss show with a host of unproven pieces in supporting roles. Even a modest improvement to 20 wins is not a guarantee.
Washington State
Best case: Per-possession-wise, Wazzu wasn't terrible last season, but its awful performance in the conference -- 4-14, including a nine-game losing streak -- kind of speaks for itself. Expecting a big jump after losing crucial center Brock Motum seems a bit unrealistic, but if the Cougars can finish a few more games down the stretch and avoid some of the brutal injuries they suffered last season, the optics should improve.
Worst case: A season that is bad at a glance and in the deeper analysis. Losing Motum really hurts, and while Bone is excited about his guys -- he has already compared newly eligible swingman Que Johnson to Klay Thompson -- it's hard to imagine how DaVonte Lacy, Royce Woolridge and Co. are going to improve over last season.
College Basketball Reporter
ESPN.com college basketball reporter
Joined ESPN.com in 2009
Writes Bubble Watch