Five Biggest Offseason Storylines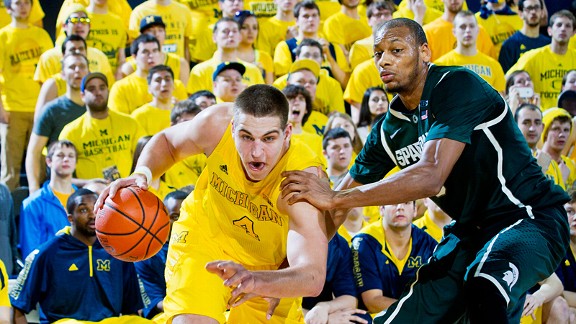 AP Photo/Tony DingMichigan forward Mitch McGary missed all but eight games of the 2013-14 season.
1. State of Euphoria: For most of the past 15 years, Michigan and Michigan State have been on diametrical ends of the college hoops spectrum. The timing is almost too perfect, historically speaking: In 1995, Izzo took over at MSU -- just after the Fab Five finished its culturally impactful, but ultimately disappointing, stretch at Michigan -- where he proceeded to notch his first Final Four in 1999 and win a title one season later. He hasn't failed to miss an NCAA tournament since, racking up six total Final Four appearances and seven Big Ten titles in the process. Meanwhile, Michigan spent most of the late 90s and early aughts at the center of a six-year investigation into program booster Ed Martin that included FBI raids, grand jury indictments, forfeiture of a huge chunk of UM's 1990s games, whole cloth redaction of Chris Webber's (and others') entire collegiate existence … and, in its wake, a totally lifeless, forgotten program.
It took 11 years for the Wolverines to get back to the NCAA tournament, which they did in 2009 -- coach John Beilein's second season with the program. In 2012, Beilein's long-haul rebuilding project culminated in a Big Ten title; last season, the Wolverines pushed Louisville to the brink of a national championship. Now, after MSU's Adreian Payne and Gary Harris and Michigan's Glenn Robinson III and Mitch McGary all eschewed the NBA draft, both teams are deep, talented co-favorites for the 2014 Big Ten title. The Michigan-Michigan State rivalry has never lacked for mutual distaste; this is the natural order of things. But it's been too long since both of the state's marquee basketball programs were this good at the same time. It's going to be fun.
2. Can Indiana be ready in time? You can forgive IU fans for feeling like 2013's Sweet 16 tournament exit was less a disappointing loss than a devastating missed opportunity. Cody Zeller, Victor Oladipo, Jordan Hulls and Christian Watford represented a blend of talent and experience unseen at Indiana in decades; they were the first career 1,000-point scoring quartet in school history, the first outright Big Ten champs in Bloomington since 1993 and one of just 13 teams in college hoops history to land two players (Oladipo and Zeller) in the top five of the same NBA draft. Teams with that sort of résumé don't come around very often.
If the past decade taught Hoosiers fans anything, it's this: Success can't be taken for granted, even at Indiana. Program "momentum" is fleeting, if it even exists at all. Which is why this offseason is so crucial: In a matter of months, IU's coaches and trainers have packed 40 pounds on stud freshman Noah Vonleh's previously skinny 6-foot-9 frame (the tales of which are starting to reach mythological proportions), tried to prep Yogi Ferrell to do just about everything with the ball in his hands on offense (including better 3-point shooting), sought confidence out of 6-foot-8 sophomore Jeremy Hollowell and buried Hanner Mosquera-Perea and Peter Jurkin in years' worth of basic fundamentals -- just to name a few. If it all goes as planned, IU will have one of the more intriguing, dynamic young teams in the country next season. But if the Hoosiers aren't all the way ready, the sting of Syracuse 61, Indiana 50 is bound to linger.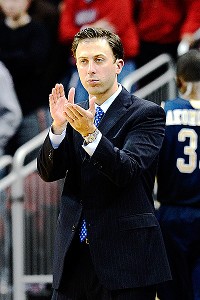 AP Photo/Timothy D. EasleyRichard Pitino will try to turn Minnesota into a Big Ten player.
3. Richard Pitino strikes out on his own: The progeny of Hall of Famer (and reigning national champion coach) Rick Pitino has always looked a bit like his dad, but in recent years -- as Richard has risen to an assistant coach at Florida, then Louisville, then as the head coach at Florida International, then as just a son cheering his dad on at the Final Four, the resemblance has become uncanny. Minnesota fans hope the proverbial apple-fall isn't limited to looks. The younger Pitino, all of 30, has been handed the keys to the Gophers' challenging high-major job, and he's spent his offseason striking all the right notes -- and getting in on all of the right recruits, and celebrating Minnesota's massive and much-needed planned facilities overhaul -- in advance of his first season under the Big Ten klieg.
4. Iowa on the rise? For the first time in nearly a decade, Iowa enters a season requiring no caution to pair with its optimism. After a textbook rebuild (and a victimized chair or two along the way), Fran McCaffery has assembled a deep, solid group of players that missed the tournament thanks to a weak schedule and a slew of close league losses but was the fourth-best defense in the Big Ten on a per-possession basis and finished the season, after a run to the NIT finals, ranked No. 23 in Ken Pomeroy's adjusted efficiency rankings. The one component missing from Iowa's equation is 3-point shooting. McCaffery has spent the offseason drilling for exactly that and seeing loads of promise in Prime Time summer league performances.
5. Still the best? For years -- right around the time the Big Ten was losing its first 10(!) ACC-Big Ten Challenges -- it was fashionable to bash the league's basketball brand. Too slow. Too stodgy. Too boring. Too many tournament whiffs. Many of these charges were fair. They no longer are. The Big Ten is still slower than your average league, but it was a mammoth in 2012-13, when it dominated the hoops consciousness in a way it hasn't in decades. Can it possibly maintain its undisputed top-conference status in 2013-14?
ESPN.com college basketball reporter
Joined ESPN.com in 2009
Writes Bubble Watch
Best-Case/Worst-Case Scenarios
Illinois
Best case: Anyone who expected John Groce's first season to be a rebuilding affair clearly underestimated Groce. Instead, he got a team that mostly quit on former coach Bruce Weber to buy in, and he conjured a system straight out of the weakness-minimizing analytics playbook. If he can do the same this season, Illinois could get back to the tournament despite all that turnover.
Worst case: Losing Brandon Paul, D.J. Richardson and stretch forward Tyler Griffey means a fresh start, but it also probably makes this is the real rebuilding season.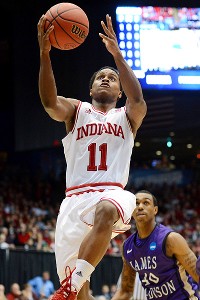 Jason Miller/Getty ImagesPoint guard Yogi Ferrell is the only returning starter for Indiana.
Indiana
Best case: Are people sleeping on the Hoosiers? Indiana has received only tepid top-25 love in the advance projections of the 2013-14 season, but with Ferrell, senior Will Sheehey, NBA talent Vonleh and a panoply of players from loaded back-to-back recruiting classes, few teams in the country have as intriguing a mix of players as Indiana and coach Tom Crean. The best-case ceiling is much higher than the current consensus, that's for sure.
Worst case: But you can also understand the hesitation: Losing four 1,000-point scorers -- two of whom were seniors and two of whom went in the top five of the draft -- is never easy, and Indiana has a long way to go to turn all of its parts into a cohesive, fluid sum.
Iowa
Best case: The Hawkeyes are a gift to tempo-free devotees the world over. Iowa was already very good last season, but its handful of close losses in Big Ten play obscured that fact (and kept them out of the NCAA tournament). This many returners to a team built on brutal defense makes a bullish tournament projection easy. The question is whether the Hawks can go even further -- and make us look extra smart along the way.
Worst case: Worst case is probably a season like last season: very good defensively, not so good offensively, a few nonconference struggles, unable to get over the hump in a handful of close league games, etc. A tournament bid seems like the baseline here, and if Iowa doesn't get there, restlessness will rightfully set in.
Michigan
Best case: The Wolverines were a dominant Louisville second half from winning the national title in 2012-13, and, while losing the national player of the year is never easy, the combination of Beilein's returning studs and his incoming talent could put Michigan right back where it was in April.
Worst case: There are questions, though. Can McGary produce over a whole season without Burke on the ball? Can Robinson evolve into a more perimeter-oriented, versatile scorer? Can Nik Stauskas be a multifaceted threat? Can Spike Albrecht and Zak Irvin keep all these gears in motion? Most of all -- can the Wolverines defend?
Michigan State
Best case: The best case for Tom Izzo teams is almost always a national championship, and with Payne, Harris and Keith Appling leading sophomore comers Denzel Valentine, Kenny Kaminski and Matt Costello, that's the no-brainer read on 2013-14, too.
Worst case: Harris has struggled with injuries. Is Payne's shooting a mirage? What if Appling struggles down the stretch again? Are the sophomores ready? Yeah, sure, these are the holes you try to poke in a deep, physical, talented team when you're coming up with worst-case scenarios, but that doesn't mean they're invalid.
Minnesota
Best case: There is still some talent in Minneapolis, particularly in the Andre Hollins/Austin Hollins backcourt duo, so it's not fair to expect Minnesota to do a total rebuilding crater in Pitino's first season. Still, the best case here is less of the cold "make the tournament" calculus and more about erecting that all-important program foundation.
Worst case: Gophers fans, like most fan bases (even UCLA!) got a bit of a shock when they had to come to terms with the fact that their program wasn't quite as desirable as they thought and that a 30-year-old with a brand name was the best candidate they could lure. If Pitino struggles in his first season, expect a few of these kinds of grumbles right away.
Nebraska
Best case: Tim Miles continues to build toward respectability in Lincoln, aided by international recruit Tai Webster, a new top-of-the-line practice facility and a new downtown Lincoln arena. And, despite all that, "continues to build" is probably the best-case scenario here. Tourney readiness seems a season or two off, at least.
Worst case: It's still deep into the honeymoon period, so the worst case probably means some unforeseen personnel issue. Other than that, Huskers fans can pretty much roll with the punches.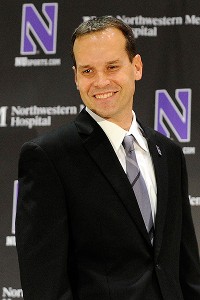 David Banks/USA TODAY SportsChris Collins hopes to duplicate some of Duke's success at NU.
Northwestern
Best case: Speaking of honeymoon periods, when Chris Collins landed top-70 recruit Victor Law this summer -- the program's first top-70 recruit since Evan Eschmeyer in 1993 -- he jump-started his tenure with more enthusiasm than Northwestern fans have felt in a long time. Imagine how they'd react if the JerShon Cobb-Drew Crawford combo combines with a less-raw Alex Olah in the paint to somehow sneak into the NCAA tournament? It's not totally out of the question.
Worst case: Is there such a thing? Maybe if Collins runs Princeton offense and 1-3-1 defense for the entire first half of his first game, then, at halftime, turns heel, announcing his alliance with "new lifetime head coach Bill Carmody"? Is that … that's Carmody's music! Nooo! Other than that, I'm not sure.
Ohio State
Best case: For all of Deshaun Thomas' offensive talents -- and Aaron Craft's timely shot-making in the NCAA tournament -- the Buckeyes streaked late in the season because they locked everybody down, even the high-powered Hoosiers at home. As baselines go, that is a fantastic place to start.
Worst case: Even if the Buckeyes defend like mad (and they almost certainly will), they have to get scoring from somewhere. If LaQuinton Ross' tournament performances were aberrations, and Craft has topped out as a distributor (nevermind as a scorer), then the Bucks could find themselves in plenty of 50-50-ish contests come conference play.
Penn State
Best case: Tim Frazier might not replicate his crazy 2011-12 numbers, when it often felt like he was playing 1-on-5, but having him back and healthy should push Penn State to a level of competitiveness it has displayed only rarely in recent seasons, including down the stretch in 2012-13.
Worst case: For as exciting as Frazier's return is, the Nittany Lions are still a long way from cracking the top half of a brutal conference, let alone getting close to the tournament bubble. That's OK; expectations aren't that high. But if PSU doesn't at least get incrementally better over the course of the season -- if they're just stuck at 10 wins -- it should be considered a major setback.
Purdue
Best case: The Boilermakers had an understandable down season in 2012-13, their first real season in the post-Robbie Hummel/E'Twaun Moore/JaJuan Johnson era. But the dirty secret is that Matt Painter's team -- despite some ugly hoop and a couple of embarrassing losses (see Indiana 97, Purdue 60) -- was still better than most on the defensive end throughout the season. That foundation, plus a big season from potentially dominant center A.J. Hammons, could mean a quick return to the NCAA tournament.
Worst case: It would be unfair to put too much pressure on one player; Hammons is a beast, but fellow sophomores Rapheal Davis and Ronnie Johnson have to hold up their end of the bargain, too. Still, if Hammons delivers on his promise, Purdue could be fearsome. If he doesn't, the worst case is more ugly mediocrity. No thanks.
Wisconsin
Best case: Predicting a best-case/worst-case scenario for Wisconsin feels a little silly, since the Badgers pretty much do the same thing every season: swing motion offense, challenge-and-rebound defense, brutally slow pace, a top-four finish in the Big Ten (which Ryan has never failed to post, by the way), an NCAA tournament bid. Even so, Sam Dekker's presence could give the Badgers some bonafide next-level star power for the first time since Devin Harris and Alando Tucker, and maybe that's what Wisconsin needs to go play deep into March.
Worse case: Fifth place in the Big Ten? Ha. Just kidding. That's not going to happen. That never happens.
ESPN.com college basketball reporter
Joined ESPN.com in 2009
Writes Bubble Watch