Five Biggest Offseason Storylines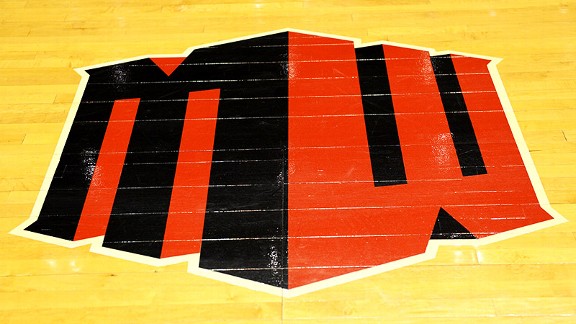 Jake Roth-USA TODAY SportsThe MWC received five tourney bids in 2013 and now adds Utah State and San Jose State to the fold.
1. Bigger: The past three years of conference realignment have been especially tricky for the Mountain West. For a while there -- when Utah and BYU bolted, and San Diego State and Boise State were set to -- it looked as if the MWC was going to have to do something drastic to survive. That would have been a shame; few basketball leagues have been so consistently entertaining in recent years. You know what happened next: The Big East imploded, splintering into a "new" basketball-oriented version and the newly formed American Athletic Conference. Retrenchment soon turned into expansion. Boise and SDSU remained, joined by new members San Jose State and Utah State, and the end result is a league that remains in excellent basketball shape.
2. Better? Perhaps the most appealing feature of the Mountain West in recent seasons has been its relative dearth of bad teams. This was the case in 2010-11, BYU's (and Jimmer Fredette's) final season, but it was more true than ever in 2012-13. Five of the MWC's nine teams ranked in the Pomeroy adjusted efficiency top 60. All five made the NCAA tournament, a ratio you won't find in many other conferences, and just two teams (Fresno State and Nevada) finished with sub.-500 overall records. What will the encore look like? San Diego State lost its two best players in Jamaal Franklin and Chase Tapley; Colorado State waves farewell to five senior starters. San Jose State looks like an immediate doormat, and Nevada and Utah State -- two quality programs in the midst of retooling -- might still be a year away. Given all that, it's hard to imagine the 2013-14 MWC commanding quite as much collective respect as it has in the past. But the league's future seems secure.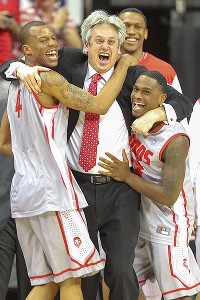 Steve Conner/Icon SMINeal was a very popular assistant among UNM players and many of them campaigned for him to get the head-coaching gig.
3. New Mexico stays the course: UNM brass probably didn't see it coming. After all, they were in the midst of a major renegotiation with coach Steve Alford; Alford had already signed a 10-year term sheet. And then UCLA, a blue blood frustrated by the lack of interest from the Brad Stevens and Shaka Smarts of the world, came knocking, and all of a sudden, the Lobos needed to replace the man who had revitalized their program (albeit with only minimal NCAA tournament success) in the past six seasons.
This could have been an anxious process; you would have forgiven New Mexico for trying to soothe its poachee's wounds with a big-time hire. Instead, it made the easy play, hiring Alford's top assistant, Craig Neal. Neal might not have the name recognition of many, but (A) New Mexico probably wasn't going to do better on the open market, and (B) his hire provided the continuity the program needed. Now guard Kendall Williams and forward Alex Kirk (as well as Cameron Bairstow and Hugh Greenwood) are all back, and UNM looks like the favorite atop the expanded Mountain West. This offseason could have gone a lot worse.
4. Wyoming nightlife alternatives: Last season, Larry Shyatt's second at Wyoming, began with 13 straight wins, including tidy victories over Colorado, Denver and a then-imposing Illinois State. The Cowboys went 7-14 the rest of the way. The dividing line between the first sentence and the second is actually not that hard to pinpoint: In January, senior guard Luke Martinez was charged with aggravated battery and assault stemming from a bar brawl in downtown Laramie, Wyo. Shyatt had to suspend Martinez from the team, and as the Mountain West schedule ramped up, the Cowboys were overwhelmed. This offseason, a pair of Shyatt's players (Derek Cooke Jr. and Charles Hankerson Jr.) have taken steps to avoid any repeat offenses, turning their apartment (which they creatively dubbed "624") into a come-one-come-all team hangout apart from the risks that accompany alcohol and high-profile athletes in public. Wyoming has a lot to replace personnel-wise this season, but it seems well ahead of the chemistry curve.
5. Running in place? UNLV coach Dave Rice has accomplished much in his first two seasons at the program. He has recruited well. He helped one of those recruits (Anthony Bennett) become UNLV's first No. 1 pick in the NBA draft since "Grandmama." He has stuck to his promise to play fast; he has managed to play fast while also playing great defense, which is never an easy thing to pull off. But for all of these positive signs, UNLV's success on the court has been mixed, and the turnover this offseason -- losing seniors Anthony Marshall and Justin Hawkins, would-be senior Mike Moser (who transferred to Oregon) and rising sophomore Katin Reinhardt (who transferred to USC) -- has left gaping holes where a diverse group of talents used to be. Rice has a couple of top-100 players arriving and troubled-but-gifted shooting guard Jelan Kendrick making his way from Indian Hills Community College (after stops at Memphis and Ole Miss). Khem Birch, the No. 1 center (and No. 12-ranked player) in the class of 2011, is the biggest key; if Birch can play up to his potential, UNLV might not miss a beat. Getting these pieces to work in short order is Rice's most pressing challenge. Maintaining program momentum in the years to come will be his most fascinating.
ESPN Staff Writer
Covers college basketball
Joined ESPN.com in 2009
Graduate of Indiana University
Best-Case/Worst-Case Scenarios
Air Force
Best case: Air Force had a nice season last year, finishing strong and even pushing NCAA tournament bubble consideration here and there. But Dave Pilipovich must replace five seniors with a group of now-sophomores and juniors, none of whom earned more than fractional minutes last season. It's a rebuilding year, plain and simple.
Worst case: Not really an issue. Perhaps if AFA falls totally off the map, but that seems unlikely, and even then, when you lose five senior starters from an 18-14 team, what do you expect?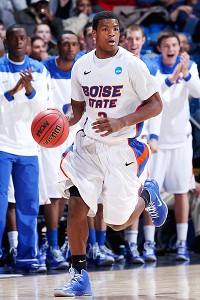 Joe Robbins/Getty ImagesDerrick Marks is part of a loaded BSU team that should contend for the Mountain West title.
Boise State
Best case: The Broncos broke through to the NCAA tournament last season for just the second time since 1994, and they bring back eight of their nine best players, including star volume-scorer Derrick Marks and efficient, versatile wing Anthony Drmic. The tournament is now the baseline goal; a Mountain West title seems within reach.
Worst case: This is always the conundrum with emerging low-turnover teams: We expect them to get better for intangible reasons (cohesion, chemistry, experience), and they often disappoint us. Sometimes teams just are what they are. If Marks doesn't rein things in and be more consistent, that could be Boise's fate.
Colorado State
Best case: Larry Eustachy has a bit of a rebuild on his hands after losing the pack of seniors left over from Tim Miles' tenure, but freshman David Cohn, junior wing Daniel Bejarano and senior forward Gerson Santo represent a solid nucleus moving forward.
Worst case: A tournament bid seems like a stretch even as a best-case scenario here; the worst case would be a drop-off so significant it erases much of the program momentum established in excellent back-to-back seasons.
Fresno State
Best case: Even if the Bulldogs get the Robert Upshaw they recruited (and not the one who posted a 77.2 offensive rating in 22 games last season), this outfit looks at least a year away from the NCAA tournament. Until then, a top-half finish in the conference would suffice.
Worst case: Another sub.-500, so-so season marked primarily by Fresno's inability to shoot (last season's unit made just 39.9 percent of its shots inside the arc, third-worst in the nation).
Nevada
Best case: Barring some surprises from unexpected young players (Cole Huff? Marqueze Coleman?), David Carter's program should close the 16-win gap between its 2011-12 and 2012-13 performances (which had a lot to do with conference strength) but remain far below the tournament bid threshold.
Worst case: It is still just Nevada's second season in the Mountain West, which almost certainly means more .500-ish (or worse) growing pains for at least another season.
New Mexico
Best case: The Final Four? That might be too lofty, considering this team ended last season at the hands of 14-seed Harvard (and lost defensive star Tony Snell to the NBA draft). But Craig Neal's ability to keep his stars around after Steve Alford's departure makes New Mexico the obvious favorite to repeat as Mountain West champ. At that point, any best-case scenario must include a deep tournament run.
Worst case: If Alex Kirk (or even Kendall Williams) doesn't add to his production this season and UNM suffers noticeably from the loss of Snell on the defensive end, the Lobos will undershoot their lofty 2013-14 expectations. The question is by how much.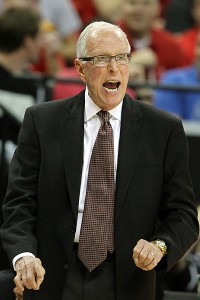 AP Photo/Isaac BrekkenSteve Fisher is aiming for his fifth straight NCAA tourney appearance at San Diego State.
San Diego State
Best case: Steve Fisher has put good teams on the floor in each of the past four seasons, but many fans might not realize how long it took the 11-year veteran to get the Aztecs (and their insane fans) humming. Having lost Jamaal Franklin and Chase Tapley, SDSU's best-case scenario is probably short of the recent success and something more like 2009-10's 25-9 squad -- a group that set the table for the delicious feast to come.
Worst case: Fisher hasn't won fewer than 20 games since 2005, back when San Diego State was almost nonexistent as a basketball entity, and he still has enough talent to avoid that sort of slip this season. Other than that, your guess is as good as mine.
San Jose State
Best case: Merely playing good, hard, sound fundamental basketball while this struggling program acclimates to a more brutal life in the MWC.
Worst case: Playing bad, disengaged, fundamentally unsound basketball while this struggling program acclimates to a more brutal life in the MWC.
UNLV
Best case: With a talent such as Khem Birch taking center stage, and given Dave Rice's relative skill in blending quirky lineups in recent seasons (Rice got Katin Reinhardt 324 shots on a team with the No. 1 draft pick, and Reinhardt transferred anyway), it's silly to limit the Rebels' potential here. A tournament bid is probably a safe enough bet, but beyond that?
Worst case: You know you need talent when you place a bet that you can be the first coach to get through to the well-traveled Jelan Kendrick. Sure, Rice still has some pieces, but a coherent whole? The point is this UNLV season can go any number of ways; I'm not sure there's a bigger boom-or-bust group in the country.
Utah State
Best case: Lest we forget, Utah State ranked No. 57, No. 25 and No. 20 in the season's end Pomeroy rankings from 2009 to '11; the relative struggles of the past two seasons are not Stew Morrill's M.O. If everyone (especially Preston Medlin) stays healthy, the Aggies are well-positioned to compete with the rest of the Mountain West and -- by getting some marquee games on the conference calendar -- even benefit from the exchange.
Worst case: Injuries. Or a MWC campaign that proves too daunting for immediate success. As long as Utah State acquits itself well enough in its first MWC season, its fans should be happy for now.
Wyoming
Best case: Luke Martinez's untimely arrest and suspension squandered a 13-0 start that everyone around Wyoming must surely regret. Now Martinez and rebounding menace Leonard Washington are gone, and unless Larry Nance morphs into his dad this summer, aiming for a tourney bid is probably a little too ambitious.
Worst case: Larry Shyatt has won 41 games in two years at UW, but now he must begin filling out his squad with fresh recruits, which is never particularly easy in Laramie. Losing momentum off the court could affect momentum on it; deep lag must be avoided at all costs.
ESPN Staff Writer
Covers college basketball
Joined ESPN.com in 2009
Graduate of Indiana University
Most Important Player
Air Force: Cameron Michael

The Falcons didn't get to the tournament in 2013, but they made a credible go of it (see: 89-88 senior night win over New Mexico). Problem is, five senior starters led the way. That's why it's so difficult to suss out any one individual player as most important; Dave Pilipovich needs to find more than one. Even so, keep an eye on Michael, who posted a 129.1 offensive rating (and shot 45 percent from 3) in limited minutes as a freshman.
Boise State: Derrick Marks

The Broncos made a surprising run to the NCAA tourney while giving Marks 31.3 percent of their possessions. Marks and seven of Boise's eight other top contributors are back, which is why it's fair to expect the rising junior guard to devour offensive trips down the floor at a similar rate. The key now is consistency. In his final four games against MWC opponents, Marks vacillated between genius (38 points on 13-of-18 shooting against Colorado State) and insanity (14 points on 4-of-22 against San Diego State). To justify such high usage, Marks has to wax those unsightly nights out of his game.
Colorado State: Daniel Bejarano

Former coach Tim Miles built the Rams into a tournament-worthy outfit before he left for Nebraska in 2012, then first-year coach Larry Eustachy took CSU's unlikely wealth of talent and experience and led it to a 26-9 season, a second-place MWC finish and an NCAA tournament win. All five starters (all seniors) are gone, but 6-foot-4 junior Daniel Bejarano is massively intriguing -- a rare rebounding specialist with offensive skills all over the floor.
Fresno State: Robert Upshaw


Rodney Terry hasn't stormed the California recruiting shores quite as much as he probably would have liked when he left Texas to take the job two summers ago, but he did land one impressive hometown product -- four-star forward Robert Upshaw -- last season. The only problem? Upshaw was rough in his first season, which is putting it politely, and was suspended for the Mountain West tournament, in which Fresno ended its season after one game. Upshaw might still be a bit raw, but after a year-plus on campus, it's time to put that 7-foot size to use.
Nevada: Deonte Burton

The losses of Olek Czyz and Dario Hunt hurt Nevada last season, but though the drop-off was ugly (from No. 111 in the Pomeroy rankings to No. 181), it wasn't quite as bad as the 16-win gap between the two seasons might suggest. Burton has been a constant throughout, although he might need to elevate his already solid production if Nevada wants to get back above .500.
New Mexico: Kendall Williams

Forward Alex Kirk might be the best Lobo, but Williams is the most important. That's not only because UNM lost defensive stopper Tony Snell to the NBA draft; it's also because Williams (whose 44 points on 10-of-13 from 3 at Colorado State on Feb. 23 was arguably the best offensive performance of the 2012-13 season) still feels like he has more talent left to mine. Given how solid he's been so far, that's saying something.
San Diego State: Winston Shepard

Losing Jamaal Franklin (to the NBA) and Chase Tapley (to graduation) simultaneously robs San Diego State of one of the most versatile players in the country (Franklin) and its most efficient source of offense (Tapley). It won't be easy to recover. If Shepard can unleash what made scouts swoon when he arrived last year -- he was the No. 14-ranked small forward in the 2012 class but struggled mightily as a freshman -- that recovery won't feel like withdrawal.
San Jose State: Chris Cunningham

Jumping to the Mountain West is not going to be easy for the Spartans, who finished 9-20 (and ranked a dreadful No. 315 in Pomeroy's adjusted efficiency rankings) in 2012-13. Whether Cunningham, a former Santa Clara transfer, can replicate last season's 10.7 points and 9.0 rebounds per game is one of several open questions here.
UNLV: Khem Birch

Undoubtedly the team's most talented player at this point, Birch will be asked to fill the role he has seemed to want since his short-fuse transfer from Pittsburgh last fall: star. There were flashes of massive talent in Birch's limited minutes last season, including a 12.1 block rate. But he can't be relegated to a rim-protecting rebound-and-putback role any longer.
Utah State: Preston Medlin

The Aggies have been ravaged by injuries lately -- Kyisean Reed went down at a crucial time last season, and sharpshooter Spencer Butterfield will be shaking off a hip injury for much of next season, by the sounds of it -- but none was more immediately devastating than preseason WAC player of the year Preston Medlin's season-ending broken wrist. As a sophomore, Medlin shot 42.8 percent from 3 and 57.7 percent inside the arc. When he's right, he's nigh unguardable -- and perhaps good enough to keep the Aggies competitive in their new league from the jump.
Wyoming: Larry Nance Jr.

Wyoming's deep offseason turnover included its top two contributors from last season, seniors Derrious Gilmore and Leonard Washington -- one of the best rebounders in the country. That makes Larry Nance Jr. (son of former NBA star Larry Nance, aka "The High-Ayatolla of Slamola," which might be the greatest nickname ever) hugely important, not only on the defensive glass but in the offensive paint, too.
Fraschilla: MWC Power Rankings
Coming off its most productive season ever with five teams earning bids to the NCAA tournament, the Mountain West Conference still finds itself in a state of flux with Utah State and San Jose State being added as new members.

The Aggies' arrival will certainly strengthen what has become one of the best conferences in the country. They should be in immediate contention to win a league title, along with UNLV, San Diego State and Boise State. But for now New Mexico, with its depth and experience, looks to be the favorite to win the conference championship in 2013-14.
1. New Mexico
All you need to know about the Lobos' point guard, Kendall Williams, is that he was voted the Mountain West Player of the Year over UNLV's Anthony Bennett, the No. 1 pick in June's NBA draft. He and three other starters return for first-year coach Craig Neal from a team that won 29 games a season ago.
To see how Fraschilla ranks the rest of the MWC, read his Insider predictions here.
Five Freshmen To Watch
Dakarai Allen, San Diego State: No one player is going to make SDSU fans forget about Jamaal Franklin any time soon; expecting otherwise is silly. But when you hear scouts talk about Allen's length, motor and already-elite passing skills (as well as his otherwise-raw offensive skill set), it's hard to keep visions of 'Maal So Hard 2.0 from dancing in your head.
David Cohn, Colorado State: A star in the Chicago suburbs all four years of his prep career, Cohn is a great shooter and reliable ball handler/playmaker, but scouts have dinged him for his purported lack of athleticism and foot speed. "In a way I think it's a blessing," Cohn told the Chicago Tribune in February. "It has always been an edge I've had. I've been called a skinny white kid. I don't look like I can dunk a basketball. I don't look like I can dribble past people. I just look like I can shoot." I have a feeling Colorado State fans -- heck, college basketball fans -- are going to like David Cohn.
Cullen Neal, New Mexico: It's always tempting to assume the coach's kid is on the team for reasons unrelated to his talent; that stereotype no more applies to Neal than it does to Creighton's Doug McDermott. A crafty point guard with a well-rounded game, Neal was committed to Saint Mary's before he tore up the local Albuquerque scene as a senior and before his dad's elevation to the Lobos' top job spurred a switch to New Mexico. With point guard Hugh Greenwood around, Neal won't be asked to do much right away, but he's a good enough shooter to make an impact off the ball in one of UNM's key areas of need.
Kendall Smith, UNLV: Whether Christian Wood and Khem Birch can hold down the Rebels' frontcourt will rely in large part on how effective Dave Rice's backcourt will be, which is arguably the biggest question the 2013-14 Rebels have to answer. The No. 21-ranked point guard in the nation is a decent place to start. Smith's greatest skills are his speed and ballhandling, but he has always used those skills to score, not distribute. Can he adjust in time to run UNLV's offense?
Christian Wood, UNLV: The Rebs are filling a score of holes this offseason, none more gaping than the one left by No. 1 NBA draft pick Anthony Bennett. Wood is a 6-foot-10, sinewy wing with a reliable 3-point jumper, which makes him a decent analogue to the inside-outside threat Bennett posed last season. Make no mistake: Wood is not Bennett; he has to improve his game in almost every way from the 3-point line in. But he is tall, rangy and raw. At the very least, he should a fun watch in the open floor.