Top 50 coaches: No. 17 Mark Few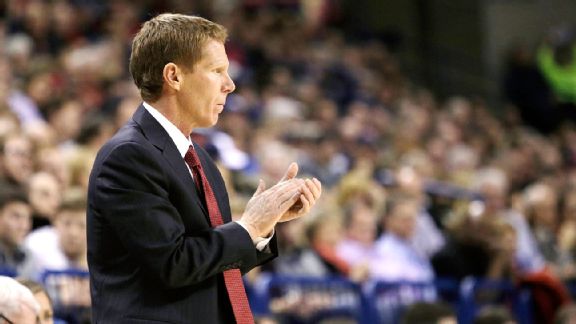 AP Photo/Young KwakMark Few has never left Gonzaga, where he started his career as a graduate assistant in 1989.
Editor's note: Over the next five weeks, we will reveal the top 50 coaches in college basketball as decided by our ESPN Forecast panel. Today we unveil No. 17: Gonzaga's Mark Few. On Friday, we release No. 16.
---
The 2009-10 season, when Butler was one banked-out heave from the most storybook national title maybe ever, was Brad Stevens' third as a head coach. One of the many accomplishments that accompanied that run -- one rightly mentioned far less than "nearly beat Coach K in the national title game" -- was Stevens' overall wins tally. Earlier that season, when Butler beat Siena in the BracketBusters (pour out your liquor now), Stevens tied the record for most wins by a coach in his first three years.
Guess who held the record when Stevens broke it?
More from ESPN.com

It seems every year speculation mounts about Mark Few leaving Gonzaga, but the reasons to stay in Spokane are too many, Seth Greenberg writes. Blog

If you guessed Mark Few ... well, actually, you get no points, because this article is about Mark Few, so the answer was probably pretty obvious. (If you guessed Mark Few and then-Nevada coach Mark Fox, who tied it in 2007, we'll be more impressed.) Anyway, it's true: Few set that record back in 2002. It stood unbroken for nearly a decade. When it finally was, it took the current coach of the Boston Celtics, nothing less than a once-in-a-generation coaching talent, to do so.
Of course, that's just one of the many mind-blowing statistics about Few's 15-year tenure at Gonzaga. Here's another: Despite playing in a true mid-major conference that has only occasionally sent more than one team to the NCAA tournament, Few has never missed the Dance once in his 15 years. Not once! Here's another: In 10 of those 15 seasons, Gonzaga won the regular season and conference tournament titles. Here's another: If the Bulldogs hadn't missed their final four shots at San Francisco on Feb. 18, 2012, they wouldn't have lost 66-65, they would have tied Saint Mary's at 14-2 in league play, and we'd be able to say that Few had won or shared the last 14 West Coast Conference titles. Instead, we'll just say this: 13 out of 14 ain't bad.
In 2012-13, Gonzaga entered the NCAA tournament seeded No. 1 overall for the first time in school history. There was a lot of weird, silly whining by fans of other top schools about this seed, and Kelly Olynyk and friends didn't exactly silence the haters in the bracket. But in Spokane, Wash., the No. 1 seed was a testament to the work Few had done for almost two decades. The 1990s' most lovable Cinderella was a true hegemon now, a yearly force to be reckoned with.
Last season's team lost Olynyk, forward Elias Harris (who entered the program with huge promise, stumbled in his sophomore and junior seasons, and had his best year as a senior) and swingman Mike Hart (the best glue guy, with the nation's highest offensive rating) to the NBA draft and/or graduation. Sam Dower filled in somewhat capably, but it took until March for 7-foot center Przemek Karnowski's ability to shine through. And even so, the 2013-14 team won 29 games, ranked in the nation's top 20 in efficiency defense, won the WCC regular season and conference tournament titles (ho-hum) and retained most of its attack for the season to come.
Is there a more intriguing 2014-15 team than the Zags? Kevin Pangos and Gary Bell in the backcourt. A blooming (and booming) Karnowski up front. Kyle Dranginis on the wing. And Kyle Wiltjer -- the seventh man on Kentucky's 2011-12 national title team, and an outside-in forward custom-made for Few's spread sets -- joining up. That's a potentially spectacular offensive team, with a defense that should be awfully good, too.
So, yeah, Gonzaga will be good, because Gonzaga is always good, because Few is Gonzaga's coach. Such is the defining tautology of Zags hoops. Fifteen years ago, Few took over a darling and turned it into a monster, and he isn't slowing down anytime soon.
-- Eamonn Brennan
---
Previous: Nos. 50-25 » No. 24: McKillop » No. 23: McDermott » No. 22: Amaker »
• No. 21: Brown » No. 20: Matta » No. 19: Wright » No. 18: Fisher »
Full Top 50 Coaches List
No. 50: Tie -- Randy Bennett, Saint Mary's; Scott Drew, Baylor
No. 49: Richard Pitino, Minnesota
No. 48: Stew Morrill, Utah State
No. 47: Bob Hoffman, Mercer
No. 46: John Thompson III, Georgetown
No. 45: Mike Brey, Notre Dame
No. 44: Rick Barnes, Texas
No. 43: Chris Mack, Xavier
No. 42: Josh Pastner, Memphis
No. 41: Ed Cooley, Providence
No. 40: Bruce Weber, Kansas State
No. 39: Tubby Smith, Texas Tech
No. 38: Buzz Williams, Virginia Tech
No. 37: Rick Byrd, Belmont
No. 36: Steve Alford, UCLA
No. 35: Phil Martelli, Saint Joseph's
No. 34: Tad Boyle, Colorado
No. 33: Fran McCaffery, Iowa
No. 32: Tim Miles, Nebraska
No. 31: Lon Kruger, Oklahoma
No. 30: Bob Huggins, West Virginia
No. 29: Jim Crews, Saint Louis
No. 28: Jim Larranaga, Miami
No. 27: Mick Cronin, Cincinnati
No. 26: Archie Miller, Dayton
No. 25: Jamie Dixon, Pittsburgh
No. 24: Bob McKillop, Davidson
No. 23: Greg McDermott, Creighton
No. 22: Tommy Amaker, Harvard
No. 21: Larry Brown, SMU
No. 20: Thad Matta, Ohio State
No. 19: Jay Wright, Villanova
No. 18: Steve Fisher, San Diego State
No. 17: Mark Few, Gonzaga
COACHES WHO JUST MISSED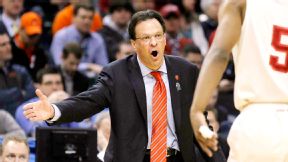 AP Photo/Kiichiro Sato
Some big names missed our list of top 50 coaches. Here are the 25 names who just missed, listed in alphabetical order.
Dana Altman, Oregon
Tim Cluess, Iona
Tom Crean, Indiana
Keith Dambrot, Akron
Johnny Dawkins, Stanford
Fran Dunphy, Temple
Leonard Hamilton, Florida State
Ben Jacobson, Northern Iowa
Derek Kellogg, Massachusetts
Larry Krystkowiak, Utah
Mike Lonergan, George Washington
Cuonzo Martin, California
Chris Mooney, Richmond
Craig Neal, New Mexico
Matt Painter, Purdue
Dave Paulsen, Bucknell
Bruce Pearl, Auburn
Steve Prohm, Murray State
Dave Rose, BYU
Herb Sendek, Arizona State
Kevin Stallings, Vanderbilt
Andy Toole, Robert Morris
Brad Underwood, Stephen F. Austin
Brian Wardle, Wisconsin-Green Bay
Michael White, Louisiana Tech
HOW DOES IT WORK?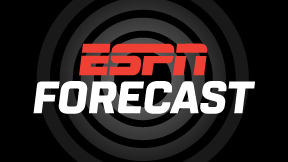 What is ESPN Forecast?
Our engine for creating more accurate sports predictions and opinion.
Does it work?
Yes. This is the future of forecasting, as demonstrated by the 2012 presidential election and Fortune 500 companies.
How does it work?
Our approach, in a nutshell, is to create a diverse panel of people with college basketball expertise and aggregate predictions and opinions. For ESPN Forecast, we have a panel of 45 members that collectively possess vast college basketball experience, knowledge and perspective.
Why does it work?
This panel has a collective intelligence that's greater than any individual member's knowledge and sharper than that of any single statistical system.
Diversity is a key factor in creating accurate predictions and opinion. The wisdom of the crowd comes from having diverse views that emerge from independent thinking.
The ESPN Forecast panel is a diverse mix of contributors from across the spectrum.
The result?
More accurate, insightful forecasts and views.
This is the wisdom of the crowd in action. This is ESPN Forecast.
COACHING CENTRAL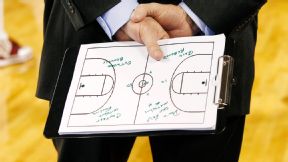 AP Photo/Mel Evans