Top 50 coaches: No. 19 Jay Wright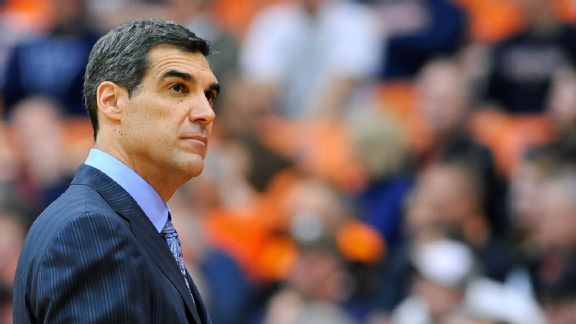 Rich Barnes/USA TODAY SportsJay Wright has taken the Villanova Wildcats to the NCAA tournament in nine of the past 10 seasons.
Editor's note: Over the next five weeks, we will reveal the top 50 coaches in college basketball as decided by our ESPN Forecast panel. Today we unveil No. 19: Villanova's Jay Wright. On Wednesday, we release No. 18.
---
On Monday, Thad Matta's spot at No. 20 came with another reminder of the guidelines voters were provided in this ranking system, and the importance of recent results in the ESPN Forecast panel's voting. In short, it was impossible to look at Matta's spot and not think he would have been much higher -- maybe even top 10 -- if not for Ohio State's subpar-for-him 2013-14 season.
More from ESPN.com

Don't let the expensive suits fool you. Jay Wright only cares about what his team thinks of him, Dana O'Neil writes. Blog »
Jay Wright is a similar case, but in the exact opposite way. For Wright, 2013-14 was all about redemption.
Last December, in the midst of Villanova's impressive 11-0 start, Wright sat down with ESPN's Dana O'Neil for what she called "a fascinating and introspective conversation, offering a rarely seen glimpse of the complications of success and the lessons of failure." Wright had seen both: After landing the Wildcats job as a hungry up-and-comer at Hofstra, Wright launched to textbook success at Villanova. By the fourth year of his rebuild, the Wildcats were in the Sweet Sixteen. A year later, they won a share of a loaded Big East and got to the Elite Eight. From there, Wright's work was steady: The Wildcats won in their league, they recruited good classes, they always went to the tournament. Rinse, repeat.
But then things got weird. The talented class Wright lured in 2009 -- Maalik Wayns, Dominic Cheek, Mouphtaou Yarou, Maurice Sutton, Isaiah Armwood -- were freshmen on the Scottie Reynolds-led No. 2 seed team in 2009-10. The future seemed bright. But in the next three years, that group of players (and the upperclassmen already on the team) would never come together. In 2010-11, Villanova went 21-12 and lost its last six games. In 2011-12, an apparently gifted group somehow found a way to lose 19 games. (Allowing nearly a point per trip for the season didn't help.) Wayns left for the NBA that spring and promptly went undrafted (though he has managed to stay on rosters for most of his career thus far). In 2012-13, a very different type of team -- one built on the backs of workmanlike tweeners JayVaughn Pinkston, Darrun Hilliard and James Bell -- played top-25 efficiency defense and eeked its way into the NCAA tournament, where it lost to North Carolina in its first game.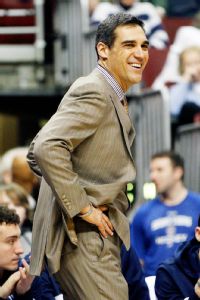 AP Photo/Chris SzagolaWright played at Bucknell and immediately began his coaching career after graduating.
That was the start of the turnaround. The 2013-14 season was the breakthrough. After that 11-0 start, Villanova would lose just three games in the remainder of the regular season. One came at the hands of Syracuse in late December. The other two losses were to Creighton, and if you remember them, it's because Doug McDermott & Co. played 80 minutes of the most insane offensive basketball any of us have ever seen. But just as important to recall is that Villanova didn't lose a game to anyone else all season -- until the postseason (a Big East tournament loss to Seton Hall before an NCAA tourney loss to eventual national champ UConn).
Despite the ending, 2013-14 was a stunning reversal from the disengaged, dispirited group of the two seasons prior, and it reestablished both Wright and his program. That conversation with Dana was fascinating, because Wright could put his finger on what went wrong:
"You get it going. You're so excited and so into it and you think it's never going to get old," Wright said. "And then you keep it going for a while and it does get old. All of the media, the alumni, the attention, you start thinking, 'Oh man, we have to do this again?' You get tired and lazy, but you never think it's going to go away, so you don't worry. And then it goes away."
It may have been for the best. Wright's team in 2014-15 will feature almost everyone (save Bell) from last season's success, plus two prototypical Wright prospects (versatile small forward Mikal Bridges and 6-foot-2 point guard Phil Booth). Circa 2010, Wright might have tried to make an even bigger recruiting splash, to stockpile elite talent in place of reliable veterans. Instead, he is merely filling gaps. It's the sign of a more comfortable coach, one whose recent nosedive informs his wiser, more centered approach. Two years ago, Villanova looked lost. Now its coach is exactly where he belongs.
-- Eamonn Brennan
---
Previous: Nos. 50-25 » No. 24: McKillop » No. 23: McDermott » No. 22: Amaker »
• No. 21: Brown » No. 20: Matta »
Full Top 50 Coaches List
No. 50: Tie -- Randy Bennett, Saint Mary's; Scott Drew, Baylor
No. 49: Richard Pitino, Minnesota
No. 48: Stew Morrill, Utah State
No. 47: Bob Hoffman, Mercer
No. 46: John Thompson III, Georgetown
No. 45: Mike Brey, Notre Dame
No. 44: Rick Barnes, Texas
No. 43: Chris Mack, Xavier
No. 42: Josh Pastner, Memphis
No. 41: Ed Cooley, Providence
No. 40: Bruce Weber, Kansas State
No. 39: Tubby Smith, Texas Tech
No. 38: Buzz Williams, Virginia Tech
No. 37: Rick Byrd, Belmont
No. 36: Steve Alford, UCLA
No. 35: Phil Martelli, Saint Joseph's
No. 34: Tad Boyle, Colorado
No. 33: Fran McCaffery, Iowa
No. 32: Tim Miles, Nebraska
No. 31: Lon Kruger, Oklahoma
No. 30: Bob Huggins, West Virginia
No. 29: Jim Crews, Saint Louis
No. 28: Jim Larranaga, Miami
No. 27: Mick Cronin, Cincinnati
No. 26: Archie Miller, Dayton
No. 25: Jamie Dixon, Pittsburgh
No. 24: Bob McKillop, Davidson
No. 23: Greg McDermott, Creighton
No. 22: Tommy Amaker, Harvard
No. 21: Larry Brown, SMU
No. 20: Thad Matta, Ohio State
No. 19: Jay Wright, Villanova
COACHES WHO JUST MISSED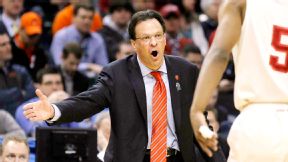 AP Photo/Kiichiro Sato
Some big names missed our list of top 50 coaches. Here are the 25 names who just missed, listed in alphabetical order.
Dana Altman, Oregon
Tim Cluess, Iona
Tom Crean, Indiana
Keith Dambrot, Akron
Johnny Dawkins, Stanford
Fran Dunphy, Temple
Leonard Hamilton, Florida State
Ben Jacobson, Northern Iowa
Derek Kellogg, Massachusetts
Larry Krystkowiak, Utah
Mike Lonergan, George Washington
Cuonzo Martin, California
Chris Mooney, Richmond
Craig Neal, New Mexico
Matt Painter, Purdue
Dave Paulsen, Bucknell
Bruce Pearl, Auburn
Steve Prohm, Murray State
Dave Rose, BYU
Herb Sendek, Arizona State
Kevin Stallings, Vanderbilt
Andy Toole, Robert Morris
Brad Underwood, Stephen F. Austin
Brian Wardle, Wisconsin-Green Bay
Michael White, Louisiana Tech
HOW DOES IT WORK?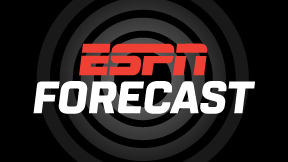 What is ESPN Forecast?
Our engine for creating more accurate sports predictions and opinion.
Does it work?
Yes. This is the future of forecasting, as demonstrated by the 2012 presidential election and Fortune 500 companies.
How does it work?
Our approach, in a nutshell, is to create a diverse panel of people with college basketball expertise and aggregate predictions and opinions. For ESPN Forecast, we have a panel of 45 members that collectively possess vast college basketball experience, knowledge and perspective.
Why does it work?
This panel has a collective intelligence that's greater than any individual member's knowledge and sharper than that of any single statistical system.
Diversity is a key factor in creating accurate predictions and opinion. The wisdom of the crowd comes from having diverse views that emerge from independent thinking.
The ESPN Forecast panel is a diverse mix of contributors from across the spectrum.
The result?
More accurate, insightful forecasts and views.
This is the wisdom of the crowd in action. This is ESPN Forecast.
COACHING CENTRAL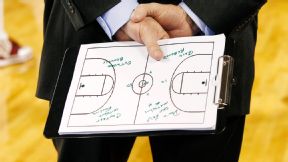 AP Photo/Mel Evans