Top 50 coaches: No. 5 Rick Pitino
Editor's note: Over five weeks, we will reveal the top 50 coaches in college basketball as decided by our ESPN Forecast panel. Today we unveil No. 5: Louisville's Rick Pitino. On Tuesday, we release No. 4.
---
I am a firm believer in the aesthetics of basketball. Playing beautifully is a great priority in soccer -- fans laud creative losers and bemoan boring winners -- in a way that almost no American sport can really account for. Competition is carved into the national DNA. We'd always rather we just win. But basketball comes the closest. We want to see basketball teams win, sure, but we'd vastly prefer they did so in a method that thrills. Or at least I do.
There are many different ways to satisfy this criteria. Up-tempo pace. Athleticism. Great guard play. Smart passing, intuitive movement, an interesting offensive system. Defending well without fouling. Coaches recruit players and insert them into a system that fits, and so are responsible for both philosophy and execution. But in the end, it's the players who express the style on the floor. Players make a game fun to watch.
With one exception: Louisville coach Rick Pitino. Rick Pitino is really fun to watch.
That was the first thing that came to mind when it came time to add Pitino's entry to the ESPN Forecast Top 50 list, though that's not why he's here. The voting -- which asked almost 50 people from across ESPN to score coaches based on current, not lifetime, performance -- could be interpreted differently by each voter, of course. Disclaimer, right? But it's safe to say the wisdom of the crowd didn't consider Pitino's merits as a showman when it posted him at No. 5 in the country.
More from ESPN.com

Rick Pitino isn't just a good coach. His teams are also fun to watch. He's No. 5 in our top 50 countdown, writes Eamonn Brennan. Blog


Rick Pitino wins games, but he also develops players. That's a major part of his success, writes C.L. Brown. Blog

• Recruiting strategy


• Nation blog
Rather, the voters no doubt considered the obvious actual merits of the job Pitino is doing at Louisville. The Cardinals are now one season removed from that 2012-13 national title, which was a remarkable coaching job. The Cardinals, heavily tipped for the title after that 2011-12 Final Four run, lost to Duke in November. They lost three times in late January, and again Feb. 9, at Notre Dame, in a magical five-overtime disaster. And that was it: From Feb. 14 on, Louisville would win every single game it played -- seven Big East games, three conference tournament games, and all six of its games in the tournament. On March 31, backup guard Kevin Ware suffered one of the more horrifying hoops injuries ever at the regional final against Duke; Ware's teammates cried when they saw him. They won 85-63, anyway.
That national title was Pitino's second, which is almost hard to believe, given how good he has been and how long he has been around. Stints in the NBA surely hurt his long-term career accomplishments. There's a good case to be made that if Pitino hadn't left for the NBA three times -- as a Knicks assistant, a Knicks head coach, and in that ill-fated Boston Celtics role in the late 1990s -- he would be a genuine threat to one day break Mike Krzyzewski's all-time wins total. (Pitino already has more than 600, he averages 24 wins a year, he was in the NBA for eight seasons, and at age 61 he's five years younger than Coach K. Math!) In this alternative scenario, Pitino might have another national title or two, especially considering how good his teams were at Kentucky when he decided he wanted the Celtics' challenge instead. He could have stayed there, and kept winning, forever.
It's easy to forget, given the easy dominance of the past few seasons, that Pitino's Louisville tenure has had its fair share of downs. There have been a couple of mediocre seasons, one missed NCAA tournament, some stutter-steps along the way. As recently as 2009-10, Louisville was a No. 9 seed that finished 20-13 with no wins in the Big East or NCAA tournament. And there was that bafflingly weird extortion fiasco to boot.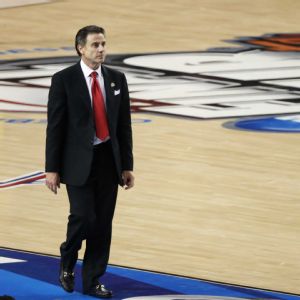 Daniel Shirey/USA TODAY SportsRick Pitino can appear calm, but give it a minute and the arms might start flailing. Then give it a few seconds and the calm returns.
But it is all easy to forget and so, in the wake of two more brilliant seasons, has been duly forgotten. Pitino's 2013-14 team had as good a chance as any since the Joakim Noah-era Florida Gators to win back-to-back national titles: The Cardinals got another player-of-the-year-level performance from guard Russ Smith -- as mercurial and brilliant and lovable a player as Pitino has ever coached, and he coached Antoine Walker -- and another campaign of top-five efficiency defense. That was the fourth year in a row that Pitino's team ended the season ranked in the top five defensively, and the sixth time in the past seven years. His press at Kentucky made him famous. He's still coaching great defense. He has made Louisville into a yearly contender because of it.
Those are the things my fellow ESPN Forecast voters surely considered when weighing their scores. None of that really gets across the sheer enjoyment of sitting across the court from Pitino when he's coaching. To do so is to witness a cycle between manic anxiety and controlled genius. There are bug-eyed expressions and stomps and sarcastic claps. Arms fly and fingers point -- Accusations! Pleading! And then Pitino will pull it back in, cross his arms, and do that half-stare thing people do when they're deep in thought. All of this happens in seconds. It probably happens 25 times a game.
What's especially interesting about watching Pitino is how much of his performance is in the service of his team, particularly his team's defense. He isn't just blindly clapping along. He is almost always communicating something relevant and meaningful about defense to his players while on the court. The past two seasons, and especially in 2012-13, the Cardinals were so good on that end of the floor, so in tune, that Pitino could spring random traps on opposing ball handlers with the wave of a hand. You never knew when they were coming -- maybe once or twice a half. But they usually worked.
It's a strange thing. Usually, we enjoy coaches' styles indirectly. We like the kinds of teams they put together, the way those teams express themselves on the court, the way systems produce variations of the game. Pitino, even at 61, has those kinds of teams. But he is often as much fun to watch as his teams. You wouldn't want one without the other.
In basketball, people sometimes say aesthetics can get in the way of winning. Style and substance are supposed to be waging an eternal conflict. Do you want to look good? Or do you want to win?
Pitino has always preferred the third way: all of the above.
-- Eamonn Brennan
---
Previous: Nos. 50-25 » No. 24: McKillop » No. 23: McDermott » No. 22: Amaker »
• No. 21: Brown » No. 20: Matta » No. 19: Wright » No. 18: Fisher » No. 17: Few »
• No. 16: Williams » No. 15: Hoiberg » No. 14: Bennett » No. 13: Smart »
• No. 12: Boeheim » No. 11: Miller » No. 10: Ollie » No. 9: Beilein » No. 8: Marshall »
• No. 7: Ryan » No. 6 Self »
Full Top 50 Coaches List
No. 50: Tie -- Randy Bennett, Saint Mary's; Scott Drew, Baylor
No. 49: Richard Pitino, Minnesota
No. 48: Stew Morrill, Utah State
No. 47: Bob Hoffman, Mercer
No. 46: John Thompson III, Georgetown
No. 45: Mike Brey, Notre Dame
No. 44: Rick Barnes, Texas
No. 43: Chris Mack, Xavier
No. 42: Josh Pastner, Memphis
No. 41: Ed Cooley, Providence
No. 40: Bruce Weber, Kansas State
No. 39: Tubby Smith, Texas Tech
No. 38: Buzz Williams, Virginia Tech
No. 37: Rick Byrd, Belmont
No. 36: Steve Alford, UCLA
No. 35: Phil Martelli, Saint Joseph's
No. 34: Tad Boyle, Colorado
No. 33: Fran McCaffery, Iowa
No. 32: Tim Miles, Nebraska
No. 31: Lon Kruger, Oklahoma
No. 30: Bob Huggins, West Virginia
No. 29: Jim Crews, Saint Louis
No. 28: Jim Larranaga, Miami
No. 27: Mick Cronin, Cincinnati
No. 26: Archie Miller, Dayton
No. 25: Jamie Dixon, Pittsburgh
No. 24: Bob McKillop, Davidson
No. 23: Greg McDermott, Creighton
No. 22: Tommy Amaker, Harvard
No. 21: Larry Brown, SMU
No. 20: Thad Matta, Ohio State
No. 19: Jay Wright, Villanova
No. 18: Steve Fisher, San Diego State
No. 17: Mark Few, Gonzaga
No. 16: Roy Williams, North Carolina
No. 15: Fred Hoiberg, Iowa State
No. 14: Tony Bennett, Virginia
No. 13: Shaka Smart, VCU
No. 12: Jim Boeheim, Syracuse
No. 11: Sean Miller, Arizona
No. 10: Kevin Ollie, UConn
No. 9: John Beilein, Michigan
No. 8: Gregg Marshall, Wichita State
No. 7: Bo Ryan, Wisconsin
No. 6: Bill Self, Kansas
No. 5: Rick Pitino, Louisville
COACHES WHO JUST MISSED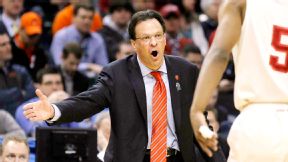 AP Photo/Kiichiro Sato
Some big names missed our list of top 50 coaches. Here are the 25 names who just missed, listed in alphabetical order.
Dana Altman, Oregon
Tim Cluess, Iona
Tom Crean, Indiana
Keith Dambrot, Akron
Johnny Dawkins, Stanford
Fran Dunphy, Temple
Leonard Hamilton, Florida State
Ben Jacobson, Northern Iowa
Derek Kellogg, Massachusetts
Larry Krystkowiak, Utah
Mike Lonergan, George Washington
Cuonzo Martin, California
Chris Mooney, Richmond
Craig Neal, New Mexico
Matt Painter, Purdue
Dave Paulsen, Bucknell
Bruce Pearl, Auburn
Steve Prohm, Murray State
Dave Rose, BYU
Herb Sendek, Arizona State
Kevin Stallings, Vanderbilt
Andy Toole, Robert Morris
Brad Underwood, Stephen F. Austin
Brian Wardle, Wisconsin-Green Bay
Michael White, Louisiana Tech
HOW DOES IT WORK?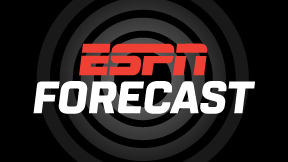 What is ESPN Forecast?
Our engine for creating more accurate sports predictions and opinion.
Does it work?
Yes. This is the future of forecasting, as demonstrated by the 2012 presidential election and Fortune 500 companies.
How does it work?
Our approach, in a nutshell, is to create a diverse panel of people with college basketball expertise and aggregate predictions and opinions. For ESPN Forecast, we have a panel of 45 members that collectively possess vast college basketball experience, knowledge and perspective.
Why does it work?
This panel has a collective intelligence that's greater than any individual member's knowledge and sharper than that of any single statistical system.
Diversity is a key factor in creating accurate predictions and opinion. The wisdom of the crowd comes from having diverse views that emerge from independent thinking.
The ESPN Forecast panel is a diverse mix of contributors from across the spectrum.
The result?
More accurate, insightful forecasts and views.
This is the wisdom of the crowd in action. This is ESPN Forecast.
COACHING CENTRAL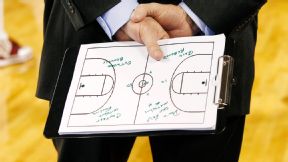 AP Photo/Mel Evans