Top 50 coaches: No. 6 Bill Self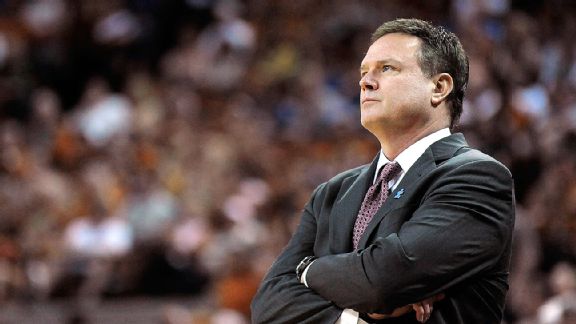 Stacy Revere/Getty ImagesBill Self coached at Oral Roberts, Tulsa and Illinois before landing at Kansas in 2003.
Editor's note: Over five weeks, we will reveal the top 50 coaches in college basketball as decided by our ESPN Forecast panel. Today we unveil No.6: Kansas' Bill Self. On Monday, we release No. 5.
---
Have you ever actually read the "Rules of Basket Ball"? Everyone is basically aware of basketball's origin story, the same way everyone can quote at least the first few lines of the Declaration of Independence. But the 13 tenets James Naismith outlined at the YMCA International Training School in Springfield, Massachusetts, in 1891 are fascinating to actually read.
Naismith's distaste for physicality sticks out. It was an explicit part of his mission: His superior at the Springfield YMCA wanted Naismith to create an indoor "athletic distraction" to keep rowdy students in shape, and he wanted to "make it fair for all players, and not too rough." You can hear that voice -- the voice of a gym teacher who needed his students to blow off steam without killing each other -- in the way the rules are written.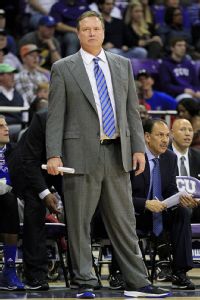 Ray Carlin/Icon SMISelf reached 300 wins quicker than any other coach in Kansas basketball history.
It's often easy to forget that the man who birthed this game unto the world was basically a physical education teacher. It's also easy, given the good doctor's legacy, to forget a more mundane tie: The inventor of the sport was also the first men's basketball coach at Kansas University.
The second coach at Kansas wasn't too bad, either: Forrest Clare "Phog" Allen, whose name adorns Kansas' renowned fieldhouse, was to college basketball what Abraham was to the Old Testament. He played under Naismith. He led the Jayhawks from 1919 to 1956. He coached Adolph Rupp and Dean Smith (and lesser-known Hall of Famers Ralph Miller and Dutch Lonborg). He recruited Wilt Chamberlain. He created the National Association of Basketball Coaches, which eventually created the NCAA tournament.
I write all this because it is an important preface to what follows: By the time his career is over, we might consider Bill Self the best coach in University of Kansas basketball history.
That's a bonkers statement to make, considering Self's KU ancestors. Fortunately, his tenure at the school has been equally bonkers.
The only season in which Self hasn't won or shared the Big 12 title at Kansas was his first one, when his team finished tied for second -- slacker -- and ended the year in the Elite Eight. That was 2003-04. Every year since, Self's Jayhawks have finished first or tied for first in the Big 12.
This is insane in and of itself. The only equivalent we've seen in recent years was Gonzaga's decade-plus run of championships in the West Coast Conference, which is a vastly smaller league with yearly challengers. Gonzaga is an outlier. Kansas is doing it under Self in a major league, against big programs with big budgets, against wave after wave of serious NBA talent. No matter what the situation, no matter the personnel on his roster, Self's teams have finished first.
Here's another fun stat: Since 2006-07, Kansas has been a No. 1 seed five times! Its other seeds: No. 2 (twice) and No. 3 (once). The Jayhawks have averaged 29.5 wins per year under Self! Thursday's coach, Bo Ryan, is often cited as the sport's paragon of consistency. Self is kind of like that ... except his yearly output is everyone else's career year.
How has he done it? For most of his career, according to a time-honored blueprint. Every season, Self would recruit a mix of players ranging from those with obvious NBA futures to those with huge developmental needs, and he would bring them along, year by year, each year losing key pieces but keeping great replacements waiting in the wings. That was how the sport always used to work, back in the days before high school early entry and one-and-done, and for the past decade, no one found more success using that technique than Self.
The 2013-14 season might be the lone departure. All of a sudden, Kansas had a recruiting class that featured two NBA lottery picks. There was also Wayne Selden, another top freshman, and Conner Frankamp, a well-regarded sharpshooter. Self needed to play all of these guys, and the result was his youngest, most inexperienced, most scrutinized roster. To some, the 2013-14 Jayhawks were a disappointment. They won the Big 12 for the 10th straight time anyway.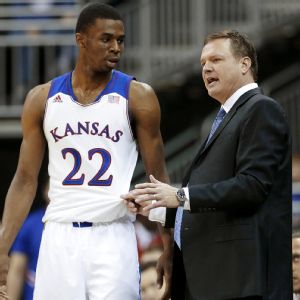 AP Photo/Charlie RiedelSelf's only championship came in 2008, when the Jayhawks defeated Memphis in overtime.
That's another of the debates that has occasionally haunted Self. The tournament has not always been kind; Kansas has been upset more times than it has prevailed. What if Mario Chalmers hadn't made that shot in 2008? How would we look at Self then?
Hopefully no differently. The fact of the matter is that basketball is a five-month season, and all you can do is field good teams every year, improve throughout the season and hope things go your way in March. Sometimes they do, sometimes they don't. But even if Self had another title or two, would that be more impressive than 10 straight Big 12 titles? Sample size matters. His players change. He loses waves of personnel. He has teams of veterans, teams of top freshmen, teams with a blend of both. Whatever the situation, for the past decade Self has always been one of the best coaches in the game.
The legend is that when Allen told Naismith he wanted to be a college basketball coach, Naismith told him not to waste his time. "You don't coach basketball, you play it," he said.
Who knows if Self will one day eclipse the architects of KU basketball in the minds of fans. Another decade of conference titles might help. But I do know the inventor was wrong on that one: Basketball can most definitely be coached, and there are few in the world better than the coach at Kansas.
-- Eamonn Brennan
---
Previous: Nos. 50-25 » No. 24: McKillop » No. 23: McDermott » No. 22: Amaker »
• No. 21: Brown » No. 20: Matta » No. 19: Wright » No. 18: Fisher » No. 17: Few »
• No. 16: Williams » No. 15: Hoiberg » No. 14: Bennett » No. 13: Smart »
• No. 12: Boeheim » No. 11: Miller » No. 10: Ollie » No. 9: Beilein » No. 8: Marshall »
• No. 7: Ryan »
Full Top 50 Coaches List
No. 50: Tie -- Randy Bennett, Saint Mary's; Scott Drew, Baylor
No. 49: Richard Pitino, Minnesota
No. 48: Stew Morrill, Utah State
No. 47: Bob Hoffman, Mercer
No. 46: John Thompson III, Georgetown
No. 45: Mike Brey, Notre Dame
No. 44: Rick Barnes, Texas
No. 43: Chris Mack, Xavier
No. 42: Josh Pastner, Memphis
No. 41: Ed Cooley, Providence
No. 40: Bruce Weber, Kansas State
No. 39: Tubby Smith, Texas Tech
No. 38: Buzz Williams, Virginia Tech
No. 37: Rick Byrd, Belmont
No. 36: Steve Alford, UCLA
No. 35: Phil Martelli, Saint Joseph's
No. 34: Tad Boyle, Colorado
No. 33: Fran McCaffery, Iowa
No. 32: Tim Miles, Nebraska
No. 31: Lon Kruger, Oklahoma
No. 30: Bob Huggins, West Virginia
No. 29: Jim Crews, Saint Louis
No. 28: Jim Larranaga, Miami
No. 27: Mick Cronin, Cincinnati
No. 26: Archie Miller, Dayton
No. 25: Jamie Dixon, Pittsburgh
No. 24: Bob McKillop, Davidson
No. 23: Greg McDermott, Creighton
No. 22: Tommy Amaker, Harvard
No. 21: Larry Brown, SMU
No. 20: Thad Matta, Ohio State
No. 19: Jay Wright, Villanova
No. 18: Steve Fisher, San Diego State
No. 17: Mark Few, Gonzaga
No. 16: Roy Williams, North Carolina
No. 15: Fred Hoiberg, Iowa State
No. 14: Tony Bennett, Virginia
No. 13: Shaka Smart, VCU
No. 12: Jim Boeheim, Syracuse
No. 11: Sean Miller, Arizona
No. 10: Kevin Ollie, UConn
No. 9: John Beilein, Michigan
No. 8: Gregg Marshall, Wichita State
No. 7: Bo Ryan, Wisconsin
No. 6: Bill Self, Kansas
COACHES WHO JUST MISSED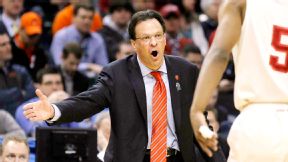 AP Photo/Kiichiro Sato
Some big names missed our list of top 50 coaches. Here are the 25 names who just missed, listed in alphabetical order.
Dana Altman, Oregon
Tim Cluess, Iona
Tom Crean, Indiana
Keith Dambrot, Akron
Johnny Dawkins, Stanford
Fran Dunphy, Temple
Leonard Hamilton, Florida State
Ben Jacobson, Northern Iowa
Derek Kellogg, Massachusetts
Larry Krystkowiak, Utah
Mike Lonergan, George Washington
Cuonzo Martin, California
Chris Mooney, Richmond
Craig Neal, New Mexico
Matt Painter, Purdue
Dave Paulsen, Bucknell
Bruce Pearl, Auburn
Steve Prohm, Murray State
Dave Rose, BYU
Herb Sendek, Arizona State
Kevin Stallings, Vanderbilt
Andy Toole, Robert Morris
Brad Underwood, Stephen F. Austin
Brian Wardle, Wisconsin-Green Bay
Michael White, Louisiana Tech
HOW DOES IT WORK?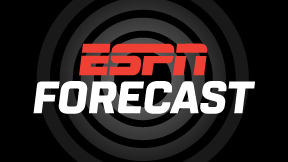 What is ESPN Forecast?
Our engine for creating more accurate sports predictions and opinion.
Does it work?
Yes. This is the future of forecasting, as demonstrated by the 2012 presidential election and Fortune 500 companies.
How does it work?
Our approach, in a nutshell, is to create a diverse panel of people with college basketball expertise and aggregate predictions and opinions. For ESPN Forecast, we have a panel of 45 members that collectively possess vast college basketball experience, knowledge and perspective.
Why does it work?
This panel has a collective intelligence that's greater than any individual member's knowledge and sharper than that of any single statistical system.
Diversity is a key factor in creating accurate predictions and opinion. The wisdom of the crowd comes from having diverse views that emerge from independent thinking.
The ESPN Forecast panel is a diverse mix of contributors from across the spectrum.
The result?
More accurate, insightful forecasts and views.
This is the wisdom of the crowd in action. This is ESPN Forecast.
COACHING CENTRAL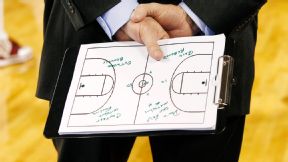 AP Photo/Mel Evans