Top 50 coaches: No. 7 Bo Ryan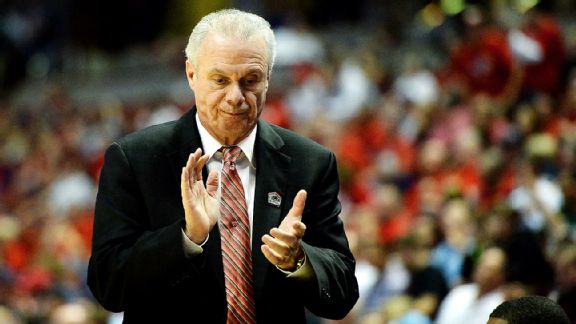 Harry How/Getty ImagesBo Ryan followed an unlikely path to the elite level of college basketball coaches.
Editor's note: Over five weeks, we will reveal the top 50 coaches in college basketball as decided by our ESPN Forecast panel. Today we unveil No. 7: Wisconsin's Bo Ryan. On Friday, we release No. 6.
---
So here's the thing: There are good coaches everywhere. If you grew up in a place that even nominally cares about basketball -- or maybe even if you didn't -- you almost certainly know of at least one great coach the wider world has never heard of.
You know the type. The high school icon fourth-graders see as a towering hero. The relentless, 30-year NAIA veteran whose camps you used to attend. The Division III coach, once a rising young star, who found a home on the outskirts of college basketball and never left. The guy who coached Larry Bird to the 1979 national title game and then spent his life teaching high school history.
College basketball coaches -- particularly in Division I -- love to talk about these guys. It's a general understanding that there are talented, impactful coaches at all levels of the sport. Consistent, respected, dogged. Grinders. There but for the grace of God. We fans simply don't have the bandwidth to appreciate them all.
In another life, Wisconsin coach Bo Ryan might have been one of those guys. Actually, in many ways, he still is.
Ryan began his college head-coaching career at Wisconsin-Platteville in 1984. Ryan was an assistant at Wisconsin for eight seasons beforehand, from 1976 to 1984, gradually assembling the philosophies that would guide him when he returned to Madison two decades later. But at Platteville, he had all the makings of the Grinder. UW-Platteville was an NAIA school when Ryan was hired, and the path from NAIA to the Big Ten is almost nonexistent. When NAIA coaches are really good, they tend to stay in one place.
And Ryan was really good. By his fourth season, he had totally turned Platteville around. By his seventh, in 1990-91, Pioneers athletics jumped from NAIA to Division III, and Ryan led Platteville to a 28-3 record and a national championship. He never had a bad season at the school again. His season high for losses? Five. He won three more national titles, two of which ended in undefeated seasons.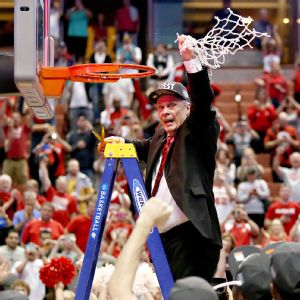 Jeff Gross/Getty ImagesWisconsin has risen to great heights under head coach Bo Ryan.
After 353 wins and 76 losses, UW-Milwaukee came calling. The stop would be short. After two seasons, Ryan was hired at the University of Wisconsin.
It's worth noting how unlikely this path really is, especially now. Young coaches don't go to the NAIA to work their way up anymore, if they ever did in the first place. They get in as graduate staffers. They eat tape for years. They grind as medium-profile assistants, hop from place to place, hire agents, fret over the appearance of lateral moves. Ryan's rise, extended as it was, was unlikely even then.
Since he got to Wisconsin, Ryan has been almost laughably good. It's a matter of habit, writing about the guy, to run through the sheer consistency with which Ryan has operated, so let's do that now: Since 2001-02, his first season with the Badgers, he has never missed the NCAA tournament. Wisconsin was a double-digit seed just once. His teams have never finished worse than fourth in the Big Ten.
The how of these results was always the same, too: Ryan deftly recruited players who fit his personality and his playing style, happily steering clear of the high-stakes, elite recruiting circuit. Instead, he found likely four-year players with very specific skills: physical, turnover-averse guards, big guys with perimeter skills, wings who could play anywhere. And then he took those players and assembled them, year over year, into his homemade swing offense. The Badgers worked possessions over, defended without fouling, rebounded their own glass and won games like clockwork.
Somewhere along the way, Ryan somehow managed to be both a head coach at a huge, consistently successful Big Ten school and an underappreciated grinder. His teams were always solid but never great. Their style, or arguable lack thereof, rubbed aesthetes the wrong way. Their tick-tock consistency extended to the way their seasons typically finished: in the second round of the tournament, or maybe the Sweet Sixteen.
And then, last season, Wisconsin finally broke through.
After a five-season stretch averaging some of the slowest basketball in all of Division I, the 2013-14 Wisconsin Badgers picked up the pace. They averaged nearly 64 possessions per game, adjusted, which for them was practically light speed. Frank Kaminsky, a little-used sub for two years, morphed into an unstoppable inside-out threat. Sophomore Sam Dekker, the rare top 20 recruit when he arrived, provided athleticism and scoring edge. The Badgers averaged 1.21 points per possession (adjusted), fourth in the country. They played, and handled, one of the tougher nonconference schedules in the country. But for two weeks in late January, when they lost five out of six, they were 25-3.
And most of all, they went to the Final Four. That was the one knock on Ryan's tenure: He had never been to the Final Four. He just didn't have the talent. So much for that. In March, Wisconsin beat Oregon, Baylor and Arizona en route to AT&T Stadium. Once there, they matched up with red-hot Kentucky, and they would have -- maybe should have -- won, if not for another crazy, Aaron Harrison last-second shot.
As devastating as that loss was, Wisconsin entered this offseason knowing that nearly everyone will return for next season: Kaminsky, Dekker, guard Josh Gasser, supremely promising forward Nigel Hayes, etc. They are a top-five team entering next season, a program fully liberated from the respectable but restrained niche it spent the past decade inhabiting.
It was no surprise, then, that Ryan ranked so high in our ESPN Forecast top 50 voting. Everyone has always kind of known Ryan was a great coach and a man fully comfortable with his homegrown success. But the consistency, the grind, the lack of deep tournament exposure, occasionally made people take his work for granted. It would have been impossible to see him this high on this list two or three years ago.
Even at a school like Wisconsin, Ryan was less-high-profile Division 1 coach than respected, underrated pillar of the sport -- the kind of guy other coaches reference when they're driving home that old point.
It took last season's flash of brilliance to remind everyone of what they already knew: Ryan is as good as any coach in the country. At any level.
-- Eamonn Brennan
---
Previous: Nos. 50-25 » No. 24: McKillop » No. 23: McDermott » No. 22: Amaker »
• No. 21: Brown » No. 20: Matta » No. 19: Wright » No. 18: Fisher » No. 17: Few »
• No. 16: Williams » No. 15: Hoiberg » No. 14: Bennett » No. 13: Smart »
• No. 12: Boeheim » No. 11: Miller » No. 10: Ollie » No. 9: Beilein » No. 8: Marshall »
Full Top 50 Coaches List
No. 50: Tie -- Randy Bennett, Saint Mary's; Scott Drew, Baylor
No. 49: Richard Pitino, Minnesota
No. 48: Stew Morrill, Utah State
No. 47: Bob Hoffman, Mercer
No. 46: John Thompson III, Georgetown
No. 45: Mike Brey, Notre Dame
No. 44: Rick Barnes, Texas
No. 43: Chris Mack, Xavier
No. 42: Josh Pastner, Memphis
No. 41: Ed Cooley, Providence
No. 40: Bruce Weber, Kansas State
No. 39: Tubby Smith, Texas Tech
No. 38: Buzz Williams, Virginia Tech
No. 37: Rick Byrd, Belmont
No. 36: Steve Alford, UCLA
No. 35: Phil Martelli, Saint Joseph's
No. 34: Tad Boyle, Colorado
No. 33: Fran McCaffery, Iowa
No. 32: Tim Miles, Nebraska
No. 31: Lon Kruger, Oklahoma
No. 30: Bob Huggins, West Virginia
No. 29: Jim Crews, Saint Louis
No. 28: Jim Larranaga, Miami
No. 27: Mick Cronin, Cincinnati
No. 26: Archie Miller, Dayton
No. 25: Jamie Dixon, Pittsburgh
No. 24: Bob McKillop, Davidson
No. 23: Greg McDermott, Creighton
No. 22: Tommy Amaker, Harvard
No. 21: Larry Brown, SMU
No. 20: Thad Matta, Ohio State
No. 19: Jay Wright, Villanova
No. 18: Steve Fisher, San Diego State
No. 17: Mark Few, Gonzaga
No. 16: Roy Williams, North Carolina
No. 15: Fred Hoiberg, Iowa State
No. 14: Tony Bennett, Virginia
No. 13: Shaka Smart, VCU
No. 12: Jim Boeheim, Syracuse
No. 11: Sean Miller, Arizona
No. 10: Kevin Ollie, UConn
No. 9: John Beilein, Michigan
No. 8: Gregg Marshall, Wichita State
No. 7: Bo Ryan, Wisconsin
COACHES WHO JUST MISSED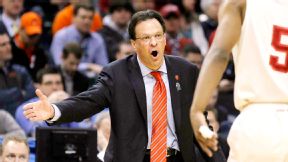 AP Photo/Kiichiro Sato
Some big names missed our list of top 50 coaches. Here are the 25 names who just missed, listed in alphabetical order.
Dana Altman, Oregon
Tim Cluess, Iona
Tom Crean, Indiana
Keith Dambrot, Akron
Johnny Dawkins, Stanford
Fran Dunphy, Temple
Leonard Hamilton, Florida State
Ben Jacobson, Northern Iowa
Derek Kellogg, Massachusetts
Larry Krystkowiak, Utah
Mike Lonergan, George Washington
Cuonzo Martin, California
Chris Mooney, Richmond
Craig Neal, New Mexico
Matt Painter, Purdue
Dave Paulsen, Bucknell
Bruce Pearl, Auburn
Steve Prohm, Murray State
Dave Rose, BYU
Herb Sendek, Arizona State
Kevin Stallings, Vanderbilt
Andy Toole, Robert Morris
Brad Underwood, Stephen F. Austin
Brian Wardle, Wisconsin-Green Bay
Michael White, Louisiana Tech
HOW DOES IT WORK?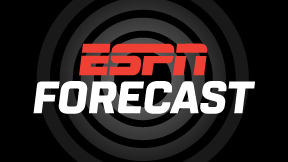 What is ESPN Forecast?
Our engine for creating more accurate sports predictions and opinion.
Does it work?
Yes. This is the future of forecasting, as demonstrated by the 2012 presidential election and Fortune 500 companies.
How does it work?
Our approach, in a nutshell, is to create a diverse panel of people with college basketball expertise and aggregate predictions and opinions. For ESPN Forecast, we have a panel of 45 members that collectively possess vast college basketball experience, knowledge and perspective.
Why does it work?
This panel has a collective intelligence that's greater than any individual member's knowledge and sharper than that of any single statistical system.
Diversity is a key factor in creating accurate predictions and opinion. The wisdom of the crowd comes from having diverse views that emerge from independent thinking.
The ESPN Forecast panel is a diverse mix of contributors from across the spectrum.
The result?
More accurate, insightful forecasts and views.
This is the wisdom of the crowd in action. This is ESPN Forecast.
COACHING CENTRAL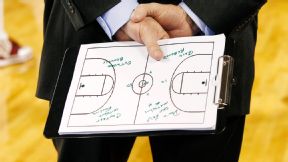 AP Photo/Mel Evans