Top 50 coaches: No. 8 Gregg Marshall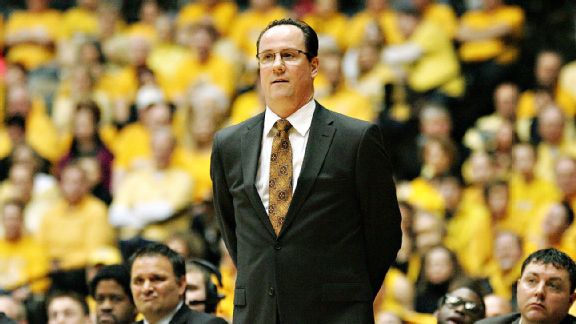 Scott Sewell/USA TODAY SportsWichita State's Gregg Marshall has led the Shockers to three straight NCAA tournament appearances.
Editor's note: Over five weeks, we will reveal the top 50 coaches in college basketball as decided by our ESPN Forecast panel. Today we unveil No. 8: Wichita State's Gregg Marshall. On Thursday, we release No. 7.
---
The NCAA tournament is cruel.
Oh, sure, it lifts heroes from obscurity. It creates classic moments at a blistering rate. But there is always the inverse: a career ended abruptly, a mistake a player will never shake, a coach whose life's work is unfairly taken prisoner by the randomness of single elimination.
More from ESPN.com

Gregg Marshall was imploring his team to "play angry" long before he arrived at Wichita State, C.L. Brown writes. Blog »
In March of 2012, Gregg Marshall led what was then his best team to date into the NCAA tournament. Wichita State had four seniors in the starting lineup, including super-efficient point guard Joe Ragland and 7-foot center Garrett Stutz, and two more four-year guys in key roles off the bench. The lineup was the culmination of Marshall's entire extended WSU build since he arrived in 2007. The Shockers entered the NCAA tournament seeded fifth, with a 27-5 record. Despite a tight loss to Illinois State in the Missouri Valley tourney semifinal, they entered ranked No. 8 in the nation in adjusted efficiency. The Shockers were experienced, smart and totally cohesive on both ends of the floor. This was a team capable of making a deep tournament run. Both Marshall and his seniors had to know that this was their chance. At Wichita State, chances to make a deep tournament run -- to maybe, just maybe, get to the Final Four -- don't come around often.
On the first day of the tournament, Wichita State lost to No. 12-seeded VCU 62-59. Before anyone could even process it, one of the best seasons in Shockers history was relegated to the dustbin of 12-5 upset trivia.
It was fair to assume Marshall would need a couple of years to get things humming again. That's a fair expectation when you lose so many crucial seniors: You're allowed time to restock.
Instead, here's what Marshall did:
He pushed Malcolm Armstead and Carl Hall into starting roles, signed junior college transfer Cleanthony Early, and added freshman guards Ron Baker and Fred VanVleet. The Shockers lost six games in conference play, including a couple of head-scratchers to Southern Illinois and Evansville, but they were good enough to get into the NCAA tournament as a No. 9 seed. When they did, they promptly swept aside Pittsburgh, Gonzaga, La Salle and Ohio State en route to the Final Four. Oh, and once there, they were no more than a possession or two away from knocking off eventual national champion Louisville.
Good season, fantastic finish. It had nothing on the encore.
It's almost beside the point to recount how good Wichita State was in 2013-14. The record kind of says it all: The Shockers won their first 35 games. They finished fifth in adjusted efficiency. They won the Missouri Valley regular-season and conference titles, and set a whole mess of record-related records along the way.
Maybe the weirdest thing about Wichita State's season was how quickly the backlash started, how loud it got, and how long it lasted. The Shockers' schedule wasn't any good. They hadn't played any top teams. They weren't a real 30-0, or 35-0, because the Valley was awful. Put them in the Big Ten, and they'd be average. It was fair to expect some of this stuff in, say, early February, when we're all enjoying our arguments about selection and seeding. But the collective side-eye persisted well into the tournament. Wichita State had won its first 35 games, but many -- most? -- saw No. 8 seed Kentucky as the Sweet 16 favorite.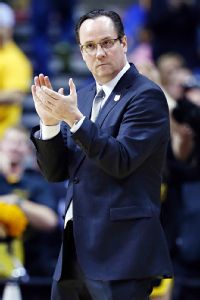 Andy Lyons/Getty ImagesMarshall spent nine years as the head coach at Winthrop before coming to Wichita State in 2007.
And then something weird happened. Kentucky won … and no one said I told you so. Both teams were so good -- Early put on a performance for the ages against a suddenly locked-in UK defense; Baker was, as Aaron Harrison told him after the game, a "bad boy" -- that the Shockers could both lose the game and totally settle their reputation. You couldn't come away from that 40 minutes and think Wichita State was anything but what its record said.
The NCAA tournament does this. One year, you've got your slow-burn seniors all lined up to make a run, and you get kicked out on the first day of the tournament. The next year you're supposed to be rebuilding, and you end up a possession away from the national title game. The year after that you don't lose a game until mid-March, to a team ranked No. 1 in the preseason but No. 8 in your region.
The unifying principle here is simple: Marshall is a really, really good coach. In three years he's recruited and developed unheralded players, replenished personnel losses, forged tight-knit and hard-nosed rosters, embraced different sets of expectations, all of it. Now, even with Early gone to the NBA, it's hard to imagine Wichita State being anything but a title contender next season: Marshall still has Baker and VanVleet, and he's too good to let the Shockers fall off now.
Each of the Shockers' past three seasons has ended in cruel disappointment. At the same time, they've lifted the program to a place among the national elite. Marshall's stock has skyrocketed right along with it.
-- Eamonn Brennan
---
Previous: Nos. 50-25 » No. 24: McKillop » No. 23: McDermott » No. 22: Amaker »
• No. 21: Brown » No. 20: Matta » No. 19: Wright » No. 18: Fisher » No. 17: Few »
• No. 16: Williams » No. 15: Hoiberg » No. 14: Bennett » No. 13: Smart »
• No. 12: Boeheim » No. 11: Miller » No. 10: Ollie » No. 9: Beilein »
Full Top 50 Coaches List
No. 50: Tie -- Randy Bennett, Saint Mary's; Scott Drew, Baylor
No. 49: Richard Pitino, Minnesota
No. 48: Stew Morrill, Utah State
No. 47: Bob Hoffman, Mercer
No. 46: John Thompson III, Georgetown
No. 45: Mike Brey, Notre Dame
No. 44: Rick Barnes, Texas
No. 43: Chris Mack, Xavier
No. 42: Josh Pastner, Memphis
No. 41: Ed Cooley, Providence
No. 40: Bruce Weber, Kansas State
No. 39: Tubby Smith, Texas Tech
No. 38: Buzz Williams, Virginia Tech
No. 37: Rick Byrd, Belmont
No. 36: Steve Alford, UCLA
No. 35: Phil Martelli, Saint Joseph's
No. 34: Tad Boyle, Colorado
No. 33: Fran McCaffery, Iowa
No. 32: Tim Miles, Nebraska
No. 31: Lon Kruger, Oklahoma
No. 30: Bob Huggins, West Virginia
No. 29: Jim Crews, Saint Louis
No. 28: Jim Larranaga, Miami
No. 27: Mick Cronin, Cincinnati
No. 26: Archie Miller, Dayton
No. 25: Jamie Dixon, Pittsburgh
No. 24: Bob McKillop, Davidson
No. 23: Greg McDermott, Creighton
No. 22: Tommy Amaker, Harvard
No. 21: Larry Brown, SMU
No. 20: Thad Matta, Ohio State
No. 19: Jay Wright, Villanova
No. 18: Steve Fisher, San Diego State
No. 17: Mark Few, Gonzaga
No. 16: Roy Williams, North Carolina
No. 15: Fred Hoiberg, Iowa State
No. 14: Tony Bennett, Virginia
No. 13: Shaka Smart, VCU
No. 12: Jim Boeheim, Syracuse
No. 11: Sean Miller, Arizona
No. 10: Kevin Ollie, UConn
No. 9: John Beilein, Michigan
No. 8: Gregg Marshall, Wichita State
COACHES WHO JUST MISSED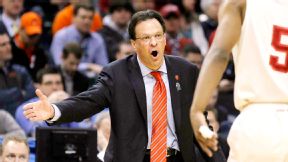 AP Photo/Kiichiro Sato
Some big names missed our list of top 50 coaches. Here are the 25 names who just missed, listed in alphabetical order.
Dana Altman, Oregon
Tim Cluess, Iona
Tom Crean, Indiana
Keith Dambrot, Akron
Johnny Dawkins, Stanford
Fran Dunphy, Temple
Leonard Hamilton, Florida State
Ben Jacobson, Northern Iowa
Derek Kellogg, Massachusetts
Larry Krystkowiak, Utah
Mike Lonergan, George Washington
Cuonzo Martin, California
Chris Mooney, Richmond
Craig Neal, New Mexico
Matt Painter, Purdue
Dave Paulsen, Bucknell
Bruce Pearl, Auburn
Steve Prohm, Murray State
Dave Rose, BYU
Herb Sendek, Arizona State
Kevin Stallings, Vanderbilt
Andy Toole, Robert Morris
Brad Underwood, Stephen F. Austin
Brian Wardle, Wisconsin-Green Bay
Michael White, Louisiana Tech
HOW DOES IT WORK?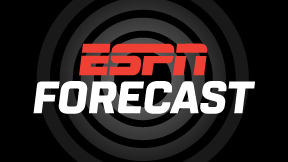 What is ESPN Forecast?
Our engine for creating more accurate sports predictions and opinion.
Does it work?
Yes. This is the future of forecasting, as demonstrated by the 2012 presidential election and Fortune 500 companies.
How does it work?
Our approach, in a nutshell, is to create a diverse panel of people with college basketball expertise and aggregate predictions and opinions. For ESPN Forecast, we have a panel of 45 members that collectively possess vast college basketball experience, knowledge and perspective.
Why does it work?
This panel has a collective intelligence that's greater than any individual member's knowledge and sharper than that of any single statistical system.
Diversity is a key factor in creating accurate predictions and opinion. The wisdom of the crowd comes from having diverse views that emerge from independent thinking.
The ESPN Forecast panel is a diverse mix of contributors from across the spectrum.
The result?
More accurate, insightful forecasts and views.
This is the wisdom of the crowd in action. This is ESPN Forecast.
COACHING CENTRAL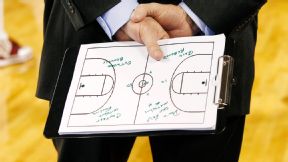 AP Photo/Mel Evans