Carrier Dome nostalgia leads a packed weekend
>
Editor's note: Rece Davis is the host of "College GameDay," which will be in Lexington, Ky., for Saturday night's Missouri-Kentucky game. Check out the video above as six of our writers preview six of the weekend's top games.
There are times when my pragmatic, self-determination viewpoint clashes with my sentimental side. As a core value, I believe every school should determine what's best for their athletics program. I have no qualm whatsoever with Syracuse going to the ACC. But I hate what those same decisions are doing to the rivalries we look forward to every year. So I plan to savor every moment of the last two regular-season Big East meetings between Georgetown and Syracuse. College GameDay will be in D.C. for the regular-season finale, but Saturday's matchup at the Carrier Dome will be played against a nostalgic backdrop.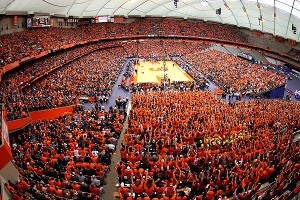 Syracuse/Collegiate Images/Getty ImagesOn Saturday afternoon, more than 35,000 will pile into the Carrier Dome to see the Hoyas and Orange.
Maybe there will be moments when we strain our eyes really hard and say, "that looks like a pass Pearl made" or "that's a block Ewing would've gotten." But this game isn't just about the past. It's about the present. Nobody does a big game like Syracuse. A record 35,012 will be in the Carrier Dome to say goodbye to a rivalry and to honor Carmelo Anthony, who will have his jersey retired. While we have spent a lot of time extolling Syracuse's chances of making a Final Four now that
James Southerland
is back (and rightfully so), it's time to recognize that the hottest team in the Big East is Georgetown. The Hoyas have ripped off eight straight wins and in social media parlance, the Hoyas are trending. Rarely do you see a team undergo such a dramatic transformation in mid-season. Georgetown's winning binge came on the heels of an inexplicable loss to South Florida, the only Big East win for the Bulls. This Hoyas team scored 37 points against Tennessee. I don't care that the Vols only scored 36 -- Final Four teams don't score 37 points in a game. Or at least that's what I'd like to think. Except that Georgetown's 1984 national championship team beat SMU by exactly the same score in a tournament game. Coincidence? Yeah probably, but weird nonetheless. On Wednesday, the Hoyas beat DePaul while their best player
Otto Porter
rested a sore knee and played only 20 minutes.
D'Vauntes Smith-Rivera
poured in 33, the biggest scoring night for a Hoya freshman since 1996 and the most by a player off the bench for Georgetown in at least 15 years. Under John Thompson III, there has always been a concern about dealing with his offensive system, which JT3 doesn't like to call the Princeton offense. Guarding an offense is one thing. Guarding ballers is much different. With Porter and Smith-Rivera, the Hoyas have ballers. And
Nate Lubick
does the tough things that help you win. Still, the question hovers: Is this the team that's won eight straight? Or is this the team that couldn't score against Tennessee, lost to USF and were routed 73-45 at Pitt? My gut says the Hoyas will be a force in March. What I know is this: Both teams will be amped for an emotional meeting at the Dome Saturday. Savor it while you can. The Mountain West is as deep as its ever been. Colorado State finishes a huge week by hosting New Mexico. On College Gameday Saturday, we'll break down the best coaching jobs of the season and Larry Eustachy has to be on that list. You could put several MWC guys on the list, but Eustachy has done an outstanding job in his first year. The Rams had a great look at a potential game-winning shot at UNLV on Wednesday night, but the Rebels survived.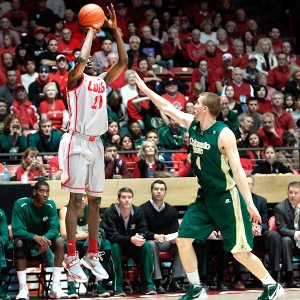 AP Photo/Eric DraperNew Mexico held off CSU in the first meeting. Will the Rams get their revenge in Fort Collins?
Now the Rams, ranked for the first time in 59 years, have to survive a home game against the league-leading Lobos to regain a share of the conference lead. CSU in the top 15 of the BPI and is among the most efficient offensive teams in the nation and rebound a remarkable 42 percent of its missed shots. The Rams lead the nation in limiting second shots.
Colton Iverson
and
Pierce Hornung
each grab more than nine rebounds per game. This is a very good team. New Mexico ranks among the best defensive squads in the country. The Lobos do a great job keeping opponents off the offensive glass, so it'll be strength on strength in Fort Collins.
Kendall Williams
and
Tony Snell
are versatile guys on the perimeter and lead a balanced offensive attack. The Lobos will be fresh, it should be noted. They will have had a week off by the time they tip against the Rams. As for College GameDay, we're headed to Kentucky to see the Wildcats host Missouri. John Calipari coaches his team hard, but he has a good knack for when to lighten the mood. He had the Cats play dodgeball this week. You know the old coaching adage: If you can dodge a wrench, you can dodge a ball. Nobody had a bigger wrench thrown at them than UK with the loss of Noel. Joe Lunardi has the Wildcats sitting precariously on that bubble. Proving to the NCAA tournament selection committee that they can beat good teams without the big shot blocker is vital. Missouri is coming off a win against No. 5 Florida, but hasn't been the same team on the road, so there's a chance here. The Cats are desperate but do they have the defensive prowess on the perimeter to force
Phil Pressey
into the types of mistakes and late turnovers that have plagued him away from home. Kentucky hasn't done much to impress the committee. Saturday night would be a good time to start. There's no such thing as "best" when it comes to College Gameday crowds. Each has its own unique quality that make it fun. At UK, the school is pushing to sell 15,000 tickets for GameDay. That desire to do it bigger than anyone else is what I love about Big Blue Nation. They seem to revel in the attitude that screams, "We're Kentucky and you're not." See you in Lexington.
Predictions for the best of BracketBusters
The 11th and final BracketBusters event begins Friday night and continues over the weekend all around the country. Here's my take (along with some predictions) on what I feel are the seven best matchups:
Friday
North Dakota State at Akron, 7 p.m. ET, ESPN2:
Akron possesses the nation's top winning streak at 17 in a row. That run has placed the Zips on the soft NCAA tournament bubble. Zeke Marshall, who is fifth in the nation with 3.48 blocks per game, leads a group that's ranked 50th in adjusted defensive efficiency per Ken Pomeroy. North Dakota State was rising in the Summit League before Taylor Braun, their leading scorer at 15.2 PPG, suffered a foot injury last month. The Bison have lost four of their last eight games and are third in the league. The good news is that Braun will probably return soon. The bad news is that he'll probably miss the trip to Akron. Prediction: Akron 76, NDSU 65
Saturday
Iona at Indiana State, 11 a.m. ET, ESPNU:
Remember when Indiana State was the sexy bubble team? That's no longer the case. ISU has lost three in a row and four of its last six. The Sycamores are in a can't-lose situation in this matchup with Iona. They have wins over Miami, Ole Miss and Wichita State, which helps. But they also have losses to the four teams in the bottom of the conference (Bradley, Drake, Missouri State and Southern Illinois). Figure that one out. Iona boasts one of the nation's most potent offenses (19th in adjusted offensive efficiency) but has lost five of six. Few teams have caught as many bad breaks as Iona. Three of those losses were sealed after regulation (one in overtime, two in double-overtime). The other two defeats were by three points or fewer. Iona is one or two stops away from being the MAAC's best team. Prediction: Iona 76, Indiana State 74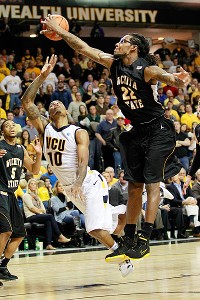 Geoff Burke/US PresswireCarl Hall and the Shockers look to swat away red-hot Detroit.
Detroit at Wichita State, 4 p.m. ET, ESPN2:
The Titans have soared toward the top of the Horizon League with an offense that's averaging 79 PPG, sixth in the nation. They're 20th in Ken Pomeroy's adjusted offensive efficiency rankings, as Ray McCallum Jr. (18.7 PPG) leads a unit that possesses high-major athleticism at every position. But they'll have to decipher a Shockers squad that's found its groove again after a rocky three-game losing stretch that threatened its position in the Missouri Valley Conference. Gregg Marshall's team is back on top of the league with a feisty defense that's allowed only 59.7 PPG in MVC play (second in the conference). Six-foot-8 forward Cleanthony Early is a matchup dilemma due to his versatility (6-for-12 from the 3-point line in his last two games) and fellow 6-8 forward Carl Hall uses his brawn inside to make an impact. This is a matchup between a fluid offense and a stingy defense. Something has to give. Prediction: Detroit 73, Wichita State 71
Creighton at Saint Mary's, 6 p.m. ET, ESPN:
Doug McDermott (22.5 PPG) is still one of the best players in the country, but the buzz surrounding the preseason All-American is not as high as it was even a month ago due to the Bluejays' recent struggles. They're still 47th in the RPI and they have top-100 RPI wins over Wisconsin, Arizona State, Indiana State and Cal. They're in a much safer spot than a Saint Mary's team that's banking on RPI alone (51) after failing to earn any meaningful nonconference wins. The Gaels will face BYU following this matchup against the Bluejays, but a win over the Cougars wouldn't carry the same weight as a victory over Creighton. McDermott and Saint Mary's guard Matthew Dellavedova are two of the most exciting players in the country, and this game means plenty to both squads. You don't want to miss it. Prediction: Creighton 75, Saint Mary's 70
Ohio at Belmont, 10 p.m. ET, ESPN2:
For a time this season, Belmont was certainly one of the best mid-major teams in the country. But a 2-2 record during a four-game road stretch has humbled the Bruins. They're the OVC's top scoring offense and defense, but they're committing turnovers on 19.9 percent of their possessions, 157th in the country per Ken Pomeroy. They'll face a team that can keep up with them on offense (Ohio averages a MAC-best 74.4 PPG). Belmont is likely still a bubble team with that high RPI (30), but the Bruins certainly haven't played like an NCAA tourney team in recent weeks. Both teams probably need conference tournament titles to guarantee slots. Yet they're also aware of the value of late-season momentum as they prepare for those league tourneys. A victory in this game would help achieve that. This contest also features a must-see guard matchup: Belmont's Ian Clark (18.9 PPG) versus Ohio's D.J. Cooper (13.6 PPG, 7.7 APG, 2.1 SPG). That alone is worth staying up late for. Prediction: Ohio 79, Belmont 69
To read the rest of Myron's analysis and predictions, click here.
Viewer's Guide
All times ET:
Friday
7 p.m.: Saint Louis at Butler (ESPNU)
7 p.m.: North Dakota State at Akron (ESPN2)
9 p.m.: Stephen F. Austin at LBSU (ESPNU)
Saturday
10 a.m.: "College GameDay" from UK (ESPNU)
11 a.m.: "College GameDay" from UK (ESPN)
11 a.m.: Iona at Indiana State (ESPNU)
12 p.m.: Seton Hall at Louisville (ESPN3)
12 p.m.: Clemson at Maryland (ESPN2)
1 p.m.: Miami at Wake Forest (ESPN3)
1 p.m.: Southern Miss at Memphis (FSN)
2 p.m.: Oklahoma State at West Virginia (ESPN2)
2 p.m.: VCU at Xavier (CBSS)
3 p.m.: Montana at Davidson (ESPNU)
4 p.m.: Georgetown at Syracuse (CBS)
4 p.m.: NC State at North Carolina (ESPN)
4 p.m.: New Mexico at Colorado State (NBCSN)
4 p.m.: TCU at Kansas (ESPN3)
4 p.m.: Detroit at Wichita State (ESPN2)
5 p.m.: Baylor at Oklahoma (ESPNU)
6 p.m.: Creighton at Saint Mary's (ESPN)
6 p.m.: Marquette at Villanova (ESPN2)
7 p.m.: Arkansas at Florida (ESPNU)
7 p.m.: San Diego at Gonzaga (ROOT)
8 p.m.: Kansas State at Texas (LHN)
8 p.m.: Stanford at Oregon (PACN)
8 p.m.: South Dakota St. at Murray St. (ESPN2)
9 p.m.: Missouri at Kentucky (ESPN)
10 p.m.: Ohio at Belmont (ESPN2)
11 p.m.: Washington at Arizona State (ESPNU)
Sunday
12 p.m.: Pittsburgh at St. John's (ESPN3)
1 p.m.: Illinois at Michigan (ESPN)
2 p.m.: Cincinnati at Notre Dame (CBS)
2 p.m.: Boston College at Duke (ESPN3)
3:30 p.m.: UCLA at USC (FSN)
4 p.m.: Michigan State at Ohio State (CBS)
I Can't Wait To See …
Eamonn Brennan


Colorado State and New Mexico. Whatever combination of factors has conspired to get us where we currently are in the Mountain West -- good recruiting, great coaching, massive decade-old surges of interest from San Diego to Fort Collins -- we are in a very good place. Most every game is tight, well-played, hard-fought, and in front of thousands of screaming maniacs, which is all we can ever really ask from college basketball. So it is this weekend, when the Rams, fresh off a heartbreaker at UNLV, host the league-leading Lobos in arguably the biggest MWC game of the season. It's a matchup of the nation's best two-way rebounding squad (CSU) with a New Mexico group that doesn't crash its own boards but prevents defensive rebounds as well as anyone in the country. But mostly it's another exciting game in a league built on them this season, and I can't wait.
Andy Katz

When we promote the BracketBusters event, we end up hyping games that appear to be the most significant at the time. The problem is, there's still plenty of time in between the announcement of the matchups and the actual event. The Creighton-Saint Mary's game is still one of the most anticipated, but it might not be the most significant. The Detroit-Wichita State game has now taken on much more significance. If the Titans can come up with a road victory, they suddenly have to be considered a viable candidate for an at-large bid, in my opinion. Detroit came back and beat Valparaiso on the road and could end up winning the Horizon League. Wichita has won back-to-back tricky road games and is a viable threat to unseat Creighton and claim the Missouri Valley Conference title. Detroit-WSU has become appointment viewing for Saturday; these two teams could bust a bracket in March.
Jason King

I can't wait to see if Marquette can keep it going. The fact that the Golden Eagles are in first place in the Big East race is one of the more underrated story lines in college basketball right now. Think about it. Marquette lost leading scorers Darius Johnson-Odom and Jae Crowder and didn't really replace them with anything. I keep waiting for Buzz Williams' squad to take a slide, and it hasn't happened. I'm not sure any coach in America has maximized what he can get out of a team quite like Williams has this season. If Marquette wins the Big East, I may consider voting him national coach of the year over Miami's Jim Larranaga. Williams isn't working with nearly as much talent, and the Big East is a considerably tougher league than the ACC. Marquette (18-6 overall, 10-3 in the Big East) plays at Villanova on Saturday night.
Myron Medcalf

I can't wait to see how the mid-majors that are on or near the bubble perform during this weekend's BracketBusters. Akron, a team that leads the nation with a 17-game winning streak, can't afford a loss to a North Dakota State squad that won't have its best player (Taylor Braun). Wichita State is back on top of the Missouri Valley Conference after a rough stretch a few weeks ago, but a loss to a second-place Horizon League squad (Detroit) would not help its cause. Indiana State has wins over Miami and Ole Miss, but a loss to Iona would only increase the confusion about ISU's postseason status (Indiana State has lost to the bottom four teams in the MVC). Saint Mary's won't get a better résumé-boosting opportunity than its home game against Creighton on Saturday. The Gaels have already been swept by Gonzaga, and their upcoming matchup against BYU won't do much for its at-large hopes. Creighton seems safe, but what if the Bluejays stumble even more down the stretch? They've already lost three of their last five games.
Dana O'Neil

File this under "I can't wait to see" and "I wish I didn't have to see," all at the same time. Georgetown and Syracuse tango on Saturday for what will be their last official meeting at the Carrier Dome as Big East members. There's plenty at stake -- like a piece of first place in the league standings. But this one is about much more than the moment. It's about a heated and fierce rivalry that has included some of the conference's (if not the sport's) most iconic figures. The Dome will be packed -- Syracuse already has announced a sellout that will set a record -- so it will be a great environment and I'm excited to be there. I just wish it didn't have to end.
Robbi Pickeral

I can't wait to see how the ACC tournament seeding starts to play out. Right now, NC State, North Carolina and Virginia are tied for third (and fourth and fifth) place in the league at 8-5 -- a precarious position, considering only the top four seeds get a Thursday bye in the conference tournament next month (and no ACC team has ever won four games to win the event). With only a little more than two weeks left in the regular season, jockeying begins in earnest this weekend, when the Wolfpack meet the rival Tar Heels in Chapel Hill on Saturday, and the Cavs face Georgia Tech at home Sunday.