Rematches in ACC, Big Ten lead the weekend
Editor's note: Rece Davis is the host of "College GameDay," which will be in Los Angeles for Saturday night's Arizona-UCLA game. Check out the video above as six of our writers preview six of the weekend's top games.
Perhaps you were so mesmerized by "College GameDay's" version of the Harlem Shake -- we called it the Big Blue Shake -- that you failed to pay heed to Digger Phelps' payback pep talk. Last Saturday, each of Digger's four "payback" games served up heaping helpings of revenge.
I'm here to tell you there is no greater payback game this season than Duke's quest to atone for melting in Miami. The Blue Devils were hammered by 27. It was their worst regular-season loss in nearly 30 years. It might not have been quite as bad as UNLV in the 1990 title game, but it was in the same ZIP code.
Chuck Liddy/Getty ImagesMason Plumlee will need to play at a high level for Duke to do well against Miami.
Please note I'm only talking about the severity of the beating and how overwhelmed Duke looked. I am in no way, shape, form or fashion comparing Jim Larranaga's Hurricanes to Jerry Tarkanian's Rebels. Now that we've included the disclaimer that I'm sure will be ignored, on to the rematch. Duke's chances of getting a share of the ACC regular-season title hinge on this game. While the value of conference crowns has been diminished in our tournament-centric world, the Blue Devils have long abided by this philosophy. If there's a trophy being given out, they want it. Duke's chance at the ultimate trophy could be bolstered if
Ryan Kelly
returns at some point this season. For now, vengeance will be up to the rest of the Blue Devils.
Mason Plumlee
has put up player of the year-type numbers. He's had a few stumbles but they have been magnified, notably a four-point day in the loss to Maryland and a 5-of-15 shooting night against Miami. Nobody is going to be at their peak for an entire season. The grind is too long. But Miami looked like a team playing with a burden of trying to remain undefeated over the past two weeks. It wasn't just the loss at Wake Forest; in a horrific-to-watch game at Clemson and a white-knuckler at home against Virginia, the Hurricanes looked like a team trying to protect something rather than pursue something. No one on this team has any NCAA tournament experience. Thus, they also have no frame of reference for pursuing a conference title down the stretch. The Hurricanes played their best game of the season when they met Duke the first time. Then, they were a team trying to prove a point. Now that most everyone believes, how do they handle the expectations? It's not that Miami has to win. That's a tall order at Cameron. I do think it will be very telling how well the Hurricanes play. In that three-game stretch,
Shane Larkin
hit only 2 of 10 3s.
Durand Scott
made a grand total of three field goals in the Clemson and Virginia games. Aberration or pressure? Are the Canes regrouping to gather strength for a big run in March complete with a conference championship, or will they be downgraded from Hurricane to tropical depression? The complete story won't come Saturday, but if there's one team that I think a loss might've helped, it's Miami. The first legitimate test after the loss to Wake Forest comes against the Blue Devils. With two weeks left until Selection Sunday, we are inundated with "win and they're in" games. That's rarely the case. But if ever there was such a case it comes Saturday in Gainesville when Florida hosts Alabama. Bizarrely, the Crimson Tide can pull even with the Gators in the SEC standings with a win. That's odd because unless Bama beats the Gators, the Tide probably will miss the tournament for the second time in three years despite having at least 12 conference wins each time they were left out. The football strength of the league doesn't extend to the hardwood.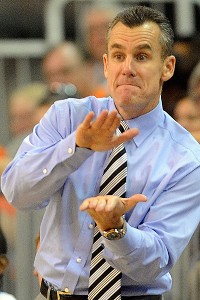 AP Photo/Phil SandlinBilly Donovan's Gators hope to bounce back from Tuesday's loss at Tennessee.
Alabama is a hard-nosed, well-coached defensive team with severe limitations on offense, most notably scoring in the post. That's not a good formula against a Gators team that has spent most of the season chomping down and squeezing the life out of opposing offenses. Florida is a bit battered, though Billy Donovan might get
Will Yeguete
and
Michael Frazier
back soon, maybe even Saturday. Their return could let UF make a late charge at a No. 1 seed. An Alabama win would do wonders for the Tide's résumé, but it seems about as likely as Cee Lo Green guest starring on "Duck Dynasty." The battle of Atlantic 10 newcomers and old Final Four foes Butler and VCU is a must-see. Butler has as many big-time wins as anyone, but the Bulldogs have dropped a couple of home games in the past two weeks. Now, a test on the road. Shaka Smart avoided watching the tape of the loss to Butler in the 2011 Final Four until recently. While no one who will play Saturday for either team scored more than six points in the national semifinal game, the styles will be familiar. The more methodical the game, the better for Butler. The more frenzied the pace, the better for the Rams, who lead the nation in turnover percentage. Statistically, Butler is middle of the pack when it comes to taking care of the ball. But the stats don't tell the story. Especially for two teams who more than any others recently have defined the madness of March. Pretty good way to tip off college basketball's most important month.
After turning down baseball, Larkin a hit for Miami
MIAMI -- Every winter, the kid would count the days 'til spring training. Not only would he get to spend time with his dad, Reds shortstop Barry Larkin, but every Cincinnati player would be rolling out the Red carpet for him. Tony Perez would throw him slurves in the cages. Eric Davis would hit him fungoes. Deion Sanders would call him "Sugar Shane.'' The clubhouse was just as much his as theirs. All the bubblegum he could chew; all the gumbo he could chow. It was the next-best thing to Christmas.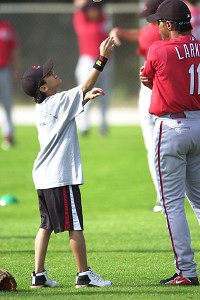 Courtesy of the Cincinnati RedsCincinnati Reds spring training meant time to bond for Shane and Barry Larkin.
The drive from his home in Orlando to Sarasota was 130 miles or so, and he'd throw everything he'd need into his dad's truck: headphones, video games and one other item that, every spring, would confound all of his father's teammates.
A basketball.
Shane Larkin would be dribbling his basketball in the Cincinnati Reds' dugout.
Pete Rose's kid, Petey, played one year in the majors. Perez's kid, Eduardo, played 13. Ken Griffey Sr.'s kid is going to the Hall of Fame. Barry Larkin's kid is going … to the NCAA basketball tournament.
How and why Shane Larkin took this detour is beyond his father, who chuckles and says he still thinks his son could hit 30 home runs and steal 30 bags in the big leagues. But the bottom line is Shane Larkin is probably the best point guard in the ACC -- and the University of Miami has an inflexible youth baseball coach to thank for it.
Sometimes, the tiniest insult will stay with a kid forever. In the case of Shane Larkin, a tiny insult is embedded in his soul. His father thinks Shane could have been the next Mike Cameron; instead, the kid will be in Cameron Indoor Stadium this Saturday with a conference title on the line.
Back when Shane was 5 or 6, he was, no doubt, going to be a baseball player. Perez and Pete Rose made him their pet project. Perez, a Hall of Famer, would facetiously tell Barry, "You don't know anything about hitting -- I'm not letting you near the kid.'' And Perez would take it from there. He'd throw Shane batting practice and teach him how to lift his leg as a pitch was coming, then get his foot down lightly before contact. It was advanced for a 6-year-old, but the kid had a quick mind and quick hands. Rose, even though he was banned from baseball, was tight with Barry, and would add his two cents. "Don't alligator arm your swing,'' Rose would tell Shane. "Extend your arms.''
But more than anything, the kid liked to roam the outfield. At spring training, pre-basketball, he'd beg center fielder Davis, or coaches like Tommy Helms, to blast fungoes at him, and he'd run down most of those fly balls -- at the ridiculous age of 5. "I remember scouts telling me, 'Oh my goodness, your son is going to be an unbelievable baseball player,'" Barry says. "He had a very strong arm, he could hit, he was fast as heck. At 5 or 6 years old, he's scaling the outfield wall. We're talking about him going and trying to jump and kick off the wall and then scale the wall to try to catch the ball.
To read the rest of Tom Friend's feature on Shane Larkin, click here.
Viewer's Guide
All times ET:
Friday
7 p.m.: Harvard at Princeton (ESPNU)
7 p.m.: Loyola at Iona (ESPN2)
Saturday
12 p.m.: Alabama at Florida (ESPN)
12 p.m.: Butler at VCU (ESPN2)
12 p.m. Louisville at Syracuse (CBS)
1 p.m.: Memphis at UCF (FSN)
1:30 p.m.: Iowa State at Oklahoma (ESPN3)
2 p.m.: Notre Dame at Marquette (ESPN)
2 p.m.: Wichita State at Creighton (ESPN2)
2 p.m.: Connecticut at Cincinnati (ESPN3)
2 p.m.: West Virginia at Kansas (CBS)
2 p.m.: Massachusetts at Xavier (CBSS)
3 p.m.: Arizona State at USC (FSN)
4 p.m.: Texas at Oklahoma State (ESPN)
4 p.m.: Kentucky at Arkansas (CBS)
4 p.m.: UNLV at Nevada (NCBS)
5 p.m.: Portland at Gonzaga (ROOT)
5 p.m.: Wyoming at New Mexico (ROOT)
5 p.m.: Colorado at California (ESPNU)
6 p.m.: Miami at Duke (ESPN)
7 p.m.: Kansas State at Baylor (ESPN2)
7 p.m.: Northwestern St. at SFA
7:30 p.m.: Iowa at Indiana (BTN)
8 p.m.: Colorado State at Boise State
8 p.m.: St. John's at Providence (ESPN3)
9 p.m.: Arizona at UCLA (ESPN)
Sunday
12 p.m.: Villanova at Pittsburgh (ESPN3)
1 p.m.: Purdue at Wisconsin (ESPN)
2 p.m.: Florida St. at North Carolina (CBS)
4 p.m.: Michigan State at Michigan (CBS)
6 p.m.: NC State at Georgia Tech (ESPNU)
Brennan on Louisville-Syracuse
I Can't Wait To See …
Eamonn Brennan

Whether Michigan can put its defense back together again by the time the Spartans arrive in Ann Arbor Sunday. Look, the Wolverines were never going to win with their defense first. They've always been about the break-ankle dribble moves of Trey Burke, the hot-shooting wing play of Tim Hardaway and Nik Stauskas, with a dash of Glenn Robinson's athleticism and the size of Jordan Morgan and Mitch McGary up front. With Burke in the lead, UM's offense hums, and few in the nation can stop it. But the Wolverines have the highest of goals this season, and the bottom line is they won't be able to achieve them in March if they can't hold Penn State's 12th-ranked Big Ten offense in February. The Spartans had their way with UM in East Lansing. Is there more left to learn?
Andy Katz

Harvard at Princeton and Penn: The Ivy League should provide some excitement during the final two weekends of the season. Harvard has not received the attention it did in the past two seasons, when it chased its first NCAA bid since 1946. But the Crimson can clinch a second consecutive berth and a piece of the Ivy League title for a third straight season if they sweep Princeton and Penn. If that happens, it would put them up two full games on the Tigers with two left to play (Columbia and Cornell at home). The race would be over. Harvard is winning without two starters, Brandyn Curry and Kyle Casey, who are not in school because of a university-wide academic scandal. The Ivy League isn't as strong this season, but the Crimson have found a way to stick together and become a diverse scoring unit. This may turn out to be Tommy Amaker's best coaching job ever.
Jason King

With bubble talk reaching its crescendo, I'm looking forward to seeing if Baylor can get back into the NCAA tournament picture by beating Big 12 co-leader Kansas State in Waco. The Bears are 17-11 overall and 8-7 in league play, but they lack quality wins. A victory over the 13th-ranked Wildcats would provide a huge boost to Baylor's at-large profile. It certainly won't be easy. K-State blasted Scott Drew's squad by 20 points Feb. 16 in Manhattan. The game was competitive until midway through the second half, when Kansas State went on a run that spelled doom for Baylor. The Bears have more talent than Kansas State, but the Wildcats are as cohesive and well-coached as any team in the Big 12. Unlike most schools in the Top 25, Bruce Weber's group has yet to suffer an upset. Something tells me it won't this weekend, either.
Myron Medcalf

I can't wait to see what happens in the state of Michigan on Sunday. Both the Spartans and Wolverines are in the middle of tough stretches. Their fans haven't jumped off their respective bandwagons. But they're worried and they have a right to be worried. Michigan State has lost two in a row (Indiana and Ohio State). But the Spartans are just a game behind Indiana in the Big Ten title race and they're tied with Wisconsin. Still, Tom Izzo admits that he's had some concerns about his team's recent efforts. Sunday's matchup at Michigan is a chance for Michigan State to end the two-game losing streak and take another stride in the Big Ten title race. The Wolverines are coming off a loss to Penn State. They allowed the Nittany Lions to shoot 50 percent from the 3-point line, adding fuel to concerns about their defense (42nd in adjusted defensive efficiency per Ken Pomeroy). This is much bigger than bragging rights between rivals.
Dana O'Neil

I can't wait to see Butler at VCU. Saint Louis took some of the luster off this game, beating both the Rams and Bulldogs to move into first place in the Atlantic 10, but this game between one-time mid-majors gone national programs remains the marquee game in the conference. As if the crowded A-10 race doesn't make it interesting enough, there is also the nagging notion that the matchup might be a one and done. The Catholic 7 is likely to target Butler if and when it gets its conference off the ground, so this great league battle and would-be rivalry might be gone in a blink. The crowd in Richmond will be raucous, the defense -- while different -- will be equally suffocating, and the game will be high-major fun.
Robbi Pickeral

Miami at Duke. No, the Hurricanes are no longer undefeated in the ACC. And it doesn't look as if Blue Devils forward Ryan Kelly -- also missing when UM blew out Duke by 27 points in January -- will quite be ready to return from his foot injury this weekend (though he planned to practice this week). But the battle of the top two ACC teams is also a battle of top-five teams, a test to see how far No. 3 Duke has come since its embarrassment in Florida, and how far the fifth-ranked Canes can still go after losing by 15 points at Wake Forest last weekend. As of Wednesday night, they were separated by 2.5 games in the conference standings.