Duke nips NC State, hands Coach K his 800th career win
AP Photo/Gerry Broome
Key Shot
By Andy Glockner
ESPN.com
Milestones are career achievements, but they mean even more when achieved in the proper context. Duke's gritty, come-from-behind, 87-86 win at NC State on Saturday gave head coach Mike Krzyzewski his 800th career win, which makes him the sixth coach in NCAA Division I men's basketball history to reach that mark. He now sits 102 wins behind career leader Bob Knight, Krzyzewski's mentor at Army. This win is memorable, and not just because of the number or the way the Devils rallied from 13 down in the second half. It also was a perfect example of how this season's Duke team perseveres. After having their defense shredded for much of the game, the Blue Devils clamped down, held NC State to 11 points over the final 9:17 and used their abundant 3-point shooting to claw their way back. Krzyzewski's accomplishment feels a lot better than when the last two coaches crossed this threshold. It never felt quite right watching Knight wind down his career in Texas, where the brighter shade of red he wore often contrasted with the atmosphere in Texas Tech's less-than-full arena. That awkwardness, though, has nothing on Eddie Sutton's path to 800 -- a route that included a drinking problem that prematurely ended his career at Oklahoma State and a weird coup at San Francisco that gave him a chance to get the two more wins he needed. None of that taint is associated with Krzyzewski's mark. Nor is there any sense that this could be close to the end. Where he goes from here is pretty much up to him. If he stays at Duke for another seven or eight seasons, he should be the first (and perhaps only) men's coach to cross the 1,000-win threshold. With the way these Blue Devils are playing right now, Krzyzewski has some more-immediate issues to address if he hopes to stop Duke's recent trend of NCAA Tournament underperformance. Those problems, though, are for another day. What's important for today and for this landmark is that this win just felt right. It was with his program, his players, and they played in the Coach K way.
To read the recap of Duke's win over NC State, click here.
Player of the Year?
By Pat Forde
ESPN.com
PALO ALTO, Calif. -- Before practice Friday, Stanford coach Trent Johnson announced that he was capping the rims in Maples Pavilion and focusing on defense and rebounding. "We're going to get after it a little bit," Johnson said, departing from the normal low-intensity Friday practice between games Thursday and Saturday.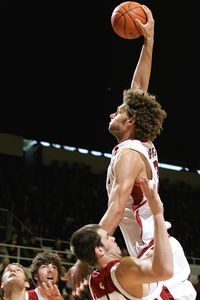 AP Photo/Marcio Jose Sanchez
Robin Lopez and twin brother Brook are the anchors of Stanford's ability to clamp down defensively on opposing teams.
The night before, the eighth-ranked Cardinal had given up 79 points, 53.1 percent shooting and 16 offensive rebounds to visiting Washington. Stanford won the game -- it has won fourth straight and 11 of its past 12 -- but Johnson saw his team straying from its identity. Saturday afternoon against No. 22 Washington State, the Cardinal relocated its calling card just in time. Down 51-46, Stanford closed the game with a suffocating 14-2 run that was all about defense and rebounding. The Cougars didn't make a field goal in the final 6 minutes, 49 seconds of the game, missing their final seven shots. They didn't grab a single offensive rebound in that time and gave up two key offensive boards to Stanford. They committed two crucial turnovers and ran into a Cardinal brick wall down the stretch. "From the 10-minute mark on, I thought we were as good as we've been all season defensively," said Johnson, whose team came back from a 14-point first-half deficit. It's going to have to be that way for Stanford to succeed in March -- and to have any chance of reaching April. The Cardinal is startlingly unathletic on the perimeter and might seem to be one bad matchup away from an early NCAA Tournament exit. But Johnson's team camouflages its vulnerability with massive size and a commitment to tenacious D. With the 7-foot Lopez twins guarding the rim, drives are difficult to finish and offensive rebounds are rare. And they're just as tough to defend at the other end:
Brook Lopez
scored 19 second-half points Saturday, often against double-teams, and was the recipient of two lovely feeds from brother
Robin
for baskets. "When I've got someone on the other end who I know can finish, that gives me a lot more confidence," Robin Lopez said. Stanford will take its surging confidence to Los Angeles this week for two games -- at UCLA and at USC -- that will decide the Pac-10 title. The Cardinal has come a long way since being run out of the NCAA Tournament last March in the first round by Louisville -- all the way to a 24-4 record and a 13-3 mark in a rugged Pac-10. How far it goes from here will depend on the two things Johnson emphasized Friday: defense and rebounding.
Late-Game Winners
By Adam Rittenberg
ESPN.com
MILWAUKEE -- It might have sounded inappropriate, given what his team had just stolen from Marquette, but Georgetown coach John Thompson III launched into a line from "The Gambler" after another high-stakes game.
Asked where Saturday's 70-68 overtime victory ranked for Georgetown this season, Thompson took his cue from Kenny Rogers.
"We'll count our money later," he said.
After looking flat broke for the better part of 30 minutes, the Hoyas banked a lucrative road win and continued to sit atop the Big East standings. On the first day of college basketball's decisive month, Georgetown first raised red flags about its road toughness and ballhandling, then promptly lowered them with an intrepid comeback that reflected a tournament-tested team.
To read all of Rittenberg's column on Georgetown, click here. To read Rittenberg's Instant Analysis of Georgetown's win over Marquette, click here.
Key Notes
By Jason McCallum
ESPN Research
• On Wednesday, there were three 40-point scorers on the same day in Division I games for the first time since Jan. 8, 2001, when there were four players who scored 40 or more points in a game. On Saturday, there were four 40-point scorers again. Boston College's
Tyrese Rice
(46), High Point's
Arizona Reid
(42), Creighton's
Cavel Witter
(42) and Virginia's
Sean Singletary
(41) were the players who reached the mark Saturday. • Rice scored his 46 against North Carolina in BC's 90-80 loss, the third-most points ever scored by an individual in a game against the Tar Heels. Rice had 34 points in the first half, and of the 278 teams that played Saturday,
160
did not reach 34 by the break. • Creighton's Witter scored 42 points in the Bluejays' 111-110 double-overtime win over Bradley. The remarkable thing about Witter's effort is that he had his 42-point performance off the bench. He is the third player this season who has scored 40 or more points in a game he did not start.
AP Photo/George Nikitin
USC freshman O.J. Mayo came up just shy of a Pac-10 record against Arizona State on Saturday.
•
O.J. Mayo
scored a career-high 37 points in USC's 80-66 loss at Arizona State. The effort was four points shy of the Pac-10 record for points in a game by a freshman. UCLA's Don MacLean had 41 points against North Texas in 1988. • Davidson sophomore
Stephen Curry
continued the scoring parade, registering 35 points in the Wildcats' 89-69 win at Georgia Southern. It is the fifth time in his career that Curry has reached 35 points, and Davidson is 5-0 in those contests. This particular win extended the school's winning streak to 19 games, the longest active streak in Division I. • McNeese State junior
Kleon Penn
had a career-high nine blocked shots to lead all Division I players on Saturday. The Cowboys beat Lamar 74-71 behind Penn's effort. By comparison, the Penn Quakers have not blocked that many shots as a team in a single game since Dec. 31, 2004, when they blocked 10 in a 74-64 loss to Villanova. •
Syracuse
lost 82-77 at home to Pittsburgh despite the fact the Orange shot 58.8 percent from the floor. In the past 10 seasons, the Orange have played 162 Big East conference games (the equivalent of a baseball regular season), and the 58.8 percent shooting is tied for their sixth-best shooting performance over that span. Their previous best shooting percentage in a conference loss during that time was 53.6 percent, which occurred earlier this month in a loss to South Florida. • Four teams have knocked off the top-ranked team in the land this season -- including
Vanderbilt
, which had a three-point win over No. 1 Tennessee earlier this week. Of the four teams to dethrone No. 1, three of them have lost their next game -- including Vanderbilt, which lost 78-73 at Arkansas on Saturday. Only Texas has beat No. 1 and followed that up with a victory. • UAB's
Robert Vaden
had 30 points and zero assists in the Blazers' 69-44 win over Tulane. Amazingly, he is already the 53rd player this season to score 30 points and have zero assists in the same game. The leader in that category is
Michael Beasley
, who has done it five times.
On tap for Sunday
• Kentucky at Tennessee, noon ET
• Providence at Cincy, noon ET (ESPNU)
• Notre Dame at DePaul, 1 ET (Full Court)
• Indiana at Michigan State, 2 ET
• UCLA at Arizona, 4 ET
• Clemson at Maryland, 7:30 ET
For the full schedule, click here. All games on ESPN, ESPN2 and ESPN Full Court also are on ESPN360.com.
Pitt steals win at Syracuse
Top 25 scores from Saturday
• No. 2 North Carolina 90, Boston College 80
• No. 3 Memphis 76, Southern Miss 67
• Texas Tech 83,
No. 5 Texas
80
• No. 6 Duke 87, NC State 86
• No. 7 Kansas 88, Kansas State 74
• No. 8 Stanford 60,
No. 22 Wazzu
53
• No. 10 G'town 70,
No. 21 Marquette
68 OT
• No. 11 Xavier 66, George Washington 56
• No. 13 Butler 65, Detroit 31
• Arkansas 78,
No. 14 Vanderbilt
73
• No. 16 UConn 79, West Virginia 71
• No. 19 Purdue 68, Northwestern 43
• No. 20 Drake 73, Wichita State 63
• Gonzaga 88,
No. 23 Saint Mary's
76
• Bowling Green 89,
No. 24 Kent State
83
• No. 25 BYU 76, Air Force 57
For all scores, click here.
Tyrese Rice scores 46, but UNC wins
Key scores from Saturday
• Pitt 82, Syracuse 78
• Oklahoma 64, Texas A&M 37
• Mississippi State 68, Florida 59
• Minnesota 71, Ohio State 57
• Baylor 100, Missouri 89
• UNC Asheville 63, Winthrop 50
• Arizona State 80, USC 66
• East Carolina 84, Houston 83
• Cornell 86, Harvard 53
• Davidson 89, Georgia Southern 69
• Creighton 111, Bradley 110 (2OT)
• Illinois State 57, Southern Illinois 49
For all scores, click here.
Breaking down the bubble
Big East standings
East record
Overall record
#10 Georgetown
14-3
21-4
#18 Louisville
13-3
23-6
#16 UConn
12-4
23-6
#17 Notre Dame
11-4
21-6
#21 Marquette
11-6
21-7
Pitt
9-7
21-8
West Virginia
9-7
20-9
Cincinnati
8-7
13-14
Villanova
7-8
17-10
Seton Hall
7-9
17-12
Syracuse
7-9
17-12
DePaul
5-10
10-17
St. John's
5-11
11-17
Providence
4-11
13-14
South Florida
3-13
12-17
Rutgers
2-15
10-20
Arkansas knocks off Vanderbilt
Going dancing
One down, 64 to go. With Saturday's 86-53 win over Harvard,
Cornell
became the first team to reserve its spot in the NCAA Tournament. The Big Red (20-5, 12-0 Ivy) earned its first trip to the Dance since 1988. It will be the first team not named Penn or Princeton to represent the Ivy in the NCAA Tournament since its last appearance. To read more about Cornell's win, click
here
.
Kansas throttles K-State in Allen Fieldhouse
Rock chalk Jayhawk
By Andy Katz
ESPN.com
LAWRENCE, Kan. -- Kansas coach Bill Self got his team together a week ago and told his players that the rut they were in was not bad for them at all. He said that it was good for them to deal with some adversity, to struggle to score, to not play with energy, to even be a bit selfish. "Every team that wins in March goes through some sort of crap during the season," Self said as he walked back to his office.
The coach reflected on the Jayhawks avenging their first loss of the season by pounding Kansas State 88-74 Saturday night at Phog Allen Fieldhouse, easily the best, loudest and most energetic place to watch a game. "We had a hall pass all year long until the last month," Self said. "We were 20-0, beating people bad, and on the road we were winning by double figures. We needed to have something bad to [happen to] have an identity, to find our toughness."
To read all of Katz's column on Kansas, click here.
Greatest players: No. 6 Jerry West