Virginia Tech leaves itself some work to do in the ACC tourney
Rex Brown/Getty Images
Key Shot
By Mark Schlabach
ESPN.com
CLEMSON, S.C. -- No ACC team with 10 victories in conference play has ever been left out of the NCAA Tournament field. That's what made the final 3.8 seconds of Virginia Tech's 70-69 loss at Clemson on Sunday so painful for Hokies coach Seth Greenberg. If the Hokies had won their fifth consecutive game, they would have finished 10-6 against conference foes and in third place in the ACC standings. With a victory over the Tigers, it would have been very difficult for the NCAA selection committee to overlook Virginia Tech. After Hokies forward
Deron Washington
tipped in
A.D. Vassallo
's miss for a 69-68 lead with 9.1 seconds left to play, Virginia Tech seemed to be on its way to doing just that. But with 3.8 seconds to go, Clemson freshman point guard
Demontez Stitt
drove to the basket. Vassallo was whistled for his fifth foul, and Stitt calmly sank two foul shots. Washington missed a long jumper at the buzzer to give the Tigers a 70-69 victory at Littlejohn Coliseum. Afterward, Greenberg was visibly upset and all but criticized officials for calling the foul. "It's just a shame it came down to that," Greenberg said. "The teams played too hard for it to come down to that. It was an extremely physical game and both teams played hard. With the physicality of the game, it's just amazing what it came down to." It's amazing that Virginia Tech's NCAA Tournament hopes might have been decided with one blown whistle. Before losing at Clemson, the Hokies were ranked No. 57 in the RPI, according to ESPN.com's InsideRPI. But now, Tech is 0-6 against teams ranked in the top 50 of the RPI projections and has three rather unsightly road losses -- at Penn State, Old Dominion and Richmond. Another factor working against the Hokies: They played ACC leaders Duke and North Carolina only once during an unbalanced league schedule. Virginia Tech's most impressive wins are two victories over Maryland. At best, Greenberg knows his team still has work to do in this week's ACC tournament in Charlotte. The Hokies are the No. 4 seed and will play the winner of Miami-NC State on Friday (
ESPN2, 2 p.m. ET
). "I'm not one to sit here and politic," Greenberg said. "We're the No. 1 RPI league in the country, and we finished fourth in the conference. What I say doesn't mean anything. What [ESPN analyst] Digger Phelps says doesn't mean anything. What [ESPN analyst] Hubert Davis says doesn't mean anything. It's all speculation."
Key Notes
By Jason McCallum
ESPN Research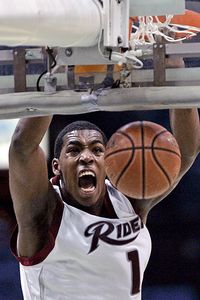 AP Photo/Mike Groll
Jason Thompson has quietly scored 2,001 career points at Rider.
• Rider's
Jason Thompson
scored 32 points and grabbed 18 rebounds in the Broncs' 76-71 MAAC tournament semifinal win over Marist on Sunday. It was the senior's fourth career 30-point game, and his 32 points were one shy of his career high. Thompson heads into Monday's championship game against Siena with 2,001 career points. • Thompson is the first player to score at least 30 points and grab at least 15 rebounds in a conference tournament game since Sherman Gay of Loyola Marymount, who had 30 points and 15 rebounds in a win over Portland in the 2004 West Coast Conference tournament. The last player to reach at least 32-18 -- as Thompson did on Sunday -- was Monmouth's Corey Albano, who had 33 points and 21 rebounds in a loss to LIU in the 1997 Northeast Conference tournament. • Thompson is the second player this season to record at least 32 points and 18 rebounds in a Division I game this season. The other was Kansas State's
Michael Beasley
, who had 32 points and 24 rebounds in his debut on Nov. 9 against Sacramento State. • Thompson was not the only player to record his 2,000th career point on Sunday. On Senior Night in Charlottesville, Va., Cavaliers guard
Sean Singletary
scored 27 points in Virginia's 91-76 win over Maryland. The total gives the senior 2,002 career points. He and Thompson became the 10th and 11th active Division I players to record 2,000 career points. Less than 24 hours earlier,
Tyler Hansbrough
became the ninth player. • Indiana lost 68-64 in overtime at Penn State. It was the Hoosiers' first road overtime loss since Jan. 20, 2001, when they lost 78-74 at Minnesota. That was the same day
George W. Bush
was inaugurated as the 43rd president of the United States. •
Ray Barbosa
of Maryland-Baltimore County was 15-for-15 from the free-throw line in a 73-64 win over Vermont in the America East tournament. The last player to take at least 15 free throws in a conference tournament game without a miss was Navy's Michael Heary, who was 16-for-16 in a win over Lafayette in the 1997 Patriot League tournament. • William & Mary upset CAA top seed VCU 56-54 in the conference semifinals. The Tribe had lost their previous 12 games to the Rams -- their last win coming on Jan. 18, 2003 at home in double overtime. On that day,
Carmelo Anthony
recorded a career-low three rebounds in Syracuse's loss to Pittsburgh, defending champion
Maryland
handed top-ranked Duke its first loss of the season (the Blue Devils were the last remaining unbeaten team at the time), and
North Carolina
became the second school in Division I history to win 1,800 games with a 68-65 win over sixth-ranked Connecticut. • Connecticut surpassed two records with its 96-51 home win over Cincinnati. First, it was the Huskies' largest margin of victory ever in a Big East Conference game; their previous record was a 42-point win over Seton Hall in the 2005-06 season. Second,
Hasheem Thabeet
recorded eight blocked shots to increase his Big East total to a conference-record 94; that sets the individual season record for most blocked shots in Big East play.
Alonzo Mourning
had 93 blocks in the 1991-92 season. (Thabeet has 141 blocks overall this season.) • Clemson beat Virginia Tech 70-69 for its 10th win in ACC play this season, clinching third place in the conference. It is the Tigers' best finish in the ACC since they won the regular-season title in 1990. Since Virginia Tech joined the ACC, the Tigers are 4-2 vs. the Hokies, and the six games have been decided by an average of 2.0 points per game.
On Tap For Monday
• CAA: No. 5 William & Mary vs. No. 3 George Mason, 7 ET (ESPN)
• MAAC: No. 1 Siena vs. No. 2 Rider, 7 ET (ESPN2)
• WCC: No. 1 Gonzaga vs. No. 3 San Diego, 9 ET (ESPN)
• SoCon: No. 1 Davidson vs. No. 7 Elon, 9 ET (ESPN2)
All games are conference championships. For the full schedule, click here. All games on ESPN, ESPN2 and ESPN Full Court also are on ESPN360.com.
Sunday's Top 25 Scores
• No. 4 Tennessee 89, South Carolina 56
• No. 9 Texas 62, Oklahoma State 57
• No. 14 Connecticut 96, Cincinnati 51
• No. 15 Purdue 72, Michigan 58
• Penn State 68,
No. 17 Indiana
64
• Ohio State 63,
No. 18 Michigan State
54
• No. 21 Drake 79, Illinois State 49
• No. 23 Gonzaga 52, Santa Clara 48
For all scores, click here.
Texas earns top seed in Big 12 tourney
MAAC Title Game
By Andy Glockner
ESPN.com
ALBANY, N.Y. -- Persistent Siena needed only one basket from Johnny-on-the-spot forward
Josh Duell
, while short-handed Rider needed every bucket it could get from star big man
Jason Thompson
. Both teams got just what they needed Sunday night, which is why the MAAC's top two seeds will meet in the title game here Monday. Against Loyola (Md.), a team that had beaten Siena four straight times over the past two seasons, the Saints found a way back from a 17-point hole through an unusual source -- their defense. Down by 10 at the break, Siena spent the whole second half slowly squeezing the life out of the Greyhounds' offense. Despite 17 second-half points from Siena guard
Kenny Hasbrouck
, the Saints couldn't snatch the lead until just 19.9 seconds remained. That's when Duell, a former Vermont Catamount who transferred home to play for the team he cheered as a kid, made a tough layup while being fouled for his only points of the game, capping a game-ending 8-0 run and giving Siena a
65-63 win
. "Any time you grow up watching a team and end up wanting to play for them and then getting to play for them, you want to help out in any way possible," Duell said. "Fortunately for me, I've been able to do that a couple times this year where I've gotten to make big shots." For Rider's Thompson, one basket is a typical possession's worth of production. He managed to average 20 and 10 for the second straight season, all the while deferring to other teammates at times to help the development of the youthful core of Broncs around him. That was not part of the plan on Sunday against a game Marist squad, though. Not with Rider missing two starters, including Jason's brother, Ryan, the team's second leading scorer, who is out for the tournament with a concussion. "I just called him aside [earlier in the day] and said, 'This is going to take an extraordinary effort tonight,' being undermanned like we were," said Rider coach Tommy Dempsey. Trailing by seven at the half, the Broncs repeatedly went inside and the league Player of the Year delivered 19 second-half points on his way to a 32-point, 18-rebound effort that fueled a
76-71 victory
. There's no rest for the weary, though. The Broncs have less than 24 hours to get ready for the host Saints, whose up-tempo style could make Rider's lack of bodies a significant problem. "I have a lot of concerns that we can rally and perform this way [again]," Dempsey said. "I think it took a lot out of us tonight, emotionally, physically, and it will be very challenging."
Rider survives against Marist in MAAC
Champ Week
Drake, in routing Illinois State 79-49, won the Missouri Valley Conference tournament and earned its first NCAA Tournament bid since 1971. Former walk-on
Adam Emmenecker
, the Valley's Player of the Year, took home the tourney's Most Valuable Player honors. To read about Emmenecker's remarkable play, read
Adam Rittenberg's column
.
Here are some other key conference tournament scores from Sunday:
America East:
Hartford 59, Boston University 52
Colonial:
William & Mary 56, VCU 54
George Mason 53, UNC Wilmington 41
MAAC:
Siena 65, Loyola (Md.) 63
Rider 76, Marist 71
Southern Conference:
Davidson 82, UNC Greensboro 52
Elon 75, Charleston 61
Sun Belt:
South Alabama 81, New Orleans 77
Western Kentucky 84, North Texas 70
West Coast:
San Diego 75, Saint Mary's 69 (2OT)
To see all of ESPN.com's Champ Week coverage, click here.
Bracketology: Who are the last four in?