Golden Bears are ready for revenge
Stephen Dunn/Getty Images
Key Shot
By Andy Katz
ESPN.com
LOS ANGELES -- Cal is going to the NCAA tournament only if the Bears win the Pac-10 tournament this week. But playing regular-season champ and top-seeded UCLA on Thursday in the quarterfinals isn't about a much-needed win for a bubble team. Nope, this is nothing more than the Golden Bears' shot to take down UCLA after feeling that a win was taken from them on Saturday. "We've got nothing to lose," said Cal super sophomore
Ryan Anderson
. "We've got to get to the championship game for a chance at a bid. We're ready to go for this one." At issue were two non-calls. Anderson said he was fouled in the final seconds but no call was made as the ball went out of bounds off him. Then, UCLA's
Josh Shipp
hit a game-winning bucket that went over the corner of the backboard, which could have been interpreted as a violation of the rule that prevents shots from going over any portion of the backboard. But, later Saturday night, the Pac-10 released the bracket for this week's tournament. And the Bears realized they could get another shot at UCLA, the regular-season champs. Cal practiced at 6:30 a.m. Monday, and Anderson said the Bears were as ready for an opponent as they have been all season. "I felt bad because we deserved to win," said Cal coach Ben Braun, although he admitted that the Bears did missed a few offensive rebounds that could have made the difference in that UCLA loss. Still, to set up Thursday's rematch, Cal had to beat Washington first, which the Bears did with an 84-81 victory Wednesday night in a No. 8 vs. No. 9 matchup (Cal is No. 9). Braun said the Bears were suffering through a hangover from the UCLA game in the first half Wednesday, slumbering along to a two-point deficit to the Huskies, who were playing without their leading scorer and star forward
Jon Brockman
(injured left foot). Cal woke up in the second half, and Anderson's 3-pointer with 41 seconds left gave the Bears an 82-78 cushion. Cal senior center
DeVon Hardin
was available against Washington (eight rebounds and seven points) and will have him against UCLA after he missed Saturday's game against the Bruins with a hip flexor. The Bears beat UCLA last year in the Pac-10 quarterfinals. So history is on their side. But now there is revenge, too. "We know we can go out and compete with those guys," Cal sophomore point guard
Jerome Randle
said. "It's a blessing to play those guys again. We were shooting for UCLA. A lot of people were putting us down and saying we can't win this tournament. But we have faith that we can do it."
Atlantic 10
By Heather Dinich
ESPN.com
ATLANTIC CITY, N.J. -- Rhode Island, a team that was once ranked No. 22 in the country and seemed destined to dance in March for the first time since 1999, is now officially going nowhere. Within a four-day span, the Rams ended their season with back-to-back losses to Charlotte, the latter being both more dramatic and final. With 0.3 seconds left in Wednesday's game, reserve guard
Michael Gerrity
made both of his free throws for Charlotte's first lead of the game and a 75-73 win in the first round of the Atlantic 10 tournament. Charlotte (19-12) remains unbeaten in March and will try to keep it that way when it faces No. 3-seeded Massachusetts at 9 p.m. Thursday. "I didn't want to lose, and I felt the whole game I got pretty good shots," said senior guard
Leemire Goldwire
, whose consecutive 3-pointers closed the gap to 72-71 with 1:12 remaining. "It just so happened the last three shots, they were really good looks and I capitalized on them." And Charlotte coach Bobby Lutz capitalized on the moment to make public his unhappiness with Goldwire's spot on the conference's third team. It's not the first complaint, as a few days earlier, Xavier senior
Stanley Burrell
called the league "pathetic" for not voting any of the first-place Musketeers to the first team. (Remember, it's the coaches who vote, not the media). "I'm not going to lie to you," Lutz said. "[Goldwire]'s better than that. There are other good players in this league, but he's better than third team all-league, and he showed it today, just like he's shown it his whole career." Goldwire finished with a team-high 23 points, six assists and four rebounds against Rhode Island. He might not have made the first team, but at least he and the 49ers are still playing.
That's embarrassing
By Dana O'Neil
ESPN.com
NEW YORK -- Told that Big East commissioner Mike Tranghese vowed to take action for what he termed "embarrassing" behavior at the conclusion of the regular-season game between Rutgers and Seton Hall, Hall coach Bobby Gonzalez went Sergeant Schultz straight out of "Hogan's Heroes."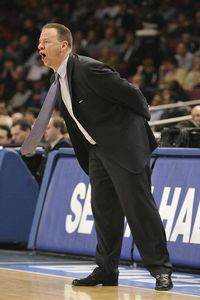 Rich Kane/US Presswire
Bobby Gonzalez's sideline antics earned the ire of Big East commissioner Mike Tranghese, although Gonzalez said that's news to him.
"I know nothing about it," said Gonzalez on Wednesday, though he lacked the German accent belonging to Colonel Klink's blind-eye turning assistant. He may soon. On Sunday, Gonzalez lambasted the officiating crew and raced onto the court following Rutgers' 64-61 win over the Pirates, convinced that J.R. Inman's winning 3-pointer needed to be rechecked. Gonzalez also complained after he received a technical foul, arguing that Rutgers coach Fred Hill deserved one as well for leaving the coaching box. That little exchange led to a fairly ugly verbal spat between the two rival coaches. Tranghese on Tuesday said that the Big East Conference would announce what action would be taken in the next two weeks. "It's embarrassing for the conference; it's embarrassing for the schools," the commissioner said. "It's not going to happen again." But after his team was eliminated from the Big East tournament by Marquette on Wednesday night, Gonzalez insisted no one had contacted him regarding any form of punishment and he did not know about Tranghese's remarks. "We played Marquette tonight; regular season is over," Gonzalez said. "We came here to be in the Big East tournament, so I'm not sure what you're referring to." After several reporters tried to relay Tranghese's comments to him, Gonzalez reaffirmed his ignorance on the subject. "I don't know anything about it," he said. "I have nothing to say. No comment."
On Tap For Thursday
•
Atlantic 10:
Xavier vs. Dayton, 12 ET
Richmond vs. Saint Joe's, 2:30 ET
Temple vs. La Salle, 6:30 ET
Massachusetts vs. Charlotte, 9 ET
•
ACC:
Wake Forest vs. Florida State, 12 ET
Miami vs. NC State, 2:30 ET
Georgia Tech vs. Virginia, ESPN2, 7 ET
Maryland vs. Boston College, 9:30 ET
•
Big 12:
Texas Tech vs. Oklahoma State, ESPN2, 12:30 ET
Baylor vs. Colorado, ESPNU, 3 ET
Nebraska vs. Missouri, 7 ET
Texas A&M vs. Iowa State, ESPN2, 9:30 ET
•
Big East:
Georgetown vs. Villanova, ESPN, 12 ET
Connecticut vs. West Virginia, ESPN, 2:30 ET
Louisville vs. Pitt, ESPN, 7 ET
Notre Dame vs. Marquette, ESPN, 9:30 ET
•
Big Ten:
Iowa vs. Michigan, 12 ET
Penn State vs. Illinois, ESPN2, 2:30 ET
Minnesota vs. Northwestern, ESPN2, 5 ET
•
Pac-10:
USC vs. Arizona State, 3 ET
UCLA vs. Cal, 5:30 ET
Washington State vs. Oregon, 9 ET
Stanford vs. Arizona, 11:30 ET
•
SEC:
LSU vs. South Carolina, 1 ET
Vanderbilt vs. Auburn, 3:15 ET
Florida vs. Alabama, 7:30 ET
Mississippi vs. Georgia, 9:45 ET
For the full schedule, click here. All games on ESPN, ESPN2 and ESPN Full Court also are on ESPN360.com.
Auto bids earned so far
With Portland State and Mount St. Mary's earning their dancing shoes, 14 teams have now have secured their automatic bids to the NCAA tourney. • Atlantic Sun: Belmont
• Big Sky: Portland State ...

• Big South: Winthrop
• Colonial: George Mason
• Horizon: Butler
• Ivy: Cornell
• MAAC: Siena
• Missouri Valley: Drake
• NEC: Mount St. Mary's ...

• Ohio Valley: Austin Peay
• SoCon: Davidson
• Summit: Oral Roberts
• Sun Belt: Western Kentucky
• WCC: San Diego
To see all of ESPN.com's Champ Week coverage, click here.
Villanova beats the Orange
Nova bursts Syracuse's bubble
By Dana O'Neil
ESPN.com
NEW YORK -- … The riddle that has been Villanova this season is wrapped up in the enigma that is
Scottie Reynolds
. This is his team, sophomore or not. The question has been whether he wanted it to be.
In the past few weeks, Reynolds decided.
And the answer was "Yes."
With the familiar sound of Nardi's singularly Italian North Jersey no-nonsense twang in his head, Reynolds figured out how to be a leader without feeling overbearing, how to be a point guard who doesn't necessarily have to be passive, how to be a scorer without feeling the responsibility to score 30 every night.
Not coincidentally, an up-and-down Villanova team has made a last-ditch push to the NCAA tournament. Winning five of their final seven regular-season games, the Wildcats have landed on the bubble with a stunningly easy 82-63 romp over fellow bubble-dweller Syracuse in the first round of the Big East tournament.
In what was essentially an elimination game, Syracuse blinked, and for the first time since 2002, the Orange won't be sweating Selection Sunday. Barring a stunning development out of the Indianapolis-sequestered basketball jury, Syracuse is going to the NIT.
Unlike last season, when he all but stormed the committee room, Jim Boeheim already has run the white flag up the pole. He didn't posture or argue for an at-large bid after the loss, instead agreeing that his team essentially needed to win at least two games to get consideration.
To read all of O'Neil's column on Villanova's win over Syracuse, click here.
Bob Knight breaks down Villanova, WVU wins
Stop by and Chat
Stuck in your office and wondering what's going on? Can't talk college hoops enough? Want to start scouting out sleeper picks for your bracket? ESPN.com's writers and experts will be chatting for nearly seven hours on Thursday. Here is the schedule of chatters (all times are ET). Noon: Joe Lunardi, Bracketology
12:30 p.m.: Chris Low, C-USA tournament
1 p.m.: Dana O'Neil, Big East tournament
1:30 p.m.: Tim Griffin, Big 12 tournament
2 p.m.: Adam Rittenberg
2:30 p.m.: Pat Forde, Big Ten tournament
3 p.m.: Mark Schlabach, SEC tournament
3:30 p.m.: Heather Dinich, A-10 tournament
4 p.m.: Andy Glockner, Bubble Watch
4:30 p.m.: Kyle Whelliston, A-10 tournament
5 p.m.: Andy Katz, Pac-10 tournament
5:30 p.m.: Ted Miller
6 p.m.: Jay Bilas, Big East tournament
Click
here
to join the chat.