Conference powerhouses on a collision course in Big 12, ACC, Pac-10
Jamie Squire/Getty Images/Christopher Pasatieri/US Presswire
Key Shot
By Andy Glcokner
ESPN.com
Just because most teams are now in sit-and-wait mode, that doesn't mean what's on tap for Saturday lacks meaning for those involved -- and for others sitting on the bubble. Here's a quick look at Saturday's biggest story lines:
Weather or not, here they come
The last quarterfinal game in the SEC was postponed Friday night after a vicious storm ripped holes in parts of the Georgia Dome. Kentucky and Georgia will play their quarterfinal Saturday (noon, ET) in Georgia Tech's Alexander Memorial Coliseum. Then Tennessee and Arkansas will play their semifinal at 6 p.m., while Mississippi State will play the Kentucky-Georgia winner at 8:30 p.m. The championship game will tip on Sunday (
ESPN2, 3:30 ET
) as planned.
Big Ten's big baskets and bid burglars
Minnesota unveiled its tribute to Christian Laettner as
Blake Hoffarber
grabbed an 80-foot pass in traffic, spun to his right and hit a mid-range lefty jumper at the buzzer for a one-point upset win over Indiana. It's not the best shot he's made in a game. He already has won a 2005 ESPY for making a shot from his back in the state championship game. Incredible. What's even more amazing is that the 6-seed Gophers will meet 10-seed Illinois in the semifinal. The Illini upset Purdue in overtime. The winner of this game will gets the Wisconsin-Michigan State survivor with a chance to steal the automatic bid and take a spot away from the bubble.
Conference collision courses
The seven teams still in the mix for one of the four 1-seeds in the NCAAs are all still alive in their conference tournaments. That could lead to some monster matchups on Sunday, with potential Kansas-Texas and Duke-Carolina showdowns, as well as Tennessee also playing for a 1. UCLA and Memphis can take down their conference titles on Saturday.
Virginia Tech gets a crack at Carolina
First things first, the big boys must get through their semifinals, and there's a lot at stake for UNC's opponent on Saturday. The Hokies lack a marquee win but certainly have a chance for one that would greatly help their at-large prospects. It's unclear whether just making it to the ACC final would be enough to get in, but either way, a win in this ACC semifinal game looks mandatory. North Carolina is two wins away from most likely locking up the No. 1 seed in the East region and the Raleigh/Charlotte path to the Final Four in San Antonio.
Can Memphis and Kent State save two bubblers?
Memphis fans won't be the only ones cheering on their Tigers against upstart 7-seed Tulsa on Saturday. With a limited number of at-large spots left, the last thing teams sitting on the bubble need is for the Tigers and/or the Golden Flashes to get upset in their title games and have a precious at-large spot disappear. Memphis is a heavy favorite at home, but Kent State -- after barely surviving Miami (Ohio) on Friday night -- will have its hands full with MAC East rival Akron, who they edged on an
Al Fisher
3 in the final seconds in the regular-season finale.
Saint Joe's goes from bubble enemy to hero
If you believe the Hawks' win over Xavier in the Atlantic 10 semis -- their second win over the league leader in the past nine days -- will be enough to push them into the Dance, then bubble teams really want them to finish the deal and take down Temple in Saturday's title game. That might keep the league at just two bids. If the Hawks lose, there's a good chance the A-10 would get three (minimum), meaning at least one more bubble team loses a spot.
Politicking
By Pat Forde
ESPN.com
INDIANAPOLIS -- It's about a half-mile walk from Conseco Field House to the Hyatt Regency. Thad Matta is sorely tempted to make that stroll right now. The coach of the Ohio State Buckeyes is that close to the hotel where the NCAA selection committee will decide his team's postseason fate. But they're not taking visitors this weekend.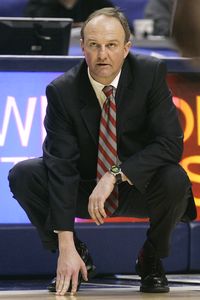 AP Photo/Darron Cummings
Ohio State's Thad Matta believes the Buckeyes are worthy of a bid.
"I don't think I can get to the right people," Matta said after his Buckeyes lost 67-60 to Michigan State in the Big Ten tournament quarterfinals. "My wife doesn't even listen to me half the time. I'd love to walk across the boardwalk there, knock on the door and say, 'Hey, I've got some things I'd like to say.' "I feel strongly about it. I'm going to be a tad biased in my beliefs, but I do think with the strides that this basketball team has made from where we started to where we finished, I think we're a team worthy of being in the tournament." It will be a long wait until 6 p.m. Sunday in Columbus. The Buckeyes join a growing list of bubble teams who failed to win the game that could lock up a bid, leaving them 19-13 and threatening to join fellow 2007 national finalist Florida in the '08 NIT. Big Ten commissioner Jim Delany came to Ohio State's aid, telling an AP writer that the Buckeyes had played all of the league's top four teams twice and had nine wins against the RPI top 50. That would be impressive, if only it were accurate. Ohio State only played Wisconsin once and is, in fact, 2-10 against the RPI top 50. And it wasn't until last week's home sweep of Purdue and Michigan State that the Buckeyes even got those two wins. But what is true is that Ohio State played a challenging schedule (No. 17 SOS) with a very young team. It took the baby Bucks a while to round into form. And if it weren't for a 42-second meltdown against the Spartans -- they committed five fouls in that time, including a technical on
Othello Hunter
-- they might have gotten the victory they needed Friday.
Hokies Hoping
By Heather Dinich
ESPN.com
CHARLOTTE, N.C. -- Virginia Tech coach Seth Greenberg kicked the air. He spun on his heel, clenched his fists and winced. But in the end, he broke into a smile and high-fived everyone on the Hokies' bench, completing a similar gamut of emotions to the one his team has run throughout this season. In exchange for the departure of five seniors from last year's NCAA tournament team, the Hokies got six scholarship freshmen -- including both of their point guards. The same team picked by the media to finish 10th in the Atlantic Coast Conference finished fourth and clinched a bye in the first round of the ACC tournament. And the same Hokies who got pounded by North Carolina 92-53 in mid-February now have a chance to all but guarantee themselves a seed in the NCAA tournament by beating the No. 1-ranked Tar Heels at 1:30 p.m. ET (
ESPN
) in the semifinals on Saturday. Greenberg insists it's not the same team as the one UNC embarrassed on Feb. 16 in the program's worst loss since it joined the ACC. "We've come a long way since that game," he said. Indeed. Virginia Tech won four of its final five regular season games and after yesterday's 63-49 win over likely tourney-bound Miami, the Hokies (19-12) are certainly in a much better position to impress the selection committee. "If I did get a vote, obviously we'd be in, but I don't get a vote," Greenberg said. "You hope that you beat a team that's going to be in the tournament and play the way you played. If anyone was watching that game, I'd say you would say 'That team should be in the NCAA tournament.' But what I think and what I say doesn't really mean anything." It won't have to if the Hokies win one more.
To see highlights of Virginia Tech's win, click here.

Monster Game
By Dana O'Neil
ESPN.com
NEW YORK -- A game after playing Dr. Jekyll,
Roy Hibbert
turned into Mr. Hyde As his last bucket slipped through the net, the normally mild-mannered Hibbert turned to the fans and unleashed. "I'm a monster," Hibbert said. "Be afraid." It was a release of frustration as much a shout of celebration. On Thursday, Villanova did the impossible -- made a 7-foot-2 man disappear. Hibbert went scoreless for the first time all season and took just one shot. His team won easily, which lessened the sting, but Hibbert was nonetheless aggravated. What's that warning about poking a bear? Ask West Virginia. The Mountaineers took the brunt of Hibbert's frustration, watching as the Georgetown big man scored a season-high 23 points to go with 13 rebounds. There were times it seemed Hibbert was everywhere, grabbing rebounds to keep possessions alive, forcing steals, even nailing a 3-pointer. With Hibbert back in his element, the Hoyas enjoyed their second laugher of the tourney, beating the Mountaineers 72-55. Now Georgetown goes for the double-double of doubles, trying to win back-to-back Big East tournament championships to go with back-to-back regular season crowns. They'll have to get past Pittsburgh -- again. The Panthers, runners-up to the Hoyas last year, beat Marquette 68-61 to advance to their seventh championship game in the last eight years. "I didn't expect this big a game [from Hibbert],"
Jessie Sapp
said. "I knew he was going to come out hungry, so we wanted to feed him. It wasn't just his scoring. It was his rebounds and his energy. We fed off him today, and we need him in a game like that for us to win and be successful throughout the rest of the season."
To see highlights of Georgetown's win, click here.

Blake Hoffarber makes miracle shot
On Tap For Saturday
(all times Eastern)
•
Atlantic 10 final:
No. 5 Saint Joseph's vs. No. 2 Temple (ESPN, 6 p.m.)
•
ACC semis:
No. 1 UNC vs. No. 4 Va Tech (ESPN, 1:30 p.m.)
No. 2 Duke vs. No. 3 Clemson (ESPN, 4 p.m.)
•
Big 12 semis:
No. 1 Texas vs. No. 4 OU (ESPN2, 2 p.m.)
No. 2 Kansas vs. No. 6 Texas A&M (ESPN2, 4:20 p.m.)
•
Big East final:
No. 1 Georgetown vs. No. 7 Pitt (ESPN, 9 p.m.)
•
Big Ten semis:
No. 1 Wisconsin vs. No. 4 Michigan State (1:40 p.m.)
No. 10 Illinois vs. No. 6 Minnesota (4:05 p.m.)
•
Big West:
No. 5 UC Irvine vs. No. 3 Cal State Fullerton (ESPN2, 11 p.m.)
•
Conference USA final:
No. 1 Memphis vs. No. 7 Tulsa (11:30 a.m.)
•
MAC final:
No. 3 Akron vs. No. 1 Kent State (ESPN2, 7 p.m.)
•
MEAC final:
No. 7 Coppin State vs. No. 1 Morgan State (ESPN Classic, 8 p.m.)
•
Mountain West final:
No. 1 BYU vs. No. 2 UNLV (7 p.m.)
•
Pac-10 final:
No. 1 UCLA vs. No. 2 Stanford (6:15 p.m.)
•
SEC:
Georgia vs. Kentucky (12 p.m.)
Tennessee vs. Arkansas (6 p.m.)
Mississippi State vs. Georgia/Kentucky (8:30 p.m.)
•
SWAC final:
No. 2 Mississippi Valley State vs. No. 4 Jackson State (ESPNU, 7 p.m.)
•
WAC final:
No. 4 Boise State vs. No. 3 New Mexico State (ESPN2, 9 p.m.)
For the full schedule, click here. All games on ESPN, ESPN2 and ESPN Full Court also are on ESPN360.com.
Weather damages postpones SEC tourney
Auto bids earned so far
• Atlantic Sun: Belmont
• Big Sky: Portland State
• Big South: Winthrop
• Colonial: George Mason
• Horizon: Butler
• Ivy: Cornell
• MAAC: Siena
• Missouri Valley: Drake
• NEC: Mount St. Mary's
• Ohio Valley: Austin Peay
• Patriot: American ...

• SoCon: Davidson
• Summit: Oral Roberts
• Sun Belt: Western Kentucky
• WCC: San Diego
To see all of ESPN.com's Champ Week coverage, click here.
Illinois beat Purdue, advances to Big Ten semis
C-USA Power
By Chris Low
ESPN.com
MEMPHIS, Tenn. -- John Calipari did his best to look happy on Friday. He even reminded reporters several times that no matter what happens the rest of the way, it has been a terrific season. But no matter how hard he tried, there was a bit of apprehension in his voice. His Tigers were good enough to get past Southern Miss 69-53 and advance to the Conference USA championship game at the FedExForum. They'll have to be a lot better next week, though, if they're going make more than just a cameo appearance in the NCAA tournament. Here's something else Calipari isn't taking for granted heading into Saturday morning's matchup with Tulsa, a 64-62 overtime winner against UTEP in the other Conference USA semifinal game: His Tigers aren't a lock for a No. 1 seed in the NCAA tournament … yet. "If everybody [the No. 1 seed candidate] wins, they've got choices to make," Calipari said. "If we lose and everybody wins, we won't be a 1 seed." A little motivation for his team, which clearly played in spurts against Southern Miss and has now won 41 straight games against Conference USA opponents? Probably so. But Calipari also knows the Tigers (32-1) need more from senior forward
Joey Dorsey
and more consistency from their bench. Dorsey was held scoreless and attempted just one shot in 20 minutes. He also had just two rebounds. The Tigers' bench was a combined 6-for-20 from the field. Their saving grace Friday was freshman guard
Derrick Rose
, who calmly pumped in 25 points. He was 4-for-7 from 3-point range. His teammates were a combined 3 of 18 from behind the arc. If Calipari could write the script for Saturday's championship game, it would go something like this: "I just hope we're a little more aggressive, have a little more concentration, have more guys off the bench spark us and that Joey is an absolute animal," Calipari said. "… Let's hope we can hang on and do something special [Saturday]."
Alabama ushers Florida out of the SEC tourney
Stop by and Chat
Can't get enough college hoops talk? Want to start scouting out sleeper picks for your bracket? ESPN.com's writers and experts will be chatting for nearly several hours on Saturday. Here is the schedule of chatters (all times are ET). Mark Schlabach (SEC tournament), 12-12:30
Adam Rittenberg, 12:30-1
Kyle Whelliston (Atlantic 10 tournament), 1-1:30
Tim Griffin (Big 12 tournament), 1:30-2
Ted Miller, 2-2:30
Reggie Rankin, 2:30-3
Heather Dinich (ACC tournament), 3-3:30
Glockner, 3:30-4
Click
here
to join the chat.
Arkansas knocks off Vanderbilt in quarterfinals