Slight edge to Memphis in true rivalry game
Joe Murphy/Getty Images
Must-See Game
By Jay Bilas
ESPN
No. 2 Tennessee at No. 1 Memphis, Saturday, 9 p.m. ET, ESPN
Outlook:
This game provides a true rivalry between two teams that love to pressure, speed up the game, force turnovers and get out in transition. It also features two coaches who are flamboyant salesmen who were questionable fits at their schools, yet they have reinvented and reinvigorated the two programs that seemed headed nowhere before their arrivals. Each team brings great athletes, really good defense and a high confidence level. Of course, the fact that Memphis is the last unbeaten team in the country, and Tennessee represents Memphis' toughest challenge before the NCAA Tournament, adds a great level of interest to the game.
Join Rece Davis, Jay Bilas, Hubert Davis and Digger Phelps in Memphis, Tenn., on Saturday as they break down the day in college basketball (ESPN, 11 a.m. & 8 p.m. ET).
Memphis is very athletic across the board, and John Calipari's Dribble Drive Motion offense has been all the rage this season. The offensive scheme provides more spacing, and the Memphis athletes can drive the elbow area, draw defenders, kick it, then drive and attack again off the dribble. The offense emphasizes drag screens, cuts against the grain, skip passes and kickbacks, and Calipari likes his drivers to attack "downhill" instead of east-west. Memphis is not a great shooting team, hitting only 31.5 percent from 3-point range in Conference USA games. But Memphis has seen a lot of zone. On the defensive end, Memphis plays mostly man-to-man and will press full-court, trap the first pass and occasionally run and jump the ballhandler. The Tigers will play some zone at times, but they would rather come right at you. Memphis forces about 17 turnovers per game, and it has a plus-3.7 turnover margin and a plus-7.8 rebound margin. The Tigers are also an outstanding offensive rebounding team that requires an opponent to send all five guys to the defensive glass (which can help slow down an opponent's ability to get out on the break). Leading the way for Memphis is
Chris Douglas-Roberts
; in his past three games, he is averaging 27.7 points, 5.7 rebounds and 2 assists. CDR is having an All-American season. Point guard
Derrick Rose
is the catalyst, and Tennessee will have to stop the ball in transition because Rose is fast and explosive in the open court. On the sidelines, Calipari believes in his team and has really done a nice job of bringing this team along to succeed in March. Any team can lose, but Memphis has handled this journey very well. This seems to be a team without paralyzing jealousy, as the older and accomplished players have accepted freshman Rose and the attention he receives. Tennessee has some similarities to Memphis in that the Vols like to play fast and like to speed you up and get you to play at a speed at which you don't practice. Bruce Pearl wants his team to push the ball up court after a make or a miss, and he can have any one of four guys bring the ball up court and initiate offense. Memphis has to be aware of trail ball screens and opportunistic 3s in transition by the Vols. Tennessee runs a wide, spread flex offense, some quick hitters for a shot or isolation, and some continuity looks. On the defensive end, Tennessee plays a switching man-to-man defense, but the Vols are not great defenders on the ball. They tend to give up drives and they are not a great box-out team. However, the Vols defend the passing lanes, trap and play physical, hard-nosed defense.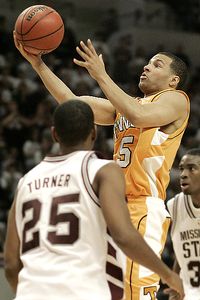 AP Photo/Rogelio V. Solis
After early-season struggles, Chris Lofton has found his shooting stroke in SEC play.
The Vols are led by
Chris Lofton
, who shot the ball poorly early in the season but did everything else as well or better than he did last season. Now that Lofton is knocking down shots, he is a weapon who needs to be guarded by a defender that won't help off him. In SEC games, Lofton is averaging 16.6 points on 46.4 percent shooting from 3-point range. Right with Lofton is guard
JaJuan Smith
, who is a really good defender and a streaky shooter who can really drive the ball. Smith is averaging 14.3 points per game in SEC play, and he is leading the team in steals for the second straight year.
Key Matchup:
Derrick Rose and JaJuan Smith. Smith is a really good defender and could wind up spending time on Rose. Rose is explosive; you have to keep him out of the lane and make him into a contested jump shooter. Rose leads the team in assists, but he will cough it up some, too. He needs to play a mature floor game, mixing in attacking and running the team.
Key Stats:
Turnovers and rebounding. Both teams are good defensively, and the team that handles the loose balls or the long rebounds will have an advantage. Memphis is the better rebounding team, and it is also the better overall defensive team. Tennessee is the better shooting team, and it has the confidence to walk into the FedExForum and win.
X Factors:
Tyler Smith
and
Joey Dorsey
. Tyler Smith is the toughest matchup in this game. He is bigger and stronger than any guard who can be put on him, and he is quicker and more skilled than any big guy who can be put on him. He is very tough, and he can really handle the ball and pass it. Tyler Smith is a pro. Dorsey has not played his best over the past few games, but he has played well in the big games. Dorsey needs to run the court, finish plays, control the glass and be a beast out there. If he does that, he will rack up some big numbers without having to make a single post move.
Who Wins:
Tennessee and Memphis are capable of winning a national championship. The Tigers have not been challenged like they will be by the Vols, but I like
Memphis
to take this one … barely.
Bubble Games To Watch
By Andy Glockner
ESPN.com
Arkansas at Kentucky
(Saturday, 2 p.m. ET)
Mississippi State's loss to Ole Miss opened the door for the Hogs to catch the Bulldogs in the SEC West, which would greatly enhance their profile. Kentucky needs to get the next two at home to be 10-3 in league play heading to Knoxville, where they could survive a loss and still get to 12 SEC wins. That would make things awfully interesting.
Maryland at Miami (Fla.)
(Saturday, 2 p.m. ET, ESPN Full Court)
The Terps' loss to Virginia Tech and Miami's big upset of Duke make this game more meaningful for both teams. This is the only meeting of the regular season, so tiebreaker value abounds. The Canes have three home games left, so 8-8 or better in the ACC isn't a reach if they can get this one. Maryland's final stretch isn't easy, so the Terps don't want to mess around.
Arizona State at Washington
(Saturday, 6 p.m. ET)
The home loss to Cal last weekend puts an enormous amount of pressure on the Sun Devils in this one. They missed at Washington State on Thursday, so unless they can sweep the L.A. schools at home, they're going to need a couple of road wins down the stretch. The game at Oregon State should be one, and this one looks more promising than the trip to Oregon.
Saint Joseph's at Rhode Island
(Sunday, 4 p.m. ET)
This is a huge game for both teams in an incredibly compact A-10. This is the only game between these two clubs, so it holds tiebreaker potential, too. The game is probably more critical to Rhode Island at the end of a make-or-break homestand, as Saint Joe's Joe's is in better shape in the standings and gets three in a row at home after this one.
Player To Watch
Blake Griffin, Oklahoma
Courtesy of two miraculous finishes, the Sooners have put themselves into the NCAA Tournament conversation. Now 18-8 and tied for fourth in the increasingly difficult Big 12, Oklahoma is a No. 9 seed in Joe Lunardi's most recent Bracketology.
A tough nonconference schedule that included Memphis, USC, Arkansas, Gonzaga and West Virginia has helped the Sooners ride to 30th in the RPI. A signature February win would help even more and Oklahoma has a perfect opportunity on Saturday when it visits steamrolling Texas (ABC regional coverage, 3:30 p.m. ET). The Longhorns have won six in a row. Texas remains D.J. Augustin's team but the emergence of the frontcourt, in particular Damion James and Gary Johnson, has the Longhorns hovering near a No. 1 seed.
That's where Blake Griffin comes in. The freshman forward, who recently said he'll return for his sophomore season, deserves to be mentioned when the talk of super freshmen surfaces. Griffin averages 15.2 points and 9.1 rebounds per game, and it's the reliable combination of both scoring and boarding that makes him so vital. In the Sooners' shocker against Texas Tech, he had just nine points, five of which came at the free-throw line; but he also had 17 rebounds. In the stunning OT win against Baylor, Griffin's handprint was everywhere with a career-high 29 points and 15 boards, his eighth double-double of the year.
Texas couldn't stop him earlier this year. He had 19 and 9 in the 64-54 loss on Feb. 6. Certainly winning at Texas, where the Horns are 14-1, isn't easy, but if Griffin can muscle his way around in the frontcourt, Oklahoma might go from in the conversation to talk of the town.
-- Dana O'Neil, ESPN.com
Hubert Davis: Breaking down Memphis' zone offense
Key Games This Weekend
•
Connecticut at Villanova, Saturday, ESPN, noon ET
The Wildcats have traveled a bumpy road in conference play. At one point, they lost five in a row. But as long as
Scottie Reynolds
is on the floor, opponents must be careful. Reynolds can get on a roll with his deep shooting range and athletic moves to the rim.
Dante Cunningham
,
Casiem Drummond
and
Shane Clark
provide support in the rebounding department. UConn is scorching hot as the Huskies continue to move up the Big East standings by winning 10 in a row after beating DePaul on Tuesday.
A.J. Price
has taken control of the team and established himself as the top point guard in the Big East. Forward
Jeff Adrien
has continued to be a rock solid scorer and rebounder, while the improving
Hasheem Thabeet
defends the basket with intimidating shot blocking. Forward
Stanley Robinson
's job description is endless as he can do it all: defend, rebound, score and block shots.
Doug Wiggins
and
Craig Austrie
provide timely baskets as the Huskies continue to ride the wave of confidence. •
Oregon at UCLA, Saturday, ABC regional coverage, 3:30 p.m. ET
The Ducks have been up and down like a thermometer but always pose a threat with their ability to score points.
Malik Hairston
,
Maarty Leunen
,
Bryce Taylor
and
Tajuan Porter
are all capable of having great offensive performances. The Bruins rebounded from the Washington loss by getting revenge against USC on Sunday.
Darren Collison
,
Kevin Love
and
Luc Richard Mbah a Moute
played well against the Trojans.
Josh Shipp
and
Russell Westbrook
get it done on the wing with 3s and slashes to the rim. The tough defense of the Bruins and the high-scoring offensive potential of the Ducks make this game intriguing. •
Kansas at Oklahoma State, Saturday, 4 p.m. ET
The Cowboys broke their 16-game conference road losing streak by taking out Texas A&M in College Station last Saturday. Their tough defense held A&M to 18 second-half points. Oklahoma State will need another huge defensive effort to have a chance against the Jayhawks.
Mario Chalmers
leads KU into Stillwater as the Jayhawks attempt to avoid another road setback.
Darrell Arthur
and
Darnell Jackson
will be more than a handful for Oklahoma State forwards
Marcus Dove
and
Ibrahima Thomas
. KU's
Brandon Rush
and OSU's
James Anderson
will be an exciting matchup on the perimeter, while Cowboy guards
Byron Eaton
and
Terrel Harris
will look to make plays against the defensive pressure of Chalmers,
Sherron Collins
and
Russell Robinson
. •
Kansas State at Baylor, Saturday, ESPN Full Court, 8 p.m. ET
It will be interesting to see how the Bears decide to defend
Michael Beasley
after watching him drop 40 points and grab 17 rebounds against Missouri last Saturday. Beasley is the talk of college basketball as he continues to dominate on a regular basis, leading the Big 12 in scoring and rebounding. Forward
Bill Walker
is a physical scorer that can rebound out of his area and finish with authority. Point guard
Jacob Pullen
can also knock down the open jumper and sets up Beasley and Walker with his dribble penetration. The Bears have good scoring balance and excellent perimeter depth to help them offset the production of Beasley. Guards
Curtis Jerrells
,
LaceDarius Dunn
,
Henry Dugat
,
Aaron Bruce
and
Tweety Carter
give coach Scott Drew numerous options. Forward
Kevin Rogers
and centers
Josh Lomers
and
Mamadou Diene
will have the main responsibility of dealing with Beasley. The perimeter play of Baylor and Beasley, the leading candidate for college player of the year, make this game a must see. •
Louisville at Pittsburgh, Sunday, ESPN Full Court, noon ET
The Cards have won six in a row after beating Syracuse on Big Monday. The quality depth of Louisville has taken a toll on opponents.
Terrence Williams
,
Jerry Smith
and
Edgar Sosa
have been too hot to handle recently on the perimeter along with talented
Earl Clark
, who was terrific against Providence with 20 points, 9 rebounds and 4 assist in a 80-72 road win. Center
David Padgett
has continued to provide leadership and be the low-post threat. Pitt has already knocked off Georgetown at home without
Levance Fields
, who is now back in the lineup.
DeJuan Blair
and Padgett will battle down low as
Sam Young
and Clark go at each other on the wing.
Ronald Ramon
and
Keith Benjamin
will compete against Williams, Smith and Sosa, and that should provide nonstop action from start to finish. Pitt needs a win after a loss at Notre Dame on Thursday. •
Xavier at Dayton, Sunday, 2 p.m. ET
Dayton will be fired up for the rematch with rival Xavier after a 69-43 loss on Jan. 24 in Cincinnati.
Charles Little
will be back in the lineup after missing Game 1 with a broken foot. Xavier is in the A-10 driver's seat.
Drew Lavender
is the straw that stirs the drink for the Musketeers, leading them in scoring and assists while handling the ball in crucial situations.
Josh Duncan
can flat out stick the 3, along with
B.J. Raymond
and defensive stopper
Stanley Burrell
.
Derrick Brown
plays above the rim in transition and is the team's best all-around rebounder. Dayton's
Brian Roberts
will have to be hitting on all cylinders. Little and
Marcus Johnson
will look to help produce some points for the Flyers. After losing at La Salle in overtime on Thursday, a win for Dayton against Xavier gets the Flyers a much-needed win against their rival. Xavier can put the conference race even further out of reach with a big road win in hostile UD Arena.
-- Reggie Rankin, Scouts Inc.