Pair of top-10 tussles and several bubble battles highlight weekend
David Butler II/US Presswire
Bilas Breakdown of the Must-See Games
By Jay Bilas, ESPN
No. 1 Connecticut at No. 4 Pittsburgh, Saturday, Noon
A Game of Matchups: The first game between these two titans came down to matchups. Hasheem Thabeet is one of the best defenders in the country and can block and alter shots with his tremendous length, size and timing. Thabeet is also disciplined enough to stay on the floor until the shooter leaves the floor, and is usually able to avoid fouls. While Thabeet is capable of dominating a game without scoring, his offense is easier to take away. The majority of Thabeet's offense comes from dunks and free throws. If you can take away his angles to dunk and keep from fouling him, you can really limit him.
DeJuan Blair was the man of the match in the first game with 22 points, 23 rebounds and one takedown. He was resolute and relentless in going right into Thabeet's chest and through his chin to take away the space that a shot-blocker needs. Thabeet is the kind of shot-blocker that is much better coming over from the weak side, and if Blair is able to get into him again, the Pitt big man will be able to score inside. If Thabeet learned anything from the first meeting, he will do his work early and play Blair up the line and deny him deep position and the advantage of getting into Thabeet's body.
Join Rece Davis, Jay Bilas, Hubert Davis, Digger Phelps and Bob Knight in Morgantown, W. Va., on Saturday as they break down the day in college hoops in preparation for Louisville-WVU (ESPN, 11 a.m. and 8 p.m. ET).
In the backcourt, Levance Fields is questionable for the game because of injury, but UConn has to prepare as if Fields will play. He had a very difficult time getting by the quicker and faster guards of the Huskies. Kemba Walker, Craig Austrie and A.J. Price did a really good job of staying in front and not letting Fields get past them to put UConn into help and create-advantage situations. Until the very end of the game, when Fields was able to find some openings when guarded by Walker and Austrie and hit a couple of big 3-pointers, he was relatively quiet.
X-Factors: Sam Young and Kemba Walker
UConn has no good matchup for Young, who is one of the best scoring forwards in the nation. Young can step away and has the most exaggerated shot-fake in the country. He did a really good job in the previous game, scoring 25 points and exploiting every matchup Jim Calhoun put on him. Walker is still a freshman and has been inconsistent, but his speed could be a big factor in this game. He scored 13 points and had two steals in the first game.
Key Stat: Rebounding
Neither team shot better than 43 percent in the first meeting, and I would not expect a high number from the field in the rematch. Second-shot opportunities will be at a premium. Both are very good rebounding teams, but Pittsburgh outrebounded the Huskies by 13 in the first meeting. The battle for loose balls -- and that is exactly what a rebound really is -- will be the difference in the game.
Who Wins: Pittsburgh is very good at home, but UConn will have learned a great deal from the first meeting. I am especially interested to see how Thabeet plays, given how he was manhandled in the first game. I think UConn will win this one on the road, and will set the stage for a great week in New York for the Big East tournament.
No. 7 Duke at No. 2 North Carolina, Sunday, 4 p.m.

Something Blue, Something New: Duke has had a resurgence over the past five games, and much of it has to do with Mike Krzyzewski. Whatever the Blue Devils were doing leading up to their game against Boston College, it was not going to be good enough to get Duke to the second weekend of the NCAA tournament -- and Krzyzewski seemed to know it. Instead of staying on the same path, the veteran coach decided to change the path, and it has seemed to give Duke some new life. In addition to the new life, Krzyzewski has injected a lot of his own enthusiasm and energy into this team. By the end of the season, he will be worn out because of the amount of energy he has to expend propping up this somewhat fragile team.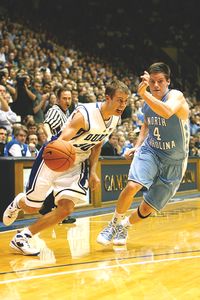 Kevin C. Cox/Getty Images
The increased role for Elliott Williams has freed up Jon Scheyer to play the point, where he's been more effective lately.
Nolan Smith
was replaced in the starting lineup by freshman
Elliot Williams
, and the Blue Devils have become much more potent defensively. Williams is a left-handed McDonald's All-American (it is a high-class problem to replace one McDonald's All-American with another) who can really apply pressure to the ball and can make plays on the defensive end. Williams has freed up
Jon Scheyer
to play the point, and that has really lessened the burden on Scheyer. Instead of playing against an athletic and strong shooting guard or small forward who can physically punish Scheyer, he is now being guarded by opposing point guards. The point guards covering Scheyer are usually smaller and not as physical, and are usually not accustomed to playing off the ball defensively. The result has been a better and more-effective Scheyer, and a more versatile Duke team. With everyone the same size on the floor, Duke is able to switch almost every screen, and not have matchup issues.
Duke has two of the best and most versatile players in the conference in Gerald Henderson and Kyle Singler. Henderson is having a remarkable ACC season, and has been as good as any player in the league. UNC has to sit on Henderson's right hand, because he desperately wants to drive to his right, and when he does, he gets to the rim and finishes. Singler is a pick-and-pop forward and he is a tough match for a big man that would have to play out on the perimeter.
North Carolina is, quite simply, the best team in the country. The Tar Heels play at a faster pace than any other BCS conference team in the nation, and they can wear you out and foul you out. UNC has one of the top two offenses in the country and the Tar Heels can simply outscore people. But Carolina has a top 25 defense nationally, and when the Heels decide they really want to lock you down on the defensive end -- like they did in the second half of the first game between these teams at Cameron Indoor Stadium -- I don't think there is a team out there that is better.
Tyler Hansbrough is the heart and soul of the Tar Heels, but Ty Lawson is the speed. With Lawson pushing the ball up the court, the Heels are almost impossible to stop. Duke has no single answer for Lawson and his ability to get to the rim.
Right now, Wayne Ellington is playing as well as any guard in the ACC, and is averaging more than 17 points per game in ACC play. Danny Green is the most versatile player on the Tar Heels' roster, and Roy Williams gets very good contributions from his bench, most notably from Ed Davis, Bobby Frasor and Larry Drew. The UNC bench does not score, but it spells the starters and allows them to get some rest to later run past a tired opponent. The cumulative effect of the pace usually shows up in shooting percentages in the second half and in fouls.
X-Factors: Elliot Williams and Deon Thompson
Williams has played incredibly well considering he hardly played at all leading up to the recent lineup change. He has made impact plays on both ends and has played with uncommon confidence. Thompson is a tough matchup for Duke because there is no second big to guard him in the low post or keep him off the glass. The key is whether Duke can force Thompson out on the perimeter to exploit his size against Duke's quickness.
Key Stat: Free Throws and 3-Point Shooting
Duke will try to knock down perimeter shots and take opportunistic 3s in transition. If they are knocking down shots, the Blue Devils can win. UNC lives at the free throw line, and makes more free throws than its opponents attempt in ACC play and overall. Carolina needs to pound the ball inside at every opportunity. And Lawson needs to get to the rim at every opportunity.
Key to Watch For: Can Duke make this a half-court game? The Blue Devils want to run when it suits them, but Duke has to make North Carolina guard for long stretches in the half court. If Duke can keep North Carolina out of transition, the Devils have a chance. Watch how Duke tries to corral Lawson with a trail big. It is easy to say, and really hard to do. Lawson was the difference in the second half of the first meeting, and Duke has no one to guard him. I'm not sure that anyone does.
Who Wins: UNC is the better team, and if the Heels play defense like they did in the second half of the first game, they will win in a walk. The game will mark the final home game for Hansbrough. I'm not sure we will ever again see a player like him, and it has been a pleasure to watch him work over the past four years. North Carolina wins this one, and wins the ACC regular-season title outright.
Bubble Games To Watch
By Mark Schlabach, ESPN.com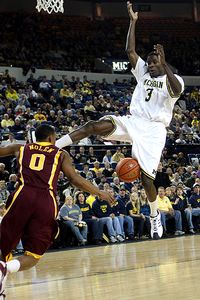 AP Photo/Tony Ding
To finish at .500 in Big Ten play, Michigan must complete a season sweep of the Gophers.
Saturday
Michigan at Minnesota, Noon
This is a huge win on the ever-growing Big Ten bubble. Minnesota got back on the right side of the bubble by beating Wisconsin 51-46 on Wednesday night, improving its record to 9-8 in Big Ten play. A 10-8 finish might very well secure an at-large bid for the Gophers, who have five victories over RPI top-50 opponents.
Meanwhile, Michigan has more impressive signature victories, beating Duke, Illinois and Purdue at home and UCLA on a neutral court. The Wolverines also beat Minnesota 74-62 in Ann Arbor on Feb. 19, with Zack Novak making a career-best six 3-pointers and scoring 18 points. A sweep of the Gophers and a 9-9 finish Big Ten play would at least keep the Wolverines in the at-large discussion heading into the Big Ten tournament in Indianapolis.
Kentucky at Florida, 2 p.m.
The Cats probably saw their at-large hopes go bye-bye after their stunning 90-85 loss to woebegone Georgia at Rupp Arena on Wednesday night. To keep alive its streak of 17 consecutive appearances in the NCAA tournament, Kentucky will probably have to win next week's SEC tournament in Tampa. A victory over Florida in Gainesville would at least give the Wildcats some much-needed confidence and momentum heading into the league tourney.
Florida's struggles have been nearly as bad as Kentucky's. The Gators lost at Mississippi State 80-71 on Wednesday night, their fifth consecutive road loss. UF has only one marquee victory, beating Washington on a neutral court. The Gators also beat South Carolina at home. They're only 2-6 against RPI top-50 opponents and 2-7 on the road. The Cats beat Florida 68-65 at home on Feb. 10, with Jodie Meeks hitting a fade-away 3-pointer with under five seconds to play.
Missouri at Texas A&M, 2 p.m., ESPN2
The Tigers can keep alive their hopes of winning a share of the Big 12 regular-season championship, but the game probably means more to the Aggies. Texas A&M has won five games in a row to climb back into the bubble discussion, but it could really use another signature victory heading into the Big 12 tournament. A victory over No. 12 Missouri would secure the Aggies a 9-7 finish in Big 12 play and, just as importantly, give them five victories over RPI top-50 opponents. A&M has beaten Mizzou four straight times, winning by an average of more than 13 points. The Tigers haven't won in College Station since a 97-90 victory during the 2000-01 season.
Maryland at Virginia, 3:30 p.m., ABC regional
The Terrapins have lost two of three games since upsetting then-No. 3 North Carolina 88-85 in overtime on Feb. 21. Although the losses came against two ranked opponents, Duke and Wake Forest, the Terps simply have no room for error. Last season, a 91-76 loss at Virginia in the regular-season finale went a long way in keeping Maryland out of the NCAA's 65-team field. The Terrapins will miss the NCAA tournament again if they lose to the Cavaliers, who have lost 12 of their past 14 games.
Maryland has split its past 12 games at UVa, and five of its six victories were decided by five points or fewer. The Terps beat the Cavaliers 84-78 in College Park on Jan. 20, but nearly blew a 17-point lead in the second half.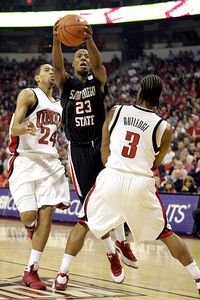 AP Photo/Jae C. Hong
UNLV and San Diego State play a game Saturday night that puts the loser in serious bubble trouble.
UNLV at San Diego State, 10 p.m.
The game pits the fourth- and fifth-place teams in the Mountain West Conference standings, and the loser might be eliminated from the bubble discussion altogether. With a 10-5 record in MWC play, the Aztecs are one game better than the Runnin' Rebels, but UNLV has a better overall résumé. Vegas won at Louisville, beat Utah and Arizona at home and swept games against BYU. UNLV is 5-3 against RPI top-50 opponents and 9-6 against the top 100.
But the Aztecs won at UNLV 68-66 in overtime on Feb. 3, and it would be hard for the NCAA selection committee to take the Rebels ahead of them if the Aztecs sweep the regular-season series. San Diego State has only two RPI top-50 victories, having beaten Utah at home and UNLV on the road, so its overall body of work isn't as impressive as those of the other MWC teams in contention for at-large bids.
Sunday
Northwestern at Ohio State, 5 p.m.
This game suddenly means a lot for both the Wildcats and Buckeyes. Ohio State still seems to be in pretty good shape for an at-large bid because it has five victories over RPI top-50 opponents, beating Butler, Minnesota and Purdue at home and sweeping two games against Michigan. But the Buckeyes' 2-4 slide over the past three weeks at least creates a little bit of anxiety in Columbus.
Ohio State lost at Northwestern 72-69 on Feb. 18, and it really can't afford to let the Wildcats sneak back into the at-large picture. With a victory over the Buckeyes, Northwestern would have seven wins over RPI top-50 foes and would finish the regular season on a 5-1 stretch. And, of course, the Wildcats would own a sweep of Ohio State.
Viewer's Guide
(All times ET)
Saturday:
11 a.m.: "College GameDay" (ESPN)
Noon: Connecticut at Pittsburgh (CBS)
Noon: Michigan at Minnesota (ESPN)
2 p.m.: Syracuse at Marquette (ESPN360)
2 p.m.: Missouri at Texas A&M (ESPN2)
2 p.m.: Kentucky at Florida (CBS)
3:30 p.m.: Okla. St. at Oklahoma (ABC regional)
4 p.m.: Texas at Kansas (CBS)
4 p.m.: Big South finals (ESPN2)
5:30 p.m.: Washington St. at Washington (FSN)
6 p.m.: Atlantic Sun finals (ESPN2)
8 p.m.: Ohio Valley finals (ESPN2)
9 p.m.: Louisville at West Virginia (ESPN)
10 p.m.: UNLV at San Diego St. (CSN)
Midnight: "Midnight Madness" (ESPN)

Sunday:
Noon: Purdue at Michigan St. (CBS)
2 p.m.: Missouri Valley finals (CBS)
4 p.m.: Duke at North Carolina (CBS)
5 p.m.: Northwestern at Ohio St. (BTN)
6 p.m.: Clemson at Wake Forest (FSN)

For a complete conference-by-conference tournament rundown: Champ Week Central
Knight Watch: How to beat UConn
I Can't Wait To Watch …
Doug Gottlieb
What I am most looking forward to seeing is whether or not Missouri can beat a quality team on the road in a hostile environment. Mizzou has crushed just about everyone in Columbia this year, but with Mizzou's blowout losses to Illinois (in St. Louis), and at K-State and Kansas, the game at Texas A&M provides an interesting preview of what may become of Missouri in neutral sites the next couple of weeks. The Tigers have not had nearly as effective of a full-court press on the road as they had Wednesday night against Oklahoma. Conversely, this is a "win and you are in" game for Texas A&M. The Aggies had a brutal stretch during the middle of conference season, but there is no doubt in my mind that a win over Mizzou, combined with the rest of their résumé, will give the Ags their dancing shoes.
Andy Katz
What am I looking forward to this weekend? Wow. Where to begin? Connecticut at Pitt could decide the top spot in the Big East and a possible No. 1 seed. Later that night, West Virginia should have the house rockin' for Louisville as the Mountaineers attempt to push the Cardinals out of the top line in the Big East tournament. Duke has played well since Elliot Williams' insertion into the lineup and going up against North Carolina should be a good indicator of how the Blue Devils will handle pressure and quickness going forward. Senior day for Tyler Hansbrough should be electric. Tar Heels fans have embraced Hansbrough like few players before him in Chapel Hill. Texas A&M hosts Missouri in what could be the best atmosphere College Station has seen during this hoops revival. The Aggies desperately need to beat Mizzou and the Sixth Man should help the cause. I'm also intrigued to see if Washington State can continue this roll and hold down Washington in Seattle. The Huskies clinched the Pac-10 title, but the Cougars still have an outside shot at a berth if they were to win and get two more victories at the Pac-10 tournament in Los Angeles. The regular season wraps up Sunday night with two teams that have looked like they were Detroit-bound one night, second-round outs on others, as Clemson goes to Wake Forest. Which versions will show up this time?
Dana O'Neil
This weekend I'm looking forward to the first NCAA tournament bids being distributed. Many jobs ago I sat on a makeshift press row set up on a stage at the end of a jammed Rider gym. Desperate on deadline because of the 9 p.m. tip, I watched Darrick Suber, Rider's all-time leading scorer, drive the length of the court in four seconds and score a buzzer-beating floater right beneath me, lifting the Broncs over Wagner for the Northeast Conference title and right into the NCAA tourney. A week later, 16-seed Rider got smoked by Jamal Mashburn and No. 1 seed Kentucky, but no one cared. Making the Dance was all that mattered. So this weekend I will sit back and watch giddily as the Atlantic Sun, Big South, Missouri Valley and Ohio Valley conferences go for their one pre-madness shining moment.
Fran Fraschilla
I know they're struggling right now, but I'm looking forward to Kentucky-Florida. Even in a year in which the SEC appears to be in a down cycle, these two perennial powers are fighting for their NCAA tournament lives. Kentucky won the first meeting in Lexington on the strength of Jodie Meeks' late-game heroics. However, the Wildcats have dropped four of their past five games and will now likely have to win the SEC tournament next week. The sidebar here is the intense scrutiny that second-year coach Billy Gillispie is now under. As for Florida, a win would stem the bleeding from a three-game losing streak. The Gators are only 2-6 versus the RPI top-50 and a weak nonconference SOS will not serve the Gators well with the NCAA selection committee. Billy Donovan's team might be looking at a second straight NIT appearance. However, both Florida and UK are capable of winning the SEC tourney next week, so the winner of this game Saturday gets a smidgen of momentum going in.
Pat Forde
I can't wait to see how the East is won. And by whom. I want to see the two showdowns in the Alleghenies -- Connecticut at Pittsburgh at noon Saturday, then Louisville at West Virginia about an hour south at 9 p.m. Specifically, I want to see how Hasheem Thabeet responds to his rematch with DeJuan Blair, after Blair flipped him like a fourth-grader and treated the 7-foot-3 intimidator with disdain in the paint. Then I want to see how the Cardinals respond to their chance to win at least a share of the league title against a riled-up opponent playing at home with a mascot who shoots his rifle indoors. Tough place to play. If Louisville wins this game and performs well in the Big East tourney, the league will present an argument for an unprecedented three No. 1 seeds in the NCAA tournament.
Mark Schlabach
Watching many Big Ten basketball games is kind of like watching paint dry. If you like high-scoring affairs, the Big Ten isn't your league. But I can't wait to see how the conference race shakes out after the final weekend of the regular season. Michigan State has already clinched an outright regular-season title with its 14-3 record in league play. The real battles will take place beyond the league's top three teams. Penn State is in fourth place with a 10-7 record against league foes, after beating Illinois 64-63 at home Thursday night. The Nittany Lions will probably still have to win at Iowa on Saturday to have a chance at an NCAA at-large bid. Three teams (Minnesota, Ohio State and Wisconsin) have 9-8 records in Big Ten play and two teams (Northwestern and Michigan) are 8-9. The Gophers host Michigan on Saturday and Northwestern plays at Ohio State on Sunday. Also on that final day of the regular season, Wisconsin plays a must-win home game against Indiana. Make snide remarks toward the Big Ten all you want, but do so knowing that you're going to miss some exciting moments this weekend.
Knight Watch: Breaking down the Tar Heels
Player To Watch
Talor Battle, Penn State

The drum beat quietly at first, but as the regular season winds to a close, more and more people are arguing that Battle should be a viable candidate for Big Ten Player of the Year honors. His numbers -- 17 points, 5.4 rebounds, 5 assists -- are certainly worthy, but more it is what Battle does for his team that counts. That shot Thursday night with three-tenths of a second that beat Illinois certainly comes to mind.

Battle
The sophomore guard is the scorer and catalyst, the playmaker and engine for a Nittany Lions team pushing hard to make its first NCAA tournament appearance since 2001. PSU has already has reached the magical 20-win plateau, but a soft non-league schedule has landed the Lions in basketball purgatory, also known as the bubble.
In Penn State's biggest games, Battle has been huge, scoring 29 in a stunning win at Michigan State and 21 in an important home win against Minnesota. But with bubbles bursting left and right, there might not be a bigger game for the Lions (20-9) than Saturday's regular-season finale at Iowa. The Hawkeyes stand above only Indiana in the Big Ten standings, but proved they are capable of messing up résumés with their OT win against Michigan. If Penn State wants to dance, beating Iowa is a must.
-- Dana O'Neil, ESPN.com
What a Battle! PSU beats Illinois in final second
Stuff To Impress Your Friends With
• Arizona has lost four straight games, the school's longest losing streak since the 1983-84 season, the first under former coach Lute Olson. The Wildcats will try to end the drought when they host Stanford on Saturday.
• That Stanford game is close to a must-win if Arizona wants to extend its NCAA tournament streak to 25 straight seasons. In fact, the longest (Arizona, 24) and third-longest (Kentucky, 17) streaks in the country are in serious jeopardy. In case you're curious, Kansas is second on that list at 19 consecutive NCAA appearances.
• If VMI wins at Radford in the Big South final on Saturday, the Keydets will go dancing for the first time since 1977. Outside of the Ivy League, that's behind only three other schools in terms of most years since an NCAA appearance: Tennessee Tech (1963), Bowling Green (1968) and Rice (1970).
• Based on the coaches' poll, the game between No. 1 UConn and No. 4 Pitt is the fifth matchup of top-5 Big East teams in the past 10 years. The fourth-ranked team has won all four games, including Pitt's win at UConn in February. The others winners include: No. 4 UConn over No. 2 Villanova in '06, No. 4 Villanova over No. 1 UConn in '06 and No. 4 Pitt over No. 5 UConn in '04.
• Wisconsin hosts Indiana on Sunday and you can go ahead and chalk that one up for the Badgers. Under Bo Ryan, UW is 48-0 at home against unranked Big Ten opponents.
• With a win at North Carolina on Sunday, Duke will have its 287th victory of the decade, which would break a current tie with 1990s Kansas for the most victories ever recorded in a single decade.
• Unless Oregon (8-21) pulls off a stunner at UCLA on Saturday, the Ducks will lose for a school-record 22nd time. Oregon started playing basketball in 1902 and won the first-ever NCAA tournament in 1939. The Ducks were in the Elite Eight just two seasons ago.
• If it beats Centenary on Saturday, Summitt League regular-season champ North Dakota State (23-6) -- in its first season as a Division I member after having its provisional status lifted -- will tie 1970 Long Beach State for the fifth-most victories by a team in its first season in D-I. The record is 29, set by Seattle University in the 1952-53 season.
• With a win in the Horizon League semis on Saturday, Brad Stevens will have his 56th win in just his second season at Butler. That would be the second-most victories ever for a coach in his first two seasons at a school, passing NC State's legendary Everett Case (1946-48). UNC's less-legendary Bill Guthridge (1997-99) holds the record at 58.
--ESPN researchers Katie Sharp and Greg Dohmann contributed to this report.