Youth, speed on display in UNC-Kentucky showdown
Andy Lyons/Getty Images
Bilas Breakdown
By Jay Bilas, ESPN
No. 11 North Carolina at No. 4 Kentucky, 12:30 p.m. ET Saturday
Overview: This is the first fair fight the young Kentucky Wildcats have had this season. John Calipari has as much pure talent in his starting lineup as any coach in the country. But North Carolina has more talent from its starting lineup through the end of its bench.
UNC is very young, but the Tar Heels have experience with the system. UK is painfully young, and every player on the roster is only seven games old under Calipari. Every timeout is a new experience for the young Cats, and as talented as they are, nobody in Big Blue's corner knows exactly what to expect. The Heels have shown a great deal of positive development over the past two weeks and look like a top-10 team that can beat anyone if it plays at its optimum level. The questions about guard play have subsided somewhat, with
Larry Drew II
coming along as a reliable and productive point guard, and
Dexter Strickland
showing progress and providing quality minutes. Can Carolina have tough stretches and look like less than a Final Four team? Yes, but not for very long. This team has the highest ceiling for growth in the ACC and is more than talented enough to beat Kentucky in Lexington.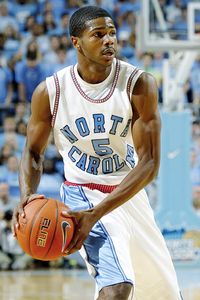 Bob Donnan/US Presswire
Dexter Strickland has given the Tar Heels quality minutes as a backup point guard.
The Wildcats are improving by the game, but they still have a lot of improving to do. Despite some turnovers and questionable shots, Kentucky is averaging more than 83 points per game on 51 percent shooting and is outrebounding opponents by more than 12 a game. But North Carolina has played three teams that are head-and-shoulders better than the best team Kentucky has played. The Heels have been tested, and this is the first real test for the Wildcats.
Key Matchup: Larry Drew II vs. John Wall.
While Drew will be guarding Wall at times, I would want Marcus Ginyard to spend some time on him as well. Wall is averaging more than 18 points, four rebounds, almost eight assists and 2.5 steals while shooting better than 55 percent from the field and better than 80 percent from the line. Wall is everything you want in a guard and then some, and is the most explosive and speedy point guard in the country. He can go over you, around you or through you, and he can make big plays at any time. Wall is the real thing; he has Derrick Rose ability.
Drew has good size and is a good handler and passer, and he is taking advantage of shooting opportunities. He has better than a 2-1 assist-turnover ratio, and is averaging nine points and just less than seven assists per game while shooting 56 percent from the floor and 47 percent from 3-point range. Wall is the far superior talent, but Drew is running the better and more reliable ship.
Key Strategic Point:
Pace.
The Heels play fast, and try to get easy baskets and make you take quick shots or turn it over. UNC is the equivalent of a European adult in a BMW on the Autobahn. Kentucky is the equivalent of a 16-year-old American kid in a Ferrari on the interstate. UK has the horsepower, but North Carolina has the horsepower and the experience to harness it. The quality of decisions made at high speeds by both teams will be the difference in the game.
Key Stat: Turnovers and shot selection.
If it wants to win, Kentucky cannot afford to turn over the ball and provide extra possessions to North Carolina. The Wildcats' offense has to help its defense. Kentucky has to make the right decisions as to when to pull the trigger, and when to pull it out and run offense. And don't be fooled into thinking that a bad shot isn't a turnover, because it is.
X Factor: DeMarcus Cousins, Kentucky.
Cousins is an extraordinary talent who can be as good as he wants to be. He is a little volatile and unpredictable in his demeanor, but his talent and production can be off the charts. Even without having harnessed his ability just yet, Cousins is averaging more than 16 points and eight rebounds (with almost half of them offensive) while shooting 56 percent from the floor. Cousins can be the best big man on the floor in this game, but for how long? If he plays more than 20 productive minutes and stays out of foul trouble, he can be the difference up front.
Backcourt Advantage: Kentucky.
Both teams have young and untested guards. But with Wall and Eric Bledsoe, UK has the speediest backcourt in the country. And Darnell Dodson and Darius Miller can come in and stroke a shot from range.
Frontcourt Advantage: North Carolina.
The Tar Heels have Deon Thompson, Ed Davis, Tyler Zeller, John Henson, David Wear and Travis Wear to throw at Kentucky. Thompson and Davis are the difference-makers. They are more disciplined and prepared than the ultra-talented Cousins. The one guy who can make the matchup swing to Kentucky is Patrick Patterson. Nobody works harder.
Who Wins?: North Carolina.
Even though Kentucky might be more talented, the Tar Heels are more experienced and that will be the difference in this one.
Five Other Must-See Games
By Andy Katz, ESPN.com
Saturday
St. John's at Duke, 3:30 p.m. ET (ESPN2)
The Red Storm are undefeated, with victories over Siena and Temple leading to a Philly Hoops Classic title. Duke is coming off a tough loss at Wisconsin, but there is no harm in losing to the Badgers at the Kohl Center. I'd be stunned if Duke were to drop two straight, especially with the second being at home to the Red Storm. I'm more interested in seeing how composed the Johnnies are in this game. They are a confident, veteran team and should go into Cameron without fear. If the Red Storm can play well -- even in a loss -- it could bode well for them, as long as they continue to beat teams perceived to be below them going forward.
Wake Forest at Gonzaga, 5:30 p.m. ET (ESPN2)
The Demon Deacons had a great start against Purdue on Tuesday but then got overrun by the Boilermakers. However, there is no shame in losing to a potential Final Four team on its home court. Beating the Zags at The Kennel is nearly impossible of late, as Washington State found out despite having a 13-point, second-half lead. The question for Wake will be how its bigs like David Weaver, Tony Woods and Chas McFarland handle Robert Sacre. I'm also interested in seeing how Al Farouq-Aminu matches up with Elias Harris; they are two of the better scorers at their respective positions. Matt Bouldin is shooting quite well these days, another issue for the Deacons.
Iowa State at Cal, 11 p.m. ET (ESPNU)
The Cyclones are coming off a disappointing home loss to Valley favorite Northern Iowa. Iowa State also lost to Northwestern last week in the Chicago burbs. The Cyclones are a bit beat up at this juncture but still have star power in Craig Brackins and Marquis Gilstrap. They desperately need a quality win -- even better to get it on the road. Cal also is reeling a bit, losing to a surging New Mexico at The Pit on Wednesday. Theo Robertson is supposed to return for this game, which would help tremendously, as the Bears desperately need another rebounder and scorer. Cal is better than it has shown lately and still could end up winning the Pac-10. But it needs something on the résumé prior to the conference slate.
Sunday
Miami at Boston College, 3 p.m. ET (FSN)
The tipoff to the ACC season is at Conte Forum between two schools picked ninth and 10th in the league. Miami has been the surprise of the ACC thus far. The Canes (8-0) took the Charleston Classic with a win over South Carolina and then took out Minnesota in the Big Ten/ACC Challenge. The guard play has been solid, with freshman
Durand Scott
's breakout game (20 points) against the Gophers. Meanwhile, Boston College has found itself after getting lost in St. Thomas once
Rakim Sanders
suffered a high ankle sprain in the first game. It looked like BC could be headed for a slide, but in back-to-back road games -- at Providence and at Michigan -- the Eagles were the enforcers, dictated tempo from the outset, were on the offensive glass, and made shots and key defensive plays down the stretch. The unit of
Reggie Jackson
,
Corey Raji
,
Joe Trapani
,
Biko Paris
,
Josh Southern
and
Tyler Roche
off the bench has been solid in the past two games.
Villanova vs. Maryland, 7:30 p.m. ET (FSN)
The Terrapins didn't show all that well in the Maui Invitational and had to gut out a road win at Indiana earlier this week. Villanova is clicking without many issues. The Wildcats got inspired play out of Antonio Pena in their drubbing of Drexel on Wednesday night. This is virtually a home game for Maryland in the BB&T Classic. The Terps desperately need this more than Nova -- Maryland could use something to wave its flag about prior to the ACC season. And a win here would do just the trick.
Viewers' Guide
(All times ET)
Saturday:
12:30 p.m.: North Carolina at Kentucky (CBS)
3:30 p.m.: St. John's at Duke (ESPN2)
5:30 p.m.: Wake Forest at Gonzaga (ESPN2)
9 p.m.: Washington St. at Kansas St. (ESPNU)
9 p.m.: Saint Mary's at Utah State
11 p.m.: Iowa State at Cal (ESPNU)

Sunday:
1 p.m.: South Carolina at Clemson (FS South)
3 p.m.: Miami at Boston College (FSN)
5:30 p.m.: Kansas at UCLA (FSN)
7 p.m.: Arizona at Oklahoma (ESPNU)
7:30 p.m.: Villanova at Maryland (FSN)

3-Point Play: Weekend Preview
I Can't Wait To Watch …
Fran Fraschilla
As one of a select group of people who have coached at both Providence College and the University of Rhode Island, I am looking forward to this Ocean State matchup Saturday. Trust me, the enmity and hostility between the two fan bases are as strong as any rivalry in the country, and in the nation's smallest state, every bit as important. The bitterness was stoked in 1976 when PC's prized recruit, Sly Williams, made a drive up I-95 from his hometown of New Haven, Conn., to Providence. Only problem was, he made a right turn onto Route 138 and ended up on the Rhody campus, enrolling there on the first day of school. True story. It was a stunning incident that Friars fans, even 33 years later, have never forgotten -- or forgiven. This is a rivalry, folks.
Doug Gottlieb
On Friday, Colorado travels to Corvallis to take on Oregon State. The Buffs were the surprise team in Maui, despite coming home without a win against a Division I opponent. Cory Higgins and Alec Burks helped Colorado along the path to respectability with their efforts in close losses against Gonzaga and Arizona in overtime. And all of it was done without coach Jeff Bzdelik, who missed the trip to Maui after his mother became ill. After dominating San Francisco 78-54 in their first game back on the mainland, the Buffs travel to take on a highly disappointing Oregon State squad that, like Colorado, runs a lot of Princeton-style offense.
Elsewhere in the Hardwood Series, Iowa State travels to Berkeley on Saturday to take on a beaten-up Cal team that might have
Theo Robertson
back. The Cyclones have been guilty of relying too heavily on the 3 in recent close losses to Northwestern and Northern Iowa.
Craig Brackins
' matchup with
Jamal Boykin
, who has been a bright spot for Cal, needs to be the focus for an ISU team in desperate need of a quality road win.
Andy Katz
Kansas at UCLA. And no, I'm not crazy. I want to see just how ugly Ben Howland can get this game. The top-ranked Jayhawks arrive at Pauley Pavilion rolling, with veterans like Sherron Collins and Cole Aldrich on top of their game, and freshman Xavier Henry leading them in scoring. But what will happen if UCLA muddies this thing up, grinds it into a standstill, half-court game and suddenly it's close? Maybe the sun in Anaheim got the best of me last week, but I still think there is a chance the Bruins will make this interesting. As Drew Gordon exits, Tyler Honeycutt makes his UCLA debut after sitting out with a stress reaction in his tibia. Malcolm Lee and Jerime Anderson have to have career games, and Nikola Dragovic, Michael Roll and James Keefe will have to make shots, defend and rebound for the Bruins to have a chance. Howland is too good of a coach to see this season collapse. This is an opportunity to become relevant again. I'll be interested to see whether UCLA can somehow make it happen.
Dana O'Neil
Like the rest of the college basketball world, I'm very anxious to see how Kentucky handles its biggest test of the young season, but my attention also will be diverted to Durham, where Duke hosts St. John's on Saturday afternoon. While this game would be a lot more intriguing if Anthony Mason Jr. were healthy for the Red Storm, it still could be worth paying attention to. St. John's is 6-0 without Mason, including decent wins against Siena and Temple. Meanwhile, Duke is coming off its first loss of the season. Not even 28 from Kyle Singler was enough against Wisconsin. So I'm curious to see how the Johnnies look against elite competition and how Duke rebounds from its first loss.
Jay Williams
We've all seen Maryland pull off the big upset before. This past February, eventual champion North Carolina rolled into the Comcast Center on a 10-game winning streak. But what the Heels didn't know was that before the game, Greivis Vasquez changed into his Superman suit. He put on a spectacular show. He led his Terrapins team to an upset with 35 points, 11 rebounds and 10 assists. But we've yet to see the real Vasquez this season. He's shooting just 32 percent (28.6 percent from 3). Will this game be his return to glory? No. 3 Villanova is far from invincible. George Mason took the Cats to the wire, and so did Dayton. The crowd will be behind the Terps at the Verizon Center in D.C., and it should make for a great, tournament-like atmosphere.
Big Ten finally gets the better of ACC in Challenge
Player To Watch
Devan Downey, South Carolina

The pint-sized point guard is always electrifying to watch, but this weekend, he leads the Gamecocks in their fierce rivalry game with Clemson, a critical early-season matchup. The Tigers surely will be steamed after blowing a 23-point lead to Illinois on Wednesday.

Downey
Expected to contend for an NCAA bid, South Carolina currently is playing without Dominique Archie (sprained knee) and Mike Holmes (eye injury), losing just one game. Those losses of those players are huge and make the 5-foot-9 Downey even more important. It will be tough to win at Littlejohn with a depleted roster, but if anyone can help South Carolina overcome its shortcomings, it's Downey. The senior is averaging 19 points and 4.5 assists, and is shooting 50 percent.
-- Dana O'Neil, ESPN.com
Texas Tech tops Washington in OT thriller