Big East battles and simmering rivalry headline weekend
AP Photo/Bob Child
Bilas Breakdown of the Must-See Games
By Jay Bilas, ESPN
No. 3 Connecticut at No. 19 Notre Dame
Why Notre Dame Can Win: The Irish can spread the floor and score from every position. Luke Harangody is a dominant scorer who wants to take it to Hasheem Thabeet, and Harangody has Kyle McAlarney and Ryan Ayers to open things up on the perimeter. If Tory Jackson plays well, Notre Dame can score enough points to beat anyone. Coach Mike Brey has a competitive group of older players who believe in themselves and are not afraid to fail. And, of course, Notre Dame always plays well at home, with a national-best 45-game home winning streak.
Join Rece Davis, Jay Bilas, Hubert Davis, Digger Phelps and Bob Knight in South Bend on Saturday as they break down the day in college basketball. (ESPN, 11 a.m. & 6 p.m. ET)
Why UConn Can Win:
The Huskies have a dimension nobody else in America has, 7-foot-3 shot-blocking center Thabeet. When Thabeet plays strong for long stretches, UConn is very difficult to beat. Jim Calhoun has great balance with
A.J. Price
and
Jerome Dyson
scoring in the backcourt and
Jeff Adrien
putting up consistent double-doubles inside. Adrien is playing through possessions and through games. There is not a tougher or more relentless rebounder in the country.
Matchup to Watch: Jackson vs. Price
Price is coming off of a truly magnificent performance against Villanova in which he scored 29 points and was the leader of Connecticut's comeback win over the Wildcats. Jackson is one of the most underrated players in the Big East and is among the best and most effective point guards in the league. Jackson is a strong-minded player who can out-tough UConn's guards.
What to Watch For: Will Notre Dame get production out of Zach Hillesland, Ty Nash and Luke Zeller? Someone beyond the big four has to step forward and provide production for Brey. For UConn, will Stanley Robinson continue to make strides to become a major impact player for the Huskies? He has been feeling his way back but needs to start asserting himself more.
The Winner: UConn is the better team, and it needs to win a road game against a terrific opponent. Notre Dame will make a stand, but even with the "College GameDay" circus in town for the first time, I'm going with the Huskies by a bucket. What are the odds that Digger picks Notre Dame in this one?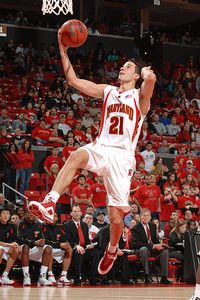 Thomas E. Witte/Getty Images
Greivis Vasquez does it all for Maryland. Can he prevent Duke from ascending to No. 1 in next week's polls?
Maryland at No. 2 Duke
Why Maryland Can Win: The Terps have really good guards in Greivis Vasquez, Eric Hayes and Adrian Bowie, and a tough, undersized big in Landon Milbourne. Maryland plays with great courage and emotion in Cameron Indoor Stadium, and is never afraid of Duke and its pressure defense. UM can attack Duke off the dribble and make plays, and if the Terps hit some shots, look out.
Why Duke Will Win: The Blue Devils are better, and they have one of the toughest players in the country in Kyle Singler. There is not a more complete player in the country than Singler. Duke is deeper, more athletic and better defensively.
Matchup to Watch: Vasquez vs. Gerald Henderson
Henderson has been among the very best players in the country over the past 10 games and has shown the normal maturation of a college star. He is still learning how to dominate stretches of a game, and is finally showing that he has a game to go to. Vasquez is an emotional player who leads Maryland in scoring, assists, rebounding and steals. He has only one speed … all out.
What to Watch For: How far out on the floor will Maryland have to start its offense? If Duke pushes Maryland just three feet farther out, that will make drives longer and passes longer, and the Blue Devils will be able to bog down the Terps offense and force turnovers.
The Winner: Duke is the better and stronger team, and it rarely loses at home when better. The Devils should win by double digits.
No. 24 Memphis at Tennessee
Why Memphis Can Win: The Tigers have talent -- their talent is just young and without experience in current roles. As the Tigers get tougher and Tyreke Evans gets more comfortable as a point guard, Memphis can be really, really dangerous. Doneal Mack can be a difference-maker for John Calipari with his ability to hit shots.
Why Tennessee Can Win: I still believe in the Volunteers. The pieces are taking some time to figure it out, but there is potential in this group. The key is the defense. If Tennessee puts everything into defense, the offense will come around just fine. The Vols have not guarded like their lives depend upon it yet, but they better start. Their tournament lives depend on it.
Matchup to Watch: Evans vs. Bobby Maze
Evans is a star and is learning to aggressively take over a game while also playing well with others. Calipari has entrusted the point guard position to Evans and has given the freshman his trust and belief. Evans is maturing into a young star and can be a difference-maker. Maze had a strong start and is the more experienced player. He is smaller but, as the older player, should strive to take Evans out of the game.
What to Watch For: How will Memphis attack Tennessee's initial pressure? Will the Tigers break the pressure to score and get easy buckets? How will UT defend in the half court? The Vols have tried to "build a wall" and not get out too far into passing lanes and gamble. Tennessee will have to keep Memphis out of the lane and force the Tigers to shoot 3s. To win, Memphis will have to make perimeter shots.
The Winner: Both teams are different from last season, when Tennessee went into Memphis and spoiled the Tigers' perfect season in a 1 vs. 2 matchup. Both teams are flawed and both have had ups and downs, but I like Memphis to win.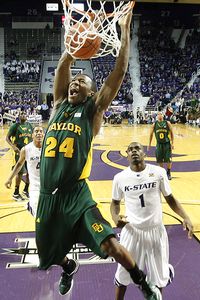 AP Photo/Charlie Riedel
LaceDarius Dunn and his Baylor teammates are looking to end the school's 28-game losing streak to Oklahoma.
No. 23 Baylor at No. 5 Oklahoma
Why Baylor Can Win: The Bears have great guards, and they have a real hunger to score. Curtis Jerrells, LaceDarius Dunn, Tweety Carter and Henry Dugat are all capable scorers who can go for 20 or more in a given game. All are double-figure scorers, as is inside threat Kevin Rogers. The long and athletic Quincy Acy can be an impact player with his energy and bounce.
Why Oklahoma Can Win: OU has the ultimate weapon in Blake Griffin, the best player in the country. There is no one player who can stop Griffin, and Oklahoma has learned to play off of him. Willie Warren is a budding star and, when he plays confidently and under control, is one of the best players in the Big 12. Austin Johnson and Tony Crocker are capable scorers, but to win this game, Oklahoma has to play great defense. If this is a scoring contest, Baylor will win it. If it is a "grind it out" physical game, the advantage goes to the Sooners.
Matchup to Watch: Griffin vs. Rogers
Griffin is unstoppable without double coverage. The Bears will have to get the ball out of his hands and make others beat them, and Rogers will have to keep Griffin from getting offensive rebounds.
What to Watch For: Baylor's spacing of the floor and the use of the 3-point shot. Baylor does a great job of getting open shots in transition and off offensive rebounds.
The Winner: Oklahoma is better defensively, and defense likely will be the difference in a Sooners home win.
No. 11 UCLA at Washington
Why UCLA Can Win: The Bruins are very good defensively and have improved the offensive efficiency. UCLA performed poorly down the stretch against Arizona State, in large part because of the Sun Devils defense. Darren Collison remains the most efficient point guard in the nation, and Jrue Holiday has all the tools to be a great college player. With Josh Shipp, Michael Roll and Nikola Dragovic stretching the defense, driving lanes open up for Collison and Holiday. The Bruins' inside game, however, is not as strong as it has been.
Why Washington Can Win: The Huskies have athletes and explosive scorers, plus the toughest and most productive big man on the West Coast: Jon Brockman. Washington's defense has improved, and if the Huskies guard the Bruins on the perimeter and are strong with the ball, Washington has the horses to beat UCLA.
Matchup to Watch: Brockman vs. Alfred Aboya
Brockman is the best rebounder east of Pittsburgh (DeJuan Blair). He is the Tyler Hansbrough of the West Coast and is an absolute beast to guard. Aboya is Brockman's equal in physicality and in playing hard, but is not as gifted a player. Those two will have a great battle.
What to Watch For: Watch how UCLA tries to seize the tempo of the game. Washington wants to get up and down the court and play faster. UCLA will try to stop the ball in transition and bump every cutter to bog down the Washington offense. The Bruins are better defensively than U-Dub is offensively.
The Winner: UCLA recovered from a loss to Arizona State by grinding out a two-point win at Washington State on Thursday night. I like the Bruins to squeak out another one in Seattle, breaking that current tie atop the Pac-10 standings.
Stuff To Impress Your Friends With
ESPN Research
• Over the previous two seasons, Wisconsin has won five straight meetings against Illinois. It is the Badgers' longest winning streak over the Illini since a five-game run from 1928 to '31. UW's longest win streak over Illinois is a six-game streak from 1912 to '14.
• Wisconsin has lost three straight Big Ten games. With a loss in Champaign on Saturday, the Badgers would have their longest conference losing streak since the 1997-98 season.
• As if facing Blake Griffin weren't a big enough task, Baylor has to overcome its major struggles on the road against ranked teams. In their past 18 tries, the Bears are 1-17 in such games.
• Over the past five seasons -- regardless of opponent ranking -- Baylor is just 5-29 in Big 12 road games.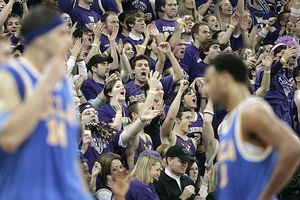 AP Photo/John Froschauer
Nothing will come easy for UCLA on Saturday. The Bruins have lost at Washington four straight times.
• UCLA has been the face of the Pac-10 in recent years, but the Bruins have struggled on their trips to Seattle. They have lost four straight at Washington, shooting 38.6 percent and averaging 17 turnovers a game.
• During its national-best 45-game home win streak, Notre Dame has defeated teams by an average of 19.5 PPG. With a win over Connecticut on Saturday night, the Irish will have the longest home winning streak in Big East history (currently tied at 20 with Pittsburgh, 2001-04).
• Bad sign for UConn? The Huskies have lost three straight in South Bend. Good sign for UConn? The Huskies have won nine of their last 10 against ranked opponents.
• After its shocking victory in East Lansing on Wednesday, Northwestern travels to Ann Arbor to face the Wolverines this weekend. With a win there, the Wildcats would have victories at Michigan and Michigan State in the same season for the first time in school history.
• Over the past 10 seasons, Duke is 63-11 at home versus ACC opponents. Only five ACC teams have won at Cameron Indoor Stadium in that time, but Maryland and North Carolina have each won
four
times in front of the Cameron Crazies in that stretch. Conversely, in that time period, Duke is a combined 37-0 at home versus NC State, Wake Forest, Virginia, Clemson, Boston College and Miami.
-- ESPN researchers Jeremy Lundblad, Tyler Korn, Mike Lynch, Greg Dohmann and John Zoni contributed to this report.

Viewer's Guide
(All times ET)
Saturday:
11 a.m.: "College GameDay" (ESPN)
3:30: Memphis at Tennessee (CBS)
4 p.m.: Wisconsin at Illinois (ESPN)
4 p.m.: Baylor at Oklahoma (ESPNU)
4 p.m.: UCLA at Washington (FSN)
7 p.m.: UConn at Notre Dame (ESPN)
8 p.m.: Xavier at LSU (ESPN2)
Midnight: "Midnight Madness" (ESPN)

Sunday:
Noon: Louisville at Syracuse (ESPN360)
3:45 p.m.: Michigan State at Ohio State (CBS)
4 p.m.: Pittsburgh at West Virginia (ESPN360)

Howievision: UConn at Notre Dame
Player To Watch
Tyreke Evans, Memphis

The interview was about something else entirely, but John Calipari couldn't help it.
"Why didn't you tell me to move Tyreke to the point when we were playing in Puerto Rico?" Calipari laughed as soon as he picked up the phone. "What was I thinking? I was trying to be too smart."

Evans
Sometimes the obvious solution is indeed obvious for a reason. After trying to turn senior Antonio Anderson into a point guard for the first time in his life, after entrusting the duties to an uncomfortable Wesley Witherspoon, Calipari went for the move in front of his face -- he moved Evans, his highly touted freshman.
The Tigers haven't looked back. After dropping three of five and looking utterly lost, Memphis has won nine in a row, reclaiming its chronic spot as a Conference USA power and returning to the Top 25. The Tigers have piled up the wins against the likes of Lamar, Marshall and Rice, but they will up the ante Saturday afternoon when they travel to Tennessee and try to avenge their lone regular-season loss of 2007-08. These Vols are about as lost as Memphis was a month ago, having dropped three of their past six. But they remain a team loaded with talent in as fierce a rivalry as you'll find on the hardwood. And what Tennessee lacks in defensive prowess, it makes up for in offensive fearlessness.
Evans leads Memphis in scoring, averaging 16.5 points per game (18.2 during the win streak), but his assist-to-turnover ratio isn't great. He dishes out 3.9 assists but also commits 3.7 turnovers. The Tigers, blessed with a ton of athleticism and more than capable of matching Tennessee bucket for bucket, need Evans to provide a steady hand.
-- Dana O'Neil, ESPN.com
75-foot buzzer-beater
Key Games This Weekend
Saturday
• No. 24 Memphis at Tennessee, 3:30 p.m.
To put it nicely, these teams don't like each other. If Memphis coach John Calipari had his way, the Tigers wouldn't play the Volunteers in the regular season. Tennessee coach Bruce Pearl would prefer to play the Tigers two times per season, so he could make inroads in the recruiting hotbed of Memphis. Last season, the No. 2 Vols beat the No. 1 Tigers 66-62 at FedEx Forum in Memphis. Tickets for that game were being sold by scalpers for as much as $5,000 per pair. Priscilla Presley, Justin Timberlake, and NFL quarterbacks Eli and Peyton Manning were in attendance.
Saturday's game at Thompson-Boling Arena won't have the buildup of last season's contest between the schools. The Tigers are reloading after losing several key players from the team that lost to Kansas in the 2008 national championship game. The Vols aren't even ranked after losing three of four games earlier this month (they've won consecutive games over South Carolina and Vanderbilt since). But the on-court atmosphere figures to be as hot as ever. Memphis has more of a basketball tradition than Tennessee, but the Vols have won seven of the last nine in this series.
• No. 23 Baylor at No. 5 OU, 4 p.m., ESPNU
The once-disgraced Bears continue to make tremendous strides under coach Scott Drew, but a victory over Oklahoma has eluded the Baylor program for more than three decades. The Bears have lost 28 in a row to the Sooners -- their last victory in the series was a 75-67 victory at Oklahoma on Dec. 6, 1977. Baylor came close to beating the Sooners twice in the 2007-08 season -- OU won 77-71 in Waco and 92-91 at Lloyd Noble Center in Norman.
The game in Norman was ugly. Baylor's Mark Shepherd was ejected for elbowing Oklahoma's Blake Griffin in the face. Another Baylor player and an Oklahoma strength and conditioning coach were tossed for leaving the bench during the fracas. The Bears erased an eight-point deficit in the final three minutes of regulation and scored the first seven points of overtime. But they couldn't slow down Griffin, who finished with 29 points and 15 rebounds. BU guard Curtis Jerrells missed two foul shots with one second left in overtime. Containing Griffin again figures to be difficult for Baylor, which trails the Sooners by one game in the Big 12 standings. Griffin posted his 15th double-double of the season with 27 points and 18 rebounds in a 72-61 victory over Nebraska on Wednesday night.
• No. 3 UConn at No. 19 ND, 7 p.m., ESPN
After consecutive Big East road losses, Notre Dame's once-promising season seems to be on the ropes. The Fighting Irish trail Marquette and Louisville by 2 1/2 games in the Big East standings and can't afford to fall further back. Notre Dame's national-best 45-game home winning streak at the Joyce Center will get a major test from the Huskies, who are 5-0 on the road this season.
Notre Dame's Luke Harangody has had this game circled for a while. Connecticut center Hasheem Thabeet's photo was on the cover of a preseason issue of ESPN The Magazine with this pull-out quote: "I played Luke Harangody and he was not tough." Thabeet said his quote was taken out of context and sent a letter of apology to Notre Dame coach Mike Brey. Harangody didn't need much more motivation. He has scored at least 20 points in 10 consecutive games and has posted seven straight double-doubles. Harangody had mixed results against Thabeet last season, though. In Notre Dame's 73-67 win in South Bend, Harangody scored 14 points on 5-of-13 shooting. Thabeet blocked a school-record 10 shots in the loss. In the Huskies' 84-78 victory in Storrs, Harangody scored 32 points and grabbed 16 rebounds.
• No. 13 Xavier at LSU, 8 p.m., ESPN2
The Musketeers have won seven games in a row and look like the team to beat in the Atlantic 10. The Tigers are flying under the radar under first-year coach Trent Johnson, who has quickly molded his team into a threat in the not-so-strong SEC. A year ago, LSU was mired in a seven-game losing streak en route to finishing with a disappointing 13-18 record. Coach John Brady was fired with 10 games left to play in the 2007-08 season, and Johnson was hired away from Stanford in April.
LSU already has exceeded its victory total from last season with a surprising 15-3 start. The Tigers are coming off an 81-57 rout of Mississippi State on Wednesday night, a win that put them in the driver's seat in the SEC West. LSU, which has won 17 games in a row at the Pete Maravich Assembly Center, has two potent scorers. Guard Marcus Thornton and much-improved forward Tasmin Mitchell combine to average 34 points per game.
Sunday
• No. 12 Louisville at No. 8 Syracuse, Noon, ESPN360
It'll be Jim Boeheim vs. Rick Pitino, the man who served on Boeheim's first staff after being interviewed and hired on his wedding night in 1976 (Pitino postponed his honeymoon so he could recruit Louis Orr the next day). There's no rest in the rugged Big East, either. The league boasts six of the top 14 teams in this week's ESPN/USA Today coaches' poll. Perhaps no team knows that better than Syracuse, which is in the midst of a 10-game stretch in which it will play eight ranked opponents. In their past two conference road games, the Orange have lost by 14 at Georgetown and by 18 at Pitt. But they managed a 19-point home win over Notre Dame in between. Which team will show up Sunday?
Against the Panthers earlier this week, SU point guard and leading scorer Jonny Flynn was just 3-of-14 from the field (0-of-5 from 3). That obviously has to improve if the 'Cuse are going to beat the red-hot Cardinals. After struggling somewhat in nonconference play, Louisville finds itself tied with Marquette atop the Big East at 5-0. One of those wins was a stirring rally against then-No. 1 Pittsburgh this past weekend. Against the Panthers' vaunted frontcourt, Terrence Williams was an absolute beast in that game, scoring 20 points and doing just a little bit of everything. He followed that up with 23 points, 11 rebounds and four steals in a blowout of Rutgers on Wednesday.
It'll be a rollicking environment in the Carrier Dome on Sunday, but the Cards aren't likely to be intimidated. Over the past three seasons, Louisville has won 15 road games in the Big East, tops in the conference. Pitino's bunch also has won seven of its past eight regular-season games against Top 25 teams.
• No. 4 Pitt at West Virginia, 4 p.m., ESPN360
It might not be a nasty Backyard Brawl like it is on the football field, but rest assured these two schools and these two fans bases don't get along. You have a great mix when you add the rivalry element to the fact that both these teams are coming off highly impressive victories. Pitt bounced back masterfully from its first loss of the season by waxing No. 8 Syracuse, and West Virginia smothered Georgetown on the road with a shockingly easy 75-58 win Thursday night. That makes this Sunday matinee all the juicier.
For the Mountaineers, Da'Sean Butler scored 27 points for the second straight game, and he likely will need a similar performance if WVU wants to pull off another upset. West Virginia, which has the No. 1 scoring defense in the Big East, forced 19 turnovers against the Hoyas and has been forced to play small ball this season. It'll be fascinating to see how that works against a frontcourt that includes Sam Young and rebounding machine DeJuan Blair.
-- Mark Schlabach, ESPN.com