Atlantic 10 earns weekly honors for big wins
Joe Robbins/US Presswire
Player of the Week: Brian Roberts, Dayton
By Andy Katz
Last week: seven points and five rebounds in a 68-54 win over High Point, and 28 points on 10 of 17 shooting with five rebounds, three assists and no turnovers in a 70-65 win over Louisville Few players had as much to do with as significant a win as
Brian Roberts
did for Dayton. The senior guard scored 28 points in a win at Louisville. He scored 14 of the Flyers' first 19 points. There was a mid-game lull when Roberts didn't do much, but as soon as he turned it on again, the Flyers flew past Louisville. He had no turnovers in 37 minutes. Dayton coach Brian Gregory told reporters after the game that Roberts "was the best player on the court for 40 minutes." It's hard to argue. Roberts didn't do much earlier in the week by scoring only seven points in a win over High Point. But the weekly honor goes to Roberts for his play in this one meaningful game; his 10-of-17 shooting, 6-of-6 performance at the free-throw line, his two 3s, five boards and three assists. This win could ultimately be a difference maker for Dayton in any bubble discussion. That's why Roberts' play this week held even more meaning. Beating Louisville at Freedom Hall will do wonders for this squad in March if it can challenge for the Atlantic 10 title. Coupled with road wins over Miami (Ohio) and Holy Cross, the Flyers have built an impressive selection committee meeting résumé so far.
Team of the Week: Rhode Island
Andy Katz
Last week: 77-60 win over Providence and 91-89 win at Syracuse Jim Baron hates this kind of talk, the talk that he's got a squad that could challenge for a league title and an NCAA Tournament berth. He really can't stand it in December. But the reality is that the Rams are rolling right now, so much that the two wins they had last week over Providence and Syracuse could be decisive victories if they find themselves on the bubble come March. The Rams' 2-0 mark against the Big East this week shouldn't come as a shock. Rhode Island is getting great balance from its defense on the ball behind
Parfait Bitee
, to its perimeter shooting from
Will Daniels
and
Jimmy Baron
to
Lamonte Ulmer
inside. Rhode Island's 10-1 start could easily soar to 13-1 heading into its A-10 opener at Dayton on Jan. 9. "We just keep getting better," Baron said Sunday night. "We've just got to keep the proper perspective." That's fine. Baron doesn't have to project the field of 65 now. Still, he does acknowledge the significance of the week for the Rams. URI had only a few "up" games against teams from higher-ranked leagues. And so far, URI is 3-0 against the Big East (also beat South Florida in Dayton Beach), 0-1 ACC (lost by just four points at Boston College) and owns a win over an erratic UAB. If the Rams can hold serve in the A-10 and be one of the top three teams, then they should be in the mix for an NCAA bid and can look back at this past week as a decisive one.
3-Point Shot
Doug Gottlieb
I saw
Dayton beat Louisville
, 70-65, in Freedom Hall on Saturday, and here are some of my thoughts on the game and teams.
1.
Having watched Brian Gregory prep his team with film and the scouting report the night before the game, I have to say how impressed I am with Gregory and his staff. In Year Five, he seems very comfortable around his guys and in his own skin, and that is a rarity in this game. His team not only knew Louisville's tendencies, but the Flyers executed the game plan as it was drawn up. The score was no fluke, Dayton was better than Louisville on this day.
2.
Brian Roberts is not only a very good shooter, but he -- like many of UD's players -- has a high basketball IQ. Roberts picked his spots and only attacked mismatches on the pick-and-roll/pop. While he does not have great speed, he does have several gears and a major league jumper that he uses to create space on the perimeter.
3.
Louisville is not healthy, mentally or physically.
Edgar Sosa
seems torn between being the scorer he was against Texas A&M in the NCAA Tournament and running the team like Rick Pitino needs. While Sosa and
Jerry Smith
sat and watched the final couple of minutes, clearly in Pitino's doghouse, Louisville had essentially four starters on the bench in crunch time.
Juan Palacios
is supposed to return from an MCL injury in late December, and
David Padgett
thinks he can come back from a broken knee-cap in January (though many in the program doubt that), while Sosa and Smith try and play up to their massive potential. Without depth at the 3 and 4, the Cards are forced to play more zone than they want and this seems to make even their fullcourt press a bit softer than expected. They seem to be in roughly the same pattern as last season with injuries and stagnant offense, and maybe that changes when Palacios and Padgett come back, much like it changed last season.
And one.
Earl Clark
is very impressive. Clark is a 6-9 NBA small forward who has a long wingspan and an improving skill set at the block and on the wing. He blocks shots, averages 11.9 boards a game and really has not even started to totally "know how to play".
Upset Watch
By Reggie Rankin
Scouts Inc.'s Reggie Rankin takes a look at five upsets that could happen this week: •
Saturday: Oklahoma State over Pittsburgh, ESPN
, noon ET
Pitt is experienced in the backcourt with
Levance Fields
and
Ronald Ramon
, but forwards
Sam Young
and
Mike Cook
-- both above-the-rim athletes -- are benefiting from the more up-tempo emphasis this season. Freshman Dejuan Blair is a powerful scorer and rebounder with double-double talent. The boys from Stillwater, in transition mode this season with seven newcomers, are led by 6-6 freshman swingman
James Anderson
, powerful point guard
Byron Eaton
, and returning double-figure scoring wings
Terrel Harris
and
Obi Muonelo
. Coach Sean Sutton has more depth to play up-tempo and create turnovers with the pressure defense the Cowboys are known for. Sutton has enough talent, and if the newcomers continue to improve, a huge road win is possible.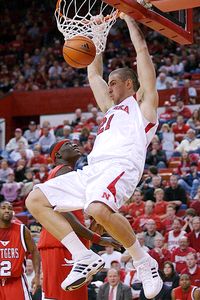 Nebraska's Aleks Maric is one of the best hidden talents.
•
Saturday: Nebraska over Oregon
, 2 p.m. ET
Five Ducks average double figures and they can score quick and often, averaging nearly 90 points per game. Ernie Kent has endless options on offense, which makes his team a pain in the neck for opposing defenses to design a scheme. When the Ducks travel to the heartland to battle the Huskers, interior defense will be the key to containing All-Big 12 preseason center
Aleks Maric
. Maric is a huge target and can power his way through contact and finish. Oregon might stumble against Nebraska if
Malik Hairston
and
Tajuan Porter
are looking ahead to their Michigan homecoming against Oakland on Dec. 22. •
Saturday: Purdue over Louisville
, 3:30 p.m. ET
The 'Ville is adjusting to the absence of senior center David Padgett, who was going to be option No. 1 in the post. Louisville's talent is plentiful, but the Boilermakers' newcomers are as good as advertised and gaining valuable experience. Purdue's freshmen class of
Scott Martin
, E'Twaun Moore,
Robbie Hummel
and
JaJuan Johnson
are four of the team's top five scorers. Juco transfer
Nemanja Calasan
is a good low-post scorer who provides Purdue with a balanced attack. Matt Painter's stable of young thoroughbreds could be ready to take the next step. •
Saturday: Maryland-Baltimore County over West Virginia
, 4 p.m. ET
The Mountaineers are transitioning into the Bob Huggins style of basketball and are off to a good start. They had SEC favorite Tennessee on the ropes before losing, 74-72. Guard
Alex Ruoff
leads the team in scoring (16.5 points), and forward
Joe Alexander
is the top rebounder (7.0 boards). Tough defense and attacking the rim on offense has been the formula for success for WVU. UMBC has gained confidence through early-season success with wins over three A-10 schools (at LaSalle, at Richmond and GW). Coach Randy Monroe has scoring balance with four players
Brian Hodges
(18.8 points),
Ray Barbosa
(16.2 points),
Darryl Proctor
(14.8 points) and
Cavell Johnson
(14.3 points). Senior guard Hodges leads the attack, and transfers Barbosa (James Madison) and Proctor (Coppin State) are eligible and contributing. Johnson, another James Madison transfer, was named to the preseason All-America East first team. The Retrievers may have the experience and confidence to give the West Virginia faithful something to worry about. •
Saturday: Florida State over Butler, ESPN Full Court
, 6 p.m. ET
The Bulldogs execute as well as any team in the country on both ends of the floor. They have great experience and leadership in addition to being a great shooting team. The perimeter of
A.J. Graves
,
Mike Green
and
Pete Campbell
are proven winners. Florida State rolls into Indianapolis with a strong perimeter of its own in
Isaiah Swann
, Tony Douglas and
Jason Rich
. The Seminole guards are athletic and can score off the dribble, with Swann being the team's best 3-point shooter. The perimeter matchups will determine the outcome of the game, which gives Florida State an excellent chance on a "neutral" floor in Conseco Fieldhouse.
Time to meet ...
By Andy Katz
•
Tyrelle Blair, Boston College:
The Eagles' center blocked 11 Maryland shots, scored 10 points and had six boards on Sunday. BC is getting much more than they ever thought out of the Loyola-Chicago transfer. •
Wright State:
Wright State continues to cause Butler problems. Wright State's win shows that the Horizon may be more balanced than expected. •
Illinois State:
Porter Moser said he left Illinois State in good shape for Tim Jankovich. That must be true after the Redbirds beat a struggling Cincinnati at home. •
Kent State:
The MAC is shaping up to be a tight race among Miami (Ohio), Kent State and Ohio. Kent State put a hurting on George Mason, pounding the Patriots, 73-55, on Saturday. •
Santa Clara:
The Broncos have played seven straight away from home and are 6-2. Not bad for a team that was supposedly rebuilding under first-year coach Kerry Keating.
What I'm looking forward to this week
By Andy Katz
• If Saint Mary's can win on the road at Southern Illinois on Tuesday, especially since the Salukis are reeling a bit after three straight losses to USC, Indiana and Charlotte. • Can Miami (Fla.) remain unbeaten and take out Mississippi State in Starkville on Thursday? • Which Louisville team shows up against Purdue in the Wooden Tradition on Saturday in Indianapolis? • Whether Wright State can knock off Miami (Ohio) at home Saturday after taking down Butler. • If Xavier can continue to rack up wins, especially by beating Arizona State in Tempe on Saturday.
Dayton drops Louisville on the road
Rhode Island out-shoots Syracuse in the Dome
ESPN.com's Mid-Major Top 10
1. Xavier
2. Dayton
3. Butler
4. Saint Mary's
5. Rhode Island
6. BYU
7. Sam Houston State
8. Creighton
9. UNLV
10. Kent State

Please remember this week …
•
Pitt:
The Panthers' true road wins at Duquesne and at Washington may not be over NCAA teams but still came in hostile environments. Pitt should get plenty of credit for playing true road games and has a tough stretch coming up against Oklahoma State at home, Duke in Madison Square Garden and then at Dayton. •
Michigan State:
The Spartans played before record packed crowds at Bradley and against BYU in Salt Lake City (not Provo, where the school is located). Like Jamie Dixon, Tom Izzo deserves kudos for going into tough gyms and coming out with two gritty wins for a team that continues to improve. •
Villanova
: The Wildcats pulled off a marvelous comeback over LSU when they looked dead. The week ended on a high, as well, by starting off the Big 5 games with a win at Temple. •
Washington State:
The Cougars pulled off one of the best true road wins of the season by winning at Gonzaga, only the second team to walk out of the new Kennel as a winner in four years. Washington State made sure that game mattered by finishing off Portland State at home Sunday behind perfection from Australian big man
Aron Baynes
(9-of-9 for 23 points). •
West Virginia:
The Mountaineers have the look of a team that could challenge for a top-four spot in the Big East, especially with the way Louisville is playing of late and the inconsistencies of Syracuse and Connecticut. The Mountaineers beat Auburn in Birmingham and Duquesne at home. The Mountaineers are a whisker away from being unbeaten after losing to Tennessee in the final possession. •
Notre Dame:
The Irish pulled out two solid wins, beating Kansas State in the Garden earlier in the week and then obliterating Northern Illinois, 108-62, on Saturday. •
Arizona:
The win over Illinois in Chicago was one of the hardest-fought wins the Wildcats have had in recent memory. Kevin O'Neill was extremely pleased with the effort, especially from
Jerryd Bayless
and
Jordan Hill
. Bayless had an impressive dunk, made his free throws and finished with 20 points, while Hill had 23 points and 14 boards. The Wildcats have been down against Kansas (lost in overtime in Lawrence), Texas A&M and Illinois and won the latter two. •
Charlotte:
The 49ers have been flying under the radar recently but picked up two quality wins over Davidson and Southern Illinois at home last week.
Leemire Goldwire
, a 5-11 guard, averaged 29 points and eight boards in the two wins. •
Indiana:
The Hoosiers didn't need
Eric Gordon
to smack Tennessee State and Kentucky. Indiana is rolling right now.
-- Andy Katz, ESPN.com
Please forget this week …
•
Davidson:
Sorry, but the Wildcats will have to win the Southern Conference now. That's OK. They can. But the at-large possibilities are now officially over after losing to Charlotte and UCLA. •
LSU:
John Brady needs a getaway after the Tigers' improbable collapse against Villanova in Philadelphia. The Tigers may not get injured
Tasmin Mitchell
back for months and maybe the season.
-- Andy Katz, ESPN.com
Villanova takes advantage of LSU's collapse
Desperately needed a win
•
Providence:
The Friars had to beat Brown on Sunday to avoid a three-game losing skid. They escape a tough four-game stretch by going 2-2, book-ending losses to Rhode Island and South Carolina with wins over Boston College and Brown. •
Kansas State:
The Wildcats were running out of chances for résumé-building wins and had to beat Cal. A 30-point effort from
Bill Walker
certainly helped.
-- Andy Katz, ESPN.com
December conference play
•
Maryland:
The Terps made a valiant comeback, but
Greivis Vasquez
's meltdown moment of picking up his fourth and fifth fouls on one play (a technical for pounding his fist into the basket standard) put the Terps in a hole against Boston College on Sunday. The Terps couldn't climb far enough out and now must live a month (until Virginia Tech on Jan. 12) with an 0-1 ACC record. •
Butler:
I got a question in a chat last Friday about the chances of Butler going undefeated in the Horizon. Well, how about winning the first road game for starters? Wright State was ready to pounce on the Bulldogs.
-- Andy Katz, ESPN.com
Still cruising
•
Vanderbilt:
Still undefeated after beating Wake Forest. And, once again,
Shan Foster
and
Andrew Ogilvy
lead the Commodores as a 20-plus-scoring 1-2 punch. •
Xavier:
The Musketeers coasted past Creighton with
Drew Lavender
putting up 28 points. Xavier hasn't lost since the second game at Miami (Ohio). •
Duke:
The Michigan game was almost unfair. The Blue Devils absolutely pounded the Wolverines to remain unstained. •
Miami:
The Canes are undefeated. And if they beat Mississippi State in Starkville this week, they will be unbeaten going into ACC play. •
Saint Mary's:
The Gaels are still unblemished with a win over San Diego State in the Wooden Classic in Anaheim. •
Ole Miss:
Andy Kennedy's squad finally went on the road and still won, beating Central Florida to remain undefeated. •
Marquette:
The Golden Eagles had an impressive win over Wisconsin at the Kohl Center in Madison. And don't think for a second that this was just another game for Marquette's Tom Crean. Because of the always heated in-state recruiting battles and bragging rights associated with this matchup, Crean probably wanted this game more than any other on his schedule. •
Texas:
Another week, another win. This team doesn't seem to flinch. •
Kansas:
The Jayhawks put a 24-1 run on DePaul on Saturday. Beating Arizona in overtime and winning at USC gave this team oodles of confidence.
-- Andy Katz, ESPN.com
Under the radar
• Northwestern wins at Western Michigan: Winning at Western is no small feat, just ask Davidson. Northwestern has won three in a row. • East Carolina beats NC State: Please explain NC State? How does this team lose this game and at home to New Orleans? These losses will haunt the Wolfpack for a while. Meanwhile, ECU follows up a loss to Clemson by a win over NC State. Go figure. • New Mexico State gets swept by UTEP: NMSU coach Marvin Menzies is getting a crash course in the local rivalries, going 1-2 so far in the unique in-season, home-and-home series with two out-of-conference foes (UTEP and New Mexico). • Wyoming beats Colorado: Tough return for CU assistant coach Steve McClain, who had to go back and face the school that fired him last spring. • Penn State outlasts Seton Hall: The Nittany Lions finally got a decent win after going 0-fer in Orlando. • Stephen F. Austin beats Oklahoma: All hail the Southland Conference. This game was in Norman. Repeat, this game was in Norman. • Iowa State beats Iowa: Didn't this game once have national appeal? • Georgia beats Wake Forest: The margin was surprising. Georgia won by 22. • Syracuse over Virginia: The Orange ventured out for a true road game in December -- and won. That's a neat concept that may make Jim Boeheim do another one next year. -- Andy Katz, ESPN.com