Weekly Watch: Seminoles, Thabeet take honors
Andy Lyons/Getty Images
Editor's note: This edition is for games played from Sunday, Feb. 1 through Saturday, Feb. 7.
Player of the Week: Hasheem Thabeet, Jr., C, Connecticut Huskies
Too bad there isn't a stat for how many shots Hasheem Thabeet scares opposing players from taking. That likely would be an NCAA record. As for the actual statistics, Thabeet scored 14 points, grabbed 11 boards and blocked four shots in Monday's win over Louisville on the road, then came back five days later with 17 points, 12 boards and six blocks in a nonconference home win over Michigan. Thabeet had put up a triple-double the previous week in a win over Providence. If Thabeet continues his current run, he'll be the most dominant defensive player at his position in the country.
The rest of the starting rotation this week: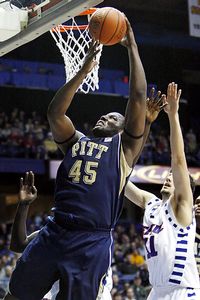 Jerry Lai/US Presswire
DeJuan Blair is in the running for Big East Player of the Year.
DeJuan Blair, So., F, Pitt: Blair dominated DePaul for 32 points and 14 rebounds. Earlier in the week, Blair had put up 18 points and eight rebounds against Robert Morris. The race for Big East Player of the Year will be quite a contest, with Blair, Thabeet and Marquette's Jerel McNeal the early favorites.
Dante Cunningham, Sr., F, Villanova: Cunningham is turning into quite a development for the Wildcats. He lit up Syracuse for 31 points and grabbed 10 boards. Earlier in the week, in a road win at Providence, Cunningham scored 12 points and grabbed 11 boards for a steady presence inside.
John Bryant, Sr., C, Santa Clara: Bryant had put up big numbers earlier in the season, but the Broncos weren't winning games. They are now. Bryant scored 23 points and grabbed 20 rebounds in a road win at San Diego. Then, late Saturday night, in what could be a crushing loss for Saint Mary's NCAA tournament chances, Bryant scored 21 points and grabbed 15 boards in the 70-52 defeat of the Gaels at Toso Pavilion.
Wayne Ellington, Jr., G, North Carolina: Ellington is one of the hottest players in the country. He scored 34 points in a win over Maryland, making seven 3s. He then poured in 20 with four 3s in Saturday's win over Virginia. If Ellington is on, the Tar Heels space themselves better and score more, and are even more of a threat to win the title.
Team of the Week: Florida State Seminoles
Last week
: Beat Georgia Tech 62-58; won at Clemson 65-61.
Florida State was a missed Ty Lawson 3-pointer away from going to overtime and possibly knocking off North Carolina at home on Jan. 28. The Seminoles had proven they were poised to make a run despite not being able to close out UNC.
Last week, Florida State did what it had to in holding off a charging Georgia Tech at home, then coming back after trailing by 19 to win at Clemson. This was the same Clemson team that crushed Duke earlier in the week. Had the Tigers won this game, it would have been hard to keep them away from being named our team of the week.
But Florida State has positioned itself as a threat to finish in the top four in the ACC with a 5-3 record. And at 18-5 overall through Saturday, it could earn a berth in the NCAA tournament for the first time under head coach Leonard Hamilton. The Seminoles have four home games and four away games left. Those road contests will be extremely difficult -- the Noles will travel to Wake Forest, Virginia Tech, Boston College and Duke. That's why it was so critical for them to grab the win at Clemson. Protecting Tallahassee from Virginia, Miami, Clemson and Virginia Tech will be necessary, too. The wins over Cincinnati, Cal and Florida earlier in the season were no fluke. This team has arrived as a credible threat to earn a bid.
Remaining conference unbeatens
Oklahoma
: The Sooners are 9-0 with plenty of tough tests remaining at Baylor, at Texas and at Missouri. It's hard to see Oklahoma winning all those games.
Kansas: The Jayhawks are 8-0 with road games still pending in Monday's trip to Missouri, at Kansas State and at Oklahoma. If Kansas finishes the season unbeaten in conference play, it's possible Bill Self will have done a better coaching job than he did a season ago.
Memphis: The Tigers' dominating performance against Gonzaga on Saturday should help their seeding. Memphis had the look of an Elite Eight team in Spokane. As for the 50 straight Conference USA wins, well, that should continue for a few games. The question will be whether Memphis can win its last three road games -- at UTEP, at UAB and at Houston. None of those teams should be in the NCAA tournament, but all are capable of knocking off Memphis. Winning all conference games this season would be more of an accomplishment than doing it last season.
Gonzaga: The Zags are 8-0 in the West Coast Conference. The loss to Memphis had no bearing on Gonzaga's conference title, although it definitely hurts the Zags' perception for seeding. Playing Saint Mary's sans Patty Mills shouldn't be as tough a chore this week. The question for Gonzaga is, can it win at Santa Clara on Feb. 26? John Bryant gives the Broncos size to put up against Gonzaga. The crowd will be rocking, and a potential undefeated conference season likely will be on the line.
Princeton: The Tigers shocked the Ivy League establishment with a 20-point win over Cornell. Had Cornell been in this spot, there would have been a legitimate question as to whether it could go unbeaten in the Ivy League. But Princeton, at 4-0 and 9-8 overall, would put together quite a season if were to pull it off after losing six games in a row during nonconference play. Princeton has to play at Yale this week and will still have a daunting trip to Cornell and Columbia before the season-ending game at Penn. Hard to believe the Tigers could run the table.
Utah State: The Aggies are 11-0 in the WAC (23-1 overall) and already won at New Mexico State. But trips to second- and third-place Boise State and Nevada are still pending. If Utah State wins those two road games, it realistically could finish the season unbeaten in the WAC. If it does that, the strength of the nonconference schedule shouldn't matter, and Utah State should be a lock for the NCAA tournament.
Thoughts from the week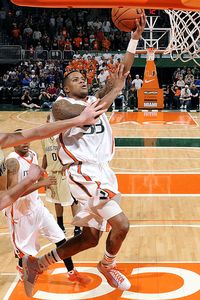 Richard C. Lewis/Icon SMI
Jack McClinton and Miami could be one of eight ACC teams in the NCAA tournament.
ACC: The ACC could put eight teams in the NCAA tournament field -- North Carolina, Duke, Boston College, Clemson, Florida State, Wake Forest, Virginia Tech and Miami (the order as of Sunday morning) -- if none of those teams goes on a slide.
Big Ten: Ohio State is the surging team of the week. At 7-4, it sits in third place in the conference, and its overall record is 17-5. Barring a collapse, the Buckeyes should earn a bid.
MWC: The Mountain West will provide the toughest challenge for the committee. How it separates San Diego State, Utah, BYU and UNLV will be interesting. How many of those teams will get in? One, two, three?
Big 12: Nebraska and Kansas State don't have the nonconference profiles that Baylor and Texas A&M do, but if they continue to rank higher in the standings, how many of them will make the tournament? All of them? None of them?
CAA: Northeastern lost to last-place William & Mary on the road but still remained in first place by a game over VCU. That bodes well for the Huskies to earn the top seed in the conference tournament, but it doesn't bode well for their NCAA seeding.
Big East: Who'd expected Georgetown and Notre Dame to play on the Tuesday at the Big East tournament in New York? Syracuse, Cincinnati, Providence and West Virginia all had five losses through Saturday. At least two of those should earn a bid for sure, but will three, four? The Big East easily could be whittled down to eight bids instead of the coveted nine or 10.
Pac-10: USC is still a mystery. Cal is tied with the Trojans with four losses; Arizona has five. Expect at least one of these three to be edged out for a bid.
SEC: It's hard to see an SEC team in the second weekend of the NCAA tournament, although Villanova didn't look the part last season and got there from the Big East as a 12-seed. But the seeding of the SEC teams continues to take a hit with losses by Kentucky and Tennessee. The revolving door of who is the best team in the league continues. It was once Tennessee, then Kentucky. Now it's Florida. Who's next? Perhaps South Carolina, or maybe LSU?
Welcome
Green Bay
: Don't sleep on the Phoenix. They may rise and create a major headache for a high-major squad on Selection Sunday. The reason is this: Green Bay is more than capable of winning the Horizon League tournament and forcing the committee to take two teams from the conference. Green Bay beat Butler at home on Monday, then followed that up with a close win over rival Milwaukee to stay on Butler's heels at 11-2 (19-6 overall) in the Horizon League.
UC Davis: The Aggies knocked off Big West leader Long Beach State on the road. UC Davis followed that up with a five-point loss at Riverside. UC Davis is 5-5 and 10-13 overall. What does this mean? The Big West could be headed for a 15- or 16-seed if mediocrity continues. UC Davis' Vince Oliver, who is averaging 15 points a game, put 33 on Long Beach, which slipped to 7-3 (12-10 overall).
Comeback team
Duquesne
: Who expected the Dukes to beat Xavier at home this past Saturday? I would venture to say no one outside Duquesne. But the Dukes had Xavier chasing them all game and won by four. Duquesne is 6-3 in the A-10 and 15-7 overall, and it should cause trouble in the A-10 tournament. The Dukes are still erratic, as evidenced by their four-point overtime loss at Saint Louis on Wednesday. But there is life in the Dukes that will be hard to extinguish in early March.
Missouri: DeMarre Carroll was sensational in the win at Iowa State, scoring 31 points after a 13-point game in the win at Texas. Missouri's win over Iowa State in Ames was significant because it meant the Tigers wouldn't slip in advance of Monday's showdown against Kansas in Columbia. Beating Texas and Iowa State means the Tigers can climb to within one game of second place in the Big 12. Who expected Missouri (20-4, 7-2) to finish second in the Big 12?
Viewer's guide
(All times Eastern)
Monday:
7 p.m.: West Virginia at Pitt (ESPN)
9 p.m.: Kansas at Missouri (ESPN)
Tuesday:
7:30 p.m.: Marquette at Villanova (ESPN2)
9 p.m.: Clemson at Boston College
Wednesday:
7 p.m.: Xavier at Dayton (ESPN Classic)
7 p.m.: Syracuse at UConn (ESPN)
9 p.m.: North Carolina at Duke (ESPN)
Thursday:
9 p.m.: UCLA at Arizona State (ESPN)
11 p.m.: Gonzaga at Saint Mary's (ESPN2)
Saturday:
4 p.m.: Florida State at Wake Forest (ESPN360)
• College Basketball Schedule | ESPN Full Court
• College GameDay | ESPNU Campus Connection
Memphis rolls past Gonzaga
Player of the week in a losing effort
Jack McClinton, Sr., G, Miami
: The rule in this column is that to win our player of the week, your team has to win all the games it played in a given week. If Miami had held on to beat Duke, McClinton could have won the honor with ease. He scored 32 points and made six 3s in a dominating performance in the 79-52 win over Wake Forest. He followed that up with 34 points, making five 3s in the overtime loss at Duke.
Duke survives versus Miami
Strong man
Blake Griffin, So., F, Oklahoma
: Griffin completed his usual double-double with 16 points and 14 boards in a win over Texas A&M, then 26 points and 12 boards in a win over Colorado. But did you see how ferocious his one-handed slams were against the Buffaloes? Jeez. Noted NBA and college trainer Frank Matrisciano of San Francisco should get plenty more clients after Griffin's performance. Griffin was one of Matrisciano's top students in the spring and summer, and it's obvious that he is in the best shape of his life. He's a rock, has unbelievable endurance and is such a force that it's hard to think he's only a sophomore.
Griffin powers Sooners
Game winner
Korvotney Barber, Sr., F, Auburn
: Barber's layup with 4.3 seconds left gave the Tigers a 78-77 victory over Tennessee. But it did more than that. The win over the Vols not only knocked Tennessee down multiple seeding pegs but also sent a strong message that Auburn is no longer a given. The Tigers nearly took out Florida but lost by three at home. Their wins over Alabama and Arkansas were decent, but the victory over Tennessee means those earlier wins can be considered credible ones.
Villanova handles Syracuse
Indispensable
Alfred Aboya, Sr., F, UCLA
: Aboya has become one of the most valuable players on the potential Pac-10 champs. He has developed into a scoring big man, something the Bruins desperately needed to make a run at the Pac-10 title and possibly a fourth straight Final Four appearance. Aboya takes charge without hesitation. He also is turning into a near double-double performer. He did it against USC with 14 points and 12 boards, then came close with 19 points and seven boards in the win over Notre Dame.
UCLA dominates Notre Dame
Most important to his team
James Harden, So., G, Arizona State
: Harden remains the lock for the Sun Devils. He doesn't always have to be the leading scorer, but his presence is a must. Harden scored 36 points in 40 minutes in a win at Oregon, then gave a more modest but still valuable nine-point game in a low-scoring win over Oregon State. His presence is an attraction for a defense that can leave someone else open, such as
Jeff Pendergraph
, who scored 15 against the Beavers.
Eight places to be this week
Columbia, Mo., Monday
: Missouri can be within striking distance of second place if it beats rival Kansas at home. The Jayhawks are trying to keep pace with fellow Big 12 unbeaten Oklahoma. A rivalry that actually means something in mid-February!
Villanova, Pa., Tuesday: Marquette skinned its knee at South Florida and must regroup against a Villanova team that is suddenly hot on offense.
Ann Arbor, Mich., Tuesday: Michigan desperately needs to beat rival Michigan State to help its NCAA tournament profile. The Spartans are the class of the Big Ten, while the Wolverines are just trying to get noticed by the selection committee.
Durham, N.C., Wednesday: Duke's comeback win over Miami meant first place will be on the line when rival North Carolina visits Cameron on Wednesday. Perfect.
Dayton, Ohio, Wednesday: Xavier's loss to Duquesne opened up the opportunity for Dayton to beat Xavier and leave with first place in the Atlantic 10.
Tempe, Ariz., Thursday: UCLA is rolling, but the Bruins still need to avenge one of their two Pac-10 losses. They'll make their first attempt Thursday when they head to Arizona State.
Moraga, Calif., Thursday: Saint Mary's is fading without Patty Mills. But the Gaels can show they have a pulse by beating Gonzaga at home.
Winston-Salem, N.C., Saturday: Florida State's revival could take another upturn if the Seminoles can beat Wake Forest on the road after taking out Clemson this past Saturday.