Weekly Watch: Duke, LSU's Thornton take honors
Mark Zerof/US Presswire
Editor's note: This edition is for games played from Sunday, Feb. 22, through Saturday, Feb. 28.
Player Of The Week: Marcus Thornton, Sr., G, LSU Tigers
Marcus Thornton
might have quietly become the top contender for the SEC Player of the Year, ahead of Kentucky's
Jodie Meeks
and Florida's
Nick Calathes
.
Thornton is on the best team in the SEC and has become LSU's top talent.
Thornton lit up Florida with 32 points, making 10 of 11 free throws and six 3s in a crucial 81-75 home win earlier in the week. He followed up that performance with 23 points in LSU's road win at Kentucky. In that game, Thornton also brought the ball up and essentially served as the decoy as he took a pick from Tasmin Mitchell, then shifted the ball back to Mitchell for a wide-open 3-pointer after Kentucky didn't switch its defense. Mitchell's 3-pointer later beat Kentucky for the Tigers' first win in 20 years at Rupp Arena.
Thornton has been a big-time scorer, but he's finally producing for a winning team. Thornton's 21 points per game and his 40.3 percent mark on 3s not only make him SEC Player of the Year worthy, but also should put him under consideration for All-American status.
The rest of the starting rotation this week: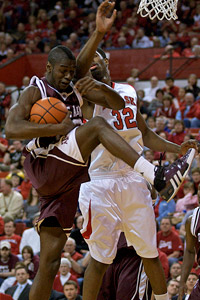 Bruce Thorson/US Presswire
Josh Carter's big performance has put the Aggies on the bubble.
Josh Carter, Sr., G, Texas A&M: All Carter did this week was shoot the Aggies into consideration for an NCAA berth. Carter made a 3-pointer at the buzzer as the Aggies beat Nebraska 57-55. In the next game, he scored 29 points, including seven 3s, in a home win over Iowa State. Carter was 10-of-13 on 3s in the two games. The Aggies (21-8, 7-7 Big 12) need to win at Colorado and beat Missouri at home to reach 9-7 in the Big 12. Should Texas A&M reach nine Big 12 wins, it would carry some weight, because they'd include wins over Texas, Oklahoma State and Missouri. The Aggies also have nonconference wins over LSU and Arizona.
Taylor Rochestie, Sr., G, Washington State: Few seniors will have the memories that Rochestie has after he made a 3-pointer to beat Arizona State in overtime. Earlier in the week, he scored 17 points in a win over Arizona. Rochestie scored 33 points in a win at UCLA the previous week. Washington State is 8-9 in the Pac-10 and 16-13 overall with one game left to play, at rival Washington on Saturday.
Jimmer Fredette, So., G, BYU: Fredette contributed a team-high 25 points in a crucial win over rival Utah to give the Cougars a season split with the Utes. Earlier in the week, Fredette scored 28 points in a 10-point win at San Diego State to give the Cougars a season sweep against the Aztecs. Fredette has been a much-needed third scorer for the team.
Darren Collison, Sr., G, UCLA: Collison scored only seven points in a road win at Stanford on Thursday, but his leadership is seen on every possession. On Saturday, Collison made key buckets and finished with 22 points, six assists and one turnover in a four-point win at Cal to give the Bruins a sweep of the Bay Area and against the Bears. UCLA will finish the regular season with games against Oregon State and Oregon at home. The Bruins should finish second in the Pac-10 behind Washington and ensure themselves a decent seed in the NCAA tournament.
Team Of The Week: Duke Blue Devils
Last week
: Beat Wake Forest 101-91; won at Maryland 78-67; won at Virginia Tech 72-65.
Not too many teams could have pulled off what Duke did this past week. The Blue Devils aren't the best team in the country. They are flawed, like countless other teams. Duke might not get past the second round of the NCAA tournament, but it handled the toughest portion of its schedule at the most critical time of the season.
Duke coach Mike Krzyzewski got more play out of Elliot Williams this past week (who has played well since the Blue Devils' Feb. 19 game at St. John's) to mix up the lead guard rotation. Putting Williams on the floor more helped his teammates. Jon Scheyer handled the ball more, and Greg Paulus could be much more selective in his contributions and could add quickness on the floor.
Gerald Henderson continues to elevate his game to a draft-ready level, while Duke has put itself in position to be within a game of first place heading into the final game of the regular season on March 8 at North Carolina. A win over the Tar Heels would give the Blue Devils a share of first place in the ACC, assuming Duke beats Florida State and North Carolina can take out Virginia Tech on the road. That might be a reach. Still, Duke continues to overachieve. The team sits alone in second place within a game of the Tar Heels despite losing three of four from Feb. 4 to Feb. 15.
Duke's NCAA tournament seeding could have slid significantly, but its recent turnaround will likely earn the Blue Devils a more favored position on Selection Sunday.
Look Out For Spoilers
Washington State
: The Cougars have won at UCLA and swept Arizona and Arizona State at home in their past three games. Facing Washington in Seattle is up next for the Cougars. After this recent run, why shouldn't the Cougs be considered a threat to win the Pac-10 tournament? Well, they could win it. Teams better take them seriously in Los Angeles next week.
Niagara: The Purple Eagles knocked off Siena by 15 points at home Friday night, as Kenny Hasbrouck went 2-for-20 with just five points for the Saints. Niagara headed into Sunday's game with Marist at 13-4 in the MAAC and is a lock for the No. 2 seed in the conference. Its 23-7 overall record also should indicate Niagara could win the MAAC tournament and put Siena in the precarious position of hoping the selection committee likes its power rating a lot more than its quality wins.
Rhode Island: The Rams beat Dayton at home on a last-possession shot. Heading into Sunday's game at Duquesne, Rhode Island was 21-8 overall and 10-4 in the A-10. The Rams have the look of a team that could catch fire for three days in a conference tournament and win it, especially with a hot hand like Jimmy Baron making 3s.
New Mexico: The Lobos beat Colorado State in double overtime to improve to 10-4, and they're in a second-place tie with BYU in the Mountain West. Utah, the leader of the MWC at 11-3, will play at the Pit on Tuesday. New Mexico is fully capable of winning the MWC tournament in Las Vegas and forcing the selection committee to make a choice among a few deserving teams.
Nevada: When has Nevada not been a threat to win the WAC tournament? The answer is never, and that's why the Wolf Pack's performance this season shouldn't surprise you. They beat Utah State at home late Saturday night behind 28 points from Armon Johnson and 21 from highly touted freshman Luke Babbitt. Nevada (17-11, 9-5 WAC) will finish up with games against San Jose State and at Boise State. Nevada will host the WAC tournament, and that's yet another reason the Wolf Pack could be a trendy pick to win the event and force the selection committee to think about Utah State's résumé.
Congrats
Washington
: The Huskies will nab at least a share of the Pac-10 title or will win it outright if they can knock off rival Washington State on Saturday. Washington split with UCLA and swept Arizona State, the two biggest threats to claim the Pac-10 title. UCLA's win over Cal on Saturday night eliminated the Bears from attempting to claim a share of the title, because Cal had swept Washington. The Huskies have continued to improve throughout the course of the season.
Isaiah Thomas
has been the team's leading scorer and top freshman, while
Justin Dentmon
has settled into his more natural position of shooting guard and has become a spirited leader of this squad.
Quincy Pondexter
has blossomed as a valuable role player, and
Jon Brockman
once again has been a rock on every possession. Brockman deserves as much praise as any other forward in the country for playing every possession as if it were his last.
LSU: The Tigers failed to stand out in nonconference games that mattered most, losing to Texas A&M in Houston, at home to Xavier and at Utah. New coach Trent Johnson scheduled a slew of home games (13 nonconference) for academic reasons and because he wanted to get to know his system. That move didn't backfire. The Tigers grew confident and became accustomed to Johnson's system. Johnson is a winner. The Tigers had a stellar starting five with the return of Tasmin Mitchell (after an injury-plagued season), Marcus Thornton, Chris Johnson and Garrett Temple, as well as the addition of point guard Bo Spencer. The bench wasn't deep, but it didn't need to be. The Tigers' experience was expected to be enough as long as they'd listen to Johnson and stay healthy. Both occurred, save an ankle injury that kept Spencer out for a few games, and the Tigers cruised to the SEC outright title.
Wins Of The Week
Providence over Pitt
: The Friars had to get a marquee win over a team ahead of them in the Big East.
Kansas over Oklahoma: The Jayhawks needed to win at OU, regardless of whether Blake Griffin could play, to have a chance at a Big 12 title.
Connecticut over Marquette: The Huskies needed to beat Marquette to keep pace with Louisville and Pitt for the Big East title, regardless of whether an injured Dominic James was to play for the Golden Eagles.
UCLA over Cal: The Bruins had to beat Cal to assure a second-place finish in the Pac-10.
Memphis over UAB: The Tigers had to knock off the Blazers to finish the Conference USA season undefeated. UAB presented the toughest road test.
Cincinnati over West Virginia: The Bearcats needed another quality home win to stand out in front of the selection committee. That win might not be enough, but it'll help the profile.
Michigan over Purdue: The Wolverines desperately needed a signature Big Ten win, whether at home or on the road. Taking out the Boilermakers qualifies as a quality win.
Florida State over Clemson: The Seminoles needed something to differentiate themselves from the muddled mess behind North Carolina and Duke in the ACC. They got it with a season sweep of Clemson.
Georgetown over Villanova: The Hoyas had to beat Villanova to have life left for a possible NCAA tournament selection. They beat the Wildcats on the road, and can finish 8-10 in the conference if they beat St. John's on the road and DePaul at home.
Viewer's Guide
(All times Eastern)
Monday:
7 p.m.: Villanova at Notre Dame (ESPN)
Tuesday:
8 p.m.: Florida State at Duke

Wednesday:
7 p.m.: North Carolina at Virginia Tech (ESPN)
7:30 p.m.: Marquette at Pittsburgh (ESPN2)
9 p.m.: Oklahoma at Missouri
Thursday:
7 p.m.: Tennessee at South Carolina (ESPN)
7 p.m.: Providence at Villanova (ESPN2)
9 p.m.: Dayton at Xavier (ESPN2)
Saturday:
Noon: UConn at Pittsburgh (CBS)
2 p.m.: Missouri at Texas A&M (ESPN2)
2 p.m.: California at Arizona State (CBS)
4 p.m.: Texas at Kansas (CBS)
9 p.m.: Louisville at West Virginia (ESPN)
• College Basketball Schedule | ESPN Full Court
• College GameDay | ESPNU Campus Connection
GameDay Recap
Living Up To The Hype
Josh Heytvelt, Sr., F, Gonzaga
: Heytvelt has been injury-plagued throughout most of his collegiate career, and a suspension for possession of an illegal substance didn't help him mature on the court. But it did help Heytvelt mature off the court and get his priorities in order. He has become the player he was envisioned to be three years ago: a go-to player in the post who can put up big numbers. Heytvelt wound down his WCC career with 28 points against Pepperdine, 29 at Santa Clara and a solid 11 in a win at San Diego. That last win finished off a 14-0 WCC regular season, quite an accomplishment for the Zags, even though injured Saint Mary's guard
Patty Mills
missed the last three halves against Gonzaga.
UConn Holds Off Notre Dame
Sorry To Pick On You, But ...
Utah State: The Aggies lost at Nevada. That wasn't a bad loss. The Aggies lost at Boise State. That wasn't a bad loss, either. Both were road losses to the second- and fourth-place teams in a decent conference. But Utah State's 26-4 record includes just one impressive win (over Utah) and not much else to sell to the selection committee. Its 13-2 mark should improve to 14-2 if the Aggies beat San Jose State in the regular-season finale. But Utah State will be an interesting test case if it loses to Nevada or anyone else in the WAC tournament. The Aggies could have 28 or 29 wins, yet fail to earn a bid.
Griffin Returns in OU Win
Twenty Places To Be This Week
South Bend, Ind., Monday
: Notre Dame has to beat Villanova at home to keep its NCAA tournament hopes alive.
Durham, N.C., Tuesday: Florida State could pose a tough matchup for Duke with its size inside, notably Solomon Alabi's length. This should serve as a good primer for both clubs before the ACC tournament.
College Park, Md., Tuesday: Maryland still has life, and a win over Wake Forest certainly would help the résumé. The atmosphere should be as intense as the home games against North Carolina and Duke. The Terps will need to feed off the good vibes in the building.
Pittsburgh, Wednesday: Marquette will get another attempt after Sunday's Louisville game to show it can play without Dominic James, while Pitt will make a move to earn a piece of the Big East title.
Columbia, Mo., Wednesday: Against Missouri, Oklahoma will attempt to put itself back into position as the favorite to win the Big 12 title. This could be a preview of a Big 12 tournament title matchup.
Cincinnati, Thursday: Dayton will go for a sweep of Xavier in one of the toughest venues in college athletics. Sweeping Xavier would help the Flyers' cause for an NCAA bid.
Villanova, Pa., Thursday: Providence got the quality home win. Now it could use a big-time road win over the Wildcats to convince the selection committee it belongs in the field.
Pittsburgh, Saturday: The Big East title, or at least a share of it, could be decided between Pitt and Connecticut.
Morgantown, W.Va., Saturday: Louisville could be playing for its share of the Big East title, while West Virginia will need a win to move up for seeding in the Big East tournament.
Seattle, Saturday: Washington will go for the outright Pac-10 title against Washington State, one of the hottest teams in the West.
Lawrence, Kan., Saturday: Kansas could be playing for the Big 12 title against Texas. That's quite an accomplishment, considering the Jayhawks lost all five starters off a national title team.
College Station, Texas, Saturday: Texas A&M could be playing for an NCAA bid, while Missouri might still be playing for a piece of the Big 12 title.
Norman, Okla., Saturday: Oklahoma State might need to beat Oklahoma to earn an NCAA bid, OU could be playing for a piece of the Big 12 title, and this likely will be the last home game for the inevitable national player of the year, sophomore forward Blake Griffin.
Richmond, Va., CAA tournament: Watch for top seeds VCU, George Mason, Northeastern and Old Dominion to be the last four left in the CAA tournament. All four remained very close in the standings throughout this season. The dark horse team in the tournament is Drexel, which already has beaten Northeastern and could face the Huskies in the quarterfinals.
Indianapolis, Horizon League tournament: Butler and Green Bay earned a pass to Saturday's semifinals. Green Bay is fully capable of upsetting Butler in Indianapolis because it beat Butler at home and won three of its past four regular-season games.
Sioux Falls, S.D, Summit League tournament: North Dakota State earned the outright title. The Bison likely will have to get by No. 2 seed Oral Roberts for the championship, which will be held March 10.
Las Vegas, WCC tournament: Gonzaga and Saint Mary's earned byes to the semifinal games on March 8. A third game between these two teams in the final on March 9 certainly would be well worth a watch, especially if Patty Mills could get healthy in time to play against the Gaels.
St. Louis, Missouri Valley Conference tournament: This continues to be one of the most entertaining and competitive tourneys. Northern Iowa won its first regular-season league title but had to share it with Creighton, which won its 14th. UNI earned the No. 1 seed and Drake slid to No. 8, but if Drake can beat Indiana State, it is fully capable of beating UNI. The other dangerous team is Wichita State, which is ranked seventh. If the Shockers beat No. 10 Missouri State, they'll play the second-ranked Bluejays. No one would be too shocked if any one of seven teams -- Creighton, Northern Iowa, Illinois State, Bradley, Evansville, Wichita State or Southern Illinois -- were to get hot and win the tournament.
Washington, D.C., Patriot League tournament: American will be the No. 1 seed for the second season in a row, continuing a remarkable turnaround for head coach Jeff Jones. If AU ends up playing No. 2 Holy Cross for the title at home, fans of this league will get to see yet another game between the two most consistent powers from the past few seasons ever since they wrested that distinction from Bucknell.
Albany, N.Y., America East tournament: The tourney starts in Albany, but it likely will end at Binghamton on March 14 for a potential Binghamton-Vermont final. These have been the two most consistent teams in the league all season, although Boston University presents an outside threat to claim the crown.