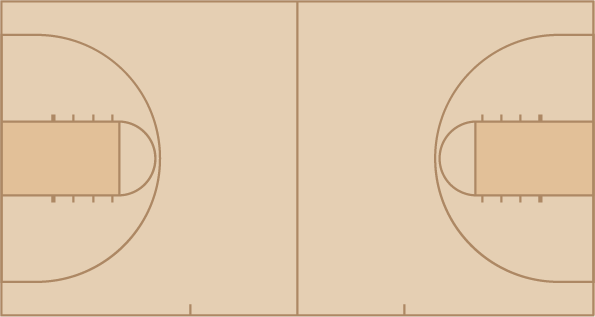 Oregon State
time
TEAM
PLAY
SCORE
20:00
Jump Ball won by Arizona
0 - 0
19:36
Rondae Hollis-Jefferson made Jumper.
0 - 2
19:13
Angus Brandt made Three Point Jumper. Assisted by Roberto Nelson.
3 - 2
18:54
Kaleb Tarczewski missed Layup.
3 - 2
18:54
Angus Brandt Defensive Rebound.
3 - 2
18:45
Roberto Nelson made Jumper.
5 - 2
18:25
Kaleb Tarczewski made Layup. Assisted by Rondae Hollis-Jefferson.
5 - 4
18:25
Foul on Angus Brandt.
5 - 4
18:25
Kaleb Tarczewski missed Free Throw.
5 - 4
18:25
Angus Brandt Defensive Rebound.
5 - 4
18:08
Hallice Cooke missed Jumper.
5 - 4
18:08
Rondae Hollis-Jefferson Defensive Rebound.
5 - 4
17:58
Foul on Langston Morris-Walker.
5 - 4
17:58
Rondae Hollis-Jefferson made Free Throw.
5 - 5
17:58
Rondae Hollis-Jefferson made Free Throw.
5 - 6
17:45
Angus Brandt made Jumper.
7 - 6
17:36
Foul on Kaleb Tarczewski.
7 - 6
17:36
Kaleb Tarczewski Turnover.
7 - 6
17:12
Roberto Nelson missed Layup.
7 - 6
17:12
Kaleb Tarczewski Defensive Rebound.
7 - 6
17:06
Nick Johnson missed Jumper.
7 - 6
17:06
Eric Moreland Defensive Rebound.
7 - 6
16:56
Foul on Nick Johnson.
7 - 6
16:39
Langston Morris-Walker missed Jumper.
7 - 6
16:39
Langston Morris-Walker Offensive Rebound.
7 - 6
16:39
Langston Morris-Walker missed Two Point Tip Shot.
7 - 6
16:39
Aaron Gordon Defensive Rebound.
7 - 6
16:24
Rondae Hollis-Jefferson missed Layup.
7 - 6
16:24
Eric Moreland Block.
7 - 6
16:24
Arizona Offensive Rebound.
7 - 6
16:21
Aaron Gordon missed Jumper.
7 - 6
16:21
Eric Moreland Defensive Rebound.
7 - 6
15:44
Eric Moreland made Jumper. Assisted by Roberto Nelson.
9 - 6
15:14
Nick Johnson missed Jumper.
9 - 6
15:14
Eric Moreland Defensive Rebound.
9 - 6
15:00
Eric Moreland Turnover.
9 - 6
15:00
Official TV Timeout
9 - 6
14:36
T.J. McConnell Turnover.
9 - 6
14:36
Roberto Nelson Steal.
9 - 6
14:31
Foul on Gabe York.
9 - 6
14:31
Langston Morris-Walker made Free Throw.
10 - 6
14:31
Langston Morris-Walker missed Free Throw.
10 - 6
14:31
Kaleb Tarczewski Defensive Rebound.
10 - 6
14:16
Kaleb Tarczewski missed Layup.
10 - 6
14:16
Aaron Gordon Offensive Rebound.
10 - 6
14:15
Aaron Gordon made Layup.
10 - 8
14:15
Foul on Eric Moreland.
10 - 8
14:15
Aaron Gordon missed Free Throw.
10 - 8
14:15
Eric Moreland Defensive Rebound.
10 - 8
13:56
Foul on Aaron Gordon.
10 - 8
13:56
Angus Brandt missed Free Throw.
10 - 8
13:56
Oregon St Deadball Team Rebound.
10 - 8
13:56
Angus Brandt made Free Throw.
11 - 8
13:30
Foul on Angus Brandt.
11 - 8
13:30
Kaleb Tarczewski missed Free Throw.
11 - 8
13:30
Arizona Deadball Team Rebound.
11 - 8
13:30
Kaleb Tarczewski missed Free Throw.
11 - 8
13:30
Eric Moreland Defensive Rebound.
11 - 8
13:12
Roberto Nelson missed Jumper.
11 - 8
13:12
Kaleb Tarczewski Defensive Rebound.
11 - 8
13:04
Nick Johnson made Jumper.
11 - 10
12:38
Daniel Gomis Turnover.
11 - 10
12:25
Gabe York Turnover.
11 - 10
12:06
Eric Moreland missed Jumper.
11 - 10
12:06
Aaron Gordon Defensive Rebound.
11 - 10
11:55
Rondae Hollis-Jefferson made Layup. Assisted by Nick Johnson.
11 - 12
11:45
Devon Collier Turnover.
11 - 12
11:45
Official TV Timeout
11 - 12
11:16
Aaron Gordon Turnover.
11 - 12
11:16
Eric Moreland Steal.
11 - 12
11:10
Roberto Nelson made Jumper.
13 - 12
10:50
T.J. McConnell missed Three Point Jumper.
13 - 12
10:50
Aaron Gordon Offensive Rebound.
13 - 12
10:50
Aaron Gordon made Two Point Tip Shot.
13 - 14
10:10
Langston Morris-Walker made Three Point Jumper. Assisted by Hallice Cooke.
16 - 14
9:51
Rondae Hollis-Jefferson made Layup. Assisted by T.J. McConnell.
16 - 16
9:24
Challe Barton Turnover.
16 - 16
9:24
Aaron Gordon Steal.
16 - 16
9:19
Aaron Gordon made Layup.
16 - 18
9:03
Hallice Cooke made Layup. Assisted by Daniel Gomis.
18 - 18
8:29
Nick Johnson missed Three Point Jumper.
18 - 18
8:29
Langston Morris-Walker Defensive Rebound.
18 - 18
8:12
Devon Collier missed Layup.
18 - 18
8:12
Nick Johnson Defensive Rebound.
18 - 18
8:03
Aaron Gordon made Three Point Jumper. Assisted by Rondae Hollis-Jefferson.
18 - 21
7:37
Foul on Nick Johnson.
18 - 21
7:37
Official TV Timeout
18 - 21
7:37
Devon Collier made Free Throw.
19 - 21
7:37
Devon Collier made Free Throw.
20 - 21
7:14
Foul on Malcolm Duvivier.
20 - 21
6:57
Aaron Gordon made Jumper. Assisted by Gabe York.
20 - 23
6:31
Devon Collier made Jumper. Assisted by Roberto Nelson.
22 - 23
6:12
T.J. McConnell made Jumper.
22 - 25
5:47
Malcolm Duvivier made Layup.
24 - 25
5:19
T.J. McConnell made Jumper.
24 - 27
5:00
Roberto Nelson missed Three Point Jumper.
24 - 27
5:00
Kaleb Tarczewski Defensive Rebound.
24 - 27
4:51
T.J. McConnell missed Three Point Jumper.
24 - 27
4:51
Eric Moreland Defensive Rebound.
24 - 27
4:39
Foul on Daniel Gomis.
24 - 27
4:39
Daniel Gomis Turnover.
24 - 27
4:18
Kaleb Tarczewski made Layup. Assisted by Gabe York.
24 - 29
3:49
Roberto Nelson missed Jumper.
24 - 29
3:49
Elliott Pitts Defensive Rebound.
24 - 29
3:21
Rondae Hollis-Jefferson missed Layup.
24 - 29
3:21
Devon Collier Block.
24 - 29
3:21
T.J. McConnell Offensive Rebound.
24 - 29
3:17
T.J. McConnell made Jumper.
24 - 31
3:07
Oregon St Timeout
24 - 31
2:57
Angus Brandt made Layup. Assisted by Hallice Cooke.
26 - 31
2:57
Foul on T.J. McConnell.
26 - 31
2:57
Official TV Timeout
26 - 31
2:57
Angus Brandt made Free Throw.
27 - 31
2:40
Aaron Gordon missed Jumper.
27 - 31
2:40
Rondae Hollis-Jefferson Offensive Rebound.
27 - 31
2:35
Rondae Hollis-Jefferson missed Layup.
27 - 31
2:35
Daniel Gomis Block.
27 - 31
2:35
Daniel Gomis Defensive Rebound.
27 - 31
2:29
Eric Moreland Turnover.
27 - 31
2:29
T.J. McConnell Steal.
27 - 31
2:06
Foul on Eric Moreland.
27 - 31
2:06
Rondae Hollis-Jefferson made Free Throw.
27 - 32
2:06
Rondae Hollis-Jefferson missed Free Throw.
27 - 32
2:06
Hallice Cooke Defensive Rebound.
27 - 32
1:26
Devon Collier Turnover.
27 - 32
1:26
Rondae Hollis-Jefferson Steal.
27 - 32
1:10
T.J. McConnell missed Jumper.
27 - 32
1:10
T.J. McConnell Offensive Rebound.
27 - 32
1:06
Gabe York made Three Point Jumper. Assisted by T.J. McConnell.
27 - 35
0:53
Hallice Cooke missed Jumper.
27 - 35
0:53
Devon Collier Offensive Rebound.
27 - 35
0:44
Roberto Nelson missed Layup.
27 - 35
0:44
T.J. McConnell Defensive Rebound.
27 - 35
0:28
T.J. McConnell made Jumper.
27 - 37
0:06
Roberto Nelson missed Three Point Jumper.
27 - 37
0:06
Kaleb Tarczewski Defensive Rebound.
27 - 37
0:00
End of 1st half
27 - 37

time
TEAM
PLAY
SCORE
20:00
Jump Ball won by Oregon St
27 - 37
19:48
Angus Brandt made Layup.
29 - 37
19:35
Rondae Hollis-Jefferson missed Jumper.
29 - 37
19:35
Kaleb Tarczewski Offensive Rebound.
29 - 37
19:00
Aaron Gordon Turnover.
29 - 37
18:37
Foul on Rondae Hollis-Jefferson.
29 - 37
18:34
Eric Moreland Turnover.
29 - 37
18:19
Nick Johnson made Jumper.
29 - 39
17:55
Angus Brandt Turnover.
29 - 39
17:55
T.J. McConnell Steal.
29 - 39
17:55
Jump Ball won by Arizona
29 - 39
17:37
Kaleb Tarczewski made Jumper. Assisted by Nick Johnson.
29 - 41
17:28
Foul on Kaleb Tarczewski.
29 - 41
17:28
Devon Collier made Free Throw.
30 - 41
17:28
Devon Collier made Free Throw.
31 - 41
17:01
Aaron Gordon made Layup.
31 - 43
16:38
Hallice Cooke missed Jumper.
31 - 43
16:38
Aaron Gordon Defensive Rebound.
31 - 43
16:28
Nick Johnson missed Three Point Jumper.
31 - 43
16:28
Angus Brandt Defensive Rebound.
31 - 43
16:15
Langston Morris-Walker missed Three Point Jumper.
31 - 43
16:15
T.J. McConnell Defensive Rebound.
31 - 43
15:53
Rondae Hollis-Jefferson missed Jumper.
31 - 43
15:53
Devon Collier Block.
31 - 43
15:53
T.J. McConnell Offensive Rebound.
31 - 43
15:48
Rondae Hollis-Jefferson missed Layup.
31 - 43
15:48
Nick Johnson Offensive Rebound.
31 - 43
15:47
Nick Johnson missed Layup.
31 - 43
15:46
Arizona Offensive Rebound.
31 - 43
15:46
Official TV Timeout
31 - 43
15:43
Nick Johnson missed Layup.
31 - 43
15:43
Eric Moreland Defensive Rebound.
31 - 43
15:16
Eric Moreland missed Layup.
31 - 43
15:16
Langston Morris-Walker Offensive Rebound.
31 - 43
15:15
Langston Morris-Walker missed Layup.
31 - 43
15:15
Eric Moreland Offensive Rebound.
31 - 43
15:15
Eric Moreland missed Layup.
31 - 43
15:15
Arizona Defensive Rebound.
31 - 43
14:53
Kaleb Tarczewski made Layup. Assisted by T.J. McConnell.
31 - 45
14:19
Eric Moreland made Layup.
33 - 45
13:52
Aaron Gordon made Layup. Assisted by Nick Johnson.
33 - 47
13:38
Angus Brandt made Three Point Jumper. Assisted by Roberto Nelson.
36 - 47
13:15
Nick Johnson Turnover.
36 - 47
13:15
Langston Morris-Walker Steal.
36 - 47
13:09
Roberto Nelson Turnover.
36 - 47
13:09
Nick Johnson Steal.
36 - 47
12:51
Elliott Pitts missed Three Point Jumper.
36 - 47
12:51
Hallice Cooke Defensive Rebound.
36 - 47
12:42
Hallice Cooke missed Three Point Jumper.
36 - 47
12:42
Arizona Defensive Rebound.
36 - 47
12:20
Elliott Pitts missed Three Point Jumper.
36 - 47
12:20
Rondae Hollis-Jefferson Offensive Rebound.
36 - 47
12:11
Nick Johnson made Layup. Assisted by Rondae Hollis-Jefferson.
36 - 49
11:51
Foul on Rondae Hollis-Jefferson.
36 - 49
11:51
Official TV Timeout
36 - 49
11:49
Daniel Gomis made Layup. Assisted by Hallice Cooke.
38 - 49
11:27
T.J. McConnell made Jumper.
38 - 51
11:07
Foul on Rondae Hollis-Jefferson.
38 - 51
11:07
Daniel Gomis missed Free Throw.
38 - 51
11:07
Oregon St Deadball Team Rebound.
38 - 51
11:07
Daniel Gomis made Free Throw.
39 - 51
10:35
Foul on Jarmal Reid.
39 - 51
10:35
Jordin Mayes made Free Throw.
39 - 52
10:35
Jordin Mayes made Free Throw.
39 - 53
10:13
Foul on Jordin Mayes.
39 - 53
9:46
Angus Brandt missed Jumper.
39 - 53
9:46
Kaleb Tarczewski Defensive Rebound.
39 - 53
9:35
Aaron Gordon made Layup. Assisted by T.J. McConnell.
39 - 55
9:28
Oregon St Timeout
39 - 55
9:05
Roberto Nelson missed Layup.
39 - 55
9:05
Arizona Defensive Rebound.
39 - 55
8:54
Jordin Mayes made Three Point Jumper. Assisted by T.J. McConnell.
39 - 58
8:38
Roberto Nelson made Jumper.
41 - 58
8:16
Aaron Gordon missed Layup.
41 - 58
8:16
Roberto Nelson Defensive Rebound.
41 - 58
8:15
Foul on Nick Johnson.
41 - 58
8:07
Angus Brandt Turnover.
41 - 58
8:07
Nick Johnson Steal.
41 - 58
7:59
Foul on Malcolm Duvivier.
41 - 58
7:59
Official TV Timeout
41 - 58
7:59
Jordin Mayes made Free Throw.
41 - 59
7:59
Jordin Mayes made Free Throw.
41 - 60
7:52
Devon Collier made Layup.
43 - 60
7:24
Gabe York missed Jumper.
43 - 60
7:24
Rondae Hollis-Jefferson Offensive Rebound.
43 - 60
7:21
Rondae Hollis-Jefferson made Dunk.
43 - 62
6:55
Devon Collier made Jumper. Assisted by Eric Moreland.
45 - 62
6:34
Elliott Pitts missed Three Point Jumper.
45 - 62
6:34
Angus Brandt Defensive Rebound.
45 - 62
6:22
Hallice Cooke made Three Point Jumper.
48 - 62
6:10
Arizona Timeout
48 - 62
5:58
Rondae Hollis-Jefferson made Layup. Assisted by T.J. McConnell.
48 - 64
5:58
Foul on Angus Brandt.
48 - 64
5:58
Rondae Hollis-Jefferson made Free Throw.
48 - 65
5:49
Angus Brandt missed Layup.
48 - 65
5:49
Elliott Pitts Defensive Rebound.
48 - 65
5:36
Nick Johnson made Jumper. Assisted by Aaron Gordon.
48 - 67
5:22
Devon Collier missed Layup.
48 - 67
5:22
Aaron Gordon Block.
48 - 67
5:22
Elliott Pitts Defensive Rebound.
48 - 67
5:14
Rondae Hollis-Jefferson Turnover.
48 - 67
5:05
Roberto Nelson missed Three Point Jumper.
48 - 67
5:05
Arizona Deadball Team Rebound.
48 - 67
5:03
Foul on Devon Collier.
48 - 67
4:45
Gabe York missed Jumper.
48 - 67
4:45
Eric Moreland Block.
48 - 67
4:45
Arizona Offensive Rebound.
48 - 67
4:41
Aaron Gordon missed Jumper.
48 - 67
4:41
Roberto Nelson Defensive Rebound.
48 - 67
4:36
Foul on Gabe York.
48 - 67
4:36
Roberto Nelson made Free Throw.
49 - 67
4:36
Roberto Nelson made Free Throw.
50 - 67
4:16
Arizona Timeout
50 - 67
4:01
Foul on Cheikh N'diaye.
50 - 67
4:01
Nick Johnson made Free Throw.
50 - 68
4:01
Nick Johnson made Free Throw.
50 - 69
3:47
Foul on Nick Johnson.
50 - 69
3:47
Official TV Timeout
50 - 69
3:47
Roberto Nelson made Free Throw.
51 - 69
3:47
Roberto Nelson made Free Throw.
52 - 69
3:43
Foul on Langston Morris-Walker.
52 - 69
3:41
Foul on Hallice Cooke.
52 - 69
3:41
T.J. McConnell made Free Throw.
52 - 70
3:41
T.J. McConnell missed Free Throw.
52 - 70
3:41
Olaf Schaftenaar Defensive Rebound.
52 - 70
3:10
Roberto Nelson missed Jumper.
52 - 70
3:10
T.J. McConnell Defensive Rebound.
52 - 70
3:00
Gabe York missed Three Point Jumper.
52 - 70
3:00
Matt Korcheck Offensive Rebound.
52 - 70
2:56
Foul on Cheikh N'diaye.
52 - 70
2:56
Matt Korcheck missed Free Throw.
52 - 70
2:56
Arizona Deadball Team Rebound.
52 - 70
2:56
Matt Korcheck missed Free Throw.
52 - 70
2:56
Oregon St Defensive Rebound.
52 - 70
2:45
Langston Morris-Walker missed Three Point Jumper.
52 - 70
2:45
Rondae Hollis-Jefferson Defensive Rebound.
52 - 70
2:18
Rondae Hollis-Jefferson missed Layup.
52 - 70
2:18
Matt Korcheck Offensive Rebound.
52 - 70
2:13
Jordin Mayes missed Three Point Jumper.
52 - 70
2:13
Cheikh N'diaye Defensive Rebound.
52 - 70
2:04
Malcolm Duvivier Turnover.
52 - 70
2:04
Rondae Hollis-Jefferson Steal.
52 - 70
1:59
Rondae Hollis-Jefferson made Dunk.
52 - 72
1:37
Challe Barton missed Jumper.
52 - 72
1:37
Gabe York Defensive Rebound.
52 - 72
1:18
Matt Korcheck Turnover.
52 - 72
1:08
Victor Robbins missed Three Point Jumper.
52 - 72
1:08
Jordin Mayes Defensive Rebound.
52 - 72
0:44
Foul on Malcolm Duvivier.
52 - 72
0:44
Jordin Mayes made Free Throw.
52 - 73
0:44
Jordin Mayes made Free Throw.
52 - 74
0:39
Malcolm Duvivier missed Three Point Jumper.
52 - 74
0:39
Arizona Defensive Rebound.
52 - 74
0:32
Foul on Jarmal Reid.
52 - 74
0:32
Matt Korcheck made Free Throw.
52 - 75
0:32
Matt Korcheck made Free Throw.
52 - 76
0:25
Foul on Trey Mason.
52 - 76
0:25
Malcolm Duvivier made Free Throw.
53 - 76
0:25
Malcolm Duvivier made Free Throw.
54 - 76
0:00
End of Game
54 - 76
ESPN Fan Shop Powered By
Nike Men's Arizona Wildcats Blue Basketball Practice ELITE Stripe ShortsShop
Marc Spears speaks with Chris Washburn, who was drafted third overall in the 1986 NBA Draft, about how drug addiction cost him almost everything, including his life.

Kentucky men's basketball coach John Calipari on Thursday apologized to Rick Pitino if the Cardinals coach interpreted his recent comment about scandals on campus as directed toward Louisville.

College basketball coaches across the country will hit the recruiting trail hard in July to target the Class of 2017's top prospects. Which players are the nation's top programs targeting?
2015-2016 Pac-12 Conference Standings