TBA, February 20, 2002
Assembly Hall, Bloomington, Indiana
BLOOMINGTON, Ind. (AP) -- All Jeff Newton wanted to do was help Indiana play defense.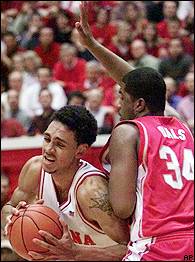 Indiana's Jared Jefferies cuts around Terence Davis.
He did that much by blocking three shots and grabbing four rebounds. Then, he added some offense, too. Newton scored 16 points, one short of his career high, and the 23rd-ranked Hoosiers beat Ohio State (No. 18 ESPN/USA Today, No. 19 AP) 63-57 Wednesday night to take sole possession of first place in the Big Ten. "They told me 'Don't worry about nothing you're doing on offense, just play defense,"' Newton said of what his coaches have said throughout the season. "That's all I did tonight." Newton was the surprise scoring leader in a balanced Indiana attack. Three players -- Jared Jeffries, Jarrad Odle and Dane Fife -- each finished with 10 points. But Newton produced the biggest plays in the Hoosiers' biggest home game since their last Big Ten title run in 1992-93. Newton was 5-for-12 from the field, including four dunks, and made all six of his free throws as the Hoosiers took a one-game lead over Ohio State with three games remaining for both teams. "I can't remember when Jeff Newton ever went 6-for-6 on foul shots," Hoosiers coach Mike Davis said. "I can't say enough about him. I might take him home and feed him tonight." While Newton was doing his part on offense, the Hoosiers (18-8, 10-3) relied on their defensive performance to slow down the Buckeyes. No problem. Ohio State, which had been averaging 73.1 points, managed its third-fewest points of the season and shot 37.5 percent in the first half. Even the Buckeyes guards, who proved problematic for Indiana in Ohio State's victory earlier this season, struggled. The lone exception was Brian Brown, who led Ohio State (18-6, 9-4) with 23 points. "They play hard and they are a very good defensive team," Ohio State coach Jim O'Brien said. The Buckeyes discovered just how good the Hoosiers can be -- especially when their offense is off. Indiana shot just 38.9 percent from the field and the same team that set the Big Ten record with 17 3-pointers earlier this season struggled miserably Wednesday. They missed seven straight 3s to open the game and finished 6-for-23 from beyond the arc. Despite the subpar performance, though, the Hoosiers never allowed Ohio State to take control. "We came out and missed a lot of open shots," Davis said. "I knew we'd be a little tight being that we were playing for first place, but our defense was good." Good enough to keep Indiana close in the opening minutes when the Hoosiers missed 13 of their first 15 shots. But they only trailed 11-5. Newton changed that almost as soon as he entered the game. He made two free throws and had two dunks to spark a 13-0 run that gave Indiana a 23-15 lead with 4:20 left in the half. The Buckeyes used a 10-2 run to take a 38-37 lead midway through the second half. But Newton made two more free throws to put the Hoosiers in front again. The Buckeyes retook the lead two possessions later, but Indiana got consecutive 3-pointers from Jeffries and Kyle Hornsby, another dunk from Newton and another 3 from Jeffries to take control. Newton's 10-footer with 4:48 left closed the 13-0 run that sealed the Buckeyes fate. "They basically put one run together in the second half where we had a really hard time scoring," O'Brien said. "They got some breakouts, Jeffries got two 3s and that was bascially it."
Copyright by STATS LLC and The Associated Press
Next 5 Games
OSU
IND
02/23 PUR 8:00pm
02/26 MSU 8:00pm
03/02 @MICH 8:00pm
03/08 MICH 6:40pm
03/09 ILL 4:05pm

02/24 @MSU 12:00pm
02/26 @ILL 7:00pm
03/02 NW 2:31pm
03/08 MSU 11:30am
03/09 IOWA 1:45pm

Complete Schedule: Ohio State | Indiana
Big Ten Conference Standings