6:00 PM ET, December 31, 2002
John E. Worthen Arena, Muncie, Indiana
MUNCIE, Ind. (AP) -- Freshman Bracey Wright helped make John Treloar's head coaching debut with Indiana a success.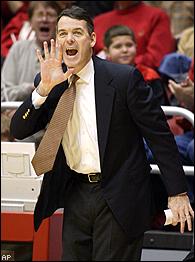 John Treloar filled in admirably for the suspended Mike Davis.
Wright scored 13 points in a decisive four-minute stretch, tied a career-high with 31 points and hit five 3-pointers, leading No. 17 Indiana to a 76-62 victory over Ball State on Tuesday night and giving Treloar a victory in his first game as a college head coach."They came out and stuck with us and we really needed some clutch baskets,'' Wright said. "So, I just told myself I needed to step up.''With coach Mike Davis serving a one-game suspension for his outburst against Kentucky on Dec. 21, Treloar took over the Hoosiers and said few words to the officials during the game in front of a noisy, sellout crowd of 11,500 at Worthen Arena.The Hoosiers (9-2) had other problems.Senior
Tom Coverdale
was in foul trouble and senior
Jeff Newton
was double-teamed inside. With the Hoosiers clinging to a three-point lead and time running out, Wright took charge."I just said to him, 'You warmed up at the right time,''' guard
Kyle Hornsby
said, describing a brief discussion he had with Wright on the court.Wright turned in another sensational game, shooting 11-for-18 from the field, 5-for-10 from 3-point range. He game the first Indiana freshman to score 30 points twice in a season since A.J. Guyton in 1997.Hornsby added 14 points, and Newton finished with 11 points and 10 rebounds as Indiana broke a two-game losing streak.Wright's performance was more than about numbers.On offense, he provided virtually every big play for the Hoosiers. On defense, he shut down Ball State's leading scorer,
Chris Williams
, who finished with 11 points on 2-for-15 shooting, well below his 23.1 average.The Cardinals (5-5) lost for the 13th consecutive time in the series.
Cameron Echols
scored 24 points to lead Ball State."I'm sure he's not had to play defense like he does now,'' Treloar said of Wright. "I think in the Temple game, he learned a great lesson.'' Wright's back-to-back 3s in the first half sparked a 19-5 run that he punctuated with a twisting rebound that he dunked on the way down. That made it 29-19 with 3:55 left in the first half."He hit some 3s from NBA range,'' Williams said. "He's a pretty good player.''Ball State closed the half on a 10-2 run, closing within 35-32.After the Cardinals seized a 40-39 lead in the second half on a 10-foot runner by Williams, Wright responded again.He hit a 10-footer and a breakaway dunk in a 9-0 run.Wright stepped up again when the Cardinals closed within 52-49 with 9:25 left, hitting three 3-pointers, a three-point play and a free throw during a four-minute stretch to give Indiana a 69-53 lead, its largest of the game."It just comes to me,'' Wright said. "I hit a couple in a row, and I get the feeling everything else is going to fall.''
Copyright by STATS LLC and The Associated Press
2002-03 Season
| DATE | GAME | LINKS |
| --- | --- | --- |
| » Dec 31, 2002 | IND 76, @BALL 62 | Recap |
Next 5 Games
IND
BALL
01/04 CHAR 1:00pm
01/08 PSU 8:00pm
01/11 @OSU 8:00pm
01/15 NW 7:00pm
01/18 ILL 4:00pm

01/04 @AKR 3:00pm
01/07 @BGSU 7:00pm
01/11 NIU 1:00pm
01/15 WMU 7:00pm
01/18 TOL 3:30pm

Complete Schedule: Indiana | Ball State