There are no games scheduled for Saturday, Mar 23.
7:00 PM ET, March 23, 2002
Rupp Arena, Lexington, Kentucky
LEXINGTON, Ky. (AP) -- Indiana is back in the Final Four thanks to nearly unprecedented 3-point shooting.
Making their first eight long-range shots and close to 80 percent overall, the Hoosiers rolled past upstart Kent State 81-69 Saturday night in the South Regional to return to the national semifinals for the first time since 1992.
The Hoosiers bandwagon is filling up, baby! Who would have thought this would happen? Think about it, after a loss to Butler earlier this season, Indiana was sitting at 7-5. Are you serious?

Tell me the three-point shot isn't big in college basketball! Indiana hit 15 of 19 trifectas against a defensive-minded Kent State team. This coming after Indiana hit just two of 10 in the shock city performance against Duke on Thursday!

Overall, Indiana came out on fire, making its first eight trifectas. For the game, Indiana shot 64.2 percent overall; you win a lot of games shooting that well!
Indiana (24-11) -- at No. 5, the lowest-seeded team left in the tournament -- will play Oklahoma next Saturday in Atlanta. The Sooners won the West Regional by beating Missouri 81-75. "It's an unbelievable feeling," said
Dane Fife
, who led Indiana with 17 points. "We've done what we came down here to do. Now we've got to go get Oklahoma."
Kent State's nation-leading 21-game winning streak ended, as did its attempt to become the first No. 10-seeded team to reach the Final Four.
Instead, Indiana -- stunned by Kent State in the first round of last year's NCAA Tournament -- gets a chance to add to its five national championships, the last of which came in 1987.
The victory was easily the most significant of Indiana coach Mike Davis' tenure in a state where basketball is a religion. Davis was Bob Knight's assistant for three seasons and took over when Knight was fired in September 2000.
In the stands Saturday, a sign read: "Knight-time is over, it's a new Da-vis!" "Going to the Final Four is really, really big for the program," Davis said. "To be here this year after all we've gone through is a blessing." The Hoosiers knocked off top-seeded Duke on Thursday thanks to bruising inside play. Saturday's victory came courtesy of hard-to-believe outside shooting. Six players hit 3-pointers for Indiana, with Fife going 5-for-6.
Kyle Hornsby
added 16 points for the Hoosiers, who tied for the Big Ten regular-season title. "Give Indiana credit," Kent State coach Stan Heath said. "I haven't seen a shooting display like that in my 13 years of coaching."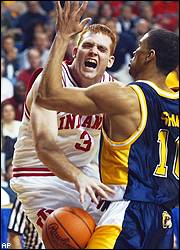 AP
Tom Coverdale playing in pain was a common sight last season.
Indiana finished 15-for-19 on 3s -- 78.9 percent, the fifth-highest ever in an NCAA Tournament game. The 15 made set a school record. "If we had had 10 people out there, I don't think we could have stopped them from scoring," Kent State's
Andrew Mitchell
said.
Antonio Gates
scored 22 points, and Mitchell added 19 for Kent State (30-6), which was playing in a regional final for the first time and was trying to become the first Mid-American Conference school in the Final Four. Indiana led by as many as 20 points, and had to weather one sustained run when point guard
Tom Coverdale
left with about 9½ minutes remaining after re-injuring the left ankle he sprained in the first round of the tourney. Kent State used a 13-0 run to draw within 59-52, but Fife, one of two Indiana seniors, stemmed the rally by making -- what else? -- a 3-pointer with a little more than 6 minutes to go. Playing on rival Kentucky's home floor, Indiana seemingly couldn't miss a shot early. The Hoosiers' frenzied red-and-white-clad fans got louder and louder each time the ball dropped through the net. "We looked out there, (and) I was trying to figure out how Indiana got so many tickets," Heath said. "It was a sea of red. It made it feel like it was a road game." The Hoosiers made 12 of their first 18 shots, including all eight 3-point attempts by five players, to lead by 20 at the 8-minute mark. Indiana was up 40-28 at halftime. After missing their first shot of the second half, the Hoosiers went back to work with consecutive 3-pointers by Hornsby and
Jared Jeffries
to push the lead to 46-32. Fife's fourth 3 of the game gave the Hoosiers a 59-39 lead with 10½ minutes left.
Coverdale, the regional's MVP, had 14 points and seven assists, and Big Ten player of the year Jeffries scored 10.
"It was frustrating," Heath said. "We tried different things. We tried to stop Jeffries. We tried to tighten up on the shooters. We even tried a zone for a while." When Davis became head coach, he had the unenviable task of following Knight, a coach who led Indiana to three national championships and won more than 600 games there. During the postgame celebration Saturday, Hornsby went over to Myles Brand, the university president who placed Knight under a zero-tolerance policy in 2000 and then dismissed the coach. "We weren't all that fond of (Brand) at the time," Hornsby said. "I looked at him and shook his hand and said, 'We've come a long way.' "And he said to me, 'We sure have."'
Copyright by STATS LLC and The Associated Press
Series
| DATE | GAME | LINKS |
| --- | --- | --- |
| » Mar 23, 2002 | @IND 81, KENT 69 | Recap |