1:30 PM ET, January 18, 2003
Comcast Center, College Park, Maryland
COLLEGE PARK, Md. (AP) -- Cole Field House and the Comcast Center are across campus from each other. Maryland found a bridge between its old and new buildings: beating No. 1 Duke.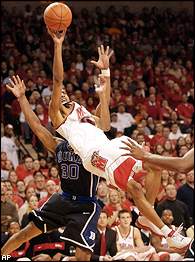 The Terps' Drew Nicholas made 7 of 16 shots for 24 points Saturday afternoon.
The (No. 15 ESPN/USA Today, No. 17 AP) Terrapins beat the last undefeated team in the country, downing the top-ranked Blue Devils 87-72 Saturday. It was the second straight year Maryland prevailed at home when Duke was No. 1, and it came in the new arena that sounded a lot like the old one when the final buzzer sounded and the students rushed the floor. "This crowd was as good as any crowd we've had since we've been here at Maryland,'' said Gary Williams, who has been coaching at his alma mater since 1989. Cole, which opened in 1955 and had a capacity of 14,500, was the place where Maryland beat six No. 1 teams. The 17,950-seat Comcast Center, which opened in November, got its first taste of the Terrapins beating a top-ranked team. Last year's 87-73 victory snapped Maryland's four-game home losing streak to Duke.
Drew Nicholas
had 24 points for the Terrapins (10-4, 3-1 Atlantic Coast Conference) and
Ryan Randle
had 15 points and a career-high 17 rebounds as Maryland finished with a 43-32 advantage on the boards. "I took it personally. Today we came out and said don't worry about points, just get every rebound,'' Randle said. "Beating a Top 20 team is what we wanted and needed. Beating Duke is a big confidence builder.'' The defending national champions also stood out at the free throw line, finishing 29-for-31. Duke (12-1, 3-1) was 9-for-20, including 5-for-13 in the second half. "Everybody stepped up,'' Williams said of the free throws. "We all know Duke can score in a hurry but once we got the lead we made our free throws.'' Maryland was 0-4 against ranked teams this season, a far cry from last season's 9-2 mark against teams in the Top 25, including the win over No. 1 Duke. The Blue Devils had won 14 of the last 17 games played at Maryland, but those were all in Cole Field House. "Maryland played like a veteran team and we played like a young team,'' Duke coach Mike Krzyzewski said. "They just played better than we did. They deserved to win. They played harder and better.'' Maryland scored the first six points of the second half to tie the game at 43 and then turned up the defense.
Dahntay Jones
, who had a career-high 26 points for Duke, hit a 3-pointer with 14:21 to play that tied it for the last time at 53. The Terrapins went on a 10-0 run with all the points coming from newcomers
John Gilchrist
and
Jamar Smith
. The Blue Devils went 5:55 without a field goal, missing six shots and committing three turnovers in that span as Maryland went up 75-60. Duke, which shot 33 percent (11-for-33) in the second half after shooting 51 percent in the opening half, never got back in it. "The second-half defense was very good,'' Williams said. "We knew we could go inside but thinking that and doing it are two different things but we got some good second shots.''
Tahj Holden
added 10 points for the Terrapins, who took care of the ball in the second half, committing three turnovers for a total of 16. Freshman
J.J. Redick
, Duke's leading scorer, had 13 points, two in the second half. The Blue Devils entered the game shooting 38.1 percent from 3-point range but was 7-for-22, 2-for-13 in the second half. "They made a run to open the second half and we didn't respond,'' Redick said. "We knew if we made a little run we could blow them out of the water. It was them who made the run.'' The win was Maryland's biggest in the series since a 77-60 victory at home on Feb. 6, 1982. Krzyzewski took nothing away from Maryland but said his team may not have deserved the ranking it took into the game, especially since it has five freshman in the 10-man rotation. "I know I have a work in progress,'' he said. "Because we won all of our games up to now somebody voted us No. 1. I have coached No. 1 teams and I know that's not where we're at.''
Copyright by STATS LLC and The Associated Press