7:00 PM ET, January 20, 2003
BankUnited Center, Coral Gables, Florida
CORAL GABLES, Fla. (AP) -- Darius Rice played brilliantly for 40 minutes and still managed to save his best for last.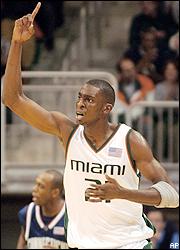 Miami senior Darius Rice won't play in the ACC, but future Hurricanes will.
The nephew of Oakland Raiders receiver Jerry Rice capped a 43-point performance by stealing an inbounds pass and sinking a 3-pointer at the final buzzer, and the
Miami Hurricanes
stunned (No. 8 ESPN/USA Today, No. 11 AP) Connecticut 77-76 Monday night.
UConn appeared to clinch a victory when Ben Gordon hit two free throws with 8.9 seconds left, giving him 32 points and the Huskies a 76-72 lead.
But Miami's
Armondo Surratt
drove for an uncontested layup with 4 seconds to go and
Shamon Tooles
' hurried inbounds pass was stolen in the corner by Rice, who swished a shot as time expired. "The guy threw the ball in, and I just stuck my hand out,'' Rice said. "I said, 'This is mine.' I shot it, and I had no doubt it was going in.''
When it did, a jubilant Rice sprinted the length of the court with his fists in the air as Hurricanes fans poured onto the floor to celebrate.
The defeat left UConn players crying in their locker room. Coach Jim Calhoun said
Taliek Brown
, rather than Tooles, was supposed to inbound the ball that Rice intercepted. "I did the wrong thing by passing it,'' said Tooles, his eyes red. "I cost us the game. They trusted me to be in the game. I'm supposed to make the correct pass.'' Miami (8-7, 1-3 Big East) broke a three-game losing streak, including an overtime loss at UConn on Jan. 11. The Huskies (11-3, 2-1), beaten Saturday at North Carolina, have lost two in a row for the first time since last Feb. 2. "It's a devastating loss for us, the way it happened,'' Calhoun said. "I feel awful for our kids.'' Rice's career-best scoring performance tied for the third-highest in Big East history. The 6-foot-10 junior made 16 of 27 shots, including seven of 12 3-pointers. "It was just one of those nights,'' Rice said. "The basket was as big as the ocean.'' The victory could be the start of a big week for the Rice family. Darius' uncle will play in the Super Bowl on Sunday against Tampa Bay. "Raiders by 15,'' Darius predicted. Rice carried the Hurricanes, whose only other double-figure scorer was
James Jones
with 11 points. Brown scored 13 points for UConn, which lost despite shooting 56 percent. Center
Emeka Okafor
had just seven points, five rebounds and no blocks, all well below his averages. The Huskies rallied from a 14-point first-half deficit, and Gordon's 3-pointer put them ahead 67-64 with two minutes left. After a Miami turnover, Gordon sliced through the defense for a leaner to make it 69-64. But the Hurricanes scored 13 points in the final minute as they kept fouling UConn to get the ball back. "Fans might have been leaving, and people might have thought this game was over,'' Miami coach Perry Clark said. "But our kids just did not give up.'' The Huskies lost despite making seven of 10 free throws in the last minute. Calhoun shook up the UConn lineup, starting senior Tony Robertson and freshman
Hilton Armstrong
in place of
Mike Hayes
and
Denham Brown
at forward. But the Huskies fell behind by double digits in the first half for the sixth game in a row. "One of these days we're going to have to finally start playing from the beginning and not wait until we're down,'' Gordon said. Rice scored 10 consecutive Miami points to put his team ahead 21-15. He had 24 of the Hurricanes' first 29 points, and his fifth 3-pointer of the first half put them up 34-21. "That's probably the best game he has played in his life,'' Gordon said. "There's not much you can do.''
Copyright by STATS LLC and The Associated Press
Next 5 Games
CONN
MIA
01/25 VILL 2:00pm
01/27 @SJU 7:00pm
02/01 BC 2:00pm
02/05 @VT 7:00pm
02/08 @PROV 4:00pm

01/26 SYR 1:00pm
01/29 PROV 7:00pm
02/02 @SJU 2:00pm
02/08 VILL 8:00pm
02/11 VT 7:30pm

Complete Schedule: Connecticut | Miami (FL)