3:30 PM ET, February 9, 2003
Purcell Pavilion, South Bend, Indiana
SOUTH BEND, Ind. (AP) -- Pittsburgh's Brandin Knight had just hit his only basket of the game, a 3-pointer with 32 seconds left that tied the game. He was near midcourt guarding Chris Thomas as the game clock ticked down. He smiled and started talking to his counterpart from Notre Dame.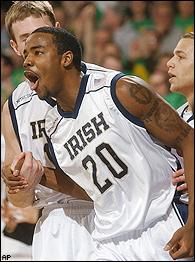 Torrian Jones and the 10th-ranked Irish enjoy their victory over No. 4 Pittsburgh.
''He said, 'This is the way it's supposed to be,''' Thomas said. ''I said, 'You're right.''' Knight wasn't smiling for long. Thomas started to drive around Knight to get a shot off, but saw a crowd of players ahead. At the last second, he spotted Torin Francis under the basket and passed inside. Francis scored with .6 seconds left to give No. 10 Notre Dame a 66-64 victory over the fourth-ranked Panthers on Sunday. ''I cut to the ball and he found me at the last minute,'' said Francis, who was 3-for-3 from the field in the second half after being held without a shot in the first half. ''I just put it up.'' The Panthers had one last chance, but
Jordan Cornette
swatted away the inbounds pass by
Jaron Brown
as time expired. The Notre Dame students then swarmed the court as officials checked the videotape to make sure that time had run out. It was the fourth consecutive game Pittsburgh (16-3, 6-2 Big East) squandered a double-digit lead, although the Panthers managed to beat Georgetown and Providence. But the Panthers, who were a victory away from taking over No. 1 last week until losing to Syracuse, have lost two of three. The Irish (19-4, 7-2), who lost to Seton Hall on Wednesday, are a half-game ahead of the Panthers in the Big East West Division. ''It's a very tough loss for us,'' Pittsburgh coach Ben Howland said. ''We're disappointed to have had the lead in our past two road games and let them slip away from us.'' Thomas, who was just 2-for-15 from the field against the Panthers in a 72-55 defeat at Pittsburgh last month, led the Irish with 24 points and eight assists. ''He's a big-time winner, and he makes the rest of our group follow along,'' Irish coach Mike Brey said. Pitt appeared ready to break the game open when Brown scored on a layup to give the Panthers a 45-35 lead early in the second half. But the Irish went on a 9-0 run as
Matt Carroll
, who scored 14, hit a 3-pointer immediately after Francis missed his second free throw. Carroll then hit another 3-pointer and Francis scored another basket inside to cut the lead to 45-44. The Panthers kept the lead until Thomas stole the ball from Knight at midcourt and went in for the layup to tie the score at 52.
Torrian Jones
then made a free throw to give the Irish a 53-52 lead. Thomas hit a 3-pointer with 6:03 left to give the Irish a 58-56 lead and they went up by four on a fastbreak layup by Thomas. The key to the second-half turnaround, though, was the rebounding by Notre Dame. The Irish had been outrebounded a season-worst 51-30 in the defeat at Pitt -- Notre Dame's worst setback in three seasons under Brey -- and 24-10 in the first half Sunday. But in the second half, the Irish outrebounded the Panthers 16-9. ''We were focused on that,'' Carroll said. ''They're so big and strong underneath so we really concentrated on that in the second half.'' Guard
Julius Page
said the Panthers simply got sloppy. ''We allowed that to happen by not being as aggressive as we were in the first half,'' he said. Page led the Panthers with 19 points and
Chevon Troutman
had 16, but both were ineffective in the second half after each had 14 at halftime. Page shot 2-for-7 in the second half and Troutman didn't attempt a shot. Brown added 10 points for the Panthers. Knight said he talked with Thomas again just before the final inbounds play to let him know he wasn't happy with what Thomas had done. ''I told him he cheated because he was supposed to take the shot,'' Knight said. ''I said, 'It was just me and you, and you cheated and passed.'''
Copyright by STATS LLC and The Associated Press
Next 5 Games
PITT
ND
02/12 WVU 7:00pm
02/15 @HALL 12:00pm
02/17 @GTWN 7:00pm
02/18 @GTWN 7:00pm
02/22 RUTG 7:00pm

02/15 @SYR 1:00pm
02/18 @WVU 7:00pm
02/22 VT 1:00pm
02/24 CONN 7:00pm
03/01 @RUTG 4:00pm

Complete Schedule: Pittsburgh | Notre Dame