6:30 PM ET, February 9, 2003
Cameron Indoor Stadium, Durham, North Carolina
DURHAM, N.C. (AP) -- With Duke's offense struggling, point guard Chris Duhon was given one order from coach Mike Krzyzewski -- no set plays.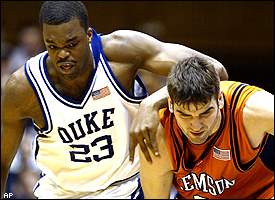 Duke's Shelden Williams, left, battles with Clemson's Tomas Nagys in a chase for a loose ball.
The freelancing strategy worked down the stretch as Dahntay Jones scored 13 of his 15 points in the second half Sunday and the ninth-ranked Blue Devils beat Clemson for the 15th consecutive time, 65-55. ''That just gave guys more confidence, guys played off their instincts,'' Duhon said. ''We are better team when we start playing off our instincts. ''Coach saw that the offense really wasn't going well and he told us to just go out and play, don't worry about setting up a play, everybody knows how to play the game. It was good for us. It got us a good enough cushion to get a win.'' The victory moved Duke (16-3, 6-3 Atlantic Coast Conference) one-half game behind ACC-leading Wake Forest and into a second-place tie with Maryland, which lost at Georgia Tech earlier Sunday. The Blue Devils play the 14th-ranked Demon Deacons in Winston-Salem on Thursday night. ''There is a lot of newness on this basketball team, so for us to be in this position at this time I think is really good,'' Krzyzewski said. ''Our kids have done a real good job and we can get better. That's what we need to do in the month of February. The competition will make you better.''
Casey Sanders
added eight points and a career-high 14 rebounds for Duke, which won despite shooting a season-low 34 percent. ''My whole thing, like in every game I've started this year, is to get as close to the ball and be as active as I possibly can,'' Sanders said. The defeat dropped Clemson (12-7, 2-7), which started the season 9-0, into a tie for last place in the ACC with Florida State. ''For me, it's far more frustrating when my ballclub is a large underdog and we just don't play well and we don't play aggressively, we don't have the eye of the tiger,'' Clemson coach Larry Shyatt said. ''I thought my guys played some pretty good basketball.'' The game was stopped for about 15 minutes with 17:59 left when a Duke student collapsed in the stands. Krista Shirley, a freshman from Seattle, received medical attention and appeared OK when she left the court on a stretcher, smiling and waving to the crowd. Less than a minute later, Clemson pulled to 35-34 as Duke started the half 1-for-12 from the field. But it was downhill from there for the Tigers as Duke extended its home winning streak to 25 games. The Blue Devils went on a 12-0 run to take control as Clemson went 6½ minutes without a point.
Daniel Ewing
started the spurt with a 3-pointer and Jones ended it with a driving layup for a 47-34 lead with 10:49 left. ''Daniel hit the biggest shot of the game,'' Krzyzewski said. ''It gave our guys a little bit of like 'Come on.' It wasn't easy out there, especially when things aren't going great offensively for you.'' Four minutes later, a layup by Duhon pushed the Duke lead to 15 and Clemson never trimmed it to single digits down the stretch. ''This is not an intricate (offensive) system, we've got to keep it simple,'' Krzyzewski said. ''We have to try to make it to where these kids can be instinctive as possible. We stopped running stuff for about eight minutes, we just ran motion, and they were their best when they did that. Maybe we should do that more.''
Chey Christie
scored 15 of his 17 points in the first half to lead Clemson, which fell to 2-34 in ACC road games under Shyatt. Clemson, which had 26 turnovers, had lost by an average of 17.4 points during its drought against the Blue Devils, but none started worse than this one. The Tigers managed just seven points in the opening 11 minutes, missing 11 of 14 shots with 10 turnovers. At one point, Ray Henderson had a shot from the foul line that missed the rim by two feet as Clemson's offense bogged down. Duke's biggest lead of the half was 12 points, but the Tigers closed to four down before the Blue Devils avoided their lowest first-half output at home with two baskets from
Sean Dockery
over the final 47 seconds, giving Duke a 34-25 halftime lead.
Copyright by STATS LLC and The Associated Press