4:20 PM ET, March 13, 2003
Staples Center, Los Angeles, California
First-Round Results
Oregon 83, Arizona State 82
USC 79, Stanford 74
California 69, Oregon State 46
LOS ANGELES (AP) -- UCLA always plays its best basketball when coach Steve Lavin's job is on the line. And that's been just about every one of his seven seasons in Westwood.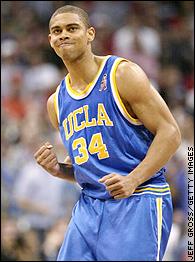 Ray Young and the Bruins have plenty of reasons to celebrate.
The Bruins stunned No. 1 Arizona 96-89 in overtime Thursday in the opening round of the Pac-10 Conference tournament, once again showing their penchant for turning things around after a disappointing regular season. "We have not been able to put 40 minutes together, and today we finally did,'' said senior
Ray Young
, whose emergence as a replacement point guard has coincided with the Bruins winning four of their last five games.
"Although they made a run, we stuck together,'' Young said. "Everybody was completely focused and just wanted to win. When we do that, we're very deadly because we have the manpower.''
The game was reminiscent of upsets the Bruins have pulled in the NCAA Tournament under Lavin. Last year they surprised No. 5 Cincinnati in the second round. In 2000, they defeated No. 17 Maryland in the second round, and in 1998, they sent No. 12 Michigan packing in the second round. Thursday was the 10th time the Bruins have upset a No. 1 team, breaking a tie for the national record with Notre Dame. Four of those have been under Lavin. "We got our hit, now let's see how well we bounce back from that,'' Arizona coach Lute Olson said. The loss ended Arizona's 10-game winning streak, although the Wildcats (25-3) probably will earn a No. 1 seed in next week's NCAA Tournament. They won last year's Pac-10 tournament. "We have next week to accomplish our goal, which is to win it all,'' Arizona senior
Rick Anderson
said. The Bruins advanced to Friday night's first semifinal against fifth-seeded Oregon, an 83-82 winner over fourth-seeded Arizona State. UCLA (10-18) lost its two regular-season games to Arizona by a combined 71 points, but the Bruins came out scrapping, knowing that only a victory would prolong their season -- and Lavin's tenure. The 38-year-old coach has been under scrutiny and been criticized throughout his career as UCLA head coach, but this season it got worse as the Bruins had their first losing record in 55 years. But the team always seems to rally around its beleaguered coach late in the season, reaching the final 16 of the NCAA Tournament five of the last six years. Only Duke under Mike Krzyzewski has matched that feat. "It's nice that we're playing our best basketball again late in the year,'' Lavin said. "Now we're in position to do something special.'' Lavin, who is 145-77 in seven years, expects to be fired when the season ends. The Bruins haven't had such a poor record since they were 12-13 in coach Wilbur Johns' last season, before John Wooden took over in 1948. "Unfortunately, for the majority of the year I felt like I wasn't able to push the right buttons,'' Lavin said. He then got a laugh when he added, "We're looking at this opportunity as a gift, and obviously we're big supporters of the Pac-10 tournament.'' At the buzzer, Lavin let out his breath and calmly walked toward the Arizona bench to shake hands. During the game, though, he resembled a jumping jack on the sidelines, springing out of his trademark crouch to urge his team on with each shot they took. UCLA first-year athletic director Dan Guerrero shook hands with Lavin and congratulated him. Lavin stayed on the court, exchanging hugs with several of his players. "It was a very big game for us and our coach,'' Young said. "You get a lot of scrutiny throughout the year, no matter how good or bad you're playing. It's rough. Today what we've been working for all season finally happened.''
Jason Kapono
led five Bruins in double figures with 26 points.
T.J. Cummings
added 18 points before fouling out, while Young had 17,
Dijon Thompson
15 and
Andre Patterson
13 and 12 rebounds. "We knew if we could keep it close for the last five minutes, they would start to crack, and those jump shots would fall short,'' Kapono said. "We forced them to take some 3s, and fortunately for us, they didn't fall.'' Anderson had a career-high 23 points and 11 rebounds for Arizona.
Channing Frye
also had 23 and
Salim Stoudamire
added 17.The Wildcats shot just 37 percent for the game and were 2-of-14 from the field in overtime. They were 7-of-36 from 3-point range. "In the second half, they were pretty much flawless,'' Olson said, "and we ended up not making shots. The Bruins played really, really well as a team. When they had to hit big shots, they hit big shots.'' In overtime, the eighth-seeded Bruins outscored the top-seeded Wildcats 14-7. Arizona senior
Jason Gardner
, usually so reliable with the game on the line, was 0-for-12 from 3-point range and finished with six points. "It's probably my worst game, I think so,'' he said in a near-empty locker room. "It was definitely an off night for me.'' UCLA took an 87-82 lead to start the extra five-minute session. Stoudamire had five points and Frye added a basket for Arizona's only points in overtime. The Bruins overcame a 15-point deficit early in the second half, then Young hit a 3-pointer to tie the game at 82 with 4.9 seconds left. Gardner took an inbounds pass from
Luke Walton
and drove the length of the court but missed as regulation expired. The Bruins trailed 80-79 when Kapono's jumper from the foul line bounced off the rim with 15 seconds left. Stoudamire grabbed the rebound, got fouled and made both free throws to keep Arizona ahead 82-79 before Young's 3-pointer forced overtime. The Wildcats opened the second half by outscoring the Bruins 17-4 to take a 60-45 lead with 14:15 remaining. "It showed the grit of our team when they pushed it to 12,'' Kapono said of UCLA's deficit. "I'm sure our fans thought, 'Oh no, here comes that 35-point blitz.'''
Copyright by STATS LLC and The Associated Press
Pac-12 Conference Standings