Coverage: ESPN/WatchESPN
7:00 PM ET, March 3, 2012
Cameron Indoor Stadium, Durham, North Carolina
Top Performers
North Carolina: K. Marshall 20 Pts, 4 Reb, 10 Ast, 1 Stl
Duke: M. Plumlee 16 Pts, 11 Reb, 1 Stl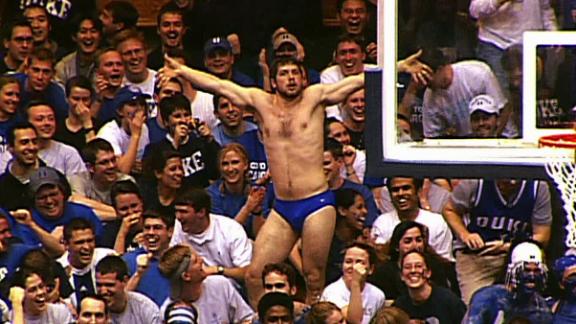 Speedo Man
Meet Patrick King, the Duke fan that stripped down to his speedo to distract North Carolina guard Jackie Manuel during his free throws.
Speedo Man
VIDEO PLAYLIST
Speedo Man

Speedo Man

Meet Patrick King, the Duke fan that stripped down to his speedo to distract North Carolina guard Jackie Manuel during his free throws.
DURHAM, N.C. -- Kendall Marshall felt dissed by Duke. The Blue Devils played the highlights of their last-second win over North Carolina on the video scoreboard and Marshall didn't like it, so he brought his Tar Heels into a quick huddle.
"I told my teammates I thought that was disrespectful, and we need to go out here and prove a point," Marshall said.
UNC Shows It Learned From Losses

Despite a few bumps in the road, the Tar Heels are right back where everyone expected them to be when the season began -- the top of the ACC, writes Robbi Pickeral. Blog
• Rapid reaction | UNC blog
• Stats & Info breaks it down
• Kendall Marshall interview


• Tyler Zeller interview

Did they ever.North Carolina never trailed in an 88-70 rout of Duke (No. 3 ESPN/USA Today, No. 4 AP) on Saturday night, claiming the Atlantic Coast Conference regular-season title behind 20 points and 10 assists from its motivated point guard."It left a bad taste in our mouths," Marshall said, "and we wanted to be able to come out and play well today."
Tyler Zeller
had 19 points and 10 rebounds, and
Harrison Barnes
added 16 points for the Tar Heels (27-4, 14-2). For the second straight year, they rolled in a winner-take-all season finale with the ACC tournament's top seed -- and possibly one in the NCAA tournament, too -- on the line."My team's had some bounce-back to them all year long," North Carolina coach Roy Williams said. "We go down to Florida State and lose by 3 million and everybody's jumping off the bandwagon ... but our team kept playing. We lose to Duke and everybody's got a great opinion of how stupid we are ... (and) my team kept playing."North Carolina shot 54.5 percent, built a 45-28 rebounding advantage and sent Duke to its deepest halftime deficit ever at Cameron Indoor Stadium -- 24 points -- while winning its seventh straight since last month's loss to the Blue Devils.
Coach K's Worst Losses to UNC

North Carolina's 18-point win at Cameron Indoor Stadium is the biggest for the Tar Heels since a 20-point win in 1989.
Duke's Largest Home Losses vs. UNC
Under Mike Krzyzewski
Date
Margin
Final
March 1983
24
105-81
Jan. 1989
20
91-71
Saturday
18
88-70
Feb. 2009
14
101-87
-- ESPN Stats & Information
Mason Plumlee
had 17 points, and brother
Miles Plumlee
added 16 points and 11 rebounds in his final home game for the Blue Devils (26-5, 13-3). Freshman guard
Austin Rivers
-- the hero of that last meeting -- had 15 points.But Duke -- which erased a 10-point deficit in the final 2½ minutes to win the first matchup, then rallied from 20 down in the second half to beat North Carolina State -- couldn't come up with another improbable escape and instead had its seven-game winning streak snapped."Throughout the year, we've been immature. We always want to see how little we have to do to win," Miles Plumlee said. "You give a team like that a 20-point lead, it's nearly impossible to win. We need to fight, like we did at times, for a whole game."Duke was trying for its second regular-season sweep of North Carolina in three years, after the Blue Devils won the dramatic first meeting in Chapel Hill. They hit 14 3-pointers in that game -- none bigger than Rivers' buzzer-beater that punctuated the 85-84 win.For too long in this one, those shots didn't fall.The perimeter-reliant Blue Devils finished 6 of 21 from 3-point range. They missed 15 consecutive shots, including their first seven 3s, and had two 7-minute field goal droughts in the opening half. That left them down 48-24 at the break -- their largest halftime deficit anywhere since the 1990 team trailed the Tar Heels by 24 in Chapel Hill."When you base, like we do, a lot of our offense on 3-point shooting ... some will say, 'Don't.' That's who we are, man," Duke coach Mike Krzyzewski said. "And if we're not hitting them, we have a much greater chance to lose."The closest they got in the second half was 75-64 on Miles Plumlee's free throw with 6:01 left. But
Seth Curry
missed an open 3-pointer roughly 30 seconds later that would have brought down the house.Instead, Marshall hit a 19-footer with 4 minutes left,
James Michael McAdoo
added a layup and Barnes swished a deep 3 to stretch it to 82-64 with 2 minutes to play.For Zeller, it was a welcome catharsis after his late-game struggles in the previous meeting. Back then, he accidentally batted a ball into the Duke basket and missed two free throws in the final minute before Rivers hit that last 3 over him.Those noisy Cameron Crazies persistently reminded him of it, chanting "Tyler Zeller, MVP" at him during pregame warmups."Yeah, I heard it all," Zeller said.And the North Carolina big man got the last laugh, making his final trip to Cameron one to remember by hitting nine of his 11 shots before fouling out in the final minute. Only when he and
John Henson
got in foul trouble did the Tar Heels' offense really bog down.Henson had 13 points and 10 rebounds, giving the Tar Heels three players with double-doubles -- the first time they've done that since 2003 -- while
Reggie Bullock
added 12 points.Curry finished with 12 points on 3-of-13 shooting for Duke.Among the famous faces in the crowd was NFL player
Peyton Manning
-- who has been throwing on campus under the tutelage of his college offensive coordinator, Duke coach David Cutcliffe. Manning sat next to Cutcliffe in a courtside seat under the basket the Blue Devils defended in the first half.Those two saw plenty of early action -- all by the Tar Heels.North Carolina once again raced out to a quick double-figure lead, this time riding an 18-1 run in which it converted nearly every shot it took in the paint. That lead grew throughout the half, with Marshall's jumper with 3 seconds left stretching it to 48-24 at the break."We were just kind of overwhelmed, by them and the situation," Krzyzewski said. "It's like a surprise gift, you know? You open it up, and for the most part, it's been a nice surprise. I never have any idea of what's inside the present. And today there was nothing. It was an empty box."
Copyright by STATS LLC and The Associated Press
Photo Wire
DURHAM, NC - MARCH 03: Fans of the Duke Blue Devils wait in line to get into Cameron Indoor Stadium for their...
(Photo by Streeter Lecka/Getty Images)
Team Stat Comparison
| | UNC | DUKE |
| --- | --- | --- |
| Points | 88 | 70 |
| FG Made-Attempted | 36-66 (.545) | 26-63 (.413) |
| 3P Made-Attempted | 4-13 (.308) | 6-21 (.286) |
| FT Made-Attempted | 12-15 (.800) | 12-21 (.571) |
| Fouls (Tech/Flagrant) | 21 (0/0) | 19 (0/0) |
| Largest Lead | 26 | 0 |
Next 5 Games
UNC
DUKE
03/09 MD 12:00pm
03/10 NCST 1:00pm
03/11 FSU 1:00pm
03/16 UVM 4:18pm
03/18 CREI 5:30pm

03/09 VT 7:00pm
03/10 FSU 3:35pm
03/16 LEH 7:15pm
11/09 GAST 7:00pm
11/13 @UK 9:42pm

Complete Schedule: North Carolina | Duke
Research Notes
Miles and
Mason Plumlee
combined to shoot 14-22 FG en route to 33 points in Saturday's loss vs Duke. The rest of the Blue Devils combined to shoot 12-41 for 37 points.
[+]
For the second time in the last two weeks,
Kendall Marshall
has 20 points and 10 assists in a game. Marshall is the FIRST Tar Heels player in the last decade to reach those totals twice in a season. (Raymond Felton and Ty Lawson did so twice as well, but in different seasons). NO other Tar Heels player went for 20 points and 10 assists against Duke in the last 15 years.
UNC's 24-pt halftime lead is the largest in the series since Duke's 27-point halftime lead on its Senior Night on March 6, 2010.
ESPN Stats & Information